Carlo Verdone – Biography & Filmography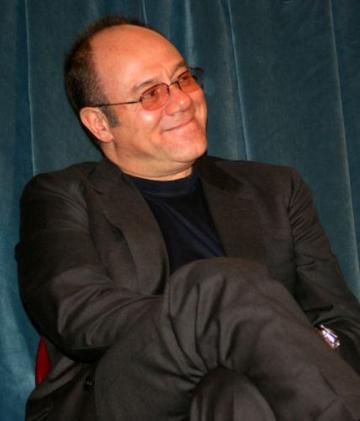 Carlo Verdone was born in Rome on November 17, 1950. His father, Mario Verdone, was a professor of cinema and a drama critic who passed along his love for theater to his child. With his younger brother Luca, Carlo would create Saturday night entertainment for family and friends based on celebrated Italian directors like Roberto Rossellini and Vittorio De Sica.
He obtained his degree as a film director from the Centro Sperimentale di Cinematografia. In 1969, he took a video camera and created his first film, Solar Poetry, with a soundtrack of Pink Floyd and Grateful Dead: it was based on the psychedelic culture of the times.
Carlo got his professional start on stage, but, he would soon make his mark on television with work in the 1979 series Non-Stop! In 1980, he made his feature film directorial debut with Un Sacco Bello (Fun is Beautiful). The film had three separate segments, each of which contained a comical character, all portrayed by Verdone. It was a breakthrough in his career.
In 1981, Verdone followed up Un Sacco Bello with Bianco, Rosso e Verdone (White, Red and Green). He played Pasquale, Furio and Mimmo, three crazy characters who are all heading back to their hometown on election day. 1982's Borotalco is a sophisticated romantic comedy. Carlo played Sergio, a door to door salesman for a recording company. The movie featured music by Lucio Dalla. In it, Verdone's character gets involved with his attractive co-worker, Nadia (Eleanora Giorgi). He tries to impress her by pretending to be wealthy, but this lie leads to many funny twists and turns along the way. Many consider this film to be one of Verdone's best.
Over the next few years, he also worked on the following films:
Acqua e Sapone (Soap and Water) 1983
Cuori Nella Tormenta (Hearts in Torment) 1983
Troppo Forte (Troppo the Great – co-written by Sergio Leone) 1986
Io e mia sorella (My Sister and I) 1987
In 1988 he directed, co-wrote and starred in Compagni di Scuola (Schoolmates). Carlo was Piero "Il Patata" Ruffolo, a man who had a difficult relationship with his wife and was working on building one with a student, Cristina (Natasha Hovey). This school teacher was but one of 35 classmates who meet for a reunion to find that life has changed quite a lot and will continue to change even over the course of the reunion itself.
In 1994 Verdone played Gepy Fuxas, the host of a reality show. He falls in love with a paraplegic named Arianna. She is angry that he exploits innocent people on his TV show. Her tirade causing him to lose his job, but it begins their love affair. Arianna is played by none other than Asia Argento in this film, entitled Perdiamoci Di Vista (Let's Not Keep In Touch!).
During this period some critics mention that Verdone himself had begun to go through a mid-life crisis. Sort of like the characters he had begun portraying. In '98, he starred in Gallo Cedrone. Armando Feroci is condemned to die in an Arab prison. During the film, we get flashbacks into his faults, failings and screw-ups from the perspective of those who knew him best such as his ex-wife, his daughter and his brother.
In 2000 Carlo produced his first film called Zora la Vampira. The film puts a modern and comical spin on the Count Dracula story. The old count comes into the 21st century and falls in love with a graffiti artist named Zora. He finds himself in the middle of the hip-hop culture trying to maintain his traditions and win the heart and soul of the lovely young girl.
In recent years, however, Verdone's best received work may possibly be 2002's Mal Che Colpa Abbiamo Noi (It's not our fault!). This ensemble-piece focuses on the trials and tribulations of seven people from very different walks of life who try to keep their therapy group – and lives – together after the death of their therapist. The movie, a mixture of comedy and satire, talks of life at different stages, while dealing with relationships and neuroses. It is a sum of many of Verdone's films because it deals with the same themes, issues and problems in a loving and comical way.
Verdone continues to direct and act in many movies throughout the years 2000s, having a part also in the Sorrentino's 2013 La Grande Bellezza. His latest work as a director (and actor) was released in 2014, under the title Sotto una Buona Stella (Under a Good Star). In it, Verdone is an up and coming broker, who sees his life quickly falling apart: within the space of a couple of days, he looses his job, his partner and finds himself living with his two children and a grandchild. Shenanigans and fun ensue.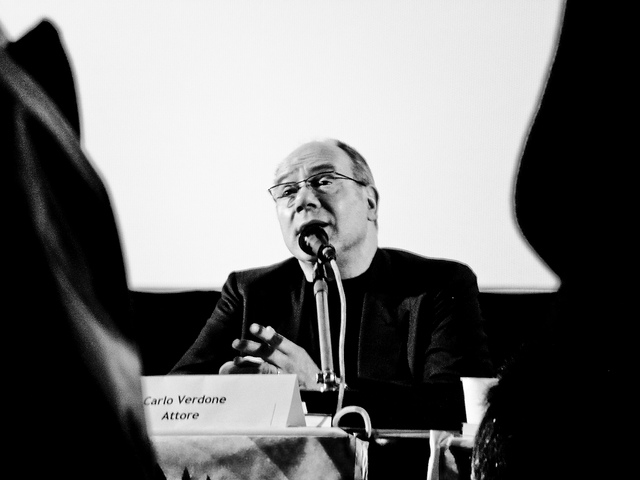 Verdone, who has often been compared to much-loved and dearly missed Italian icon, Alberto Sordi, is in a class by himself. He's a director, actor, writer and producer who's talent is immeasurable. His social commentary doesn't hit over the head; rather, it gently knocks on your brain, reminding you to take a closer look at yourself, perhaps even to laugh at yourself. Carlo Verdone, much like his father Mario, is not just a student of cinema, but a teacher of cinema. The world is his classroom.
By Deanna Goodson