My journey led me straight into the depths of the Italian south. It hadn't demonstrated ordinary south, but one quite similar to a Bermuda triangle where everything usual, anything expected was not present. There I was surrounded by a certain Lucanian peace, a place deprived of humans, deprived of knowing, and yet I didn't foresee this place being the master of secrets, but they were there: stuck in rocks, plastered up within churches and painted as decorations on cave walls. I did not know that this empty land was festering deep within its foundations. Somewhere at one time, this private world was vibrating like a full moon, whose existence was left absent from the apparent surface. I'd found my way into the land of Lucania, Italy. Lucania is the today called region of Basilicata, Italy.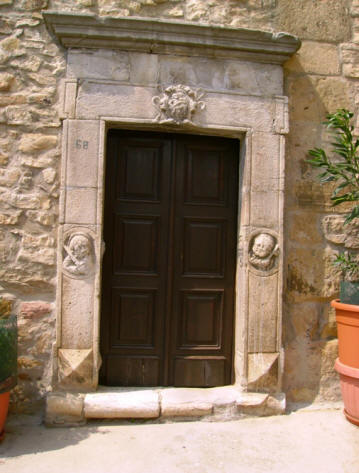 After a rather short trip from Rome (of about 2 hours and 45 minutes, though the traffic was minimal) we had made it all the way to the land of marvels. Our program was devised for two days, knowing travelers from all over Italy would be returning home from vacation during this time, so we planned on racing back to Rome in order to miss the jam. I was traveling with a native Lucanian, a man related to the history of Acerenza, whose building was located in the plaza dedicated to his name, Plaza Glinni.
We were now in the province of Potenza. I wasn't used to seeing panoramic views without houses, without movement, and full of freshly cut wheat fields.
We climbed upwards; the height extenuated the panorama and it also enriched the town of Vaglio. We approached this quaint cultural farm the "La Dimora dei Cavalieri" (located at the top of the mountain); they possessed some 500 goats and sheep and a few beautiful stone buildings made into an organic restaurant and inn. Everything was made by hand: the liquors, marmalades, ricotta, and scones. It was an ancient hamlet immersed into a forest of oak. They breed the animals and cultivate wheat, which explains why this region's bread and pasta are exceptional. I was led to a small house diagonal from the restaurant which had four to five rooms with odd names like Noto and Aurora. The sound of the wind dubbed out the slightest noise; here, heaven was reigning.
It was my first time to taste Lucanian fried peppers. In the month of August and September residents' windows and doorways are decorated with red dangling pods of peppers drying in mid-air. Plates are garnished with them after they've been fried for a mere few minutes: if fried a smidgeon too long, they are ruined. We ate them aside from a potato specialty-fantastic. The next morning was bright and peaceful and we headed out for the day around 10 o'clock a.m.
We set out in exploration of the Vaglio area, we'd just become explorers. I was accompanied by a few local experts to a few Lucanian museums, and there I was introduced to the excavated treasures of the people from Lucania, Italy (who lived in this neck of the woods around 500 B.C.).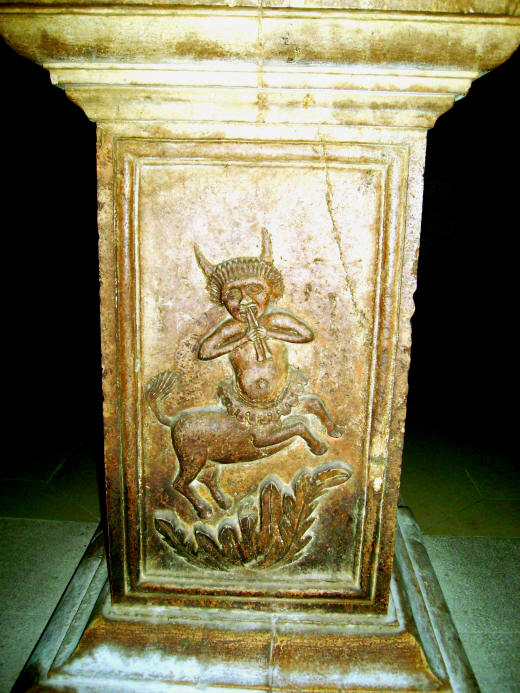 Helmets, spears, and dolls were arranged neatly, but many of the original artifacts were placed behind glass cubicles. Greek-influenced vases and jewelry were hung or arranged accordingly and a recreated home scene was open for all to absorb and assimilate. These excavated treasures were well-preserved for 2,500 years; I'd imagined that it was true! The one thing that made the largest impression on me, was discovering this cracked light-brown vase. It was used in holding the dead bodies of infants; it was their casket so-to-speak, and they were buried in them.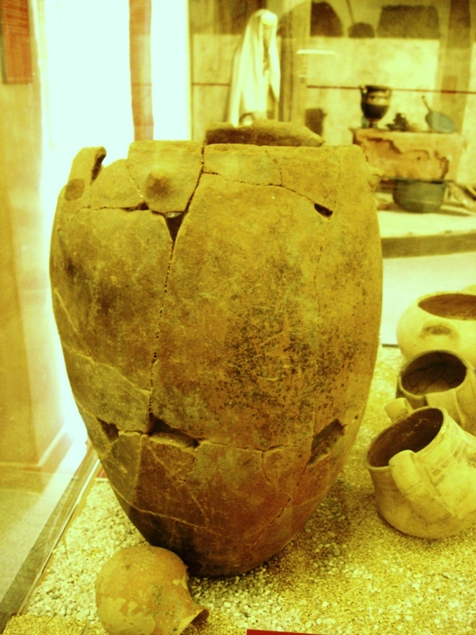 As the others walked around, I continued to be swallowed up by my imagination, and there I was recreating the varies scenes of how life was when the Lucanians were flesh and bone. I was mesmerized by their ingenious possessions.
Outside the heat was smothering. Every living creature which wiggled or walked was affected by the weather. This weather was a fluke; they said it was the hottest and driest summer in some 30 years or so.
We continued and visited the historical villages where we believe the Templars had lived or been once present. We glanced down at every nook and stopped to stare at 90% of everything; family crest carvings, carvings of saints, hanging peppers, window boxes, and especially the microscopic alleyways. It was difficult to maneuver through them, even if you weren't in a hurry. One of the residents explained to me that the walkways were made so tight in order to stop the medieval armies from entering easily. It was easier to bonk them on the head if they came through one by one. The time-worn family crests were difficult to read and much too consumed to be able to make out the symbols or the name of the family.
They explained later that almost all of the towns in medieval times were walled up, and had positioned two main entrances one on each opposite end of the village.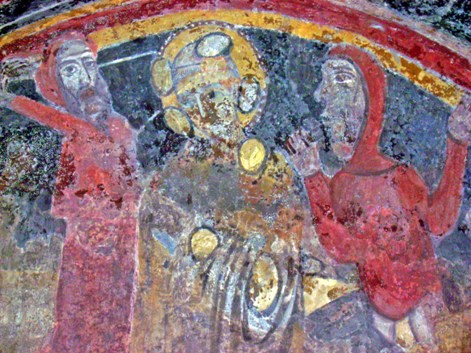 After lunch, we traveled on to visit "a ghost town" of the ancient people of "Serra di Vaglio" which was a hike up a Lucanian mountain hill in a Naturalistic Archeological Park. We went on foot past the blackberry fields and past the springs, eating and drinking as we did. We were rushed back in time to the 6th century B.C.
This ancient village was once walled up by huge square boulders which created a protective wall for their kingdom and is presently being recreated and reassembled as it once existed.
Here, the walls and parts of foundations to ancient homes were resting in the sun, undisturbed by human life.
Many tracks of this village's population were lost, making it abstruse and troublesome for anyone to reconstruct history, but few things did remain; an inscription on a stone, bones of children and men still intact in tombs, and triangular cooked clays which were used to construct weaving machines to make garments. A Lucanian home had been replicated to give the real feel of these ancient houses and the way people once dwelt. Inside we found cool air, and walls made from a mixture of straw "Paglia" and cement, which relieved them from the heat of the smoldering sun.
The following day was spent traveling from one town to the next, which were all within close proximity. We visited the village of Melfi northwest of Acerenza. This is the home to one of the most amazing grottos uncovered to date: the Crypt of Saint Margaret.
Mayor Michelangelo Le Vite explained that this cave was used by monks and once by farmers to stash away pigs. Out of poverty and desperation, not a soul was interested in the ancient frescoes on those walls. These frescoes could have strengthened the truth about their own town's history, even of history itself. Many told stories of saints, revealing the tragic ends of their lives. And some frescoes pointed out the presences of the Templar knights, by way of symbols, signatures, and styles.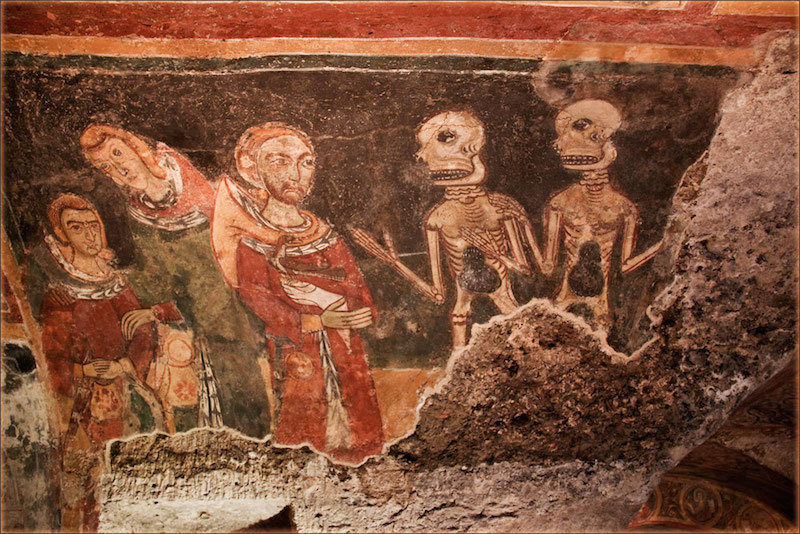 I understood how differently they related to life, and somehow couldn't help but think, that they may have been much closer to the truth than we are. One depicted three noble figures dressed in their hunting clothes, accompanied (on the fresco) by two dancing skeletons. Life and death were combined, not feared.
There was also something quite obvious: every single person painted on those crumbling walls was blond or red-headed; not a single one a brunette. It was not only the hair but the facial features that seemed to be misplaced. They weren't people of a southern Mediterranean origin. Their faces were long and pointed, yet, they were a part of its territory; these were certainly a people from northern Europe-Normans? Lucania, Italy is definitely full of mystery!
Continued at Lucania Italy
By Jackelin Jarvis