They are called Città Fantasma.
Suspended between the existing and the non-existing, these towns embody the liminality between life and and death itself. They are abandoned now, but they used to be full of people and lively. Many reasons have forced their inhabitants to flee: natural disasters, people's changing needs, or a simple lack of generational renewal.
These are not conventional places to visit, yet, they  are an interesting discovery for all those who like mistery. Silence, peace, melancholia and a mixture of many other feelings is what one can perceive when walking through their deserted, abandoned alleys.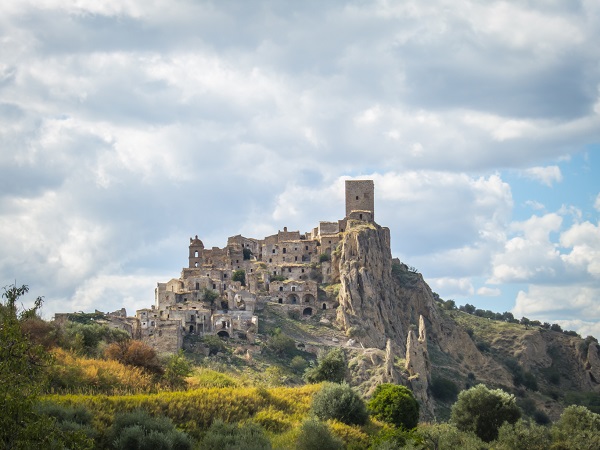 Ghost towns in Calabria
The most famous ghost towns of
Calabria
are the
Borgo Antico di Africo
and
Panduri.
Borgo Antico di Africo
Borgo Antico di Africo
, its name probably coming from the word Afrikos meaning exposed to the sun, is situated in the area of
Aspromonte
and it was abandoned between 1951 and 1953 due to frequent floods. The population left this area to settle in Africo Nuovo, which is at sea level. About four years ago, heritage and volunteering associations have begun to revitalize this ancient borgo to prevent it from decaying:
Borgo Antico di Africo was once an active center, nestled in the beautiful wilderness of Aspromonte
,
and set its origin as far back as the 9
th 
century, when the inhabitants of the of colony of Delia created the first dwellings.
Reaching Borgo antico di Africo is not easy, as it is located in an almost inaccessible area of Aspromonte, so if you decide to see it for yourself, you are better join a planned excursion of the area and follow someone who is familiar with the territory. One of the most interesting monuments is the small Basilean church of San Leo.
Panduri
Not far from
Reggio Calabria
are the ruins of
Panduri,
a village destroyed by an earthquake in 1570. Legends say that near Panduri there is a cave that only locals can access, as its entrance is a well kept secret among them. The reason behind this, some say, is that the cave is a place where startling phenomena of magnetism take place and that, for some reason, only the locals can withstand them. When 
Panduri 
was destroyed, its people moved on the opposite hill, in the town of
Careri. 
Ghost towns in Campania
Rione Terra 
The first ghost town in
Campania
 to be remembered is certainly
Rione Terra
, for its historical value. Today part of 
Pozzuoli,
it is the first urban development that was then to grow and turn into this famous Italian town. The first inhabitans of Rione Terra were the Greeks, to whom followed the Romans. Since then, the area has been always inhabited and, once urban agglomerate became bigger, became known as the port of Pozzuoli itself. Situated on high ground in order to prevent the arrival of enemies, it was abandoned due to the
phenomenon of bradyseism,
which hit the area in the 70s.
Roscigno Vecchia
Not far from
Naples,
is another abandoned village, 
Roscigno Vecchia
, 
in the
park of Cilento
, in the Salerno province. Even though it was considered a safe place in the past, thanks to its higher position preventing it from external assault, it was then abandoned because of the continuous fear of landslides.
A church built in 1770 and an old stone farmhouse, which tells about how rural life used to be, are the two main symbols of this ghost town. The area is also of a certain archaeological interest, as several objects were found in a sepoltura principesca (probably the grave of a king or a prince) in the area, which appear to be witness to the presence or the influence of the Lucani, an ancient pre-Roman population of Southern Italy.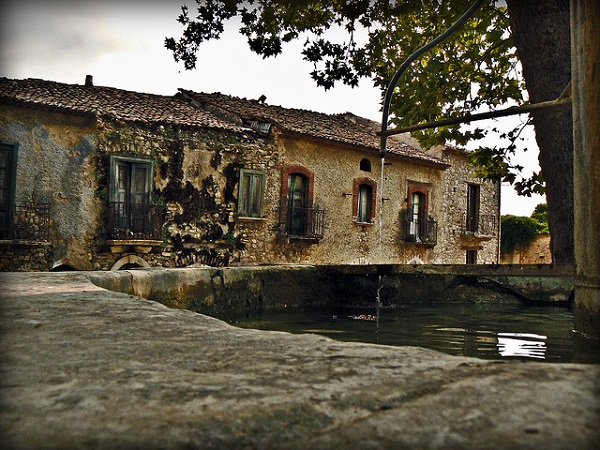 Ghost towns in Molise
The greatest number of abandoned towns in
Molise
are situated in the area of
Isernia
, one of the most famous certainly being Rocchetta Alta, which was last inhabited about 70 years ago.
The only protagonist of this medieval "borgo" is castle Battiloro, a defense fortress on two floors. Rocchetta Alta was bombed during the Second World War, and finally destroyed by a landslide, which only spared this castle and a stone church.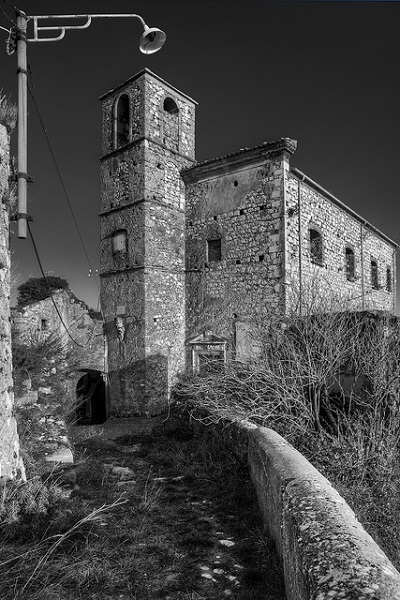 Ghost towns in Sicily
Gioiosa Guardia
Gioiosa Guardia 
Sicily
's best known ghost town is
Gioiosa Guardia
, which was abandoned in 1783 because of an earthquake. It is situated on the
Monte Meliuso
and it was founded during the reign of Frederick of Aragon. It is also famous because castles and fortresses were built in every part of the town in order to prevent pirate attacks.
Poggioreale, Gibellina and Salaparuta
Poggioreale, Gibellina and Salaparuta are three other destinations which can be visited all together. They were abandoned during the 1968 earthquake in Belice and they are a beautiful itinerary also for their surrounding landscape.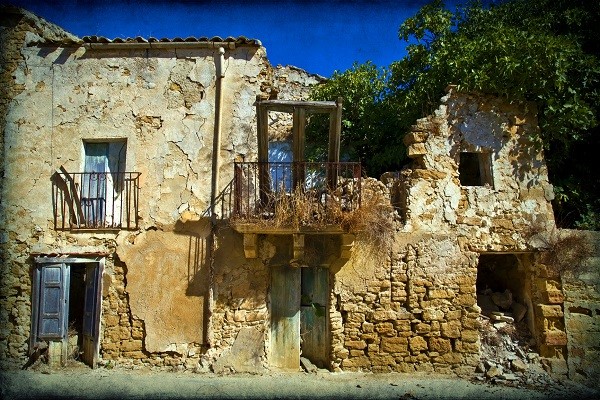 Ghost towns in Apulia
Not only ghost towns, but mainly ancient abandoned manor farms are the most interesting places to visit if you would like a thrill in
Apulia. 
The borgo di Monteruga was the result of the economic expansion that hit the area during Fascism. Inaugurated in 1928, it was finally abandoned in the '80s. Some dwellings, the school, the main square and a local church is what has been left in this place which tells a lot about the agricultural life of the area and the link between people and nature.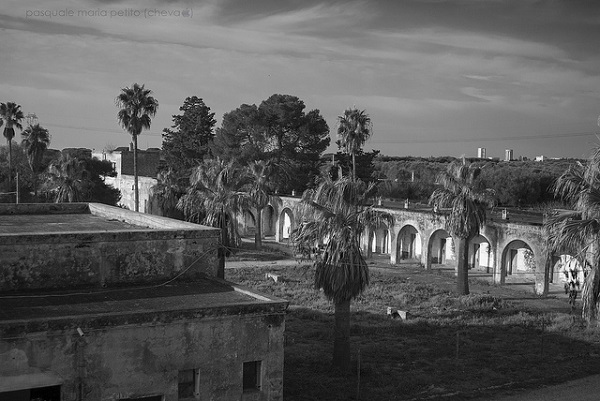 Ghost towns in Basilicata
The ghost town of
Craco i
s one of the most famous in
Basilicata,
if not in the world, as it was here that Mel Gibson's 
The Passion of the Christ
was filmed. In fact,
Craco
has been the set to many a movie, its characteristic ruins, result of a 1963 landslide that destroyed the old village, being a perfect setting.
  Craco
is said to be a paranormal hub, too: voices, screams and otherworldly activities are said to take place here.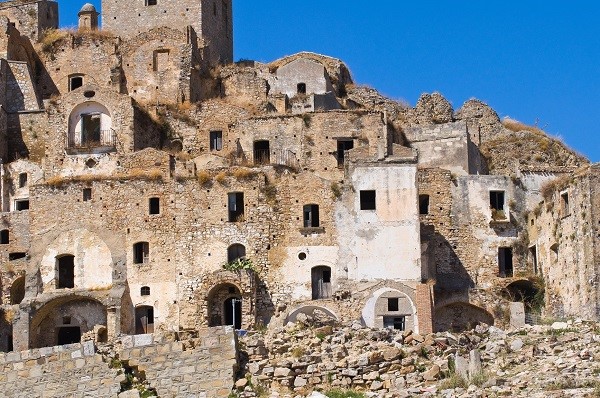 By Anna de Filippo
Edited by Francesca Bezzone