Most first-time travelers to Italy expect to see an ancient, quaint country, just like the places they read about in history books or see in movies. Oftentimes, the place they picture has been taken over by busy streets and modern living.
Visitors of the Coliseum in Rome can't help but get lost in the sheer grandeur of its architecture and history, but this visit is often shattered by the honks of a passing car. Like the Coliseum, much of Italy's most popular stops are right off busy streets. So where can you go for a taste of the old world? Where can you find those breathtaking villages, steeped in history and nature, you feel you'll always keep among your fondest memories? Do these places still exist, or progress and the hush of modern life have actually destroyed them?
There are some good news for you: there are still places like this, in Italy, just as in the US. You just have to learn how to find them: if you want to visit a place where the rush of modern life has not won, yet, you must go where it cannot: on the coast of the Ligurian Sea, you'll find a string of fishing and wine villages that development literally can't touch. This area, called the Cinque Terre, is a place that leaves its mark on the hearts of all who visit. Literally, Cinque Terre means five lands, but it is the name of five small villages chiseled a very long time ago into rocky Ligurian cliffs overlooking the Sea.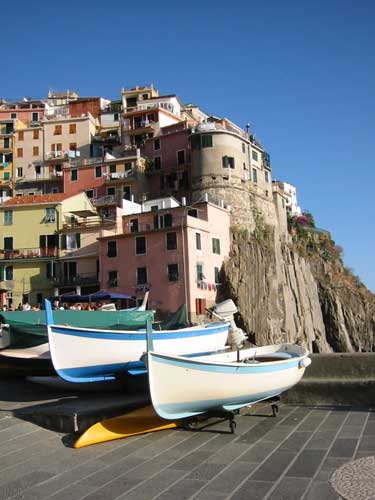 The villages are too steep and too near the water for traffic to confidently weave through (oh, so sad.) Instead of cars, it is people to move around in their streets, lined with layers of pink, yellow, green and blue houses with clothes lines and open shutters. People'll shop in one of the many local stores selling freshly baked breads, meats and wine, as well as local homeware and, of course, the ubiquituous gelato. Cinque Terre and its "no cars allowed" lifestyle is certainly a rare occurance, which will leave a lasting impression on all those visiting.
When I first visited Riomaggiore in 1998 it was early May which meant light breezes, warm weather and plenty of sunshine reflecting off the water. The sun was getting ready to set and white decorative lights were strung around terraces and restaurants, as the town transitioned to night mode. It may sound cliché, but walking into the town was like walking into a different century, or onto a movie set. Young couples sat along the rocks overlooking the sea guessing the nationalities of people getting off the tour boats. As I walked up the stone steps into town, and then along the street going towards my rented yellow flat, I passed by a large group of older Italian men sipping wine by a seaside restaurant and laughing.
Around a corner came a group of elderly nuns speaking seriously in Italian and walking briskly. Up above in the cliff-cut homes, women pulled down white linens from clotheslines and, as I looked ahead, I saw backpackers swigging back bottles of water and heading back onto the path.
As the streets widened they were lined solid with traditional stores, whose goods were sold along the street in baskets or carts: wines, vegetables, fresh bread. The only noises were that of conversation, the sound of sea waves, and music from cafés. No cars, no phones, no city screaming. Almost everyone I passed had a smile and everyone seemed happy here. I still remember this first trip as one of the happiest times of my life. They say that happiness is not a destination, but something within each of us. If that is true, then the Cinque Terre actually reaches in and puts a little bit of happiness in everyone that visits.
The Cinque Terre is part of the Ligurian Riviera and is located just north of the Gulf of La Spezia, in the region of Liguria as marked on the map above. A tourist flying into Milan can take a train to Genoa (birthplace of Columbus and pesto) and then transfer to a train going to Levanto. Each town in the Cinque Terre has its own train station and the Levanto train will drop you off at each one. You can also take a cab from La Spezia to your desired town for a pleasant drive along the coast with wonderful views.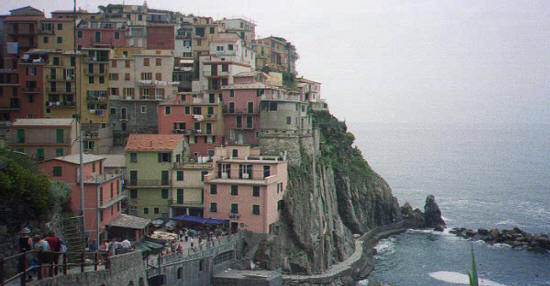 Visitors to the Cinque Terre can shop for homemade goods and crafts, take a historical tour, enjoy scenic boat rides, relax at the beach, swim into the Ligurian Sea, cliff dive, snorkel, eat fine food, sip wine or coffee from a terrace overlooking the sea, explore the hillsides, take scenic train rides along the coast, hike the five-mile path, shop for antiques or one-of-a-kind art, engage in fun conversations with locals, and take in scenes and sunsets. Every view, every photo was taken of the Cinque Terre is picture-perfect. Years later, when you're looking at pictures you'll have to flip each one over to see if it is a postcard or an actual photograph!
One common activity is taking a hike along the path that connects the five towns: an activity that makes all travelers happy, from hikers to nature lovers, from sun worshippers (you're bound to get a nice tan while walking on the coast!), to culture and tradition's buffs who enjoys getting in touch with the most typical habits and behaviors of people in the area.
This long walk, that you may enjoy taking over a couple of days, will help to get in touch even more with that sense of timeless beauty the Cinque Terre never fails to deliver.
Take a look at the Cinque Terre for yourself in this video, that manages to capture all their charm, beauty and the amazingness of their people:
Edited and updated by Helga Dosa