Think of the quaint Umbrian countryside: cookie-cutter-perfect and almost painfully stereotypical of what rural Italy is supposed to look like. Not a criticism, mind, just a matter-of-fact statement to remind ourselves sometimes too much exposure can, indeed, be detrimental.
Yes, because we often become guilty of trivializing beauty when we see it too often, or limit its value to movie-and-cheap-novels ideals of it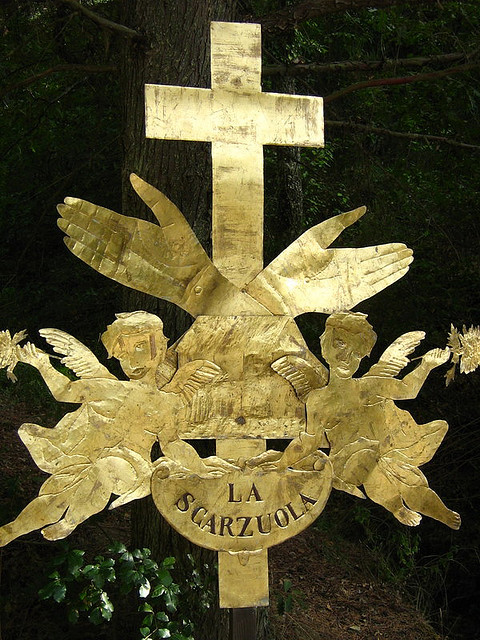 Sometimes, I really get the impression Tuscany and Umbria are two of the most notorious Italian victims of this process. These are more than farms and wine-making lands. They are more than little, timeless hubs recreated to please tourists. These are places of history and art, of heritage and spirituality: how important it is not to forget it!
La Scarzuola convent and Buzzi's adjacent Città Ideale are places of both intense spirituality –brought about by history– and aesthetic value, melanged with an otherworldy, eerie sensation created by a place repleating with esoteric meaning. What is the secret behind La Scarzuola convent and Buzzi's Città Ideale? What is its mystery? Where does its beauty truly lies: in its architecture, in its natural surrounding, in its ties with Italy's best loved saint? Or does it lie in Buzzi's visionary idea of creating a city of theatres, covered in esoteric symbols and left ultimately empty since its completion?
We will tell you the story of La Scarzuola: to you, the difficult task to choose where its charm truly originates from.
La Scarzuola: the convent and its origin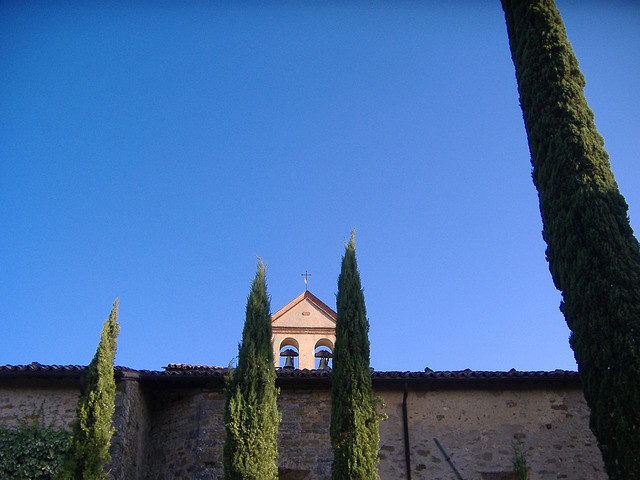 Legend says that the Convent at La Scarzuola, located in Montegiove, a borough of Montegabbione (Terni) was founded by Saint Francis of Assisi in 1218. Here, Francis planted a laurel and a rose, from which, miraculuously, water gushed forth. Its name originates from a marsh plant called "scarza", which Francis of Assisi used to build himself a hut on the site. The spring is still present on the grounds of La Scarzuola Convent and has become throughout the centuries a place of prayer and meditation for the faithful visiting.
The Convent as we know it today, however, was born at later times, in the 16th century, when the Counts of Marsciano had a church built to honor the events related to Saint Francis. The convent, of which friars of the Minor Orders took then possession, was created at a later date and remained open until the 18th century, when it was acquired by the Misciatelli marquees of Orvieto. The Convent remained silent until the mid 20th century, when architect Tomaso Buzzi acquired the building and its surrounding lands, upon which the Città Ideale was to be built.
The Convent has become a well-liked stop for history of art buffs, too: in 1996, restoration works in its church have brought to light a 13th century fresco of Saint Francis of Assisi levitating, which is believed to be one of the first visual representations of the Saint.
The ties of La Scarzuola Convent with spirituality are rooted in the Christian cult of saints, popular since the Late Antique period and to which, since the 13th century, the figure of Saint Francis of Assisi had become central. Francis was, and still is today, symbol of a Christianity founded on simple, yet powerful values and his cult is a motor of Umbria's religious tourism. Faithful see La Scarzuola as a place of profound spirituality and are attracted to it for this very reason: for this, La Scarzuola is certainly symbolic of a certain type of Umbria, an Umbria made of faith, history and prayer, that strikes visitors much deeper than any agriturismo or vineyard tour could do. If anything, good food and wine are a great corollary to a personal and cultural experience with little or no rivals in the world!
And if, beside being a spiritual type, you also love mystery, architecture and esotericism, you do not need to travel far from the La Scarzuola Convent to find a fantastic site to explore: Tomaso Buzzi's Città Ideale (the Ideal City) is just next to it.
La città Ideale: symbolism and architecture of a visionary dream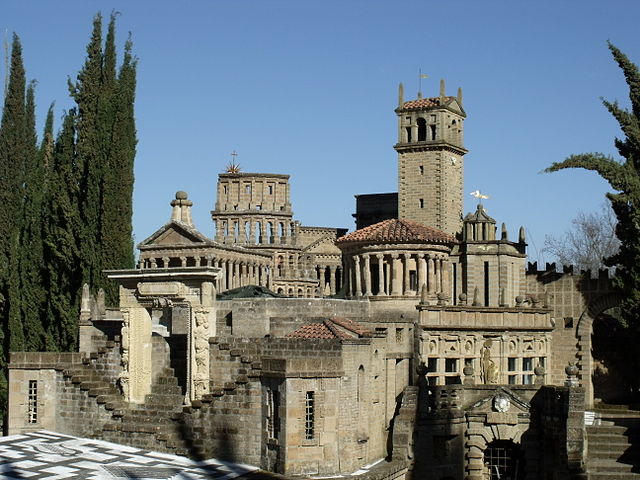 When Tomaso Buzzi, a famous avant-guarde architect, decided to buy La Scarzuola convent and the surrounding territory in 1956, he had a very precise plan, which did not simply involve building a nice retirement retreat for a tired, yet still very much active, artist. Buzzi's vision was much more complex than that: he wanted to juxtappose to the Christian spirituality of the convent a specular city, "ideale" because symbolizing the ideal path in life of each individual, emphasizing the theatricality of it all. This is why its Città Ideale is formed in its main structural line, by 7 theatres, the smallest holding a maximum of 10 people, the largest over 600. The project was in part inspired by Francesco Colonna's Hypnerotomachia Poliphili (1499), an allegorical novel dedicated to the process of initiation, as dreamed about by the main character, Poliphilius. The text has been compared by many to a masterpiece of Classical Latin literature, the Metamorphoseon by Apuleius. References of such weight are not unusual for an architect and an artist known for his profound humanistic and literary culture.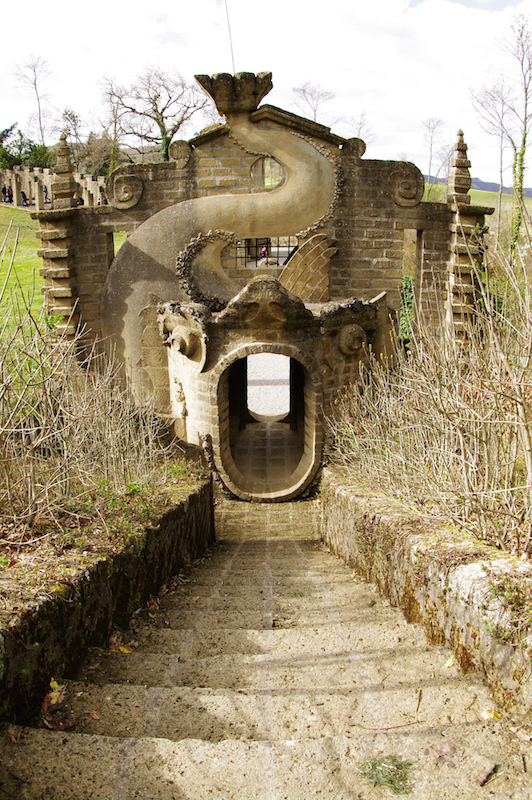 And it is truly to initiation that the Città Ideale is dedicated: initiation embodied, according to Buzzi, by the relationship between the holy city of the convent, and the secular city of his architectural creation: a secular city, which is representation of the mystery and difficulty of human existence. This has been architecturally rendered by the creation, as said, of 7 theatres, the stage seen as an essential symbol of portrayal and hiding of the soul all at once, just as the moment of initiation to a mystical path could be.
The 7 theatres structure culminates in The Acropolis, a true mountain of buildings inspired by classical constructions of the past. Artistic ruins reproduced as a form of art are seen by Buzzi as a symbol of the maddening process which is, in his view, at the origin of any artistic creation. The result is a hill of beautifully eerie buildings, often emptied of their interior but for stairways and inner bridges giving to the whole structure the aspect and feel of a termitarium.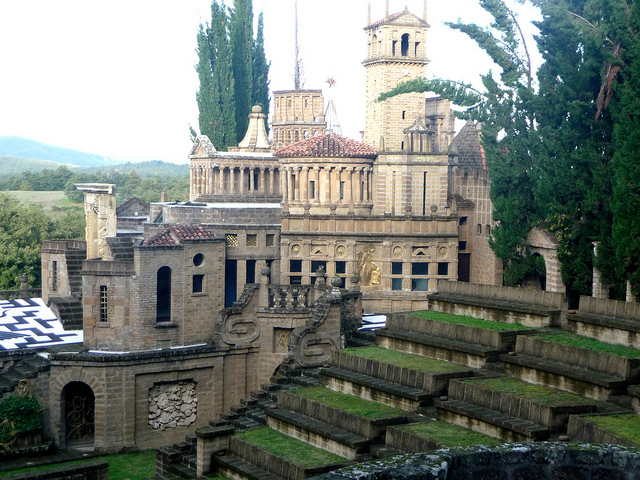 From a strictly architectural point of view, Buzzi's Città Ideale follows the canons of Neomannerism, identifiable by the presence of multi directional stairways, the sought-after unbalance of volumes and the over reaching development of some buildings, which appears to "steal space" from the others. Monstrous details and plenty of esoteric symbolism permeate the work, contributing to an overall sense of eerie mystery and magnificence each visitor is bound to sense.
When, in 1981, Tomaso Buzzi passed away, his Città Ideale was left unfinished. Marco Solari, another architect, brings its construction to an end, following the projects and sketches left by Buzzi himself. However, while visiting the place, one truly wonders if the Città Ideale can be conceptually finished: symbol of the initiatic processes of human existence, it may have been, in the mind of its creator, more a symbol of the evolving process of human life, rather than a monument to its hardly existing staticity.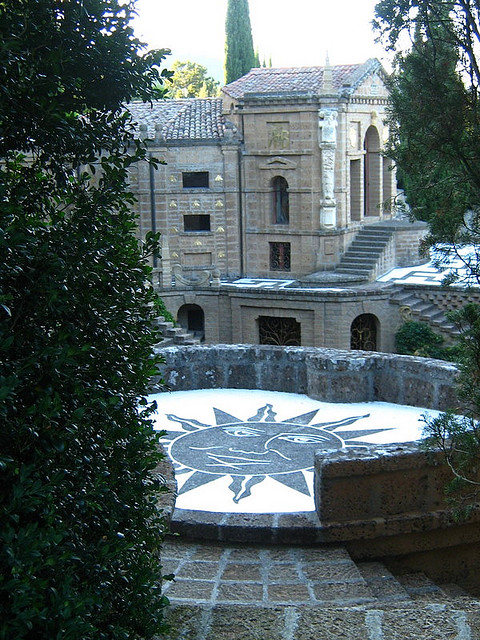 And what is there for us, in the Città Ideale, to ponder upon? A path of meditation, certainly, to embark on while walking through its vaults and climbing up its stairs, completed by moving to the Convent grounds and its church, dwelving on its history and beauty, on the great figure associated to it, Saint Francis, and the ideals he embodied.
La Scarzuola Convent and Buzzi's onirical Città Ideale are part of a lesser known Umbria, which is nevertheless more profoundly Italian than any of the country's touristic stereotypes, because Italy has been, since the dawn of our civilization, a cradle of culture, beauty and spirituality: let us never forget it when we travel around the country the next time around.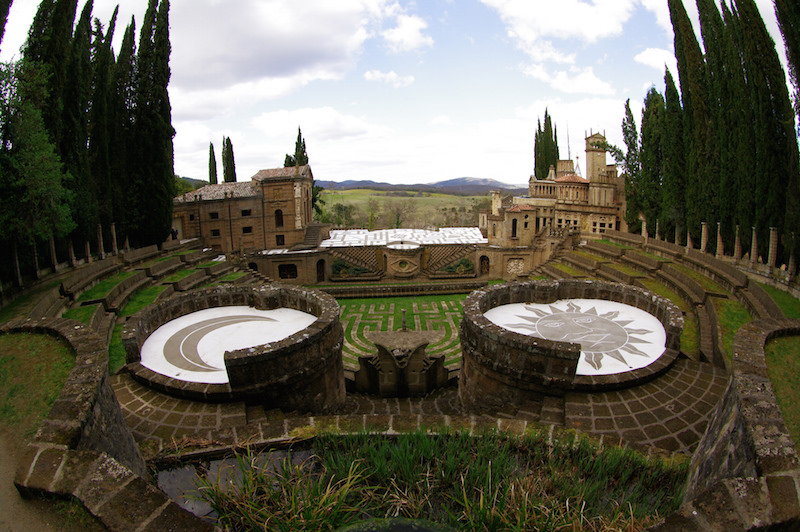 Visiting La Scarzuola
La Scarzuola Convent and the adjacent Città Ideale can be visited all year round, under reservation, in groups of at least 8 people. This, of course, does not mean you have to be a bunch over 8 to get to enjoy the place: organizers will add you up to existing groups if needed. The people taking care of La Scarzuola keep animals on the grounds. There are three resident dogs, who are very friendly and loving with humans, but pretty territorial so you are advised not to bring animals with you while visiting. As of 2015 tickets are 10 euro (around 11 USD) for adults. Entrance is free for children up to 12 years of age.
Reservations can be made by phone or online:
Phone and fax number: 0039-0763-837463
Email address: info@lascarzuola.com
How to get there
If you are coming from the Rome/Florence direction, exit the A1 motorway at Fabro. From here, follow indications for Montegabbione and, once there, for Montegiove. About 1 km after the village, take the road on the right to "La Scarzuola XIII Secolo", which is marked with white signs. You will reach your destination after about 2 km.
If you come from Perugia, take the SR 220 (Strada Regionale, or regional road) up to Tavernelle-Piegaro. Here, take the SR 307 until you reach the SP 59 (Strada Provinciale, or provincial road) to Montegabbione. From here, follow indications to Montegiove and then to "La Scarzuola XIII secolo" as explained above.
If you come from the Todi direction, take the SS 3 BIS (Strada Statale, or state road) in direction Perugia-Marsciano, the SP 375 Marsciano-San Venanzo and finally the SR 317 Pornello-Montegiove. About 1 km before Montegiove, you will reach the same crossroad as above, where you will follow "La Scarzuola XIII secolo" white indications.
Where to stay
Montegabbione, the closest village to La Scarzuola, is very small. There are, however, some agriturismi you could stay at such as Il Colombaio or Gattogiallo. Both of them have renowned restaurants within. There are some B+B in the countryside around the village, such as the Casa Rondini Organic Farm and Il Sambuco Farmhouse.
Where to eat
The already mentioned agriturismo Gattogiallo is known in the area for its good food and so is Il Colombaio. In Montegabbione village, you could try Il Peperoncino.