The largest Italian national fair for agriculture, food, and livestock opens its new season every year in Umbria. This prestigious show is now held in this area of central Italy, which is surrounded by lush vegetation and rich in flourishing hills with hectares of cultivated fields and grazing animals.
This edition's motto is la fi(li)era è servita. It's a wordplay using the terms fiera (fair) and filiera (supply chain). There is a 30,000 square meter area that can hold 420 stands and tens of thousands of spectators.
The 54th iteration of the event was held this year, in 2023, from 31 March to 2 April. More specifically, in Bastia Umbria, a village with 20,000 residents along the Chiascio River in the province of Perugia.
This occasion is a crucial turning point for business, agriculture, and domestic animal husbandry. Every year, tens of thousands of people attend this event, which is great for families, students, business owners, and regular industry enthusiasts.
I am a veterinary student in Perugia, and this event holds a lot of appeal for those of us who are curious about the care of animals, animal health, and the food chain.
I'll go into more detail about this experience in this article. It was a wonderful chance to interact with animals of the most esteemed Italian breeds, observe up close the newest agricultural vehicles, and hear from the greatest experts in the Italian scene.
A brief history of AgriUmbria
In 1800, the region began to develop a reputation for hosting livestock fairs that drew numerous farmers and breeders to the central Umbrian valley.
The agricultural fair, the first "modern fair," was organized in 1969 as a result of the creator of the agricultural event, Lodovico Maschiella, who had a happy intuition. An agro-zootechnical event with the goal of advancing central Italy's agricultural and zoo technical endeavors. Since then, every edition has established a successful track record with a steady increase in exhibitors and attendees.
Agriumbria, the exhibition of agriculture, zootechnics, and food, is now, after a long journey, a national reference point for the improvement of the agricultural sector and a time for discussion and contemplation on the prospects and future of agriculture.
Equally important, it is a gathering of many individuals interested in the social development of the practice of farming, breeding, and nurturing who are looking for a new connection between "man earth, man agriculture".
Specifically, the original photos that depict the fair's first iteration in 1969 are shown below. Credit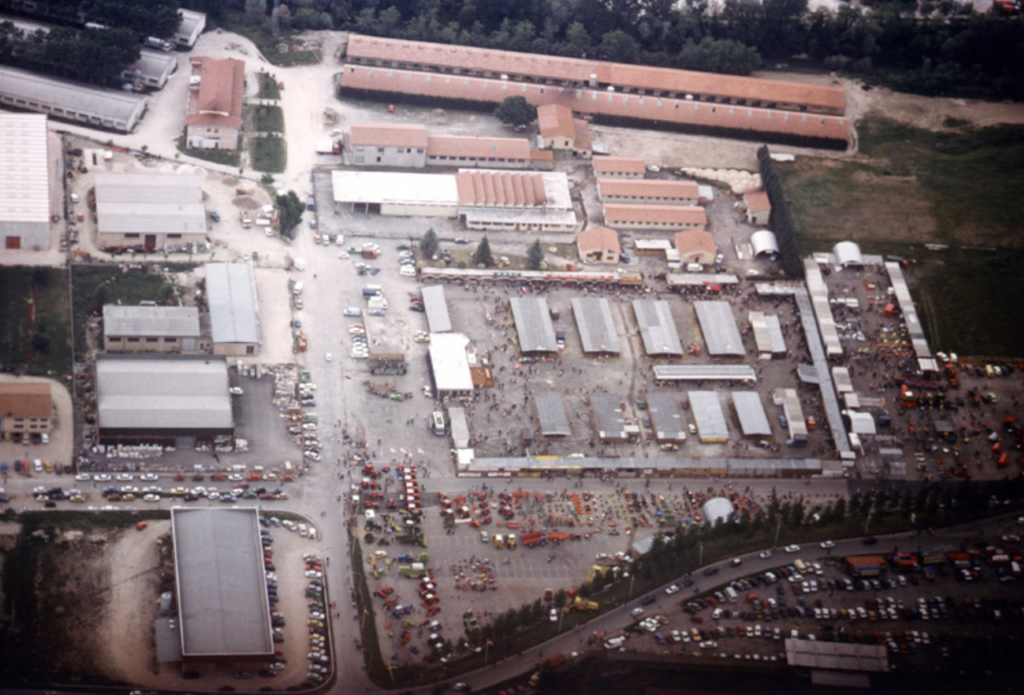 What are the event's main focuses?
AgriUmbria is a national fair devoted to agriculture, livestock, and food. Over 2000 businesses and industries from all over Italy come together to promote new dairy chain equipment as well as their food chain products.
Moreover, Francesco Lollobrigida, the minister of agriculture in this edition, did not skip the speech. An excerpt from his opening remarks is provided below:
"I'm referring to the fact that the core of this nation's serious environmentalism is agriculture. Who cultivates food, breeds animals, and works the land in general is a special garrison for the defense of the environment and landscape…"
Italy's biodiversity is unparalleled. With the Northern Alps, vast plains like the Po Valley, lush hills like the Apennines, flourishing islands, and stunning coastlines, the landscape is very diverse. All of this has enabled agriculture and breeding to develop in a way that has produced goods of the highest caliber over the years.
Geographic diversity has made it possible for our nation to produce a wide variety of breeds. Indeed, our breeders have taken advantage of specific traits that could be useful and suitable for establishing prosperous farms in any type of environment. For instance, in Italian animal husbandry, Chianina is a sign of prestige. It was developed primarily in central Italy and is easily maintained and well-suited to flat terrain. The Grigio Alpina, on the other hand, is more suited to harsher environments like the Northern Highlands. It is loose-limbed and slimmer.
The main beef cattle breed competitions, as in previous years, were eagerly anticipated. Besides, as if that weren't enough, there is a rich program of sheep and dairy breed displays.
Everyone can find something here, and the agricultural industry especially shines.
Environmental sustainability, a topic that is frequently discussed these days, is one of the fair's strengths. Additionally, it aims to protect and improve the agricultural products produced by our farmers, as well as fight food product counterfeiting. The livestock industry is working hard to develop ever-more cutting-edge equipment that can protect the environment and improve the final product.
There are several exhibition booths devoted to agriculture, including:
Dairy industry machinery and equipment
Equipment and machinery for processing olives
Supplements and food
Trailers for farming
Equipment and machinery for agriculture
Equipment for vegetable and herb gardens
Bulbs, flowers, and plants
Earth-moving equipment
Tobacco industry machinery
Workwear

Stands for the breeding of cattle
Agriumbria is well known for its exposure to a variety of beef breeds. But this year was particularly unique. It was a pleasant surprise to see this novelty that dairy cows were given a lot of space.
In addition to the exhibition area, one of the fair's advantages is the availability of outside rings where major breed-specific livestock competitions are held.
I particularly want to draw attention to the national exhibition of Limousine, Charolaise, Romagnola, and Chianina.
This edition's novelties include the Italian Mediterranean Buffalo's comeback after a hiatus of a few years.
Instead of the dairy cow exhibit, there is now room for the renowned and recognizable Italian Frisona.
The national competition of Sardinian breed rams is confirmed for the second time at the fair, in addition to cattle.
AgriUmbria is a call to embrace Italian-made products
In short, I don't think Italian livestock products require any introduction because they are well-known. You cannot claim to have never heard of the renowned Florentine steak. One of the breeds on display, the Chianina, provides this specific cut of meat. Not just because of the unique preparation method, it is one of the most popular dishes in Tuscan cuisine. The cow, which is the initial product, is of high quality. I dare any chef to create a dish using meat from a malnourished cow with poor breeding and genetic value. The fair AgriUmbria is the offspring of Italian animal husbandry, which is a significant player in the global market.