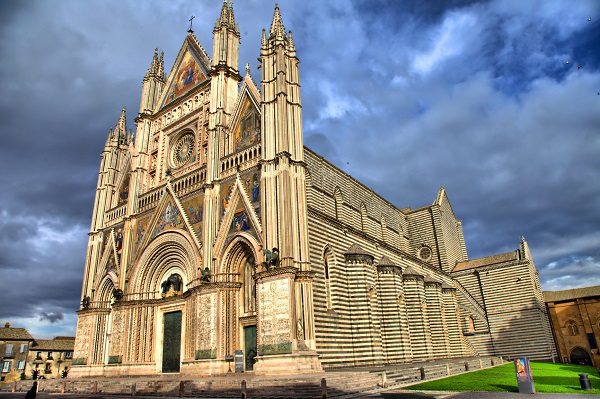 Orvieto is a  town located in the Umbria region of Italy, located on top of a flat butte  made of volcanic tuff stone. Orvieto is truly located in one of the most beautiful sites in Europe, as it rises on the top of a vertical cliff, and it is surrounded by beautiful medieval walls.
The city has been populated since pre-Roman times, and it was a major hub of the Etruscans. Various artifacts and objects have been found in the region dating back to the their times, now   kept in the archeological town museum.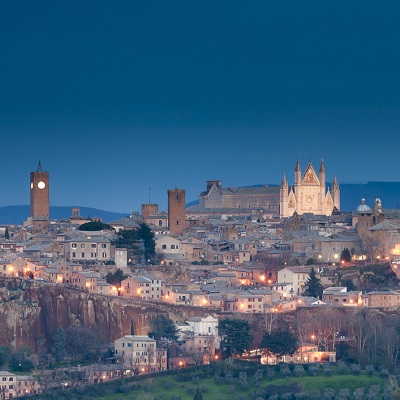 Attractions in Orvieto
Orvieto Cathedral
The Duomo or cathedral of Orvieto is one of the most important places to visit in town. It was built in the 13th century on the orders of Pope Urban IV and then renovated in the 14th and the 20th centuries. The façade has a large rose window, three large doors and is decorated with mosaics. Inside, are two beatifully frescoed chapels.
Church of San Giovenale
The church of San Giovenale is the oldest existing church in  town. It was originally built in 1004 and it is believed it was constructed over the remains of an even older church. Inside are many beautiful frescoes dating back to the 13th century.
Papal Residence
Except for Rome, only the towns of Orvieto and Viterbo have Papal Palaces. The first Pope to stay in the Papal Palace of Orvieto was Adrian IV, in the 12th century.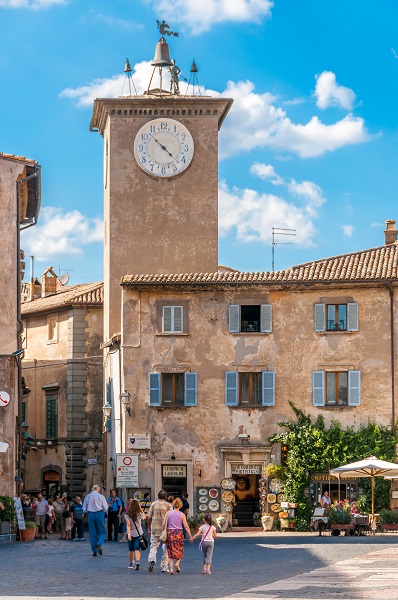 Etruscan Ruins
As mentioned already, Orvieto has Etruscan origins and several vestiges of their culture are still extant in the area. Etruscan walls, for instance, are still surrounding the town and an Etruscan necropolis lies at the feet of the hill upon which Oriveto has been built, surrounded by beautiful vineyard and orchards: it has more than hundred chamber tombs.
The underground City
One of the most fascinating places to visit in Orvieto is its intricated underground. A real maze of underground tunnels and caves have been kept hidden for centuries, but are today viewable through guided tours. Inside are several hidden rooms, galleries, tunnels and stairs created over several centuries. In the olden times, the homes of several noble families were connected to these tunnels, which could allow them to escape the city in case of peril.
St. Patrick's Well
The "Pozzo di San Patrizio", St. Patrick's Well, is an old well in Orvieto, built between 1527 and 1537 upon request of Pope Clement VII who, after the sack of Rome, took refuge in Orvieto and became worried that the town wouldn't have enough water supplies. The central well shaft is surrounded by two spiral ramps in a double helix, which allowed mules to carry empty and full water carts in the two separate directions.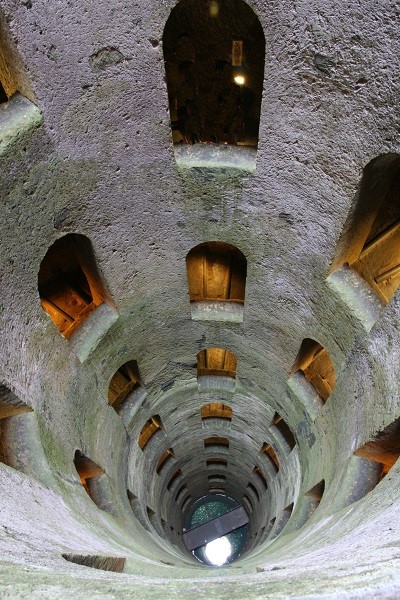 Palazzo del Capitano del Popolo
Palazzo del Capitano del Popolo is an imposing grand building constructed in the 13th century. Originally, it was a small loggia used for commercial activities or for meetings. Over the years, it was then expanded to its current form.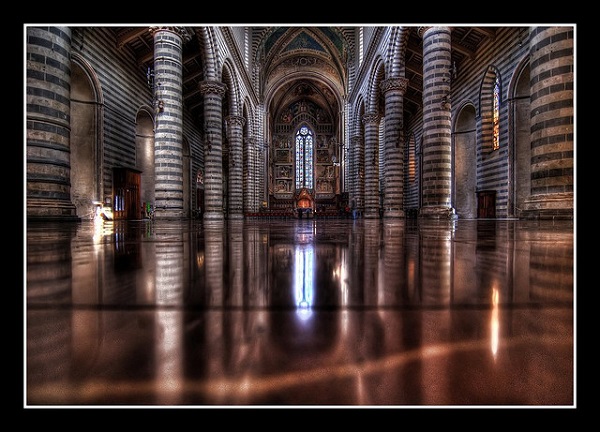 Getting to Orvieto
Orvieto is best reached by train. The train station is located at the base of the hill. Several trains connect Orvieto to the cities of Florence, Rome and Chiusi daily. Visitors can also reach the town by bus. The main bus station is located in Piazza Cahen. Several buses connect Orvieto to Viterbo, Bolsena, Perugia, Todi and Rome. Those who have their own car can also drive down by taking the A1 highway that connects Milan to Rome and reach it via Florence. After exiting the highway, a steep, truly spectacular road leads up to the main town.
Moving Around the Town
There are plenty of ways to explore Orvieto. Visitors can always explore and discover on foot, as Orvieto is pretty small and can be visited in a day. There are taxis and public buses operating in the town, too. Public buses are quite regular and tickets are pretty cheap. There is a funicular railway which connects the main railway station to the central piazza of the town and provides beautiful views on the way up. Bicycles and mopeds can be rented at several shops close to the station.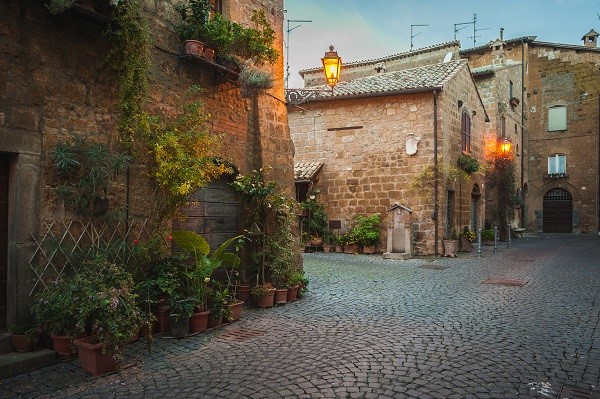 Stay and Accommodation
Orvieto has several accommodation options, since it does attract tourists all year round, especially from within the region of Umbria, so there are quite a lot of good hotels and bed and breakfasts in the city. Some of the best known are Hotel Duomo Srl, Hotel Corso, Hotel La Badia, Hotel Palazzo Piccolomini Di Ago Srl, Albergo Hotel Valentino, Hotel Villa Ciconia and Albergo Hotel Maitani. There are also a few villas and apartments in town to rent, in case you plan a longer stay.
Eating in Orvieto
There are plenty of good places to choose from in terms of eating out in Orvieto. The town has many good restaurants, trattorias and pizzerias to choose from. Most restaurants serve local dishes made from fresh, local ingredients. There are also a few good cafés and taverns, where visitors can find a good wine list to select from. Some of the best places are Al San Giovenale, Maurizio Al Duomo, Trattoria del Moro Aronne, Trattoria La Volpe e L'Uva and Ristorante I Sette Consoli.
Shopping in Orvieto
There are a few good places in Orvieto where visitors can shop. The historic town center has many good shops where visitors can purchase pottery, handicrafts, wooden artifacts and souvenirs. The weekly open market is also is a lovely experience, since it is still quite traditional in nature. Visitors can also purchase good wines produced in the region from one of the several wine shops in Orvieto. Food shops and grocers have good varieties of local cheeses, as well as extra virgin olive oil and many types of traditional pastries.