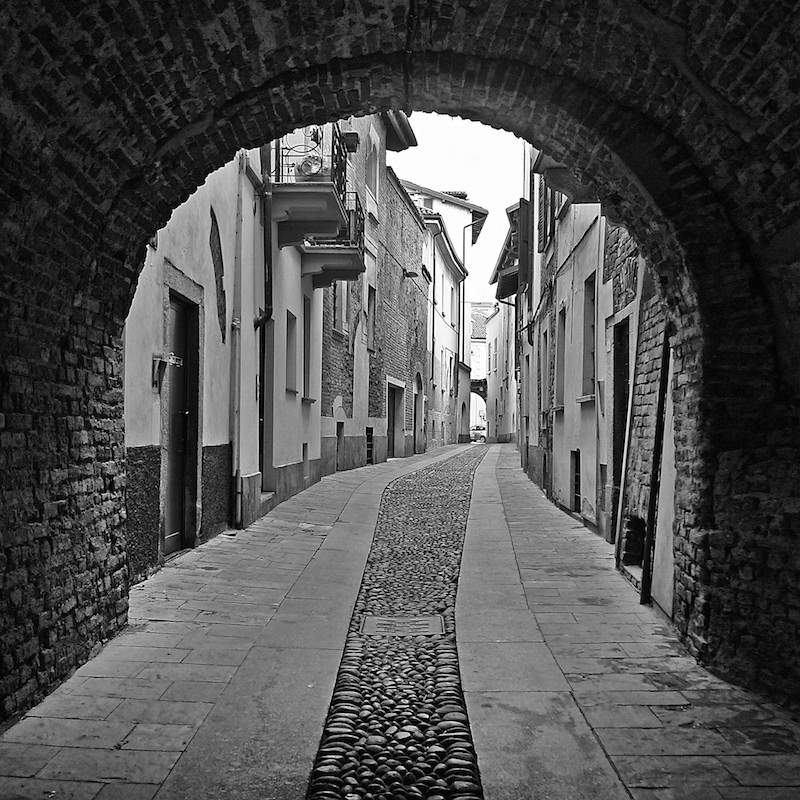 Pavia is a city located in the Northern Italian region of Lombardy. The city was the capital of the Kingdom of the Lombards between 568 and 774 AD, which is when it first gained its political importance. The University of Pavia, founded during the Middle Ages, is also located in the city and still is a prominent center of learning.
The province of Pavia is known for its fertile land and is an important producer of agricultural products such as rice, cereals, wines and dairy. Pavia is a small and peaceful town that has managed to maintain such idyllic atmosphere in spite of its industrial relevance.

Attractions in Pavia
Certosa
The Certosa is a monastery, and is considered the most important landmark of the city. The monastery was originally built in the 13th century and has been quite well preserved. It is located 8 Km from the city centre and can be reached by car or by bus.
Duomo of Pavia
The Duomo, which is Pavia's cathedral, is quite an impressive sight.Its construction first began in 1488, but it was only entirely concluded at the end of 1898. The massive dome that stands on its top is the third largest in terms of size in Italy.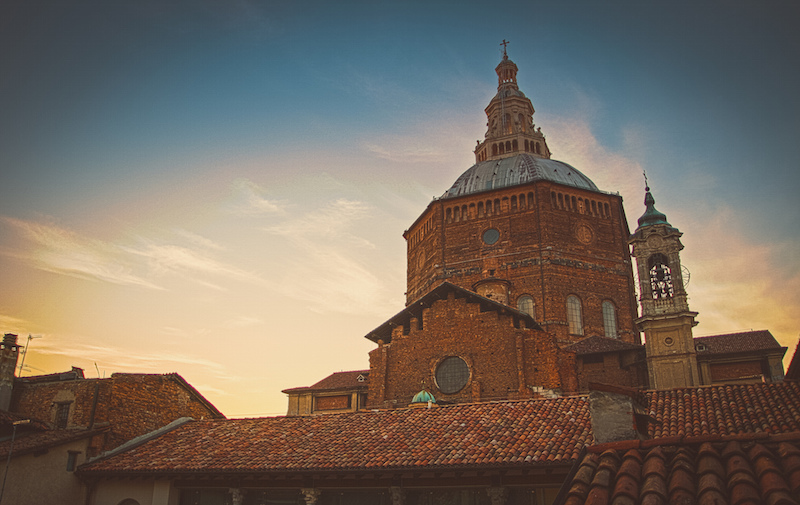 Church of San Michele Maggiore
The church of San Michele Maggiore is built in a Lombard-Romanesque style and is an important church in Lombardy for its architecture. Destroyed in 1004, it was then reconstructed in the 11th century and is known for its use of sandstone, which gives it a unique look.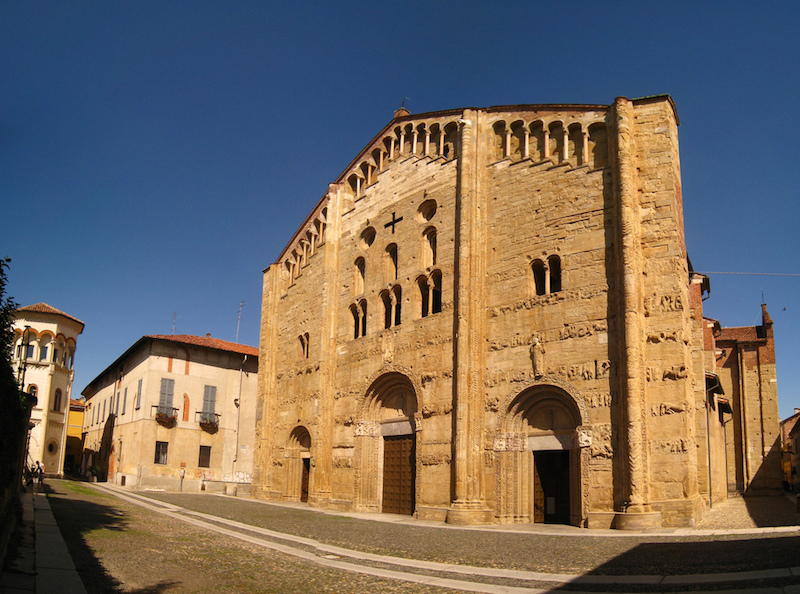 Basilica of San Pietro in Ciel d'Oro
The basilica was originally built in the 6th century and then reconstructed in the 12th . Several important saints and the Lombard King Liutprand have been buried here. The most noteworthy aspect of the basilica are its 13th century arch and the characteristic brick work of its façade.
Castello Visconteo
The Castello Visconteo is a huge fortified castle built in the 14th century. The castle was used as a private residence in the past centuries, and is today home to Pavia Civic Museum. The park surrounding the castle is a popular family spot.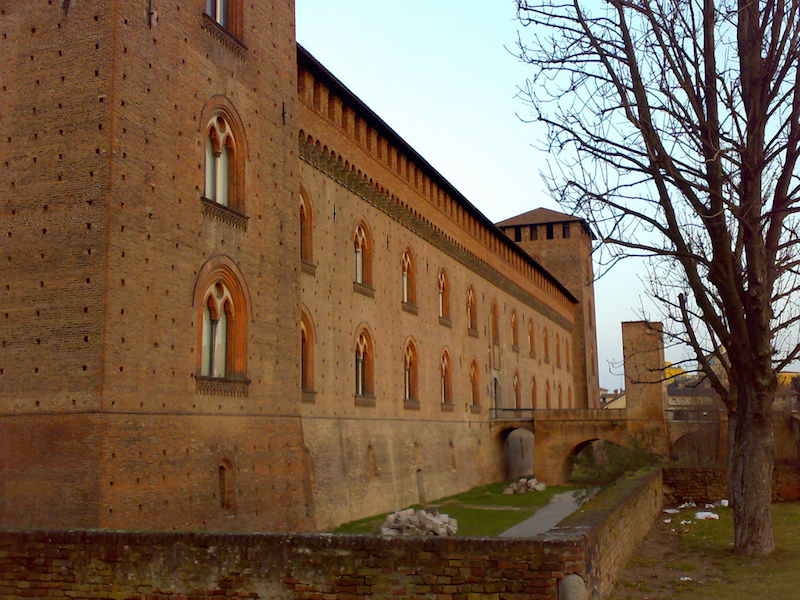 University of Pavia
The University of Pavia, established in 1361, is one of the most ancient universities in Europe. According to several manuscripts, a rhetoric school did exist here since 825 AD which makes it the oldest in Europe of its kind. The architecture of the university itself is worth admiring: its sprawling main complex spreads out over twelve courts and the architecture shifts from Baroque to Neo-Classic.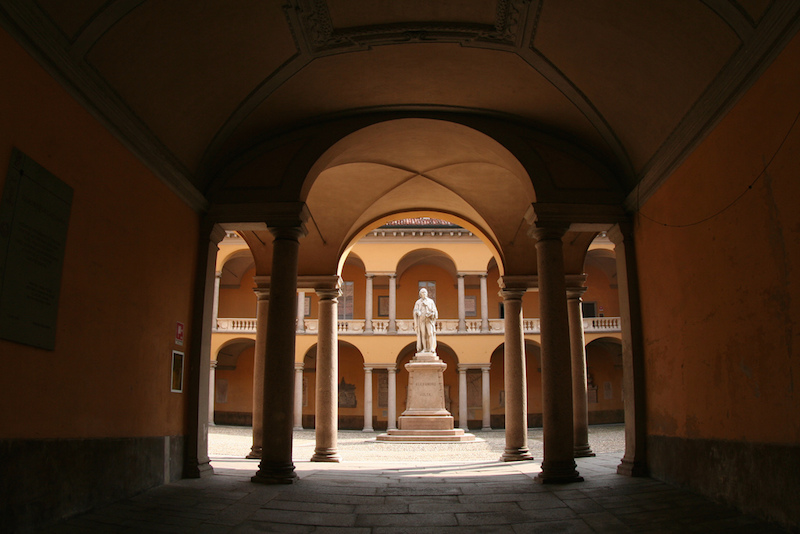 Medieval Towers
Some of Pavia's medieval towers are still standing intact around town, even though some others did not withstand the passing of time and have collapsed. However, what remains of the towers today is certainly worth seeing if you're visiting Pavia. These dominate the skyline of Pavia and are quite imposing in size.
Getting to Pavia
The easiest way to reach Pavia is by train, since the city is connected to many destinations in Lombardy through the regional train line. Most cities in Lombardy have direct trains to Pavia a few times every day and tickets are not very expensive. Another option is to travel by bus. Buses between Pavia and other cities of the region run regularly a few times a day, but keep in mind that, on the other hand, those coming from other regions are not as common and are often rather uncomfortable.
If you avail of car rental, driving is, of course, another excellent option.
Moving Around the City
Pavia is a very small city and quite compact in size, too. It is also very peaceful and not congested with traffic, so walking around is quite easy and enjoyable.The streets here are cobblestoned and lined with shady trees, so even in Summer walking around is not a problem. Another option is to use public buses which are quite regular and not very expensive. Taxi services are a possibility, too, but they need to be booked in advance since they are not easily available in all parts town.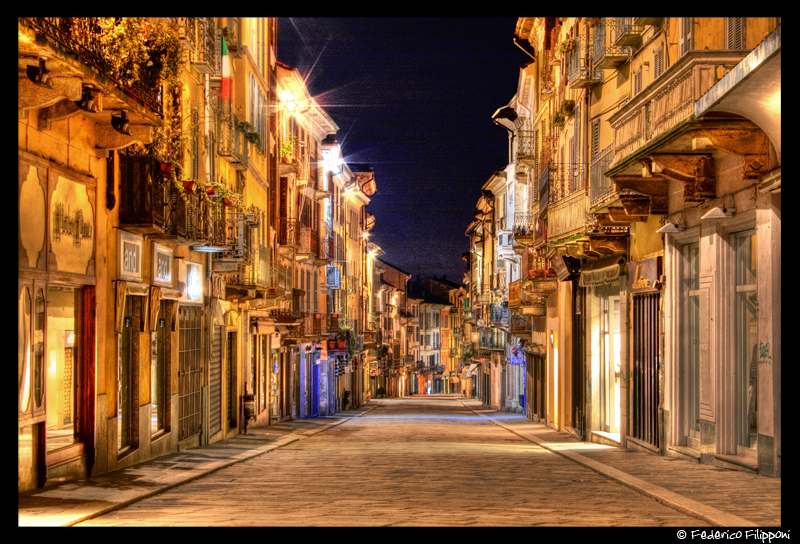 Stay and Accommodation
In Pavia you won't find the high and refined type of hotel you may expect in Milan or Rome, as it is a more provincial, peaceful town. However, its hotels are charming, beautiful and often not too expensive.There are also a few Bed & Breakfasts in the city, which could be a good option if you are on a stricter budget. Some good hotels to try in the city are Hotel Pavia, Residenza Pavia, Hotel Aurora, Hotel Alberghi, Hotel Albergo. Many of the old villas and mansions have also been transformed into small charming hotels, which are mostly family run and are quite inexpensive.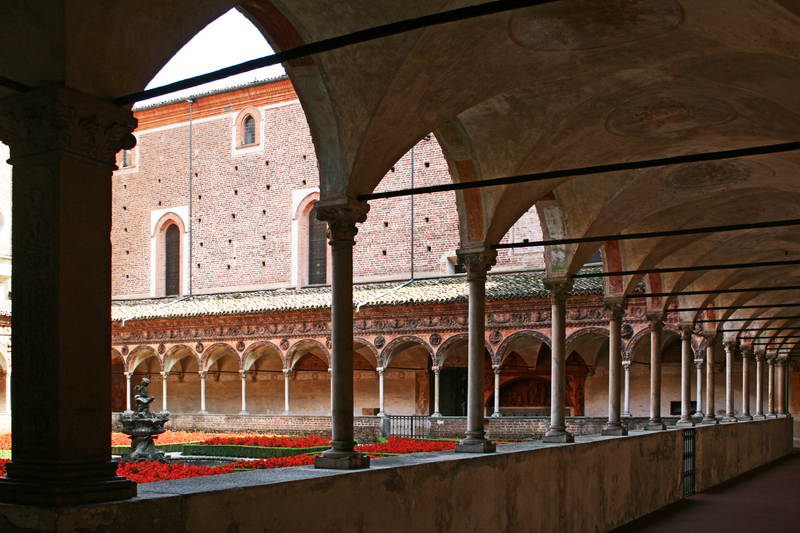 Eating in Pavia
Pavia does have a few options in terms of restaurants. The restaurants in the city mostly serve Italian staples and also regional Lombardy dishes. There are a few fast food joints and restaurants serving international cuisines, but it's best not to try them. The delis and cafés here serve some good light snacks, salads, pastas and paninis. There are also quite a lot of good pizzerias and patisseries selling traditional desserts and pastries, which are local to Pavia and definitely worth trying out. There are a few pubs, too, where you might get some good cocktails, however, wines are the best option.
Shopping in Pavia
Shopping in Pavia is mostly restricted to the city's shopping streets, as there aren't large shopping malls in town. Locals generally do their shopping at old fashioned markets in the old city and at the weekly farmer markets around town. Pavia is well known for its dairy products so there are quite a lot of good local cheeses which can be bought. The city is also known for its vineyards located around the city, so you will certainly be able to find some good locally made wines.