If you're looking for some adventure, after all the sightseeing in the Rome you can visit the Cascate delle Marmore, about 100 km from Rome. These waterfalls situated in Umbria were artificially built by the Romans and are now a great tourist attraction. They consist of three major falls for a total leap of 165 metres. Here, not only you can stroll down the paths and climb up the hill towards the top of the waterfalls, inside a finely preserved and equipped park with beautiful belvederes scattered here and there.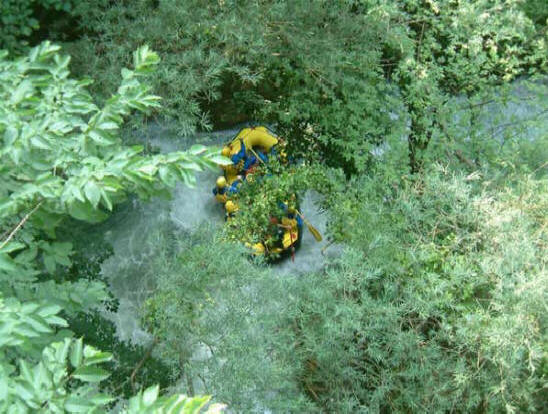 There's also a club which organizes rafting and hydrospeed tours. Bear in mind that the raft starts just after the 165 metres leap, so you won't need to do that!
Six people per raft, plus the trained and qualified guide, are recommended on board. They also accept groups of four, but with a lower weight it is easier for the raft to turn upside down. However, if you're traveling alone or in a couple, you can always ask to join another group when booking – which is mandatory.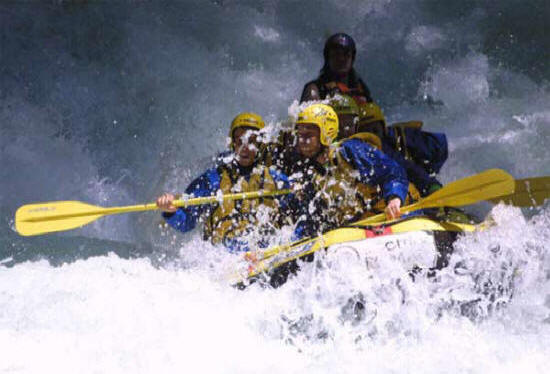 Before your descent starts, clumsily dressed in all the right equipment given by the organization for your safety (a wetsuit, neoprene shoes, a life jacket, a helmet and a paddle), you will attend a training course during which your guide will teach you how to paddle and all the key commands: left, right, stop, weight to the left or right – this latter command meaning everyone should jump to one side of the raft in order to oppose stronger currents. Ironically, in the meantime you'll start to notice that while you're dressed in the most unflattering way, your guide will have a special wetsuit, which looks especially made to underline his Rambo like muscles. Not a good feeling for your ego, perhaps, but it definitely helps to create an utter trust in the guide's capacity to save you from any rafting harm.
After half an hour or so you climb into a white van with no seats, but two wobbly benches leaning against the windows, which takes you up stream, just below the main water fall. You exit the van with trembling knees as you begin to hear the roar of the water and cross the park towards the rafts. Soon enough you take pride as tourists passing by look at you and your fellow rafters dressed in yellow and blue in bewildered awe. In fact, you might easily feel as the crew in Armageddon, ready to get on board the spaceship, except there will be, alas, no Bruce Willis nor Ben Affleck look-alike in your team. I know there wasn't one in mine for sure!
Once you get on board, the guide turns into a god on earth and declares martial law. If you don't follow his commands, he might as well kill you, or more likely hit you on your head with his paddle. Again, this is meant for your safety only. The ride is in fact breathtaking and as the river Nera, into which the water falls, is very narrow, the rapids can be extremely powerful. In other points, the water flows quickly but without any rapids and you can enjoy the beautiful scenery, enveloped between the narrow levees made of rocks and roots, and a roof of bright green leaves.
As the water squeezes through the rocks you gain velocity and then almost fly in the air and bounce straight after with a vacuum effect and splashes of water on you. There's even time for a few pictures shot by the official rafting photographer as you paddle your way down the rapids. By the end of the ride, where the training course took place, you feel you have mastered all the commands and could go on paddling for another hour or so. No worry about that. You'll consume all the strength that's left to carry the raft on shoulder, from the small deck on the river to the training course area!
How to Get There
It is best to go there by car: from Rome, take motorway A1, exit at Orte and continue on E45 towards Terni, then take SS 209 towards Papigno. If you cannot rent a car, try taking the train from Rome to Ancona, getting off in Terni and continuing to Cascata delle Marmore by taking bus n. 21 or 7. You can find the timetable on the waterfalls official website.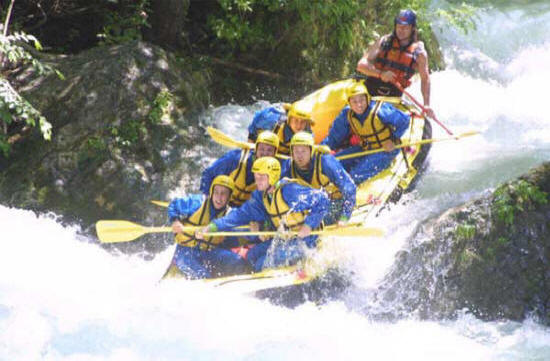 When to go
The park is open all year round and rafting and hydrospeed are available from March till October. For further detail check the rafting centre's website or send an email at [email protected]
The same group also organizes weekend packages with meals and hotel and a selection of rafting and hydrospeed rides.
Travel feature and photos by Slawka G. Scarso