Puglia, located in the southern region of Italy remains an alluring destination to visit thanks to the slow-paced Italian way of life, charming Italian villages dotted along the stunning coastline, and not to speak of the region's delicious world-class Puglia gastronomy. A Puglia, Italy road trip is something you should definitely do!
Travelers arriving here for the first time are sure to fall in love with the region as there is an endless amount of incredible places to visit and explore throughout Puglia. Despite this, Puglia has somehow managed to remain fairly undiscovered by the hordes of tourists that flock to Italy annually, making it the perfect Italian hidden gem worth exploring as part of a great Italian road trip!
Here then is a suggestion for the perfect 3 days Puglia road trip to help you discover this beautiful Italian region, covering all the main sites and history of Puglia.
Planning Your Puglia, Italy Road Trip
Before setting out, be sure to read our post on driving in Italy, to help you familiarise yourself with the road rules and to help plan ahead.
Another very useful resource is the ViaMichelin website that allows you to plan your route and also provides estimated fuel and toll fee costs per route breakdown. This is a great way to budget for your Puglia travel itinerary. Ready to learn about the Puglia road trip?
Day 1 – Explore Bari and Surrounds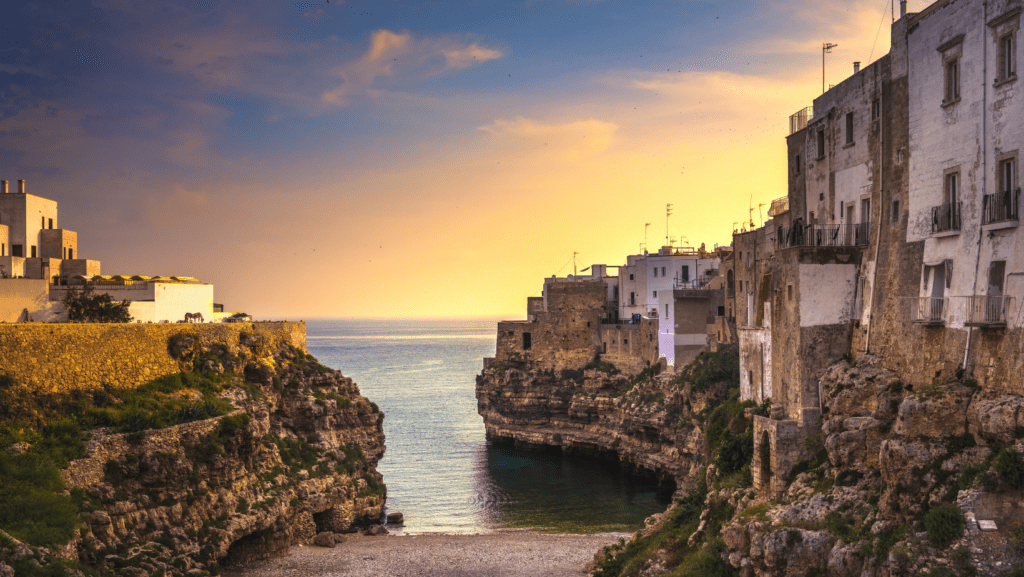 Although there are several starting points for a Puglia road trip, it is highly recommended to start off from Bari, the capital of Puglia, and get the chance to explore the lesser-known villages and beaches along with the coastal hideaways that are a mere stone's throw away.
Arriving at Bari international airport makes perfect sense and will allow you easy access to the region. Travelling by air also allows you to collect your car rental at the airport, ready for your road trip ahead.
Where to stay in Bari?
There are plenty of great options for hotels and accommodations in Bari to choose from. To be centrally located and close to all the major attractions you may want to consider the ultra-modern Dilman Luxury Stay or the beautiful Palazzo Calò aparthotel that boasts a gorgeous rooftop terrace with views out over the city.
What to see and do in Bari?
Bari city is situated along the southeastern coast of Italy and once formed part of the Roman Empire. The coastal city served as a major gateway and enjoyed access to many shipping routes.
Today there is plenty to do and see in this historic city, and you can easily spend an entire day exploring the old and new in this wonderful coastal destination. Exploring Bari should be on top of your bucket list for a Puglia road trip!
The Basilica of San Nicola – It is a central place of pilgrimage for many Roman Catholics in Europe. Inside you can admire the stunning intricate artwork and a plethora of notable sculptures.
Bari Castle – The Bari Castle, known as the Castello Normanno-Svevo, was built by King Roger in the 1100s and features a traditional design with a central courtyard and four main guard towers and is surrounded by a moat and remains one of the most renowned castles in Puglia.
Bari Old Town – Explore the narrow-cobbled streets of the old town to gain an awareness of the local culture and history, so distinctly different from the modern city.
Piazza Mercantile – Visiting the charming old town centre you'll no doubt stumble across the Piazza Mercantile, which is located towards the east side, and which has served as the commercial heart of the city from around the 14th century. Be sure to grab a bite to eat at one of the restaurants and enjoy the buzz of downtown Bari.
Altamura – Drive inland to reach the entrancing town of Altamura that retains its historic charm and offers a myriad of interesting sights.
Where to eat and shop in Bari?
Bari attracts a large number of visitors every year and boasts of a bustling pedestrian shopping area with plenty of options for dining and shopping. Some of the top places for shopping In Bari include the Fashion Centre of Puglia, Barimax Shopping Village, Via Sparano, Corso Cavour And Via Manzoni, and Via Napoli Market.
As far as delicious Italian food and homemade pasta go head to one of the most renowned Bari restaurants such as Ristorante Biancofiore, Riva Restaurant, La Teglia, Il Grottino, and Ristorante Terranima to name a few.
Continuing the Puglia, Italy Road Trip
Day 2 – Travel from Bari to Ostuni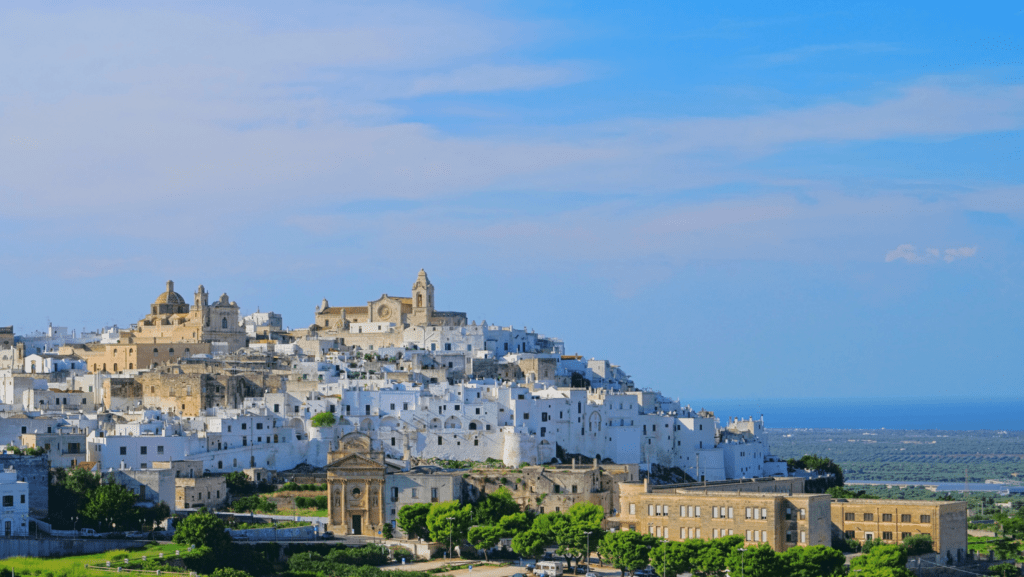 Head out early on Day 2 of your Puglia road trip, traveling towards Ostuni, which is a mere 45 miles from Bari and will take you about an hour to reach. Whilst Ostuni is certainly a beautiful town to explore, you'll want to make several stops along the way, including at Alberobello and Monopoli.
You will no doubt fall head over heels in love with the picturesque town of Alberobello, designated a UNESCO World Heritage site and consisting of the famed white-tippled, cone-shaped Trulli buildings.
Monopoli is another ancient city founded by Greeks and dating back as far as 500BC. This gorgeous seaside town is incredibly picturesque and boasts of beautiful Italian architecture and is also well worth a visit along the way to Ostuni.
Where to stay in Ostuni?
There are plenty of chic and comfortable places to stay in Ostuni, and some of the best places to stay in Ostuni and for central location include the resort hotels of Paragon 700, as well as the La Sommità Relais & Chateaux. These are gorgeous properties where you'll feel right at home in the heart of Puglia.
What to see and do in Ostuni?
Ostuni is a beautiful white-washed hilltop town that immediately grabs your attention, gleaming in the sunlight. The town was established as far back as the 1st Century with a rich and fascinating history. Here are some top things to do in Ostuni:
Explore the city of Ostuni – The city is divided into the old town on top of the hill and the more modern, lower part. Look at and explore the amazing city wall and architecture of old town Ostuni.
Ostuni Cathedral – Visit the Ostuni Cathedral, which is located in the centre of the city. The gorgeous Gothic-Romanesque Cathedral was built in the 15-century.
Piazza Della Libertà – Spend some time in the delightful piazza and admire the 18th-century column with a statue of Saint Oronz that dominates the centre of the piazza.
Palaces of Ostuni – You will be pleasantly surprised to come across several grand palaces in the old town of Ostuni, such as Palazzo Vescovile and Palazzo del Seminario.
Ostuni Market – Stop at the Ostuni Market to get a feel of the local culture and way of life. Why not grab a few products including tasty cheeses and meats to enjoy later on.
Where to eat and shop in Ostuni
Ostuni is packed with vibrant restaurants and bars. Do not forget to try the Ostuni White Wine variety, native to this area, and shop for quality olive oil as 40% of Italy's total olive oil production comes from Puglia.
Some of the most popular restaurants include names like Al Solito Posto, Osteria del tempo perso, Ristorante Pantagruel, Miramare, and Porta Nova. Enjoy great Italian dishes in the most atmospheric of spaces.
As for shopping, look forward to an incredible experience at the best spots which are favoured by locals and visitors alike, such as Mercato Settimanale del Sabato, L'Ulivo Che Canta, Orizzonti Arte Contemporanea, Typicus, and more. There are plenty of speciality & boutique shops to add to your shopping experience.
Last stop of the Puglia Italy road trip
Day 3 – Travel From Ostuni to Lecce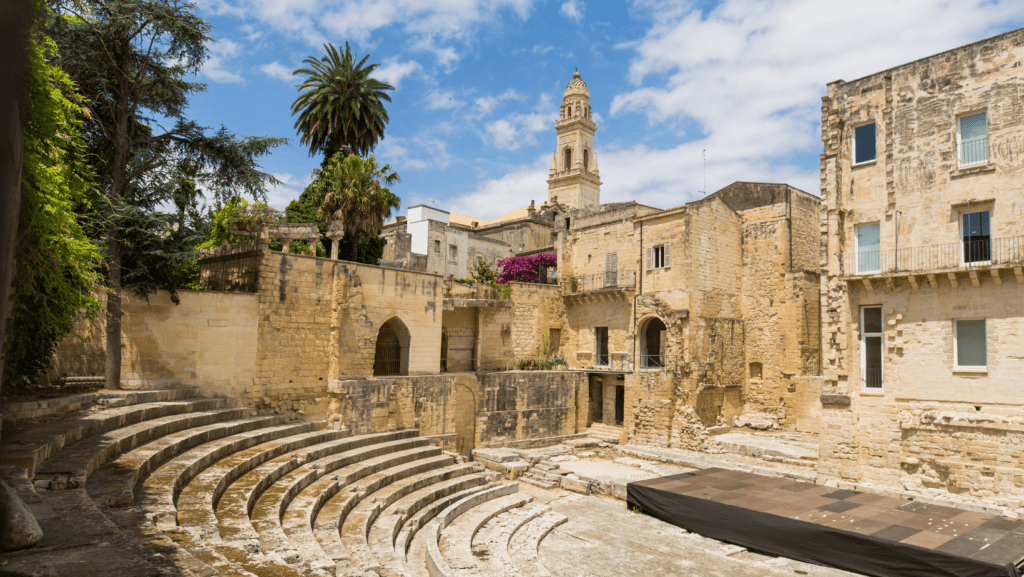 After a restful night at Ostuni, hit the road and make your way to Lecce on day 3 of your Puglia, Italy road trip.
The city is situated around 49 miles from Ostuni and will take you about an hour's drive. You can make two stops along the way, about half an hour away at Brindisi and later at Torchiarolo, which is a roughly 20-minute drive from Brindisi, before arriving at Lecce for the day.
Brindisi is an important city on the Southern Italian coast and some sites of interest include spots like Castello Alfonsino di Brindisi, Santa Maria del Casale, Lido Azzurro along the port city.
After spending some time exploring here, you can head for Torchiarolo which is famous for its attractions like Chiesa di Santa Maria Assunta, Palazzo Baronale, Spiaggia di Torre San Gennaro and more. From here, it's a short 20-minute drive to your final destination, Lecce.
Where to stay in Lecce?
End your stay in Puglia in style by booking into the gorgeous 4* Dimora Storica Torre Del Parco 1419 fortress hotel set in the heart of Lecce. It is only a short 5-minute walk on foot to Lecce's historic city center.
What to see and do in Lecce?
There are some spots in Lecce that you absolutely have to include in your wanderings. Just pick up a map from the tourist office and get ready to explore the following sites.
Piazza Sant'Oronz – This is a good starting point for your Lecce tour and is the city's main square, which boasts a large Roman Amphitheatre that can seat 14,000 spectators.
Piazza del Duomo – Another of the most beautiful squares in Lecce is Piazza del Duomo which is the bishop's residence and is abuzz with cafes and shops, a perfect spot to grab a coffee and enjoy 'La Dolce Vita' the Italian way.
The evening Passeggiata – Join the evening Passeggiata (and early evening stroll) if you want to experience real Italian life. Enjoy a pre-dinner stroll as the streets of Lecce come alive, filled with locals and visitors alike.
Take a cooking class – Get ready for an unforgettable experience in Lecce and join a local chef for a food tour of the city, as well as a fun, informal cooking class thereafter.
Where to eat and shop in Lecce
Lecce boasts numerous shops and boutiques selling an array of clothing, jewelry, crafts, and Italian souvenirs. Via Palmieri and Via Vittorio Emanuele are the most popular streets for shopping. Pick up a unique papier mâché souvenir on Via Vittorio Emanuele II.
Want to delight in Lecce's local culinary scene? Visit top-rated restaurants such as CRIANZA, Tabisca "il Vico dei Tagliati", DUO ristorante, 3 Rane, and Osteria degli Spiriti. Dine at these upmarket restaurants that serve excellent and authentic Italian dishes alongside a fabulous selection of Italian wines.
Wrapping up the Puglia, Italy road trip
A Puglia, Italy road trip is a really great way to explore one of the most beautiful regions in the South of Italy. With this article, we basically covered everything that's important to see and visit in Puglia! The region rich in great food, beautiful beaches, and charming towns is perfect for a great summer trip to the Italian coast!
Pin it: a Puglia, Italy road trip idea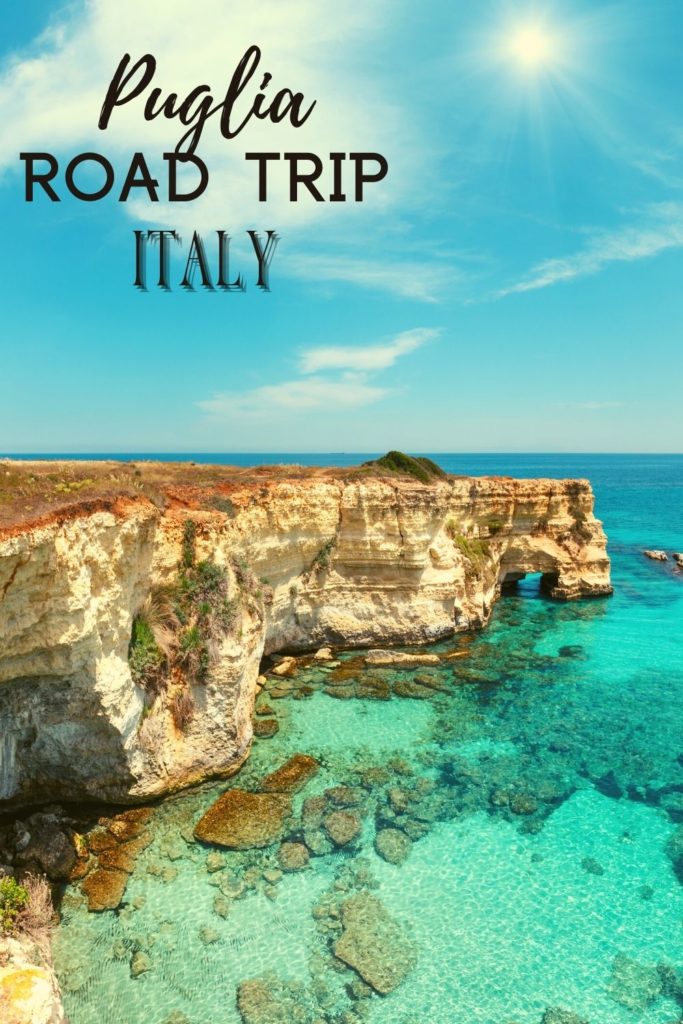 Written by Marco Santos from Travel-Boo