Apulia or Puglia is a long, slender region with a vast stretch of sun-baked coastline. Apulia's southernmost tip, the Salento peninsula, forms the heel of the Italian boot. Apulia is bordered on the northwest by Molise and its western border is with Campania and Basilicata. Apulia consists of rolling plains and gentle uplands, sources of grain and the nation's largest volumes of wine and olive oil. Apulia's most prominent geographical feature is the Gargano peninsula, which juts out into the Adriatic like a spur on the boot of Italy. Today Apulia is a mix of both natural and man made sights: beautiful beaches, flat plains of wheat or olive groves, nature preserves, family run farms (many of which have become Agriturimos), large ports, and small fishing villages. Apulia abounds in castles, churches and ancient ruins – all of them still far away from the major tourist tracks, at least for now.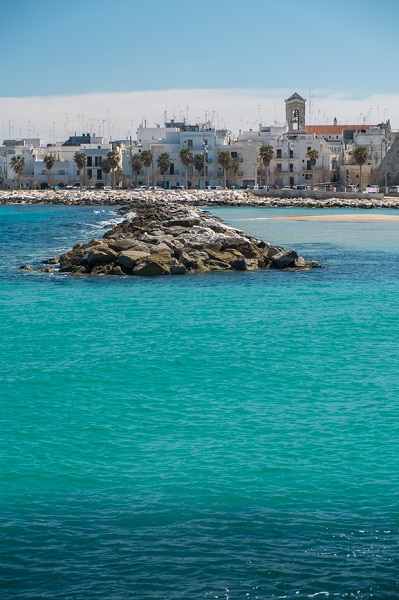 Apulia: History
Apulia was colonized by the Greeks in the 8th century BC, but when they got there Apulia was already occupied by the Lapigi. The two tribes of Lapigi people, Dauni and Messapi may have been the originators of the traditional Apulian dwelling known as Trulli. These conical stone houses are built without mortar and may have an ancient history dating back thousands of years to these original Apulians, but it is not proven. The word Apulia is a Roman corruption for the name of these Lapigi, who appealed to the Romans for help against their long-time enemy, the Samnites. Rome finally occupied Apulia but nearly lost it all at the hands of Hannibal at the battle of Canne (in Apulia) in 216 BC.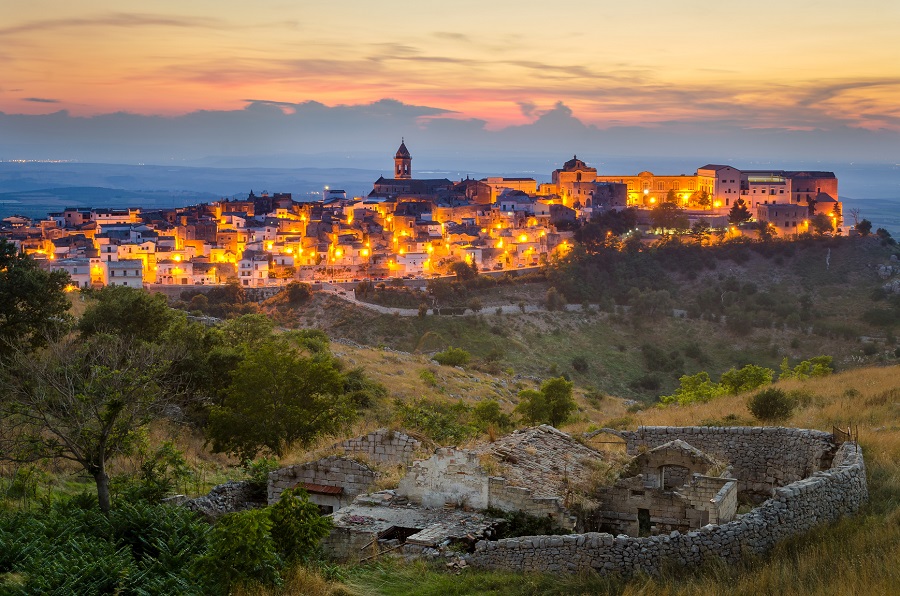 During its height, Rome built the Via Appia from the capital to the Apulian port of Brindisi, connecting Apulia to the rest of the Empire. After the fall of Rome, Apulia was contested between Byzantines, Longobards and Arabs until the Normans conquered all of southern Italy. Apulia would later prosper under Emperor Frederick II (Stupor Mundi), before passing into the hands of the House of Anjou and by 1442, the Spanish House of Aragon. Apulia was later absorbed into the Kingdom of Naples and shared a similar history with the rest of southern Italy until the arrival of Garibaldi in 1860, thus starting the history of modern Italy. Today Apulia is awakening from its slumber, catering more to tourism and sharing its culinary delights – especially its olive oil – with the rest of the world.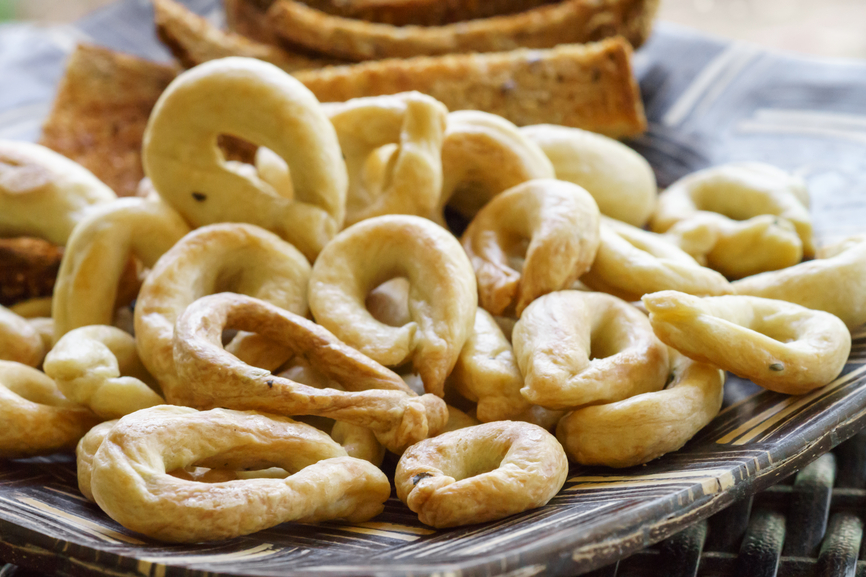 Apulia: Regional Food and Wine
The Apulian diet is balanced by equal use of both land and sea, especially in the local antipasti. Mussels, oysters, octopus, red mullet and swordfish are all popular, with Taranto being a center of shellfish cultivation. Vegetables of Apulia include fava beans, artichokes, chicory and various greens including rucola ("rocket"). Eggplants, peppers, lampasciuoli (a bitter type of onion), cauliflower and of course olives and olive oil are all Apulian staples. Apulia produces a full half of all Italian olive oils and is used almost exclusively in the local cooking, especially to fry seafood and vegetables. The most famous Apulian pasta is Orecchiette, but Bucatini is also popular, both served with tomato sauce or with olive oil, garlic and cauliflower. Cheeses include Canestrato Puglisi, Caciocavallo Silano (both PDO), Ricotta and Mozzarella and play an important role in Apulian cooking. The meat of choice in Apulia is either lamb or kid and can be roasted, baked or grilled on skewers. Pork is popular for local Salami with rabbit and beef also being represented. Breads and sweets include Focaccia and Pizza to fritters filled with sweetened Ricotta, sweet Ravioli, honey covered Carteddate and Zeppole di San Giuseppe, served on the Saint's day in March.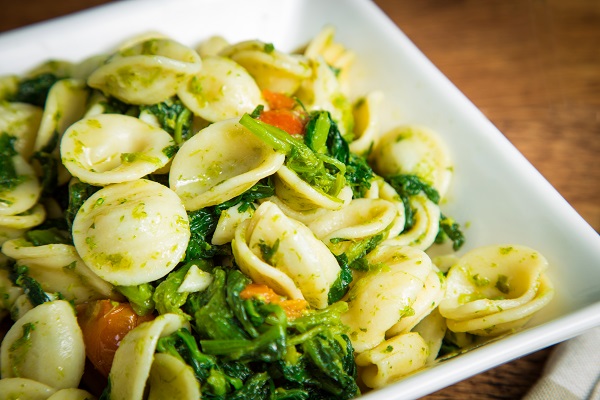 Apulia was once known as "Europe's wine cellar", however that is no longer the case with other Italian regions increasing their output. Instead Apulia is now producing wines of quality over quantity, yet they are still reasonably priced. Castel del Monte (DOC) is well known for a full-bodied red wine and an equally pleasing rosato. Primitivo di Manduria (DOC) creates a strong, alcoholic red that was once only used for blended wines, but is now more refined and drinkable on its own. Salice Salentino (DOC) is used to make sweeter reds and dessert wines.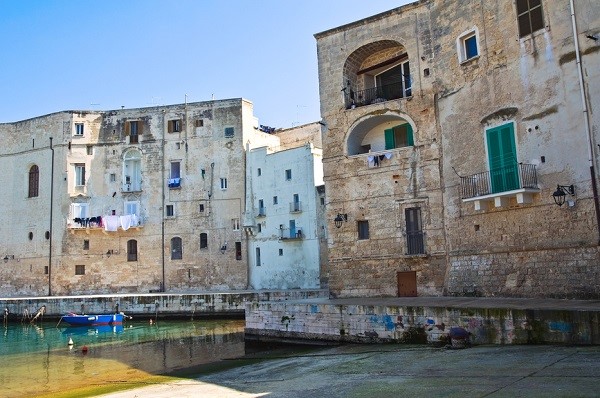 White wines of Apulia are undergoing modernization and international grape varieties are being introduced, however there are some traditional standouts. Locorotondo (DOC) is a straw yellow, fruity and much different than most other Apulian wines. Martina Franca (DOC) is a dry white and is also in contrast to the heavy and strong reds of Apulia. Besides dessert wines and Grappa, Apulia also is home to a number of herbal and citrus infused spirits making use of local walnuts, carcade flowers, rhubarb, myrtle, anise, lemons and oranges.
Apulia: Regional Highlights
Bari
The port of Bari is separated into the winding streets of La Città Vecchia (old city) and the more modern plan of the Città Nuova (new city). The old city is home to the famous Basilica of San Nicola, resting place of the saint who inspired Santa Klaus whose remains were stolen from his homeland in Turkey. The Basilica is the oldest surviving building in Bari, since the entire city was razed by King William the Bad in 1156. The imposing Norman Castle, enlarged by Frederick II is an excellent place to get a view of the old city and the Adriatic. The new city is a grid of broad streets and avenues lined with shops and grand hotels. The immediate area around Bari makes and excellent road trip to visit the many Cathedrals stretching along the coast road north of the city.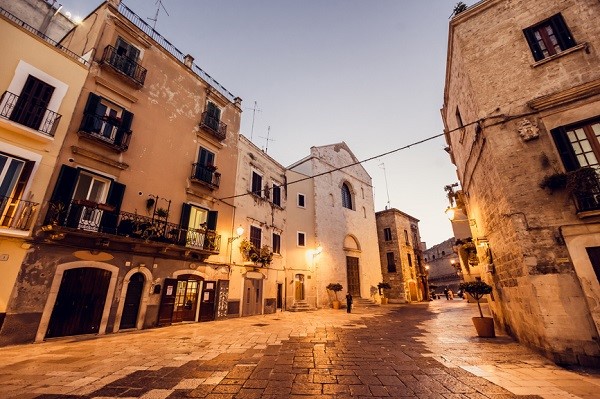 Lecce
The former Greek and Roman colony of Lecce is the home to some of the best Baroque stonework in Italy. The soft pinkish stone of Lecce is very easy to work with and it was decided in the 17th century to cover Lecce's monuments in Baroque veneer. The facades of the church of Santa Croce and the Palazzo del Governo are an entire block of ornate carving. Other Baroque masterpieces are the churches of Santa Chiara and the church of San Matteo. The Piazza San Oronzo is home to a Roman Amphitheater as well as a column once located in Brindisi to mark the end of the Via Appia. Other ancient ruins including Apulian tombs can be found a short ride from Lecce at Rudiae.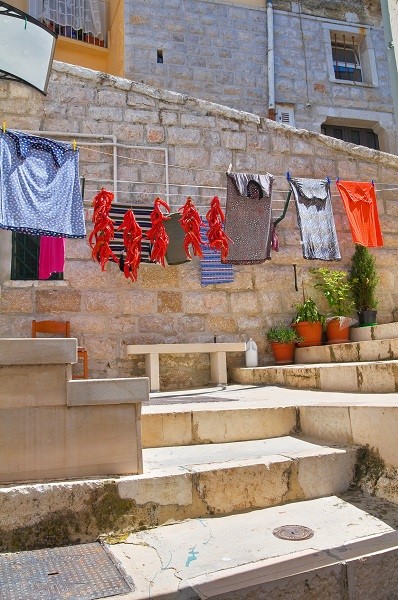 Alberobello
The city of Alberobello is home to over 1000 of the traditional Apulian Trulli houses, and a UNESCO World Heritage Site. These conical stone houses may have originated here and those that remain are subdivided into two neighborhoods. Some of the Trulli have been converted into shops but many are still private homes. However don't be surprised if a friendly local invites you in to see what a Trulli looks like on the inside. There are other Trulli that have been restored to their original condition that you can visit and some Trulli can be rented. A visit in winter, with the Trulli dusted with a light snow adds even more to the fairytale atmosphere of Alberobello.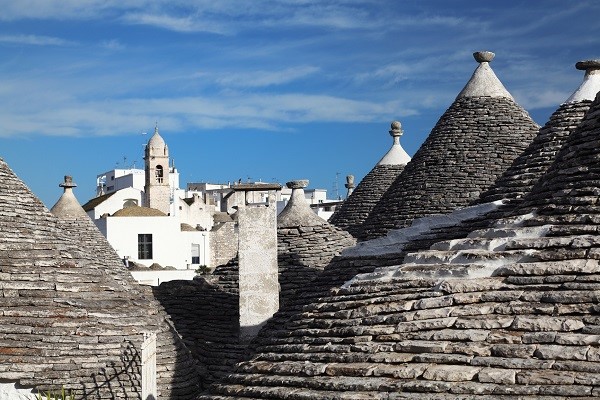 Castel Del Monte
An impressive fortification built on order by Frederick II.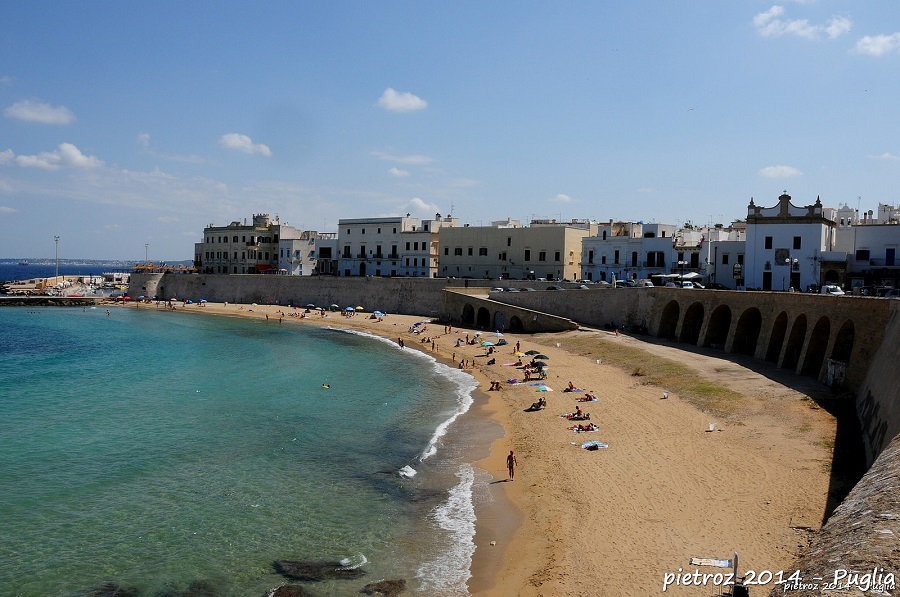 Apulia: Regional Festivals
Lecce – Festival of St. Orontius in August
Taranto – Hooded Penitents and Passion Processions – Monday Thursday and Good Friday
Pezze di Greco – Living Nativity Scene in December
Carosino – Wine Festival in October
Crispiano – Mushroom Hunt in November
According to many, we can trace the origins of Santa Claus to Bari.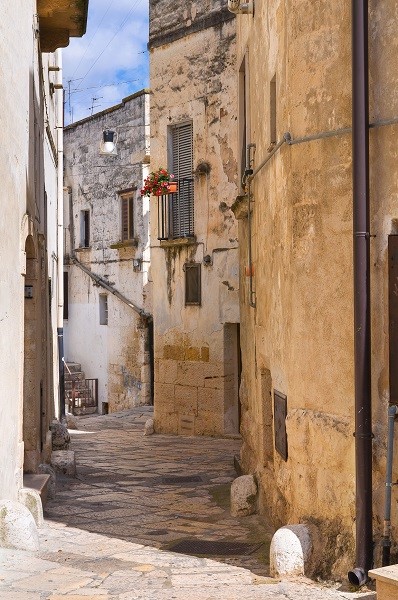 For Further Information:
Official Regional Web Page: www.regione.puglia.it
Official Tourism Web Page: www.pugliaturismo.com
Bari Official Web Page: www.comune.bari.it
Alberobello Official Web Page: www.alberobello.net
By Justin Demetri