One of the greatest challenges of raising healthy kids is to convince them to eat more vegetables! I tried – and still try – it all! Here's a way however if you've been asking how to get kids to eat vegetables, Orechiette ai broccoli recipe from Puglia, Italy. Great pasta with broccoli recipe that kids will love! Let's see our Italian broccoli pasta recipe!
From bribing them to getting them in the garden, hoping that growing their own vegetables would encourage them to eat their produce. While bribes turned out to be a disaster, growing their own vegetables was a partial success, but the reality is I am no farmer and my produce is quite limited.
It was feeding them veggies over and over again and finding a delicious tasty recipe that paid off, the italian broccoli pasta! So, when I recently heard from my 12-year-old that she actually likes broccoli, I nearly cried with excitement and joy! Let's get into that pasta with broccoli garlic and oil recipe!
Orecchiette ai broccoli – Italian broccoli pasta recipe
How to make pasta with broccoli? How to get your kids to eat vegetables?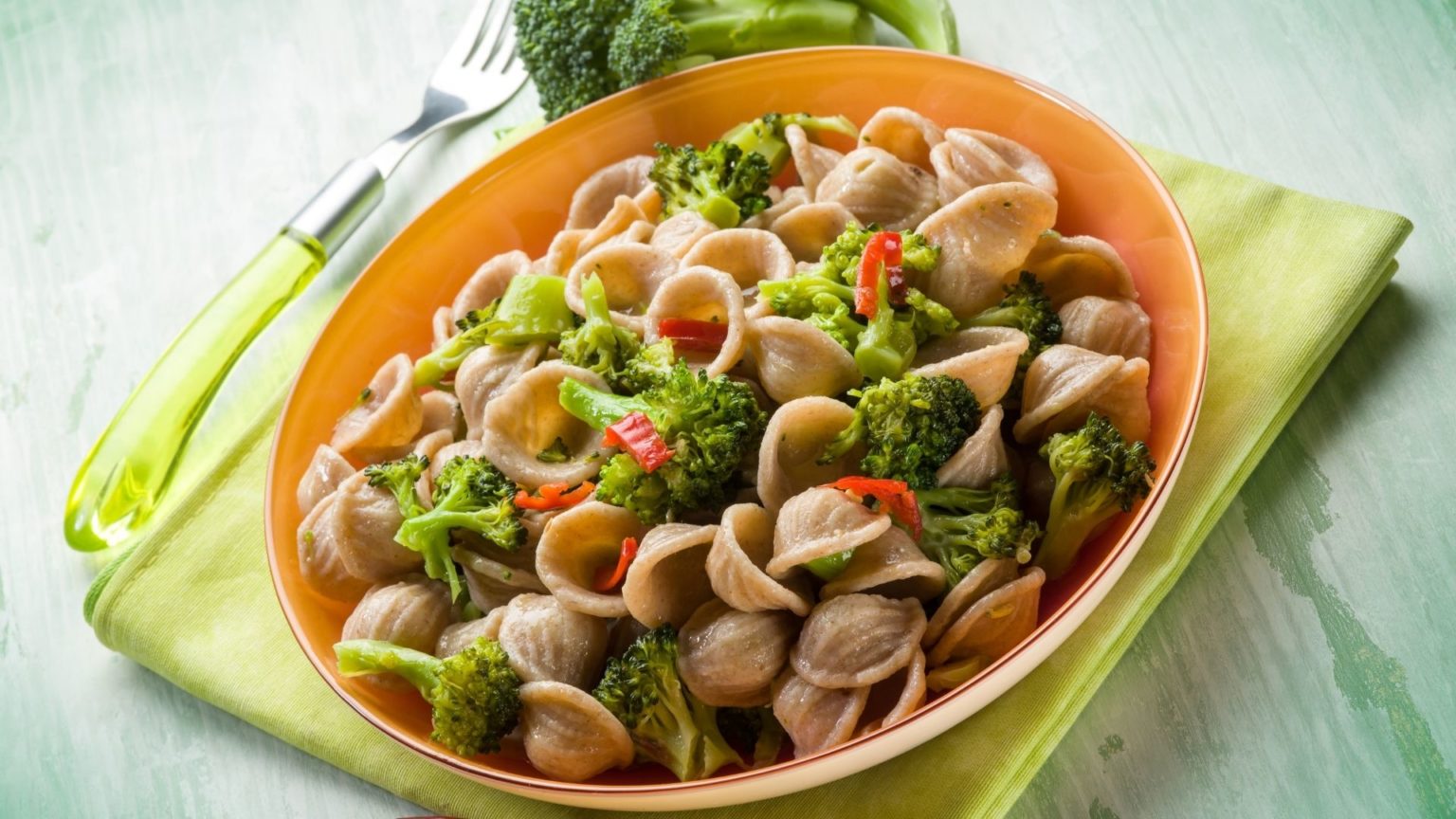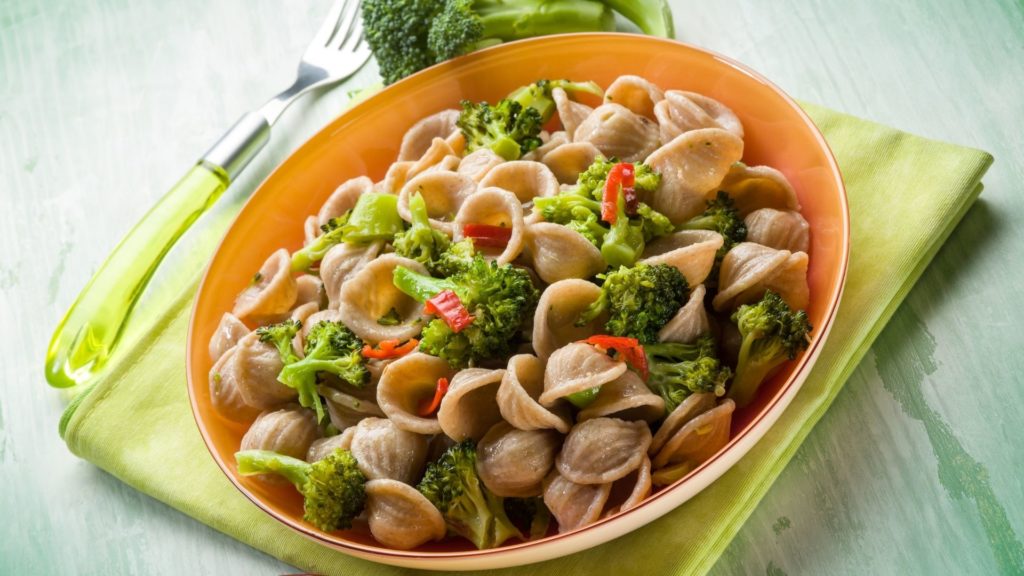 Why an Italian broccoli pasta recipe? It took some years of hard work and determination to convince my kids to eat more vegetables and we are not there yet. I still resort to finely grating and hiding things like zucchini and celery in pasta sauces and savoury muffins, but broccoli has won my three kids – especially my oldest daughter's – taste buds.
But broccoli wasn't love at first sight – or bite!
So, what was the secret to conquering my fussy eaters? How to get kids to eat vegetables?
My secret with broccoli goes back to Puglia (or Apulia, in the local language) and its traditional Orecchiette ai Broccoli (Italian broccoli pasta)!
Italian food and its Mediterranean diet are rich in recipes that use nutritious vegetables in a tasty and appealing way. It is no surprise that kids in Italy and other Mediterranean countries get used to eating their veggies from a young age.
Like any other vegetable, I applied my 'hide and eat' technique to broccoli cooking! That is, I find ways to hide broccoli only to reveal my secret ingredient when I was sure they liked my special dish.
The main twist is to blend the broccoli with olive oil and parmesan – a bit like traditional pesto! For a while, I called it Green Sauce Orecchiette! Let's get into that pasta and broccoli recipe Italian style!
So, here is my Orecchiette ai Broccoli recipe for fussy eaters!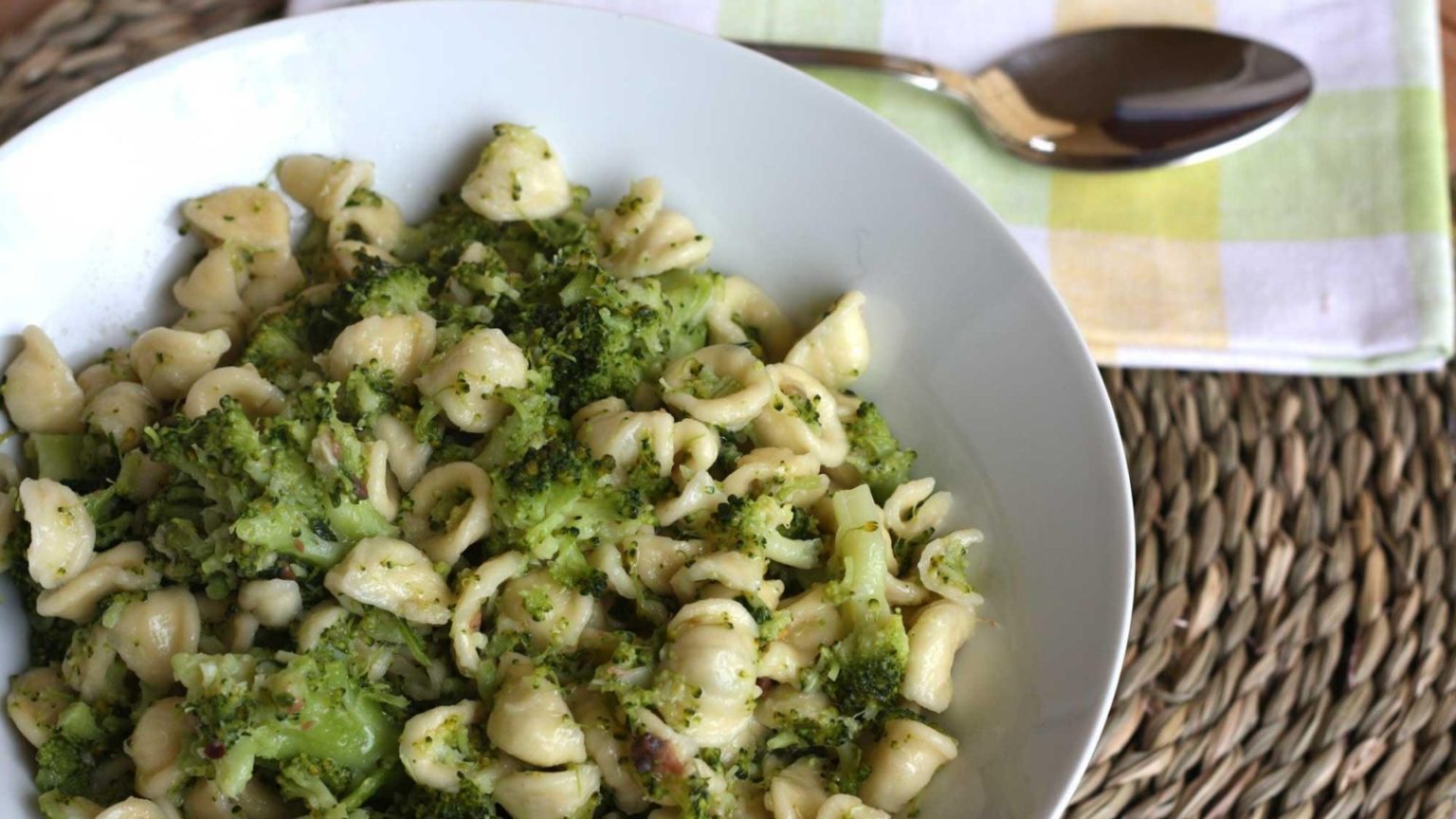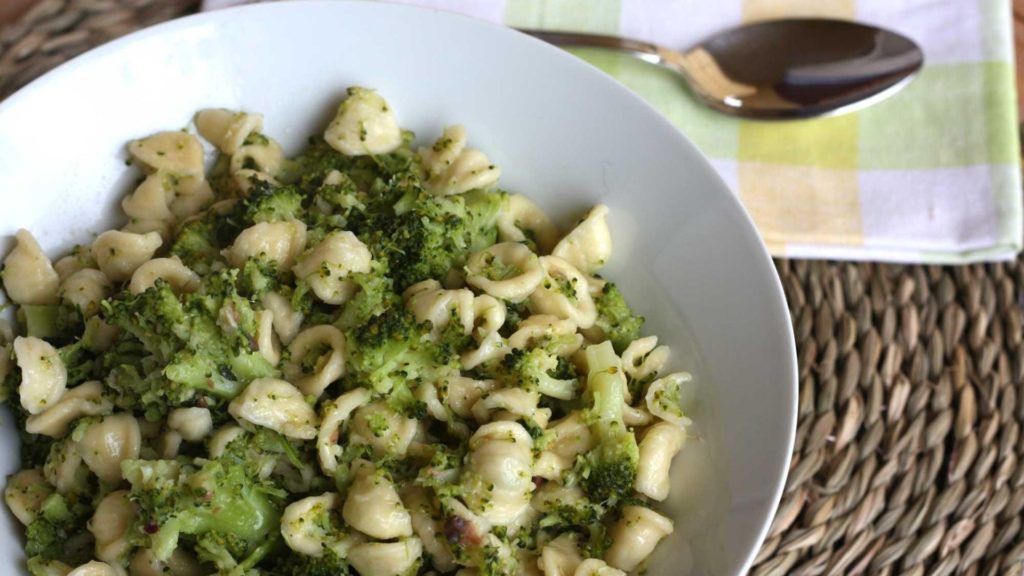 Ingredients for the Italian broccoli pasta recipe
One large bunch of broccoli (including florets, leaves and stalk – see hint below)
3 cloves of garlic
⅓ cup of extra virgin olive oil + extra to cook
½ cup of parmesan (pecorino works well too)
Salt to taste (I don't add much as parmesan is quite salty)
Water
500 g of shop-bought or homemade orecchiette
Additional Sauce for 'non-fussy' eaters – Italian broccoli pasta
Ingredients
4 anchovies chopped
Chilli – finely chopped – to taste (dried flakes do the trick too)
8 Black seedless olives chopped
Method: Italian pasta with broccoli recipe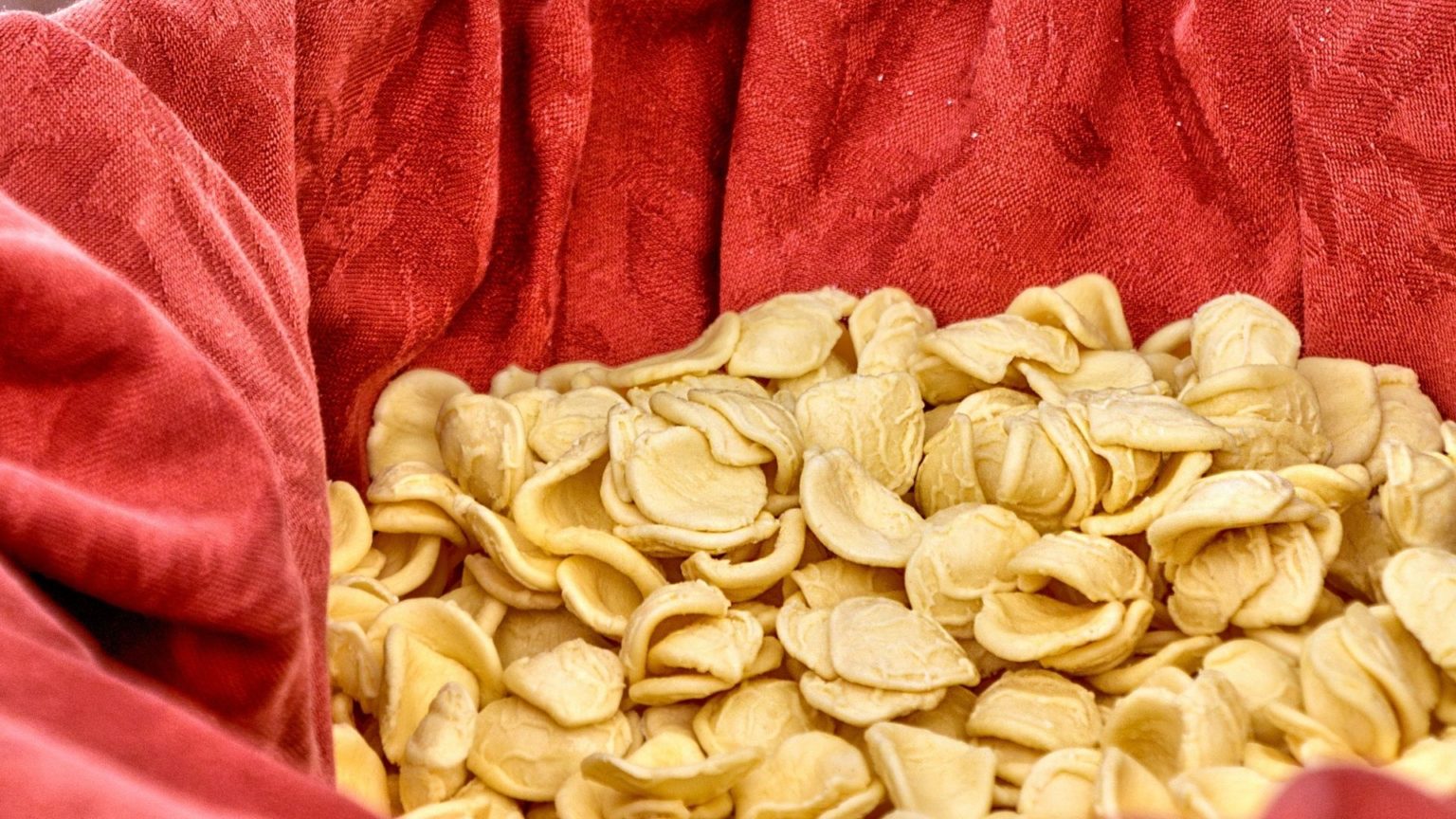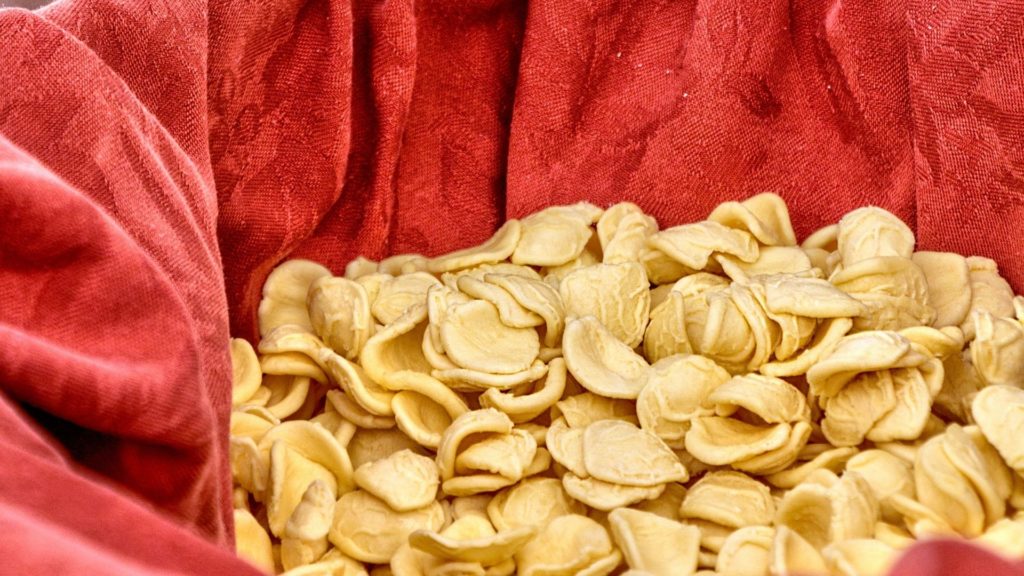 Here are the steps for Italian pasta with broccoli recipe, Orechiette ai Broccoli recipe or pasta with broccoli garlic and oil.
Bring water to a boil and cook the orecchiette as per instructions. Please note, Orecchiette – being a semolina pasta – takes a little longer to cook than most pasta made with soft wheat flour or 'grano tenero'.
Rinse and roughly chop the broccoli florets, stalks and leaves*. Mince the garlic. Heat some olive oil in a large frying pan, add the garlic and the broccoli florets. Add 2 to 3 tablespoons of water to allow the broccoli to lightly steam. Cover with a lid and cook for one minute. It is important to pay attention not to overcook the broccoli. Transfer the cooked broccoli, garlic and juices (water+oil) into a blender. Add the parmesan cheese and the extra virgin olive oil. Blend until you obtain a smooth sauce!
This sauce is pretty kid-friendly! But I do like to add an extra touch of saltiness and spice – for the more sophisticated palate! For the extra sauce for non-fussy eaters, mix chopped anchovies, chilli and olives in a small bowl, add enough olive oil to cover all ingredients.
Add the sauce to the drained pasta. For more adventurous eaters, add the salty/spicy sauce too. You may add extra parmesan or pecorino cheese to serve.
Now that my kids started to appreciate the flavour of the broccoli, I started to reserve part of the broccoli florets to add them as-is directly into their plate.
Another great add-on option for this pasta is finely grated zucchini and grated ricotta cheese – if you like a creamy twist!
*Hint: I also use leaves (as-is) and the broccoli stalk after cutting a small segment of the bottom and peeling off the outside rind. Once the peel comes off, you can easily chop or grate the core – it is soft and tasty. An easy and healthy Italian pasta with broccoli recipe!
Notes about Orecchiette and other typical Italian pasta
Beyond the Italian broccoli pasta recipe! Orecchiette is a traditional pasta originally from Puglia. It is often known in English as 'shells', however, the term 'orecchiette' literally translates into 'little ears' – orecchie = ears. 
Orecchiette is made from semolina flour combined with warm water. Semolina is 'harder' wheat flour and more yellow in colour. This type of flour is quite common in Southern Italy.
Further north, in Emilia, the home of tagliatelle, soft wheat flour and eggs are the main ingredients for their regional pasta. On the other hand, in the Alpine regions, you will find pasta (such as Pizzoccheri) often made with buckwheat or grano saraceno in Italian.
Final Thoughts on the Italian broccoli pasta recipe
How to get kids to eat vegetables? Try the Italian broccoli pasta recipe! If you have fussy eaters at home, Italian food has many options to get your kids to love vegetables. One of these is the recipe from Puglia, the Italian pasta with broccoli recipe with broccoli garlic and oil, or Orecchiette ai Broccoli recipe!
Written by Silvia – Enviromom.com
Pin it: Orechiette ai Broccoli recipe – pasta and broccoli recipe Italian