A Guide to survival for vegetarians visiting Italy
What can vegetarians in Italy eat? Different countries have different views when it comes to vegetarians: in India there is a very high percentage of vegetarians (about 30% of the population), whereas Russia is one of those places that, generally, seems to find vegetarianism a difficult concept to understand.
Italy, meanwhile, is somewhere in the middle. More and more Italians have been deciding to abandon their old food habits, saying goodbye to meat in favor of a vegetarian diet, but it is a hard choice to make when you grew in a country like Italy.
According to the Eurispes 2018 survey, 6.2% of Italians are vegetarian and 0.9% vegan. According to the survey, the number of vegans in the country has been falling, while that of vegetarians is on the rise.
The total number vegans and vegetarians in our country reaches 7.1% of the population aged 18 and over. In principle, if you consider the last 5 years, the total of those who have decided not to consume meat and derivatives is quite constant, remaining between 6 and 8%.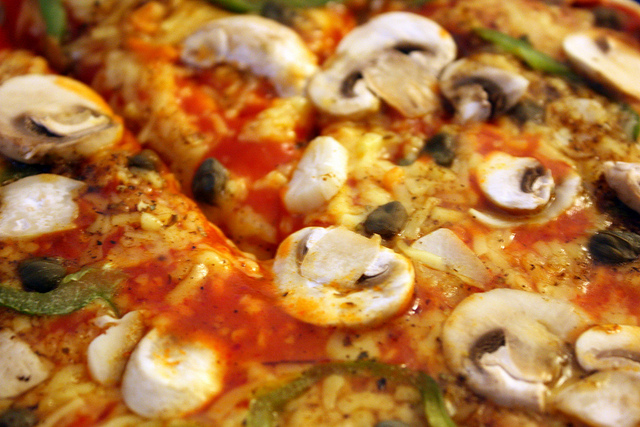 While there is not a huge amount of strictly vegetarian restaurants, remember that you can have a vegetarian dish in nearly any restaurant in Italy: certainly, il Belpaese is not India, where vegetarian menus have been perfected over the years, but you can definitely get by as a vegetarian. To ensure you get what you're looking for, you can tell your waiter that you're a vegetarian by saying "sono vegetariano." If you're not sure of the  pronunciation just write it down and show it!
Eating vegetarian in Italy
During the past ten years, I traveled in Italy with several vegetarians and I realized there was never a real need to go to a vegetarian restaurant, as there is plenty of choice for them even in our regular eateries.
Here are some ideas! (Note the following suggestions are for  vegetarians only, not for vegans who would probably be more comfortable in a fully vegan place, or in one of the  vegetarian restaurants of Italy, since all offer also a vegan options.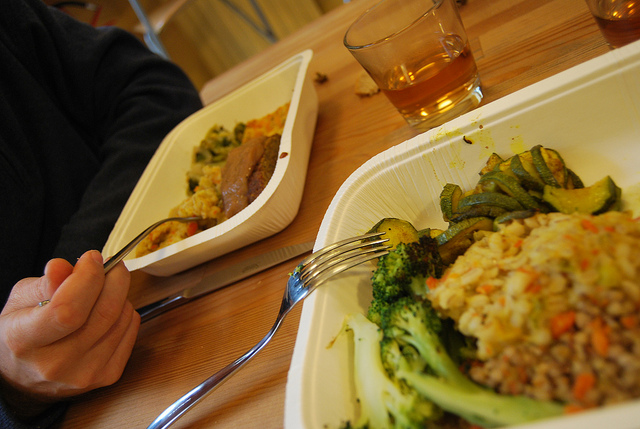 Appetizers
Many restaurants offer bruschetta (roasted bread) with your choice of tomato and basil, vegetables or other types of bruschetta with vegetarian-friendly toppings like mushrooms and truffles (tartufo).
Panzanella, supplì, grilled vegetables, any starter with mushrooms or vegetables in olive oil — they're pretty popular, so you should be able to get them a bit everywhere: we call them funghi sott'olio, or verdure sott'olio. 
Avoid olive ascolane, which may be olives, but are also stuffed with meat.
If you eat cheese, of course, your options are even more: you can include rich starters with fonduta in the Winter, such as vegetable soufflé or polenta cakes with fonduta, delicious mozzarella and burrata in the Summer or the most typical of Italy's salads: Caprese, with tomatoes and mozzarella. However if you are a strict vegetarian you must be aware of the following:  Parmesan, Pecorino Romano,  Gorgonzola, and some other cheeses use rennet, so they aren't technically vegetarian. Rennet, an enzyme that's found in the lining of a goat or calf's stomach
Pizza
When it comes to pizza, you'll have plenty of vegetarian choices. Actually meat on pizza is more rarely used in Italy than in the United States.
Pizza rughetta e Pachino (arugula and cherry tomatoes) is usually quite good and of course pizza Margherita is a classic. If you fancy something richer, you could try quattro formaggi, a pizza topped with four types of cheese.
In spite of its name, pizza marinara is vegetarian and vegan friendly. The name, which means "pizza sailor-style," was inspired by the fact it was a favorite among Neapolitan sailors: it's made with tomato, garlic and oregano.
Pizza with radicchio and gorgonzola is also a good option if you like strong flavors!
Be careful about pizza Napoli, which is a tomato and mozzarella pizza but has anchovies. Avoid pizza alla salsiccia (sausage), pizza al prosciutto (ham), and pizza con bresaola (dried beef).
Pasta Courses
Pasta with tomato sauce is an easy and always available vegetarian option, but if you feel like something with more of a kick, try penne all' arrabbiata (spicy) or a pasta alla puttanesca but, in this case, make sure they make the anchovies-free version of it (chopped chili peppers, black pepper, olives, capers, diced tomatoes and oregano).
Pasta cacio e pepe (with cheese and pepper) is a Roman specialty and is a good option if you do not mind rennet. You can also look for gnocchi or ravioli stuffed with cheese and vegetables.
Soups
Farro soups are particularly popular, and you can also opt for bean soups, but make sure they don't have any pork or maiale. Minestrone does not contain meat, but could be made with meat stock, so check with your waiter.
Main courses
Most main courses in Italy are meat-based but, as always, there are alternatives: if you can find them, try porcini mushrooms. They are usually excellent and they would be, for me, a first choice even though I am not vegetarian. Melanzane alla parmigiana is another easy option, although you should double check with your waiter to make sure the chef doesn't use any meat in the sauce, as in some parts of Italy it may be added.
Contorni / Side Dishes
One taste I'll never get used to is the old style English way of cooking vegetables. In my opinion, just about any other cuisine can give you better tasting vegetables.
In Italy, you've got a wide variety of delicious vegetables to choose from. On your menu, near the fish or meat based main courses, you'll likely find a section marked contorni. Here, you'll likely find a good variety of vegetables to choose from: of course insalata verde (just made with lettuce and other greens), or with tomatoes, patate al forno  (roast potatoes), cicoria (cicory), spinaci (spinach), verdure grigliate (grilled vegetables), artichokes, and asparagus. If you go with green vegetables you'll usually get two different ways of cooking them: all'agro — simply boiled, then you add your olive oil, salt, vinegar or lemon juice — or ripassati in padella, which means the vegetables are cooked and then sautéed in garlic, olive oil and hot pepper.
Desserts
The majority of Italian desserts are vegetarian friendly; although vegans will find it much more difficult, because we use cream, eggs and butter a lot!
Vegetarian specialities by region
Valle D' Aosta: Fonduta (Fondue)
Piedmont: Bunet, gnocchi
Liguria: Pesto, a Pasta sauce made with basil, and torta pasqualina
Lombardia: Minestrone alla Milanese, Polenta. Watch out the risotto alla Milanese: even thought it does not contain meat, the broth is meat based).
Trentino Alto Adige: Mosa – a sort of polenta, Tortel di patate.
Friuli Venezia Giulia: Gnocchi di susine, Minestra d'orzo, pasta alla Buzara, pistum, putizza.
Veneto: Pasta e fasoi (make sure they don't use bacon in it), risotto de go
Emilia Romagna: Piadina with rughetta, filled pasta (there are many types of filled pasta, so make sure there is no meat in the filling and that, if you eat them in broth, it's not made with meat).
Tuscany: Crostini (roasted bread), porcini mushroom soup and pasta, fagioli all'uccelletto, panzanella, pappa col pomodoro, ribollita (make sure the broth is not meat based).
Umbria: Crostino al tartufo nero, strangozzi con tartufi, strangozzi con i sanguinosi.
Marche: Fava beans (Fave alla Marchigiana)
Lazio & Rome: Carciofi alla Giudia, Carciofi alla Romana, penne all' arrabbiata, mozzarella in carrozza, spaghetti cacio e pepe, stracciatella alla romana
Abruzzo & Molise: Ghiotta, scrippelle "mbusse," sorcetti verdi
Campania & Naples: of course Pizza Margherita, mozzarella in carrozza, scarponi di melanzane
Sicily: Sicilian vegetable stew (Caponata siciliana), arancini (ricotta filled) and of course cannoli and cassata.
Sardinia: pani frattau – favata
How to know more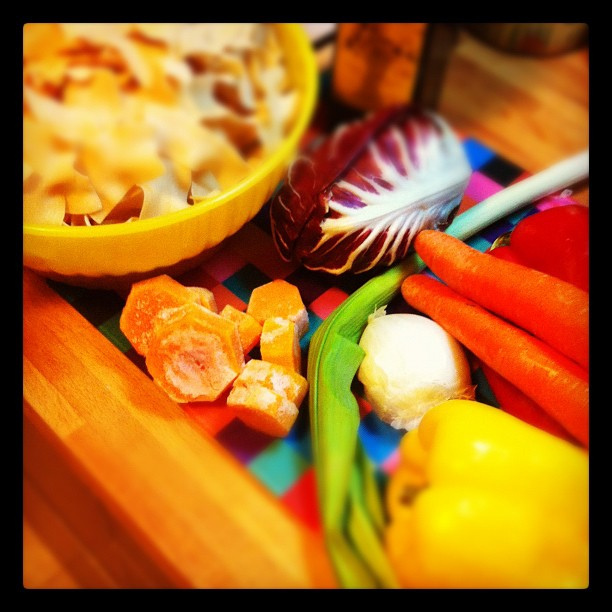 If you're interested in Italian vegeterianism and veganism, or simply you're a vegetarian/vegan and are about to come to Italy, you can find more information on the website of the Associazione Vegetariana Italiana and that of Italian vegans, Vegan Italia.