Last Updated on August 4, 2021 by Helga
The word "bruschetta" (pronounced broo-skett-ah) has its origins in central Italy, and it's a slice of toasted bread. Now, we know that many chefs and different cultures have invented different types of bruschettas of which many aren't known at all, or just not popular in Italy. You can find in this post different recipes for bruschetta Sorrentina, bruschetta Toscana, bruschetta prosciutto crudo, smokd tomato bruschetta, but even gluten free bruschetta. We've kept a few traditional Italian bruschetta recipes in as well as we've added some that are popular around the world. You can create a great bruschetta duet or bruschetta trio with these recipes if you're expecting guests, or just for the family.
What is bruschetta and 10 bruschetta recipes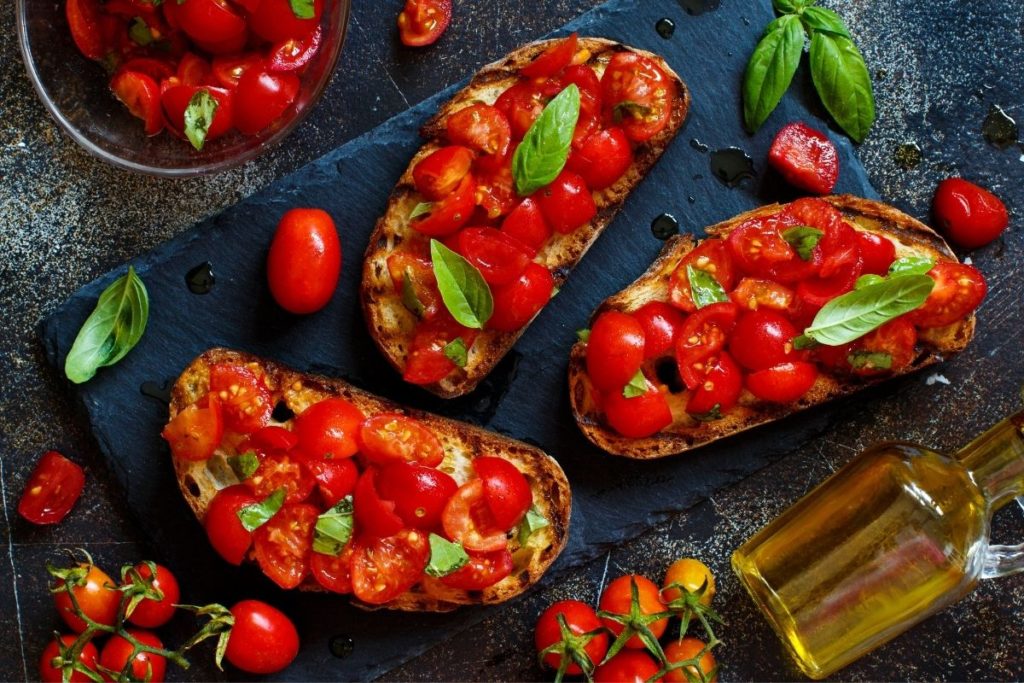 Toasting the bread for Bruschetta
Toasting the bread on the grill gives it a particular fragrance, but with an oven or a broiler, you can obtain the same good result.
It's believed that this poor man's food was born as a snack for sharecroppers and farmers working in the fields, It was prepared with homemade, sometimes stale, bread and flavored with olive oil, garlic, salt, pepper, and tomato.
These are the basic ingredients of bruschetta. However, today the ways to prepare it and variations in circulation are truly endless. If we're checking the traditional bruschetta recipe, that, like every other type of traditional Italian food is really simple.
For proper preparation of bruschetta, it is necessary to slightly grill the surface of the bread, taking care that it remains soft inside. Tuscan bread, with its large loaf and often square form, lends itself particularly well because it can be easily cut into slices. So for a real Bruschetta Toscana, this bread type would be the best option.
The slices for a bruschetta should be fairly thick, surrounded by a quite hard but crunchy crust, with a soft, white crumb, and small and regular cavities (suitable to absorb the oil). These, once grilled, although well seasoned with oil, will be stiff and easily manageable. It's a bread that stays good for a long time and so it is ideal to be used to prepare this dish, even if it's not freshly baked. If you consider that in the past, especially in very poor rural areas of Italy, often one had little more than this, it is understandable how bruschetta often became a full dinner and not just a snack or appetizer.
Bruschetta seasoning – Bruschetta ingredients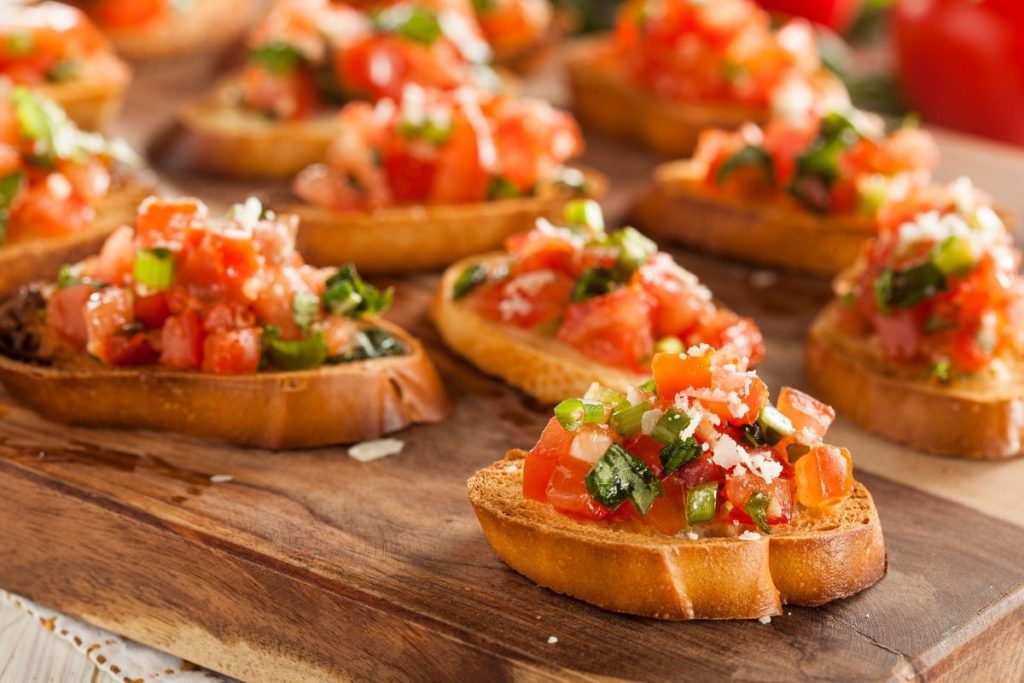 Let's talk about garlic. Remember that is absolutely forbidden to overuse it. One clove is enough for more than one slice and according to Tuscan custom, you just pass it on the borders of the warm bread. So the garlic should not be used as a cream or powder, as is often the US habit.
Bruschetta's main seasoning is a very good extra virgin olive oil. Any lesser quality oil is not suitable. With this said the bruschetta cost is really low, as the basic ingredients are just olive oil, salt, tomato, basil, and garlic (not necessary). However, if you want to create a bruschetta duet or bruschetta trio for serving, and you choose some more interesting recipes, obviously the bruschetta cost will go up.
The oil fragrances vary according to the area of origin, as well as its texture, density, and acidity. Consider trying the oil from Puglia, Sicily, and Calabria. Remember that if you use too much garlic you risk covering the aroma and fragrance of the oil you've used. The breadcrumb should be oiled well, but not dripping wet and it should be seasoned with a pinch of salt and pepper to enhance aroma and flavor.
Garlic and Italians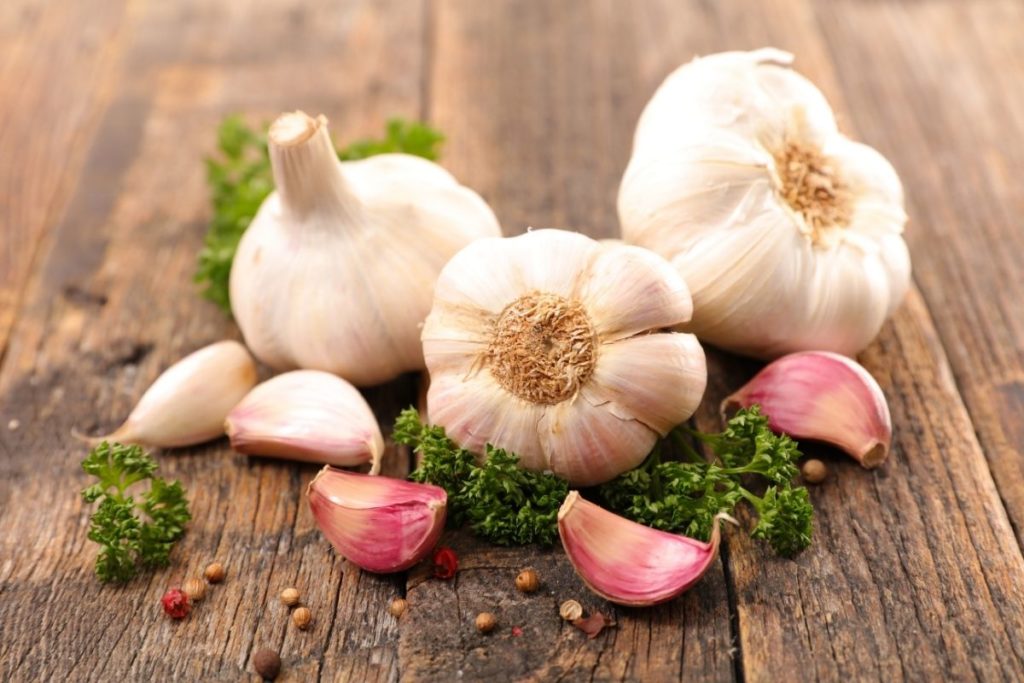 The same remark about garlic, in my opinion, goes also for the other ingredients – less is more.
The various "innovations", from anchovies with capers, cheese, and flavorful sauce, are to be added in quantities that give flavor and color, but not in doses that will cover any other flavoring. You certainly have seen some "creative" bruschettas with huge amounts of various ingredients.
Normally, the unfortunate consumer does not know how to take a bite off of a very big bruschetta. They begin to eat the bruschetta and in the meanwhile, the ingredients start to slip everywhere. They try to stem the fall with a napkin, and in the meanwhile, the oil and tomatoes are smeared on the other hand; or if the bruschetta is not too large, they try to open their mouth as much as possible and eat it in one bite. A real disaster! So the golden rule is simplicity. Instead of using a thousand ingredients altogether, maybe it's better to prepare some more bruschettas, each one different from the other one.
Below are some suggestions for preparing your bruschetta, from the more traditional to the more fanciful. Let's see now some of the bruschetta Sorrentina, bruschetta Toscana, a Sardine bruschetta recipe, but also bruschetta Napoletana, the Italian rose bruschetta, bruschetta bianca and the gluten free bruschetta as well within many others!
10 amazing Italian bruschetta recipes – Bruschetta Plates
1. Tomato Bruschetta – Smoked tomato bruschetta
I Ingredients for 4 servings
4 slices of Tuscan bread
2 ripe tomatoes
1 garlic clove
basil leaves
extra virgin oil
salt and pepper
Preparation:
The most basic Italian bruschetta recipe is the first, the tomato bruschetta. Wash the tomatoes, blanch them briefly in boiling water, drain, remove the peel, the seeds, and the water inside. Cut them into cubes and collect them in a bowl. This isn't the only traditional way for tomato bruschetta. You can also use the alternative of chopping the tomatoes freshly.
Wash the basil leaves, dry them, chop them, and add them to the tomatoes. Sprinkle with oil, salt, and pepper. Stir and let it marinate for about an hour.
Toast the bread in the oven, rub each slice with the garlic and add the tomato. Serve the bruschettas warm or cold, as preferred.
For smoked tomato bruschetta the only thing that you should be doing differently is to chop the smoked tomato and add it directly into a bowl with the basil, oil, salt, and pepper. A smoked tomato bruschetta has a slightly stronger taste, but after marinating with basil and oil, it will soften and take over the light taste of the olive oil and basil.
2. Anchovy Bruschetta recipe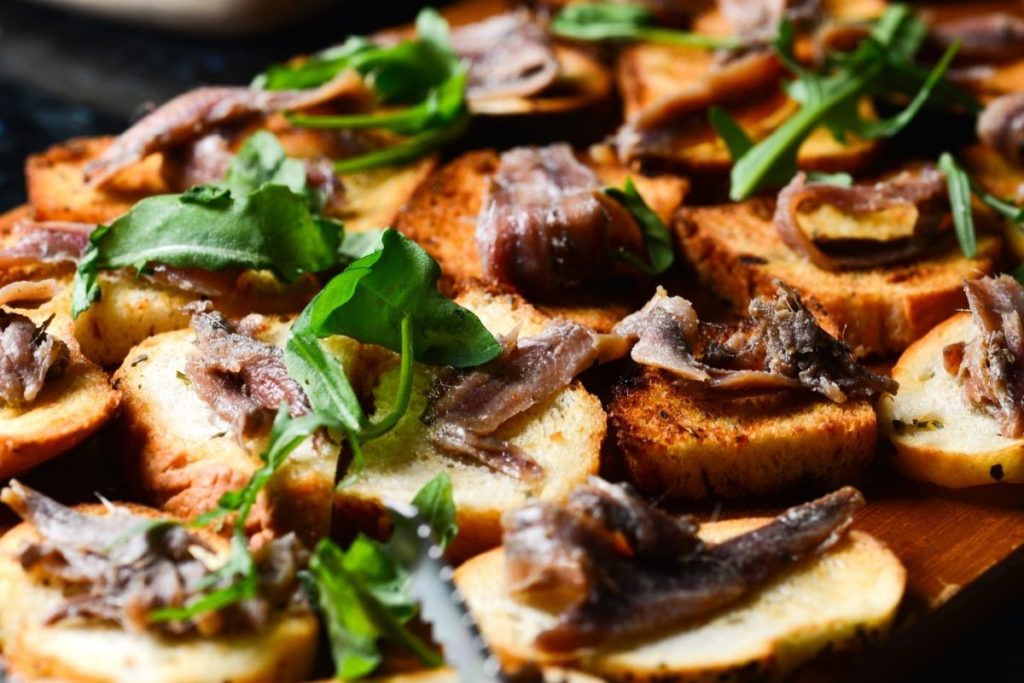 Ingredients for 4 servings
4 slices of Tuscan bread
2 ripe tomatoes
4 anchovy fillets
1 garlic clove
chopped parsley
1 little fresh onion
extra virgin oil
salt and pepper
Preparation – Anchovy Bruschetta
Another of the Italian bruschetta recipes that you should try is the Anchovy Bruschetta recipe.
Sauté the garlic in the oil, and when it turns a nice golden color take it out of the pan and add the anchovies and let them dissolve completely. Cut the tomatoes into round slices, remove the seeds, and put them on the freshly baked bread, adding salt. Cut the onion in very thin rings and with these cover the tomatoes. Add the sauce and complete the bruschettas with a pinch of pepper and chopped parsley.
3. Fig, goat cheese bruschetta
In Ingredients for 4 servings
2-3 Figs sliced/chopped
⅓ cup sugar
½ teaspoon chopped fresh rosemary
¼ teaspoon freshly ground black pepper
1 ¼ cups crumbled goat cheese
5 teaspoons finely chopped walnuts
1 cup of fresh Orange Juice
Preparation – Figh, goat cheese bruschetta
A fig bruschetta goat cheese mix isn't popular everywhere in Italy, though it's tasty and many adore it. For the fig, goat cheese bruschetta prepares the fig combo with the bruschetta seasoning and the orange juice and bring it to boil. Then, reduce the heat and simmer for 10 minutes, or well, until figs are tender. Uncover the bowl and cook for 5 minutes, or until the mixture thickens. Then, remove from the heat, cool to room temperature, and in the meantime toast the bread slices.
On each slice add 1 or 1/2 teaspoons fig with the same amount of goat cheese. Arrange the bruschettas on a baking sheet and sprinkle evenly with walnuts. Put the fig, goat cheese bruschetta in the pre-heated oven for 2-3 minutes, so the walnuts start to brown. Serve warm. A tasty fig, goat cheese bruschetta recipe you surely love!
4. Bruschetta with Bresaola and Goat cheese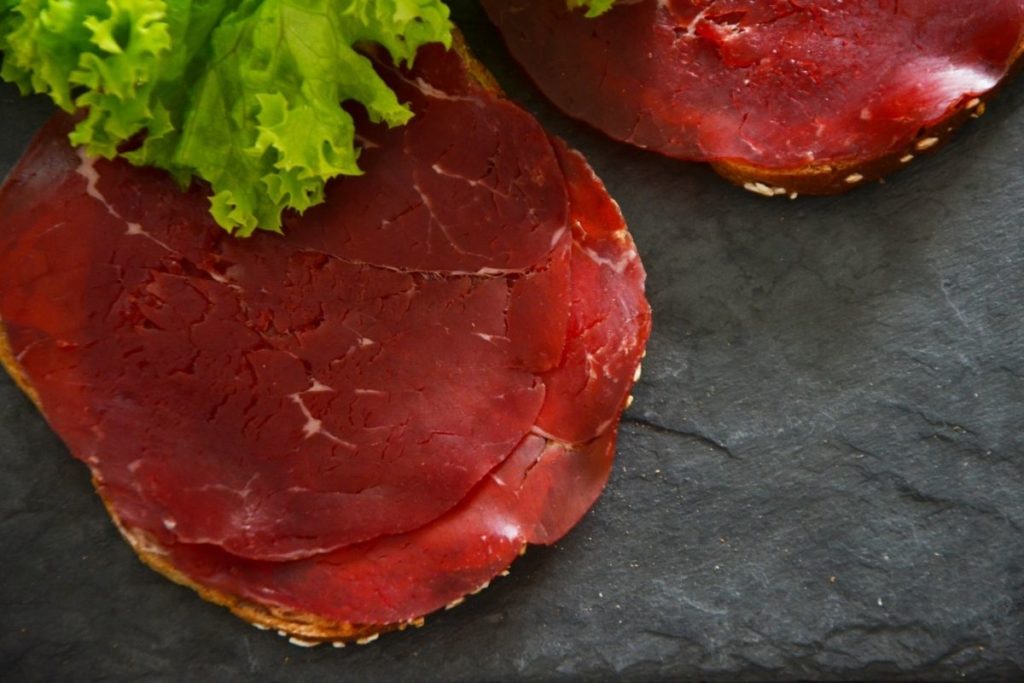 I Ingredients for 4 servings
4 slices of Tuscan bread
8 slices of bresaola
2 small goat cheeses
Some leaves of arugala
extra virgin oil
salt
lemon juice
Preparation:
A great regional Italian bruschetta recipe that you should try! Season the arugala with oil, salt, and lemon. Toast the bread, spread the goat cheese on the bread. Then add the slices of bresaola on the bread and finally the seasoned rocket. The Bresaola bruschetta is a really easy one to do. It's similar though to the bruschetta prosciutto crudo, which requires even fewer ingredients comparing to the bruschetta Toscana just described above. In Emilia Romagna, the bruschetta is really simple. Bread, meat, and cheese on site.
So if you want the best bruschetta prosciutto crudo, north italia prosciutto bruschetta, you will need to visit Parma, or other cities in Emilia Romagna, Italy. In the northern regions like Trentino, Veneto, Lombardia, you can find this similar north Italia prosciutto bruschetta in most of the bars and restaurants that do Aperitivo.
5. Bruschetta with Rosemary and Lardo di Colonnata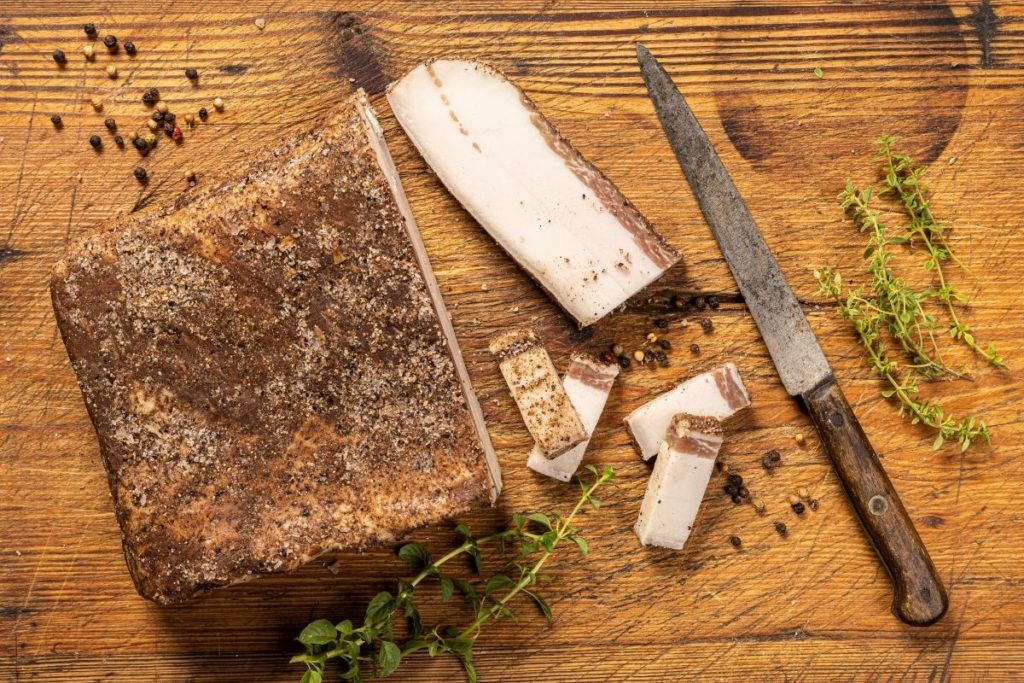 Ingredients for 4 servings
4 slices of Tuscan bread
100 grams of lardo of Colonnata
pepper
a litte twig of rosemary
8 cherry tomatoes
garlic (optional)
Preparation:
Bruschettas with lardo of Colonnata (special lard from the pigs from Colonnata, a little Tuscan town) and rosemary are very special dishes for an appetizer or a starter. The essential ingredient for obtaining a very good bruschetta is the very delicate lardo of Colonnata. It must be cut into very thin slices to be put on the toasted bread. On top of the lardo put ground pepper and a few sections of tomato. Finally, add the chopped rosemary. Serve the bruschettas immediately, still warm. Another bruschetta Toscana that's absolutely amazing!
If you like garlic, before putting the lardo slices on the bread, you can rub lightly each slice of bread with a clove of fresh garlic.
6. Bruschetta Sorrentina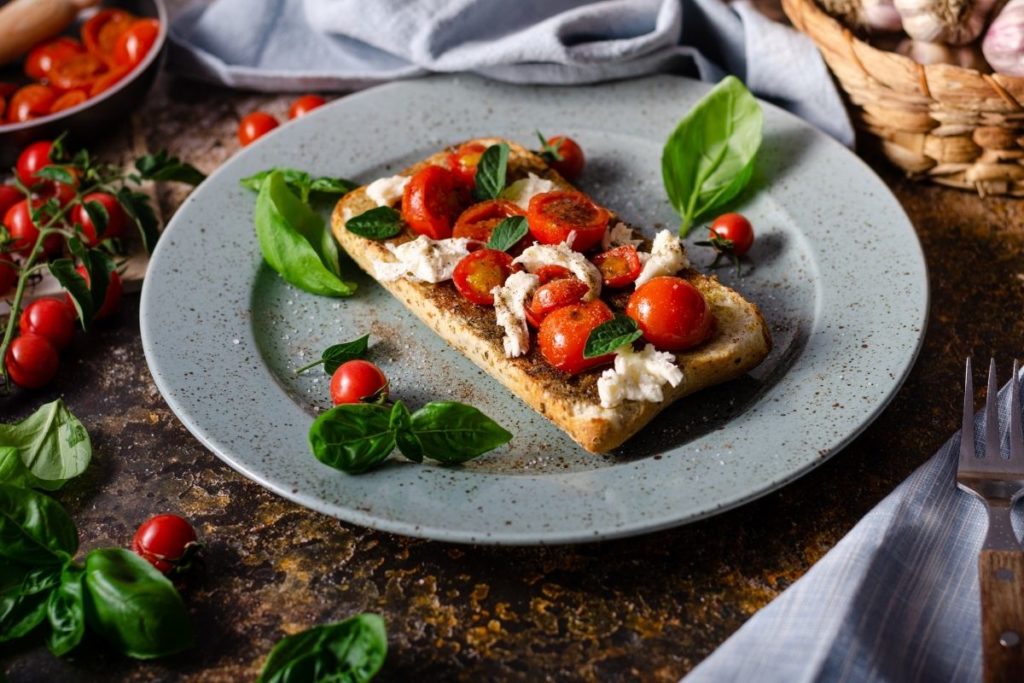 Ingredients for 4 servings
bread
200g Buffalo Mozzarella
1 Garlic clove
2 Tomatoes
Extra virgin Olive Oil
Preparation of bruschetta Sorrentina:
Another Italian bruschetta recipe, bruschetta Sorrentina also known as a Bruschetta Napoletana. Boil the tomatoes for a few minutes, drain and peel them; then, put the seedless tomatoes in a bowl and cut them with the addition of garlic into small pieces, extra virgin olive oil, salt, pepper, and fresh basil. As with the simple tomato bruschetta, the bruschetta Sorrentina as well can be made with chopped tomatoes without cooking. If you've chosen the boiling option, after mixing the ingredients let it rests for an hour.
Toast the slices of stale bread and place the tomato mixture on them. Either slice or chop in cubes the mozzarella and place it on top of the tomatoes. The next step for the bruschetta Sorrentina is to season everything with a drizzle of oil and fresh basil leaves. The appetizer is now ready to be eaten and enjoyed. Enjoy the Bruschetta Napoletana/Bruschetta Sorrentina.
7. Sardine Bruschetta recipe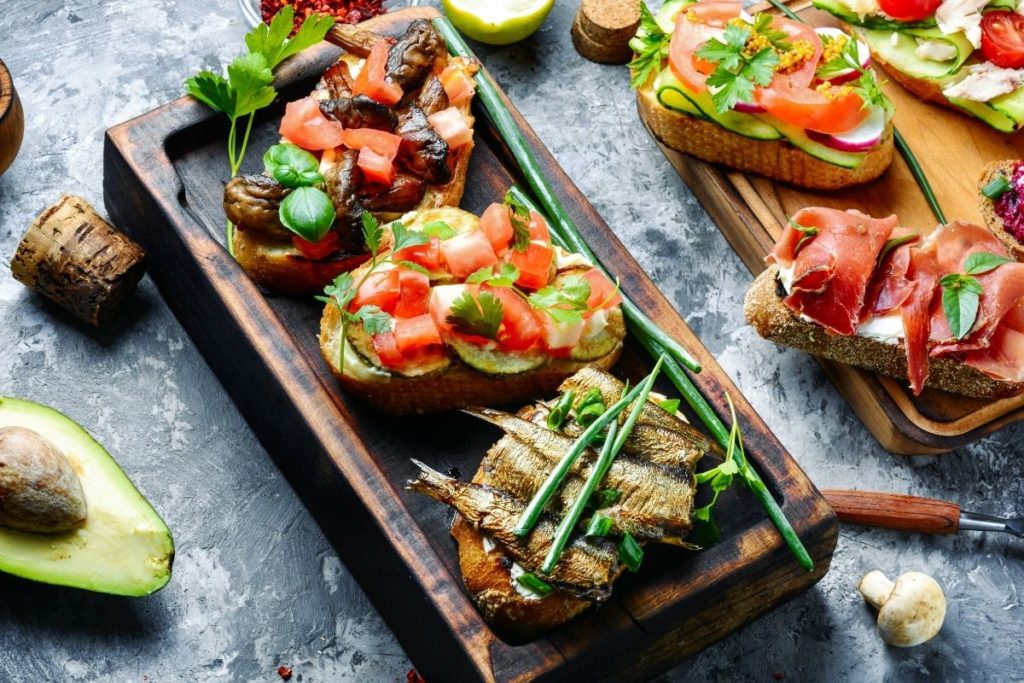 Ingredients for 4 servings
bread
4 sardines
1 fennel
400 g tomato pulp
1 garlic clove
1 fresh fennel leaves chopped
Extra virgin Olive Oil
Salt, Pepper
Preparation – sardine bruschetta recipe
To marinate the sardines for the Sardine Bruschetta recipe, you'll need 1/2 orange, 1 tsp of olive oil, salt, and pepper. The first steps are to clean the sardines and eliminate their head, open them in a book, bone them, and cut them into fillets. Wash them well under running water and dry them with paper towels. Arrange them on a plate together with the filtered orange juice, oil, salt, and pepper. Leave them to marinate for at least 4 hours.
After, to make the sardine bruschetta, which is great for bruschetta duet serving or even bruschetta trio is to toast the bread. Rub it with the chopped garlic clove and clean the fennel. Cut the fennel into thin slices and with them make the first layer on the bread.
With a tightly meshed colander, separate the pulp from its water and season the first one to taste with extra virgin olive oil, salt, and pepper. Arrange it copiously on the fennel slices, add two sardine fillets to each slice of bread, and complete with the fennel. Sprinkle with more oil and serve immediately. A perfect Sardine bruschetta recipe, with easy-to-find ingredients bruschetta Italiana. This, like many others from the list, are great for a Mediterranean bruschetta hummus platter. A more rare Italian bruschetta recipe, adored by foodies.
8. Grilled Salmon with Avocado bruschetta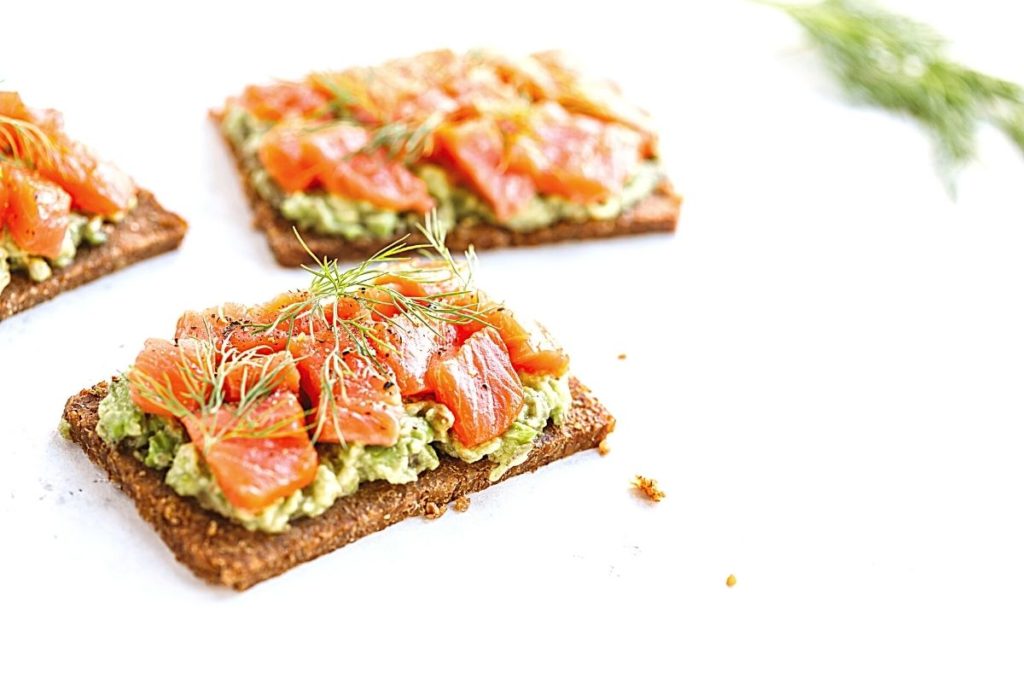 Ingredients for 4 servings
bread
4 wild salmon filets (small ones)
salt, pepper
For the avocado bruschetta:, makes 2 1/4 cups
Extra virgin oil
1 tbs balsamic vinegar
1 tomatoes
1 cloves garlic, minced
2fresh basil leaves, chopped
1 small avocado
Preparation of the grilled salmon with avocado bruschetta recipe
The grilled salmon with avocado bruschetta isn't really a popular one in Italy, as it's not a traditional Italian bruschetta recipe. Even if you find it, it might be just at gourmet, luxury places. However, it's one of my favorites so it must be on the list, as it's a bruschetta recipe that you can easily do at home and serve with a combination of bruschetta duet, or a bruschetta trio, or a Mediterranean bruschetta hummus platter.
So, for a grilled salmon with avocado bruschetta recipe starts with chopping the tomato, basil, and avocado. Season with salt and pepper, and add some extra virgin olive oil to it, then set aside until you grill the fish. Heat up the grill/grill pan and season the salmon fillets with salt and pepper. Add oil to the bottom of the pan to prevent the salmon from sticking.
While the salmon gets ready (about 10 minutes), toast the bread. Add on top of the bread the avocado, tomato mix. When the salmon is ready, set it aside to cool down a little, then add it on top of the bruschetta. Season if needed with salt and sprinkle some extra virgin olive oil on top. Your grilled salmon with avocado bruschetta is ready to serve.
9. Bruschetta bianca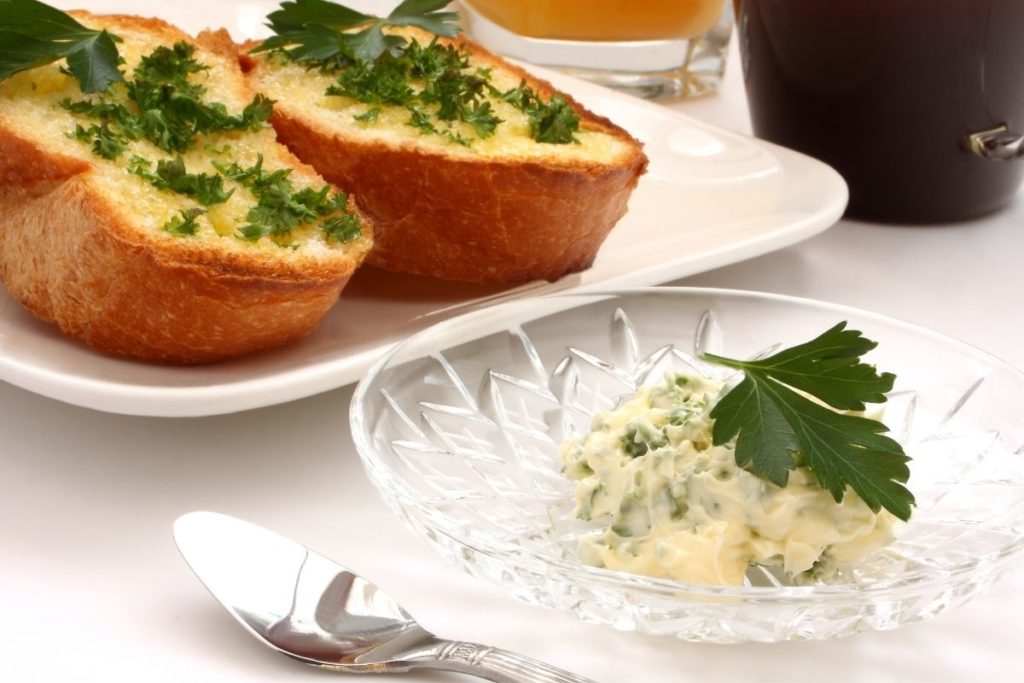 Ingredients for 4 servings
Bread
2 cloves garlic
extra virgin olive oil
salt
This is the most simple, yet most delicious Italian bruschetta recipe. The bruschetta Bianca, on its traditional Italian way is bruschetta with garlic and oil (bruschetta aglio e olio).
The first step to make a bruschetta Bianca recipe is to toast the bread. If you love garlic, mince it, if you don't just cut it in half. Once the bread is ready, if you've chopped the garlic in two, sprinkle the bread with great quality extra virgin olive oil. It serves to help the bread take in the taste of garlic. Then, just scrub the slices of bread with the garlic. In case you choose the bruschetta Bianca to have a powerful garlic taste, mix the minced garlic with the olive oil and spread the mix on the toasted bread slices. Each way, season it before serving with salt.
The bruschetta Bianca is really the easiert Italian bruschetta recipe. It's a great option if you're serving a bruschetta duet or a bruschetta trio, but also if you want a light, simple piece of bruschetta on a Mediterranean bruschetta and hummus platter.
10. Bruschetta con funghi recipe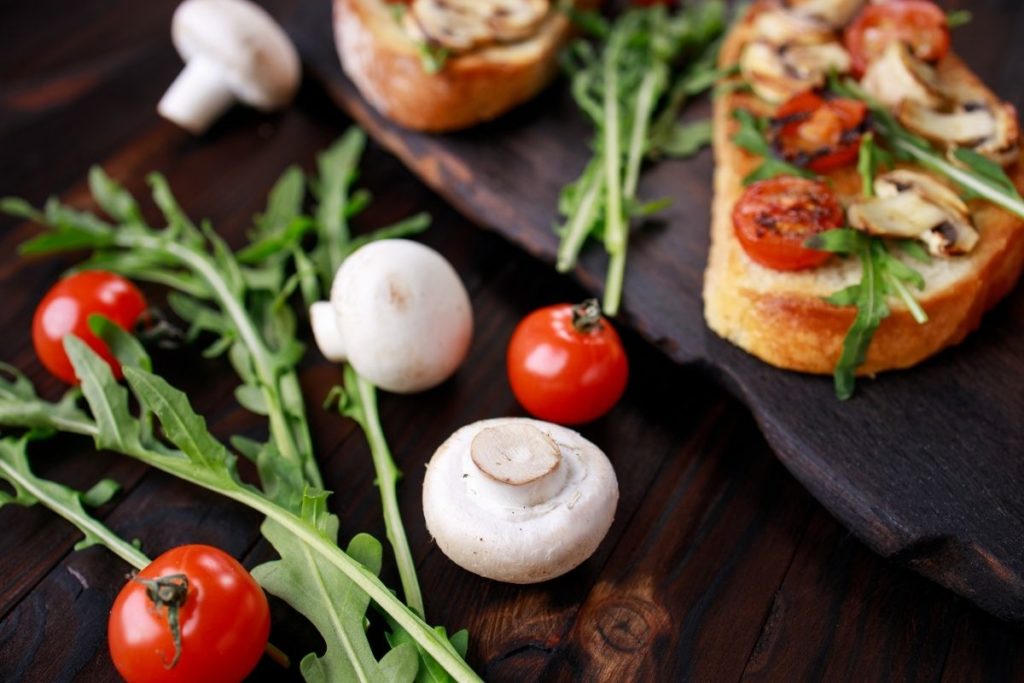 Ingredients for 4 servings
bread
cherry tomatoes 100g
champignon and porcini mushrooms 200g
1 cloves glaric
salt
extra virgin olvie oil
Preparation – bruschetta con Funghi recipe
The bruschetta con Funghi, so bruschetta with sautéed mushrooms is a tasty autumn appetizer. An easy Italian bruschetta recipe we love! Bruschetta with sautéed mushrooms can be enjoyed both cold and warm, and are a valid alternative to the classic tomato bruschetta. If you can use fresh porcini mushrooms, it gives the bruschetta con Funghi recipe a characteristic and very rich flavor and aroma. It's also a great option if you're looking for gluten-free bruschetta.
The first step for a bruschetta con Funghi is to clean the mushrooms and slice the porcini and champignons. Heat 4 tablespoons of oil in a large non-stick pan, add the mushrooms, season with salt, and brown them over medium heat for a few minutes. Finally, sprinkle with plenty of chopped parsley and put it aside.
The next steps are for a bruschetta con Funghi recipe to peel the tomatoes, chop them, put them in a bowl, season with salt and oil and let them rest so that they release their liquid. In the meantime, toast the bread. Rub the cloves of garlic on the slices of bread, then mix the tomatoes with mushroom and add this on top of the bread slices. Sprinkle with a drizzle of extra virgin olive oil (and salt after taste). The bruschetta con Funchi recipe is done.
Wrapping up the Italian bruschetta recipes
The best appetizer is the Italian bruschetta. With these Italian bruschetta recipes, you can create amazing Mediterranean bruschetta and hummus platters, you can serve bruschetta duets or bruschetta trios, and you can transform almost all of these recipes into gluten-free bruschetta. When I have guests, I'm always making at least a bruschetta duet, serving either the simple tomato bruschetta with one of the fish bruschetta recipes, either two different meat-free combinations.
Pin it: 10 Italian bruschetta recipes