If you're looking for a great appetizer with salmon, well, you've just found the perfect fine appetizer recipe you could wish for. Salmon tartare is a decorative and refreshing appetizer that's really popular in Italy. A perfect appetizer recipe, that's good to impress guests and dates with minimal effort! Healthy, good-looking, and tasty! With this post, you can get the fresh Salmon Tartare recipe for a great and unforgettable appetizer.
A few things to know about Salmon Tartare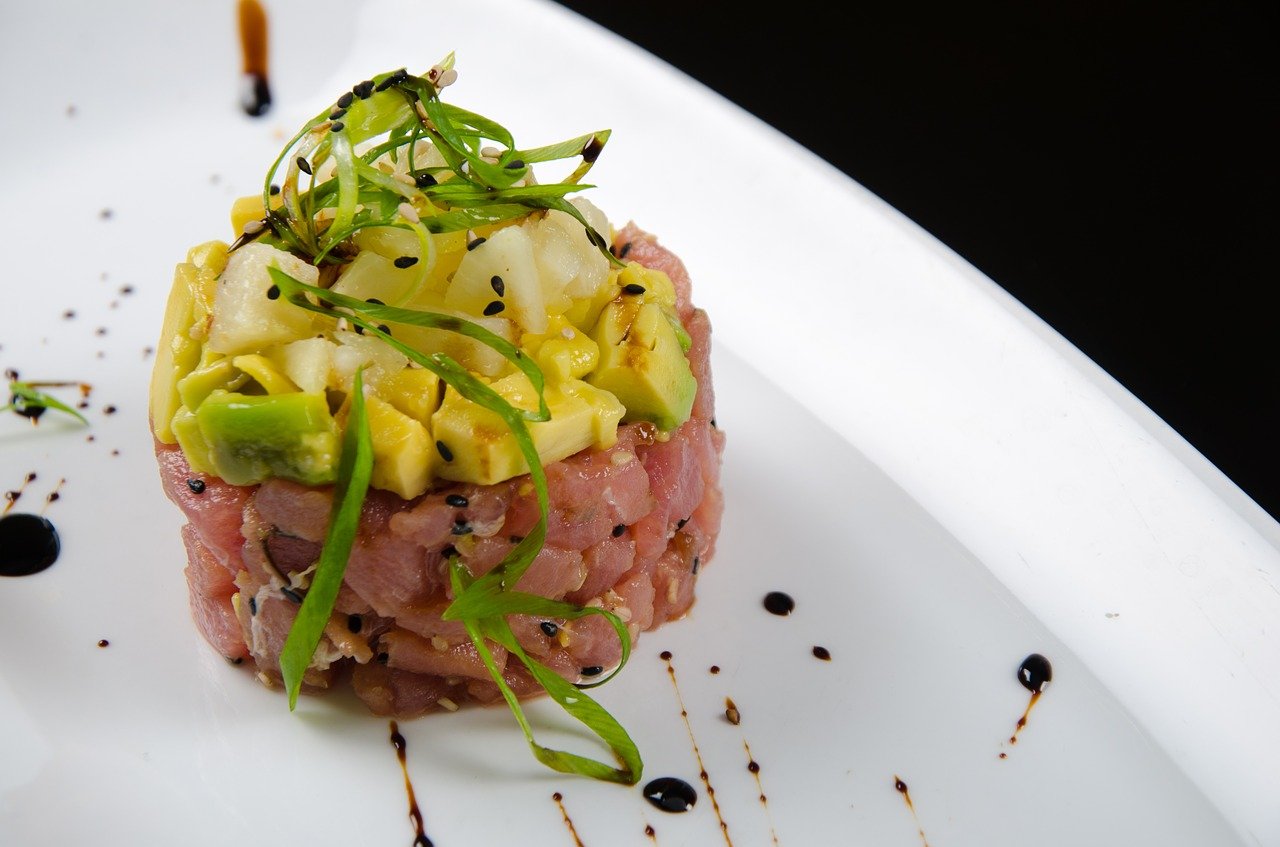 The tartar is a preparation that is commonly made of raw meat or fish, macerated with different seasonings or sauce. It's also often made with eggs as well. About the origin of the tartar, there are more theories. One is pointing to Central Asia, where the tribe of the Tartars placed the meat between the saddle and the back of the horse to get it softened while they were riding. This was a common preparation for other Asian tribes, such as the Huns.
The other theory points to French Polynesia, where consuming raw meat is popular, and it was popularized in hotels of French origin in the early 20th century. As mentioned, Salmon Tartare is a fine dish that's really popular as an antipasto (appetizer) in Italy. An appetizer that's giving a great upgrade to any table. A chic and healthy appetizer that's really appreciated by foodies.
Are you ready to find out how to make a Salmon Tartare recipe? Here we go!
Salmon Avocado Tartare recipe
The Salmon Tartare recipe is right below for you. The Italian appetizer recipe is simple, delicious, super fancy, and chic. You can prepare a smoked salmon tartare easily at home in a little time. It's something you should make as an appetizer if you're planning to amaze your guests or loved ones. A beautifully simple preparation of raw fish that is a celebration of freshness.
The thing I love about this dish is the magic worked by the lemon juice. As well as imparting sharp fresh flavor, the acid in the lemon juice affects the protein in the fish, causing a cooked texture on the surface of the meat whilst leaving the center rare and soft. You can also make it by adding avocado on top of your Salmon Tartare. An extra ingredient that can create an even bigger difference, not just in style, but in the level of healthiness as well. So, are you ready to make your first delicious Salmon Tartare recipe?
Salmon Tartare
Salmon Tartare Recipe with Avocado Topping
Ingredients
1

pound

Smoke Salmon

Capers

Black Pepper

Olive Oil

Extra Virgin

1

Lemon

Fresh

2

piece

Avocado

Greek Yoghurt/Mozzarella

Optional
Instructions
Take 1 pound of Smoked Salmon (the one that is ready to eat)

Lay the salmon a large dish (a hand-painted Deruta would add an extra touch), add capers, fresh grated black pepper.

Squeeze 1 lemon, mix with good quality Olive oil and dribble on the Salmon.

Leave the smoked salmon to marinate for at least 5 minutes. It's best if you start preparing just before you'd want to serve, as it's the best to be served fresh. Form flat balls of the salmon for nicer serving. If you have forms to make it, even better!

For the avocado you can either chop it and add on top of the salmon balls or you can mix it with Greek Yoghurt or mozzarella and add it as a creamy layer on top.

If you like Mozzarella, you can slice it instead and add it separately on top of the meat, but this is optional as the Greek Yoghurt version.

Add the lemon just before serving or it will 'cook' the salmon. You can serve near other appetizers, such as salad.