Italians love pasta. This is one of the basic sides that most Italian dishes are made with. On this list, you'll find some of the most famous Italian pasta dishes, as well as some that are really regional and really special. There are so many more great Italian pasta dishes, but in this article, we completely focused on what other bloggers suggested. Below, you'll find 15 pasta recipes for a perfect Italian-style dinner at home!
15 Famous Italian pasta dishes – Traditional pasta recipes
If you're looking for anything like Italian seafood pasta, authentic italian sausage pasta recipes, Italian pesto recipes, some of the most famous Italian pasta dishes that are easy to make at home, you're in the right place. You will find some great Roman pasta recipes, skinny Italian pasta recipes, Italian Neapolitan pasta recipe, Italian sausage, and zucchini pasta recipe, and so! Italian cuisine is based on simplicity and freshness. These traditional Italian pasta recipes are easy to make and they taste amazing. Let's have a look at the 15 Italian traditional pasta recipes!
#1 Pesto alla Trapanese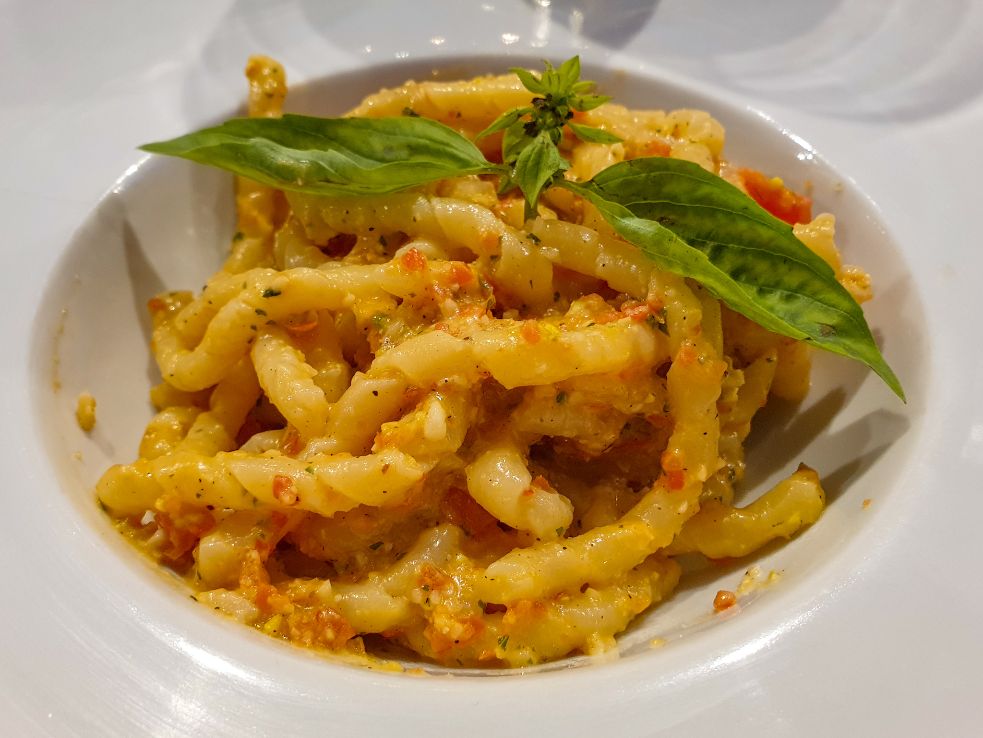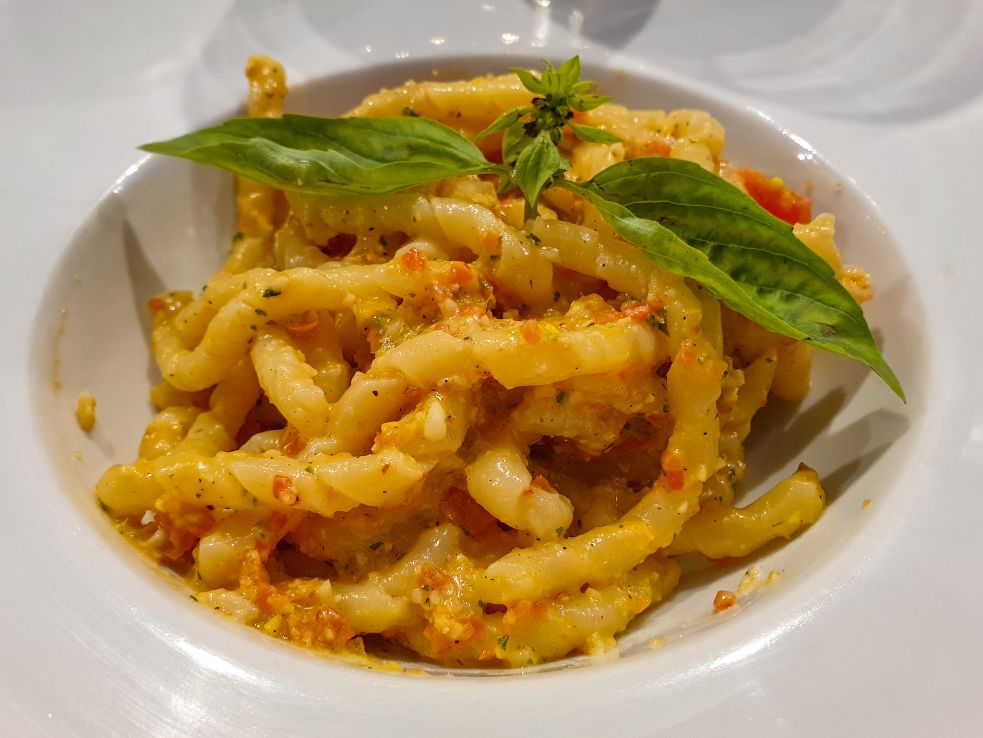 by Miriam from Miry Giramondo
Let's start with one of the best traditional Italian pasta recipes. Pesto alla Trapanese is a typical Sicilian sauce precisely the city of Trapani. It is an ancient recipe that originates in the ports of Trapani. The Genoese ships from the East stopped in Trapani and the Genoese sailors made known the pesto to the Sicilians. The Trapani people modified the pesto recipe by adding the typical ingredients of their territory. Tradition says that all ingredients should be crushed in a mortar but in the absence of this, you can use a blender.
Ingredients for Pesto alla Trappanese recipe (4 people)
500 grams of "busiati" pasta
2 cloves of garlic
a bunch of fresh basil
50 grams of peeled almonds
6 ripe tomatoes
salt and pepper
grated pecorino
a glass of olive oil
Crush the garlic, basil, and almonds together and add a little olive oil. Pour into a container and stir, also adding a little grated pecorino cheese.
Put the tomatoes in hot water for a few minutes, then peel, remove seeds, chop and put in the blender. Add them to the other ingredients, adding salt, pepper, and other oil.
Cook the pasta in salted water, drain al dente and pour into the container with the sauce. Mix well and serve.
#2 Pasta al Pesto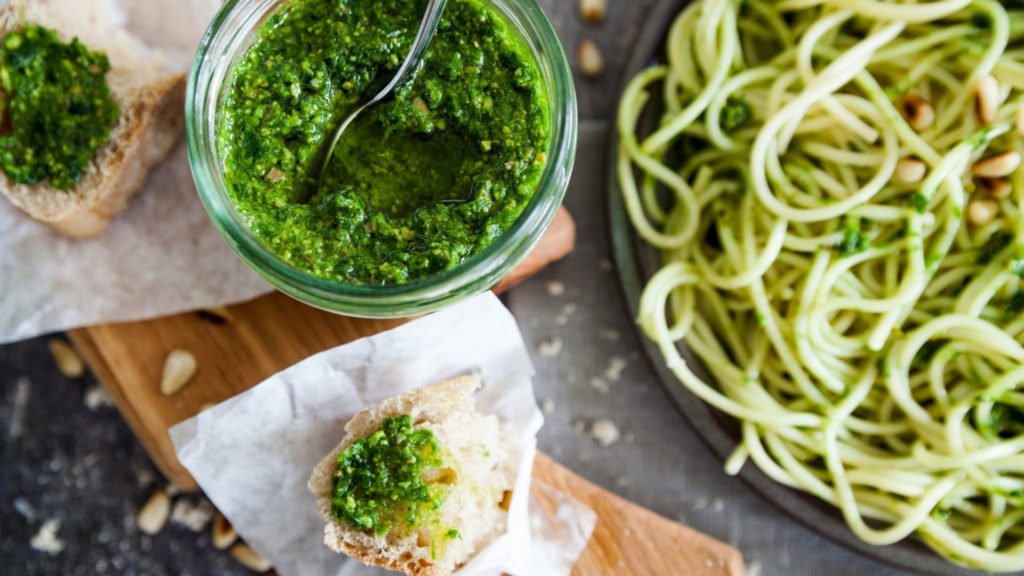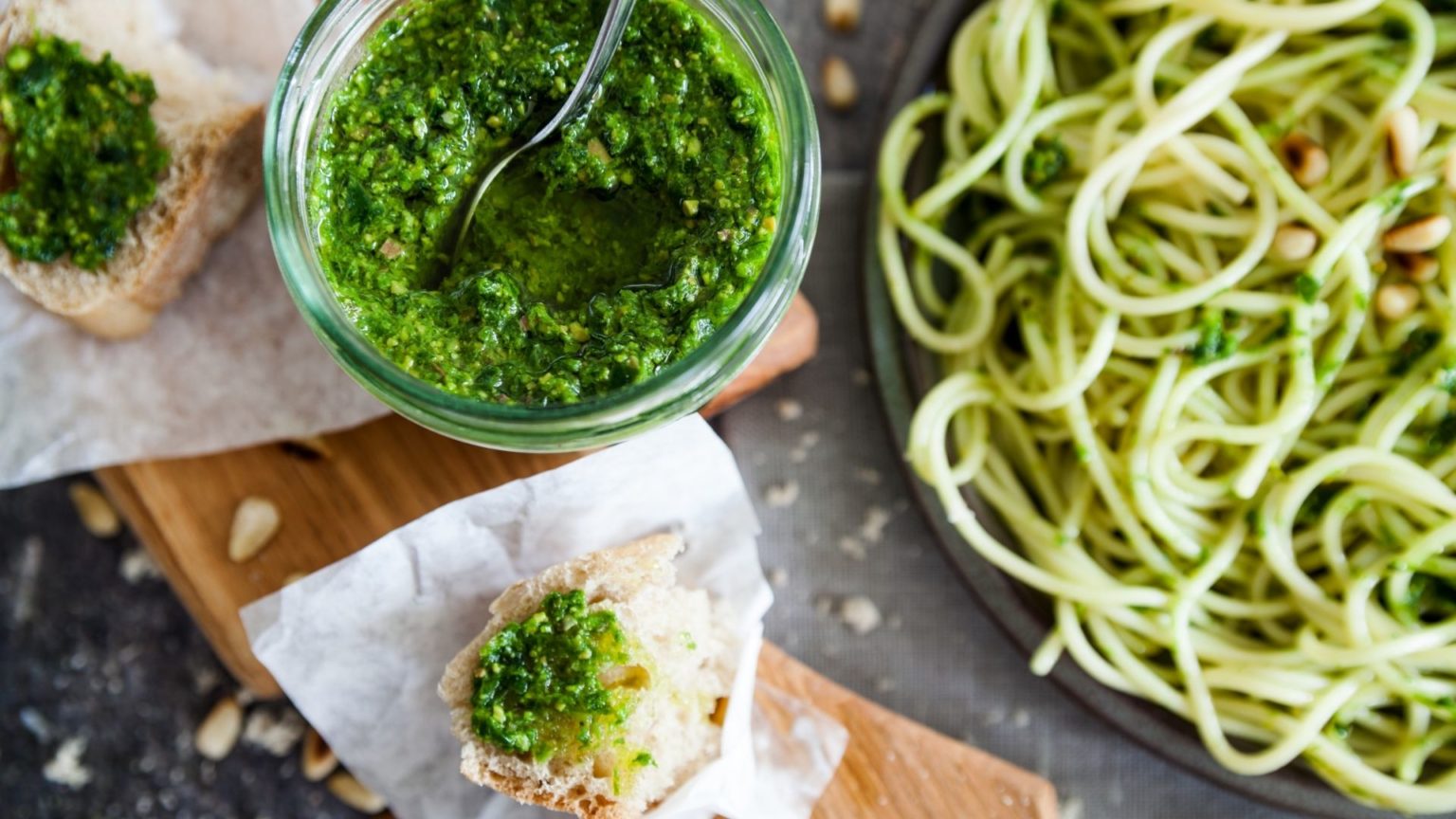 Pasta with Pesto is one of the most popular, easy, and healthy, traditional Italian pasta recipes out there. You can make it at any time of the year, needing just a jar of basils to have at home and a couple more ingredients. Pasta with pesto recipe is easy and quick to do at home. It's a great Italian pasta dish for the summer, with cold pasta and tomato chunks, but also for a warm lunch or dinner. You can also use the pesto recipe for bruschetta, but even to marinate grilled chicken breast slices. Let's see the pasta al pesto Italian pasta recipe.
by Ciara from wellnesstraveldiaries.com
Ingredients for Pasta al Pesto recipe
1 box of pasta (can be any type such as spaghetti, penne, fusilli, etc)
2 1/3 cups of fresh basil
2 1/2 tablespoons of pine nuts (toast in oven at 425 until slightly golden)
sea salt
Extra virgin olive oil
2 cloves of garlic
4 Tablespoons of Pecorino Romano
1/2 cup of Parmigiano Reggiano
The classic pasta al pesto is a delicious Italian dish made with a simple yet aromatic green sauce. Known for its incredible flavor, it's no wonder this popular dish can be found in many countries around the world. In fact, it's a staple in homes, restaurants and a tasty yet easy recipe to cook in Airbnbs.
Traditional pasta al pesto consists of eight ingredients — pasta, extra virgin olive oil, lightly toasted pine nuts, and two types of cheeses (Pecorino Romano, and Parmigiano Reggiano), sea salt, basil, and garlic. To make the sauce, a mortar and pestle is typically used. One thing to keep in mind when preparing the pesto is to never heat it.
First, toast the pine nuts. Then combine the fresh herbs, garlic, pine nuts, and cheese in a mortar to grind until creamy and somewhat smooth. Add the salt and olive oil to your taste, then set aside.
After, bring a giant pot of water to boil adding in a pinch of salt. Grab your pasta noodles, then toss them in. Cook the noodles until al dente (about 7-10 minutes), then strain them. Once the noodles are done, generously coat them in the beautiful pesto sauce, and enjoy!
#3 Tortellini in Brodo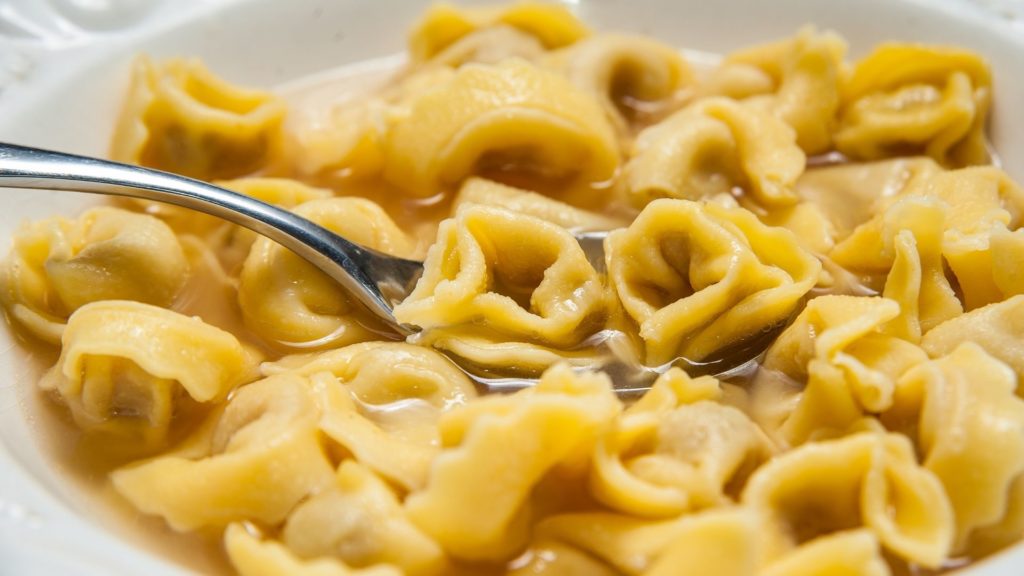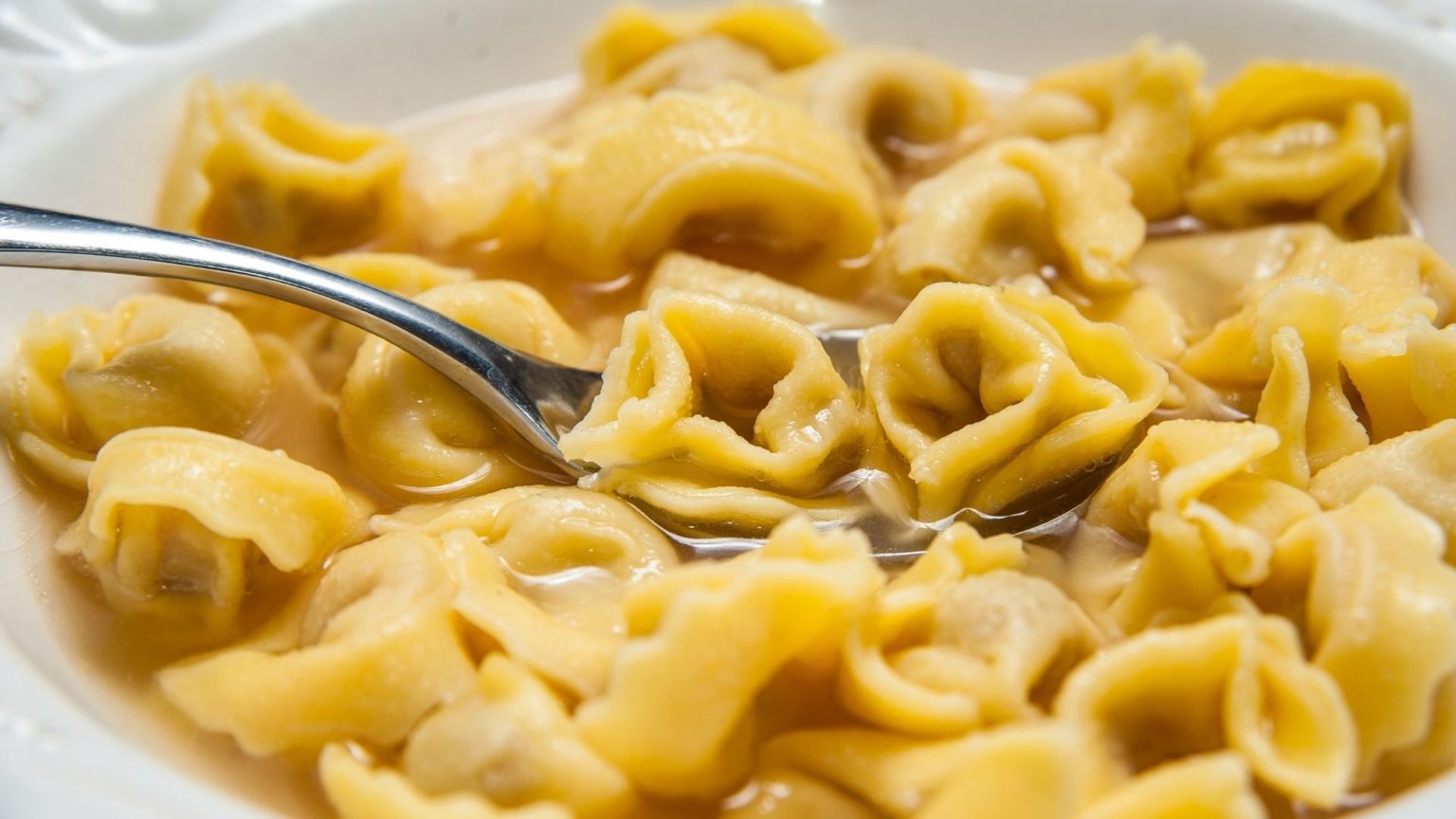 by Lori from Italy Foodies
Here's one more of the traditional pasta recipes. Tortellini in Brodo is one of Italy's most iconic dishes, most often served as a first course in Emilia Romagna. It's a simple dish yet a textural feast for the palette. In this region, the Tortellini in Brodo is actually one of the most famous traditional Italian pasta dishes.
Make the broth and filling ahead of time, but the pasta should be as fresh as possible.
For the filling, blend together melted butter with seasoned cooked pork and fresh mortadella, and pulse in a food processor. Then add grated Italian cheese, a dash of nutmeg, egg, and salt then set aside.
To make the pasta, a mixture of egg and flour is all you need, although only years of practice can bring the perfect thickness and consistency. Roll the dough paper-thin, and cut into 2" squares.
For the tortellini, add a pea-sized drop of pork mixture to the center of the dough square, then diagonally fold into a triangle and seal the edges. Wrap the long ends around a pinky finger to make the shape of the tortellini, pinch and set to dry. Simmer the tortellini in the broth and serve.
#4 Culurgiones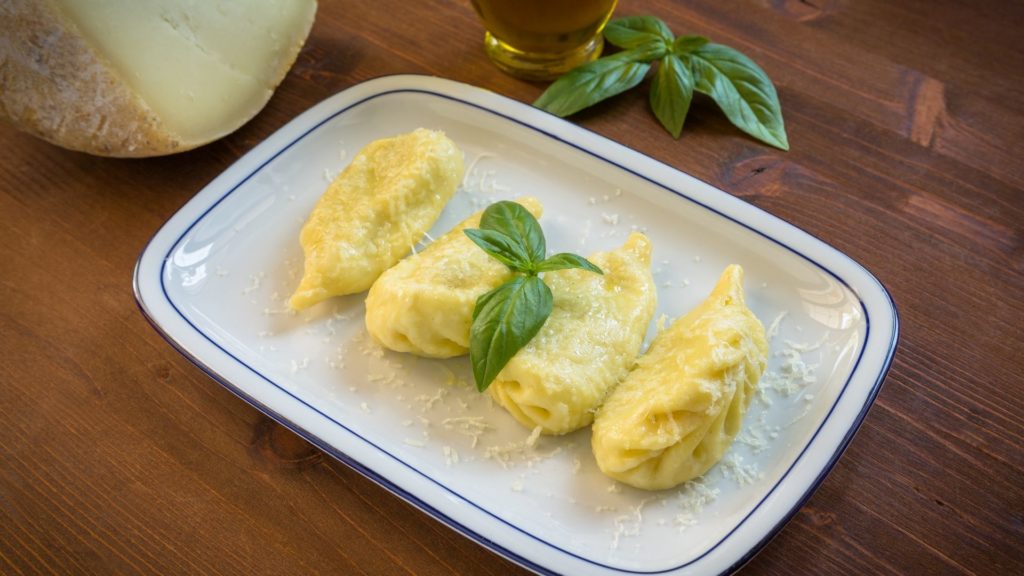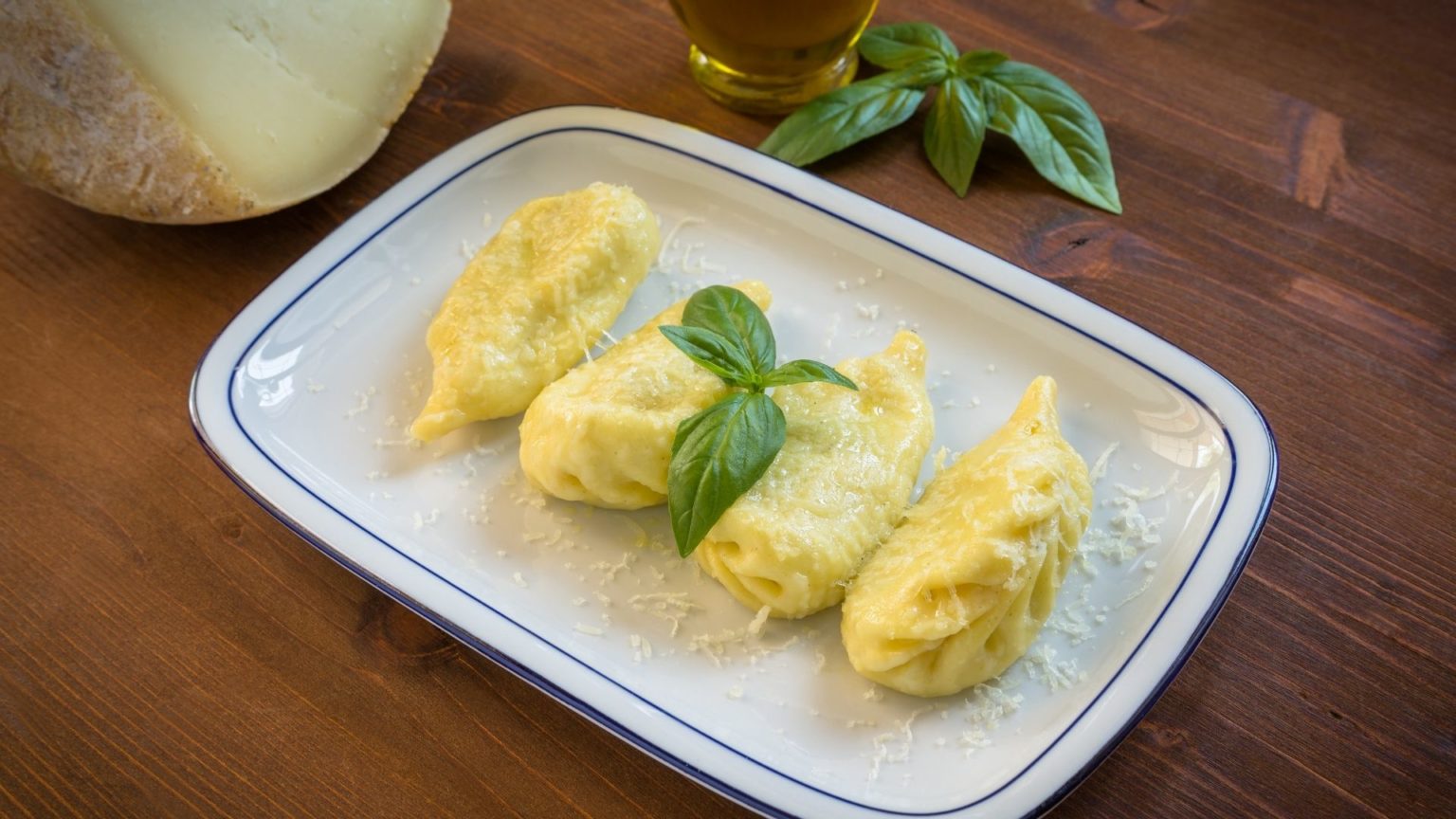 by Claudia Tavani from Strictly Sardinia
Let's move on to another Italian pasta recipe now, and see a traditional Italian pasta recipe from Sardinia!
Culurgiones is one of the most popular pasta dishes of Sardinia. While it is eaten throughout the island, the dish originates from the area of Ogliastra, where each village has a slightly different version.
Below, is a recipe for four persons:
Prepare a dough with 400 grams of re-milled semolina, 200 ml of water at room temperature, and a pinch of salt. When it's smooth, leave it to rest and proceed to prepare the filling.
For the filling, you need 2 large red potatoes, boiled and cooled down; 7 fresh mint leaves; finely chopped; 80 grams of fresh pecorino cheese; 80 grams of hard pecorino cheese; 60 grams of a slightly sour cheese; and a chopped garlic clove.
To close the Culurgiones, you have to master the spike closure by pinching and folding the dough onto itself.
Culurgiones are served boiled with grated pecorino cheese – no oil or butter! Some prefer having them with a simple tomato sauce.
#5 Pasta alla Carbonara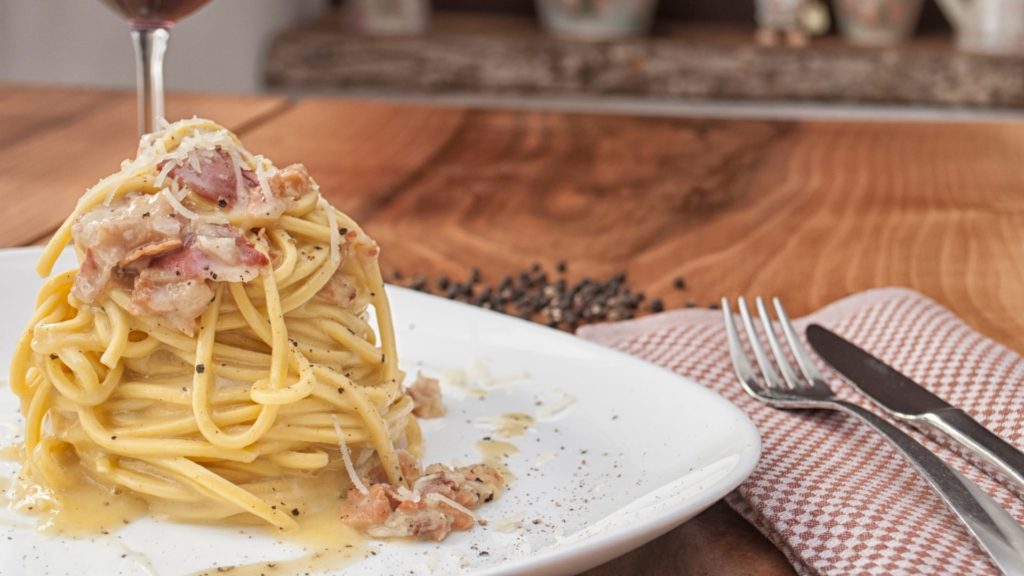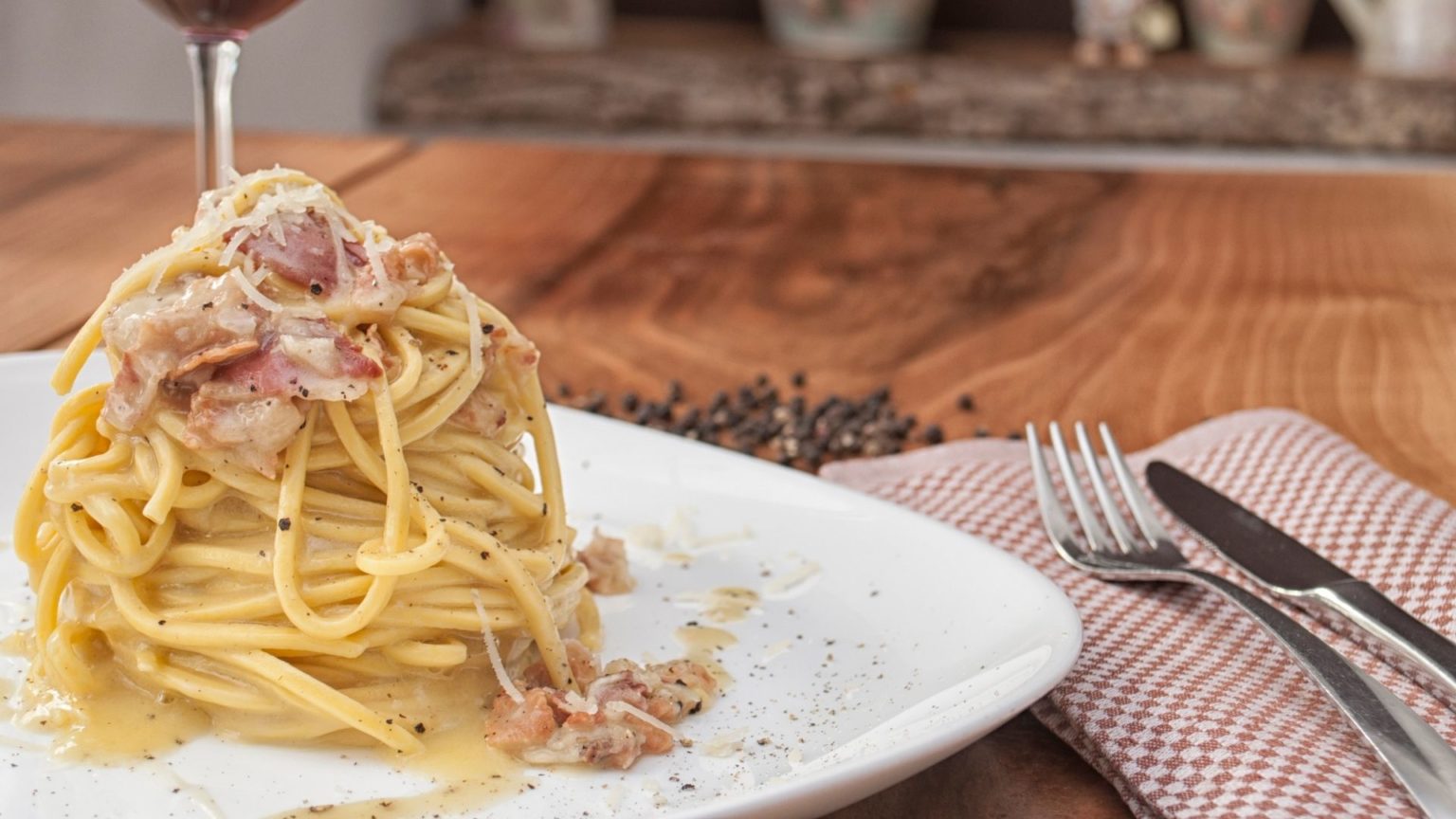 Pasta alla Carbonara is one of the most famous Italian pasta dishes, and one of the best and easiest traditional Italian pasta recipes out there. As we know, around the world the Carbonara pasta is done in different ways, with the use of different ingredients, like fresh cream. We're, however, sticking to the traditional Carbonara recipe here.
300 g of spaghetti
3 egg yolks (+ 1 whole egg)
150 g of "guanciale"
80 g of pecorino
40 g of Parmesan cheese
Extra virgin olive oil
black pepper
Cook the spaghetti and in the meantime pour some extra virgin olive oil into a pan together with the diced "guanciale" and brown it, only at the end add a ladle of pasta cooking water.
Once you've drained the pasta, add it to the pan with the guanciale and mix it together. Under really low heat, add to the pasta the eggs and start mixing them. Continue mixing until you can see that the eggs got creamy. In that second, take it down from the oven and serve with Parmiggiano on top. One of the best traditional Italian pasta recipes to try!
#6 Cacio e Pepe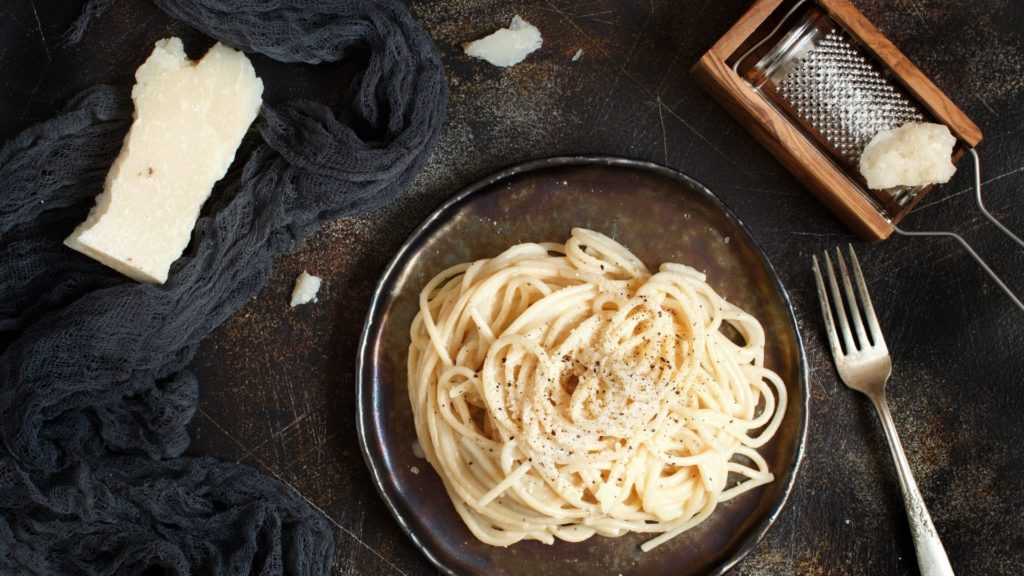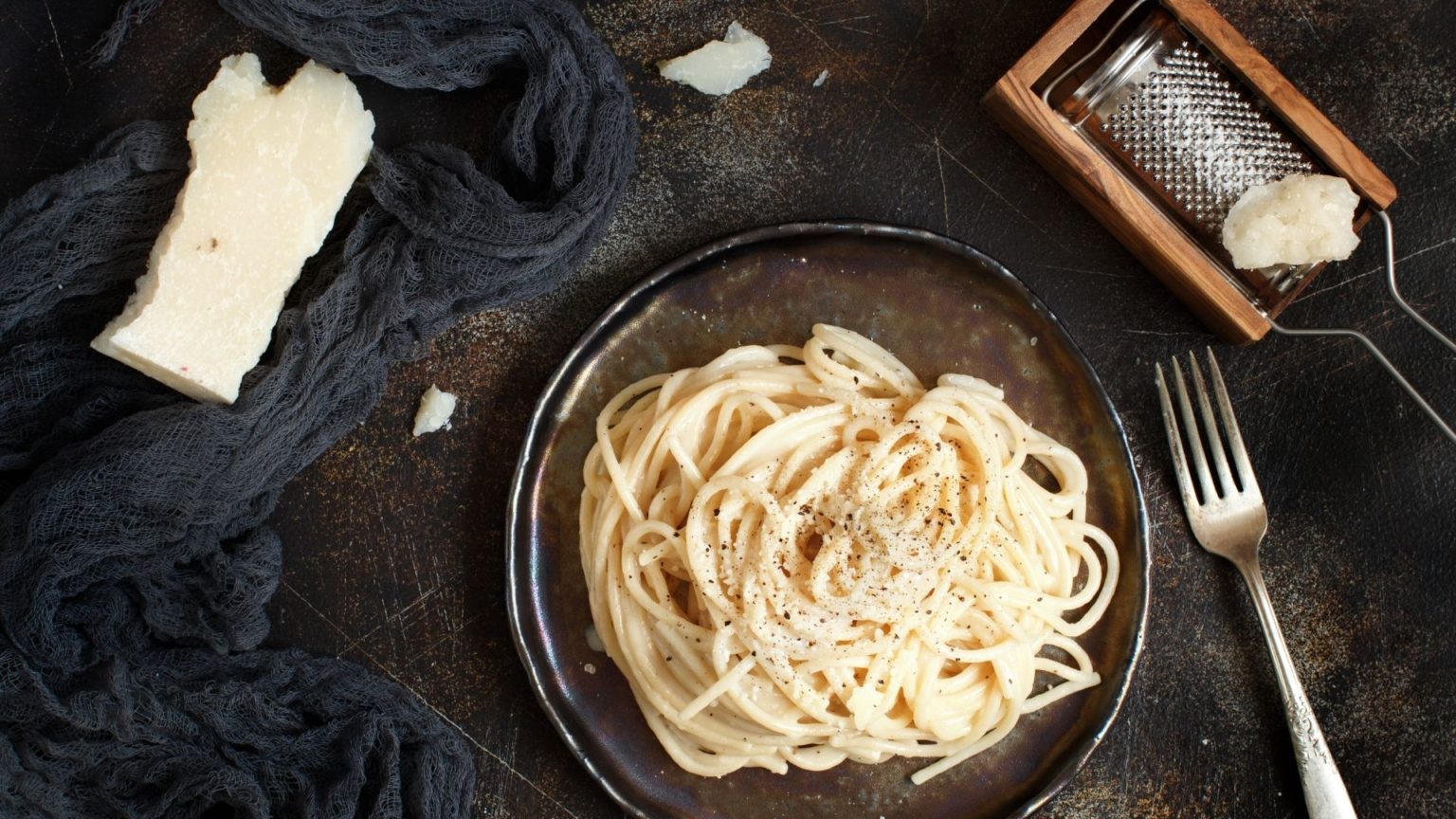 by Claudia Tavani, Strictly Rome
Spaghetti Cacio e Pepe is one of the best Italian pasta dishes of Roman cuisine. The recipe literally requires 3 ingredients: spaghetti, Cacio (that's pecorino romano cheese), and black pepper. Cacio e Pepe is one of the most famous traditional Italian pasta recipes that who has been in Rome did definitely love.
The secret to a good Cacio e Pepe is mastering the cheese sauce so that it turns out creamy without clumping.
Here's how to cook Cacio e Pepe, a traditional pasta recipe from Rome.
Boil a large pot of water and salt and throw in the spaghetti (you need about 90 grams per person). In a non-stick pan, toast the pepper and add a couple of spoons of pasta water. Grate about 150 grams of pecorino cheese (that's enough for four persons) and add some of the pasta water, whisking vigorously to obtain a creamy texture.
Once the pasta is cooked al dente, drain it and keep some water aside. Throw the pasta in the pan with the cheese sauce and the pepper and sauté it for a few moments, adding a bit of pasta water if it appears dry. Serve immediately!
#7 Lasagne alla Bolognese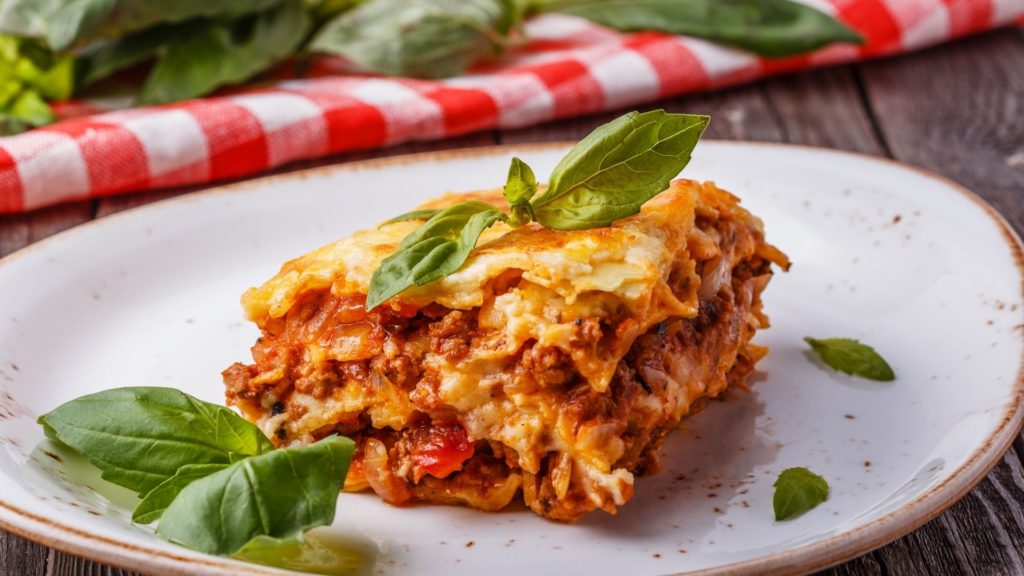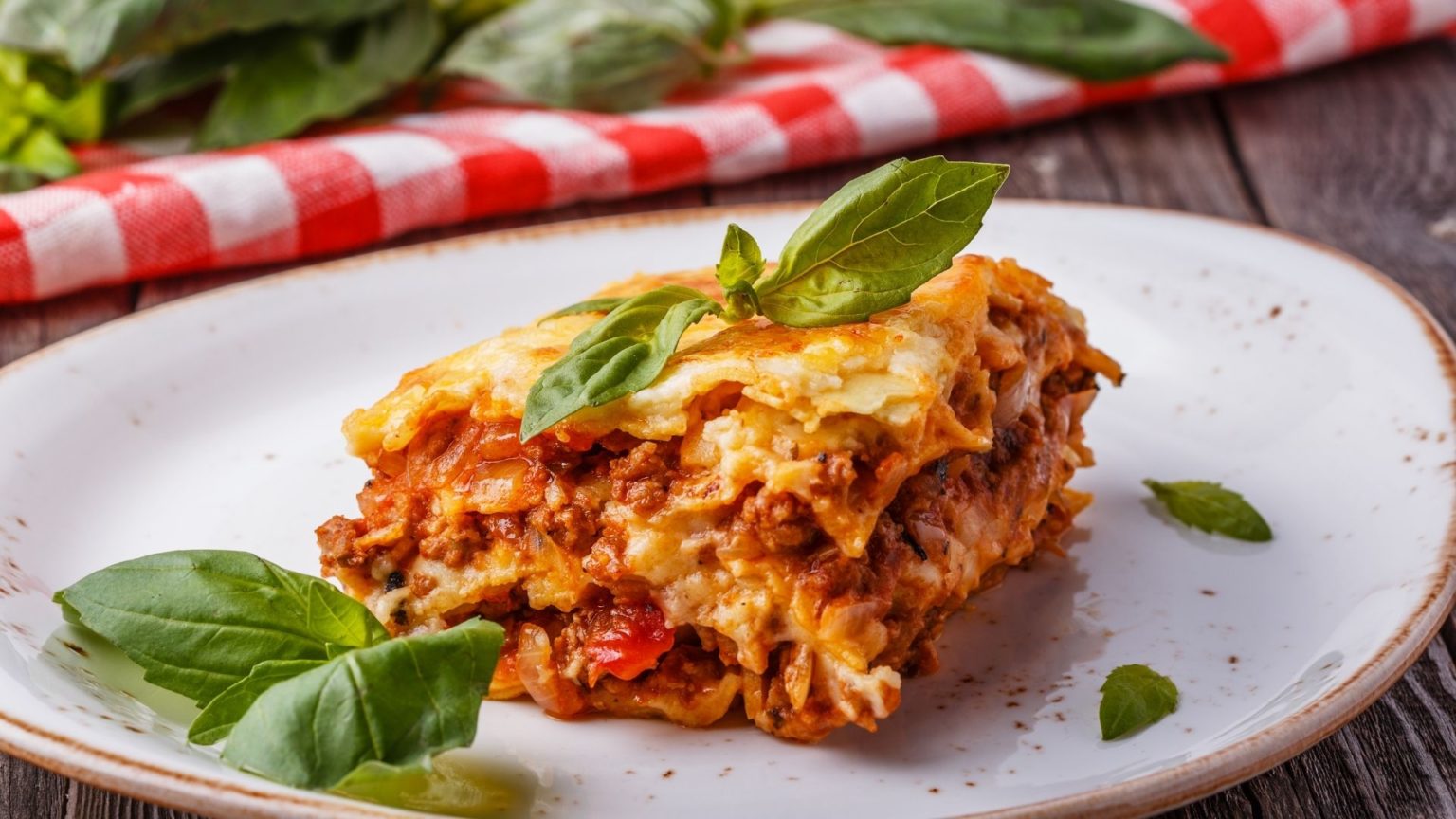 by Ruma from theholidaystory.com
A traditional Lasagna recipe isn't hard to make and it is super delicious, as we know. But how to make a traditional Lasagna alla Bolognese at home? Here's how to make one of the most famous Italian pasta dishes recipes.
Butter
Lasagne noodles
Besciamella 
All-purpose flour
Milk
Pepper
Nutmeg 
Parmesan cheese
Extra virgin olive oil
First, you need to prepare the Besciamella sauce. Start by adding half a cup of all-purpose flour to half a cup melted butter in a heated pan. Keep the mixture stirring slowly so that it does not get burnt.
Slowly pour 4 ½ cups of warm milk into the same pan. Whisk until it boils. Then reduce the heat and let it sit for 15 minutes. Season it with salt, pepper, and nutmeg, and keep aside for later.
Take a lasagne pan and butter it well. Add a layer of bolognese sauce at the bottom and a lasagne noodle on top of it. Cover the noodle with another layer of the sauce to soak it completely. Add a generous amount of the pre-prepared Besciamella sauce to this. Sprinkle Parmesan cheese to cover this layer completely.
Repeat the same process multiple times. For the top layer, add the sauces along with a few cubes of butter and parmesan cheese. Bake the lasagne for 30 minutes in an oven, preheated to 375℉. Garnish the dish with some extra virgin olive oil and parmesan cheese before serving. If you need gluten-free bechamel sauce, check the linked recipe.
#8 Pasta al Pomodoro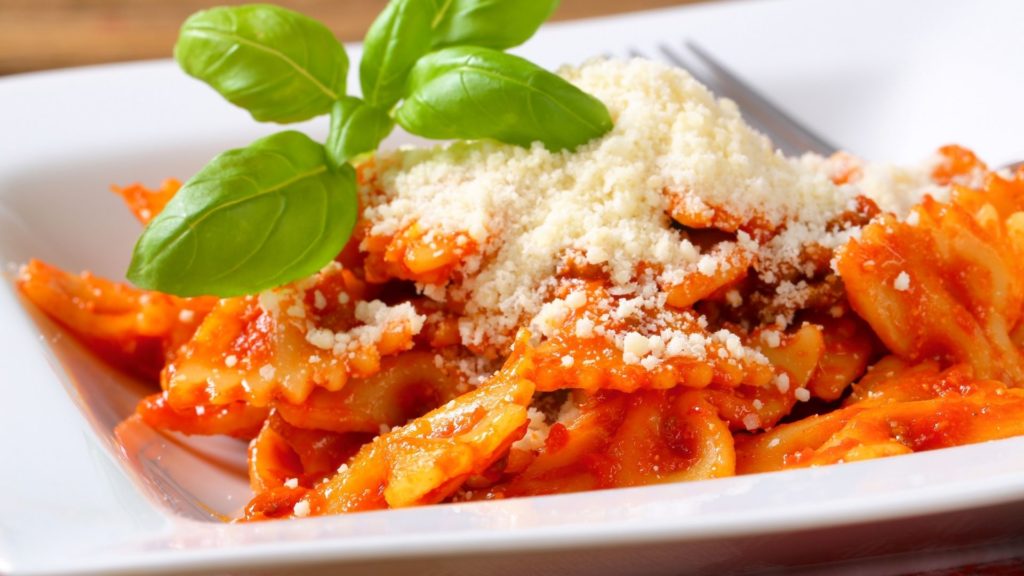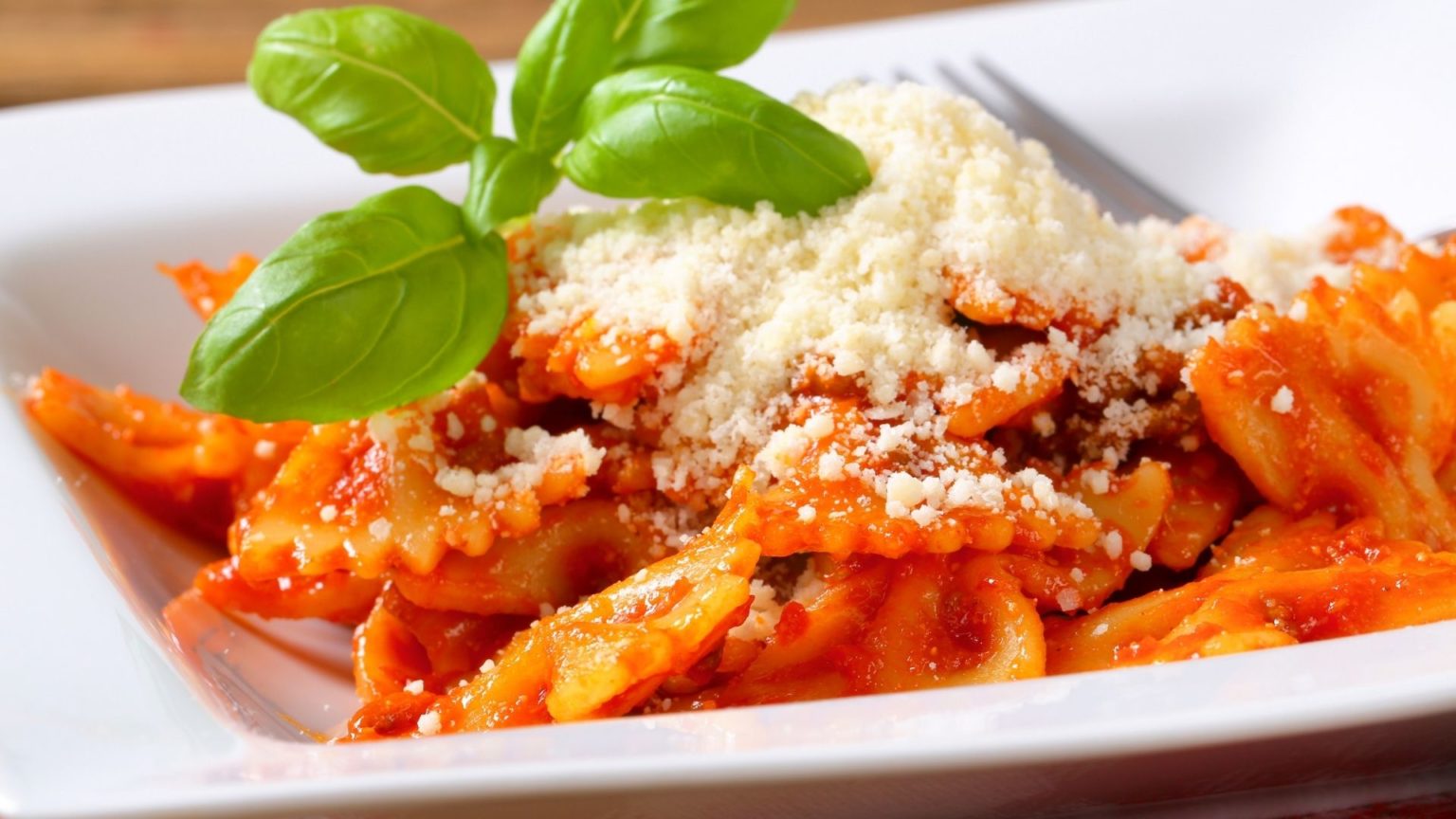 One of the most simple Italian pasta recipes is definitely the pasta al Pomodoro. Let's see now the traditional Italian pasta al Pomodoro recipe, and how to make one of the most famous Italian pasta dishes?
by Anjali from Cheerful Trails
Recipe of Pasta al Pomodor
2 garlic cloves, finely chopped
4 medium peeled tomatoes
Salt
1 lb pasta
2 tablespoons olive oil
3 sprigs fresh basil
Extra basil and Parmesan for garnishing
Heat olive oil in a large skillet over medium-low heat. Add garlic and cook for 2 minutes. Then add the red pepper flakes and cook for 1 minute more.
Add tomatoes and season with salt. Allow it to cook while stirring on low heat until the tomatoes soften. Smush them as much as you can and cook until the sauce thickens. This will take 20-25 minutes. Remove the pan from heat, and stir in basil.
Boil water in a large pot. Add salt into the water. Cook pasta in the boiling salted water. Reserve half a cup of pasta cooking water, then drain the pasta.
Put the skillet of sauce over medium heat. Add the reserved pasta water to loosen the sauce. Toss the pasta into the sauce and mix them together for 2 minutes, until the pasta soaks up a bit of the sauce. Serve and garnish with Parmesan and some basil leaves as desired, before serving.
Are you ready for more traditional Italian pasta dishes?
#9 Vesuvius al Ragu di Salsiccia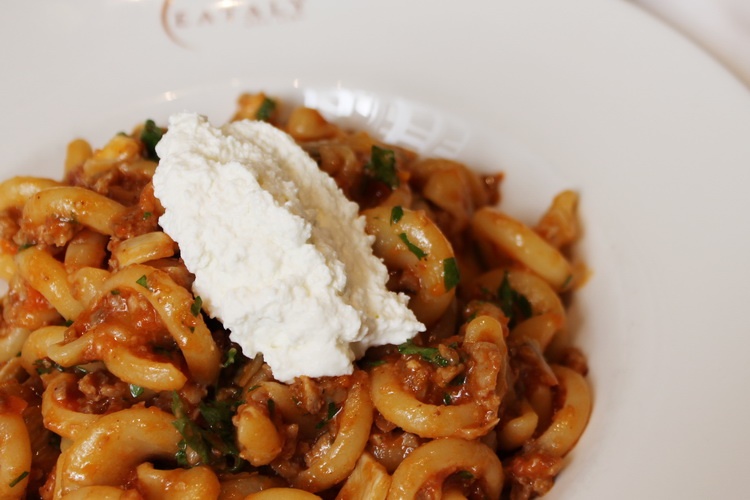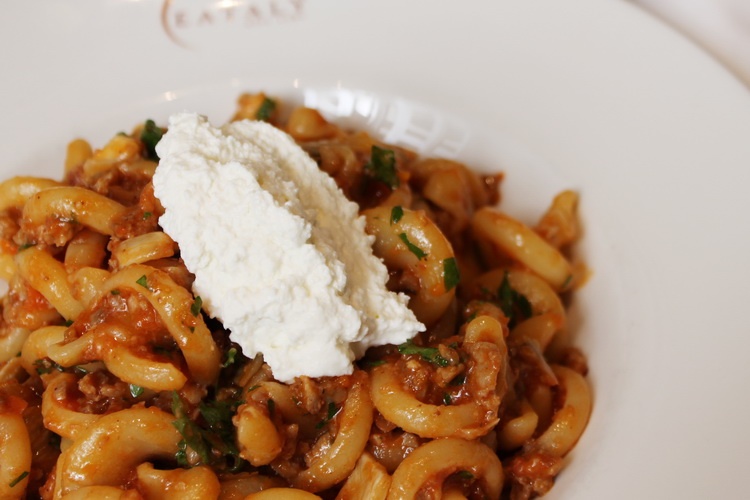 by Victoria from guideyourtravel.com
Another one of the famous Italian pasta dishes, pasta with sausage ragu. If you're looking for an Italian Neapolitan pasta recipe, you should try this one!
The authentic Italian sausage pasta is actually very different from one region to another. Depending on if you're in Naples (Campania region) or in Emilia Romagna region, or down in Sicily, everyone loves the authentic Italian sausage pasta, but the sausage pasta recipes may slightly differ from region to region. In each case, this is one of the tastiest Italian pasta dishes with meat, so we do really recommend trying it!
One of the best Italian sausage pasta recipes, the Vesuvio al Ragu di Salsiccia. An authentic plate of Vesuvio al Ragù di Salsiccia includes tomato, onions, and little sausage pieces served with Vesuvio pasta. You will need around 400g of pasta, 1 can of tomatoes (Italian if possible), 10 ounces of Italian sausage, 3 large onions, 1 clove of garlic, 2 tablespoons of high-quality olive oil, and peperoncino flakes.
Begin by frying the onions in some oil and then add salt, peperoncino flakes, and garlic. Then cut the sausage into small pieces and fry with the onions.
After a few minutes add the can of tomato as well as a cup of water. Let simmer for around 1 hour. In the meantime boil the pasta in a pot with salted water.
When it is al dente add it to the pasta sauce and don't forget to add some pasta water as well so the sauce coats each piece of pasta. Cook for about 1 or two minutes while being careful not to overcook the pasta. A perfect Italian Neapolitan pasta recipe to try! Enjoy!
#10 Pasta alla Norma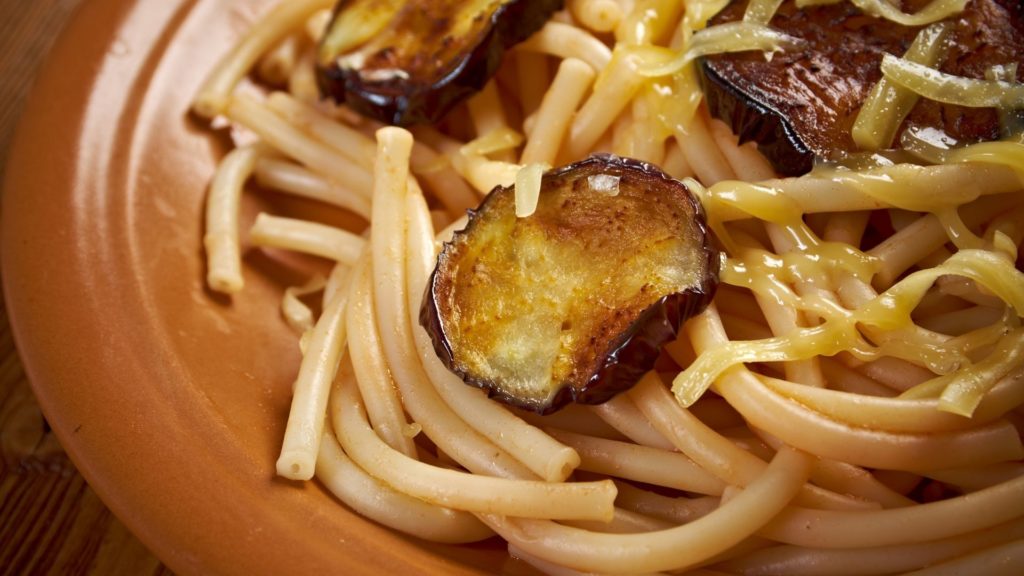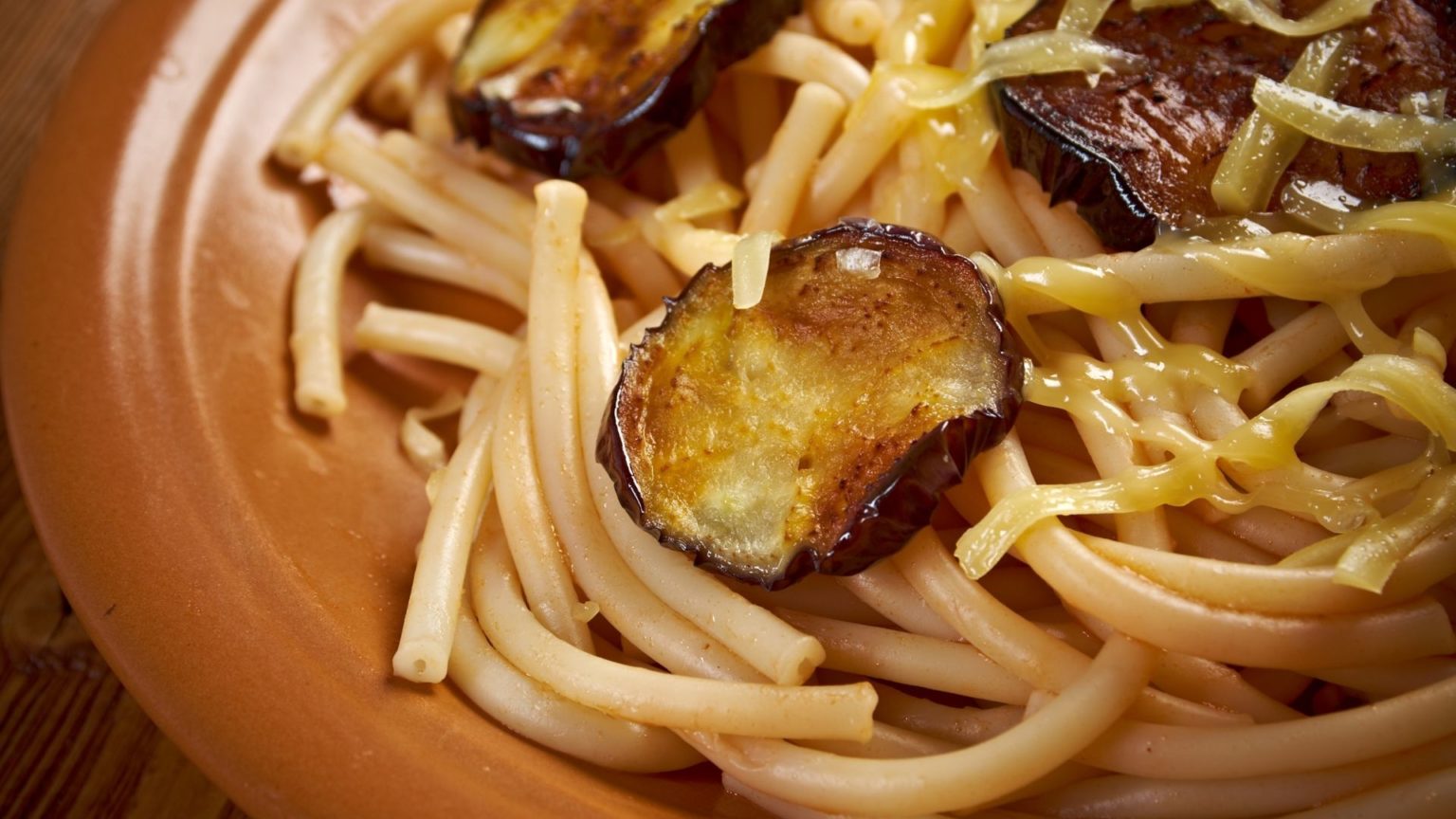 Here comes another great Italian pasta recipe that you might fall in love with, especially if you like eggplants and pasta!
by Annabel from Smudged Postcard
Ingredients for Pasta alla Norma recipe:
2 aubergines, cut into 2cm slices
2 cloves of garlic, crushed
Olive oil
400g tin of chopped tomatoes
Pinch of chilli flakes
Bunch of basil, chopped
1 tablespoon of capers
2 tablespoons ricotta salata or pecorino / parmesan
350g spaghetti
This traditional Italian pasta dish hails from Sicily. It's a versatile meal that can be served using a variety of pasta types – spaghetti, penne, or route di carro. Likewise, if you cannot get hold of ricotta salata, pecorino or parmesan are suitable alternatives.
Fry the aubergine for 20 minutes or until soft, then remove from the pan. Add the garlic and capers and fry for a minute or so before adding the tomatoes, chili, and most of the basil. Meanwhile, cook the spaghetti.
After cooking the tomatoes for around 20 minutes, return the aubergines to the pan. Heat through and then add the cooked spaghetti to the sauce.
Divide the spaghetti between four bowls and then sprinkle with the ricotta and a little bit of basil.
#11 Gnocchi al gorgonzola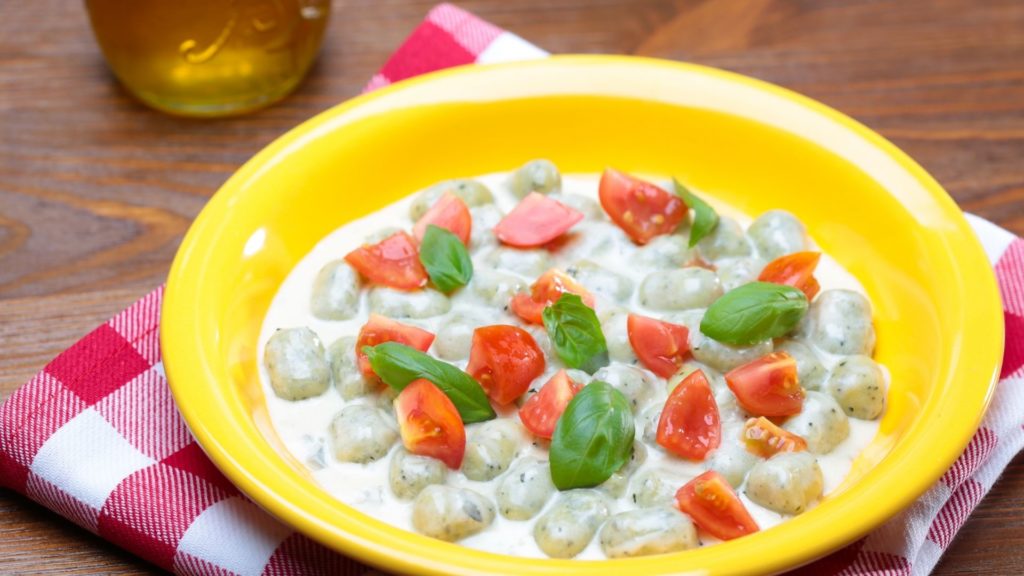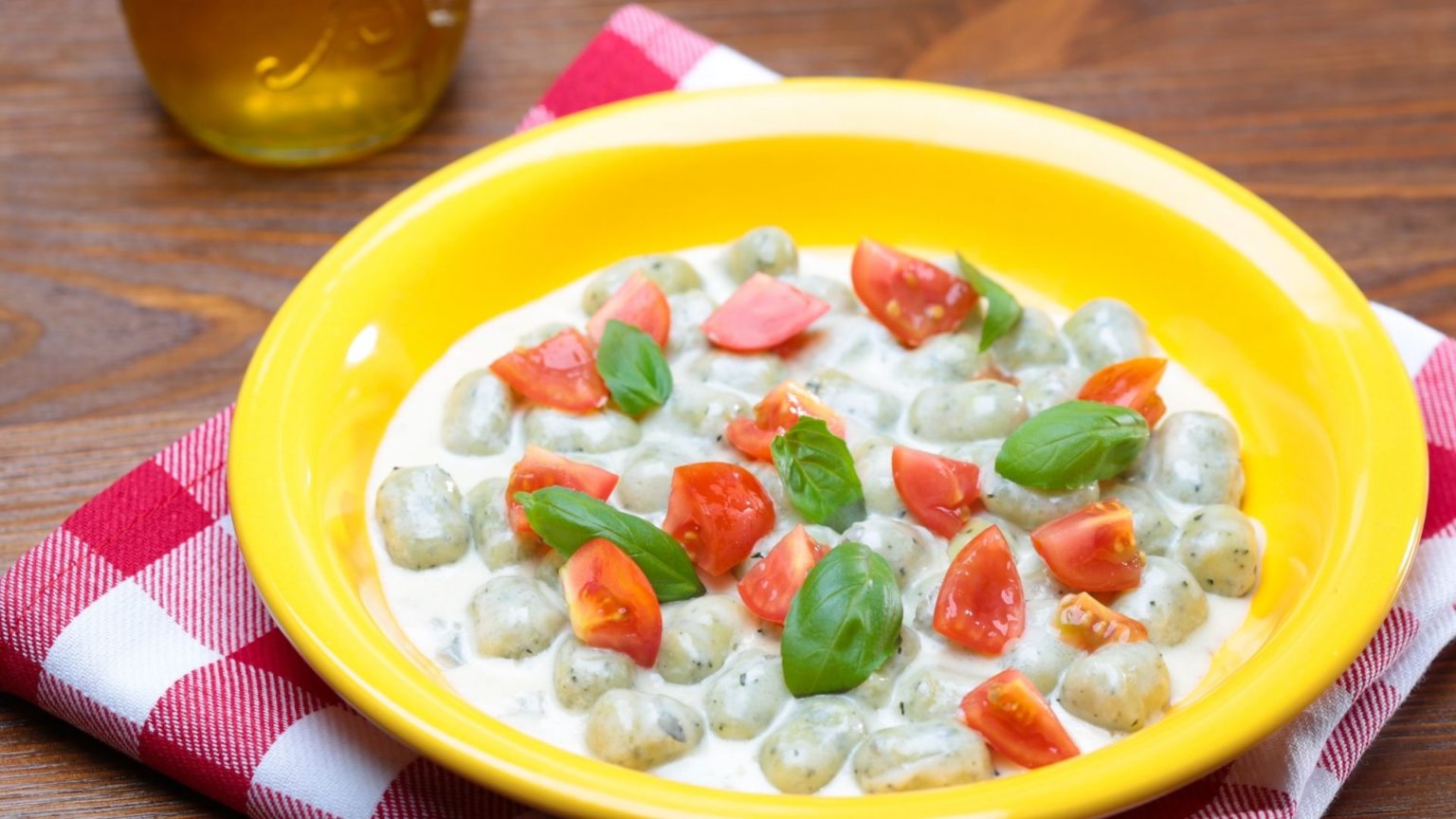 Gnocchi al gorgonzola is another great and really quick option when it comes to Italian pasta recipes. The gnocchi is actually not pasta, but it's served mostly with the same dressings as other Italian pasta dishes. This specific Italian dish has other versions as well, such as the Gnocchi ai Quattro Formaggi, which is one of the famous Italian pasta dishes that you can try in Rome.
by Rai from araioflight.com
Around the world, Gorgonzola on its own is often considered a weird food. However, served alongside some tempting potato dumplings and cream and you've got a tasty combination. The richness of the dish is complemented with the creaminess of the gorgonzola sauce. This classic recipe is simple and swift to prepare. Homemade gnocchi is ideal, but the high-quality ready-made kind is almost as good.
Ingredients for a Gnocchi al Gorgonzola recipe
One batch of gnocchi, preferably homemade
25g knob of butter
250g gorgonzola cheese
100ml milk
500ml heavy cream
100g Parmesan cheese
Salt, pepper, and nutmeg to taste
Bring a large pot of salted water to a boil. Slowly add the gnocchi to the boiling water. Stir occasionally and cook until they rise to the surface.
To make the sauce combine the milk, cream, butter, and chopped gorgonzola over low heat. Season with salt and pepper.
When the gnocchi is cooked, remove with a slotted spoon and transfer to the sauce. Stir well to coat with sauce. Season with Parmesan cheese, pepper, and nutmeg. Serve immediately.
#12 Frutti di Mare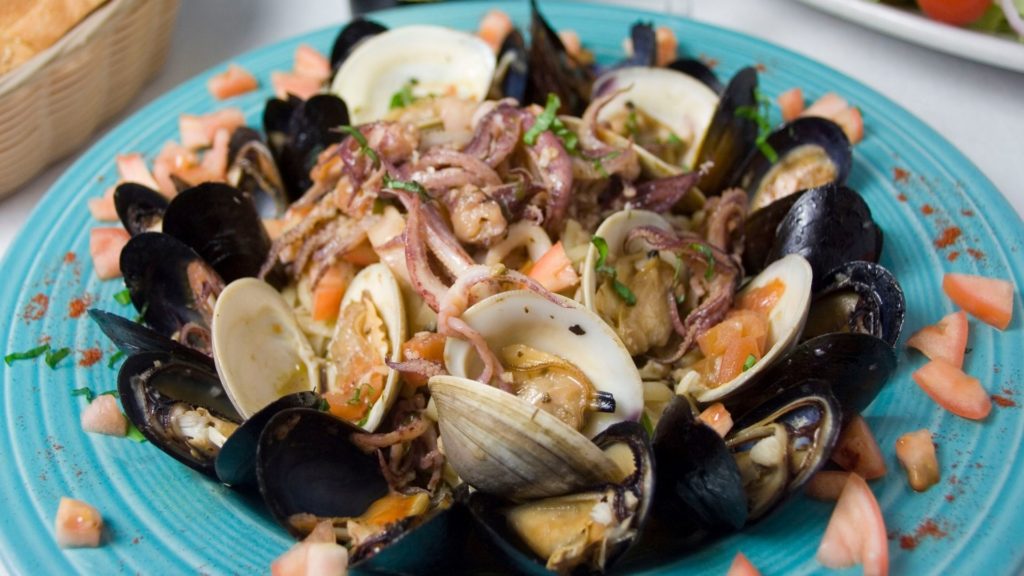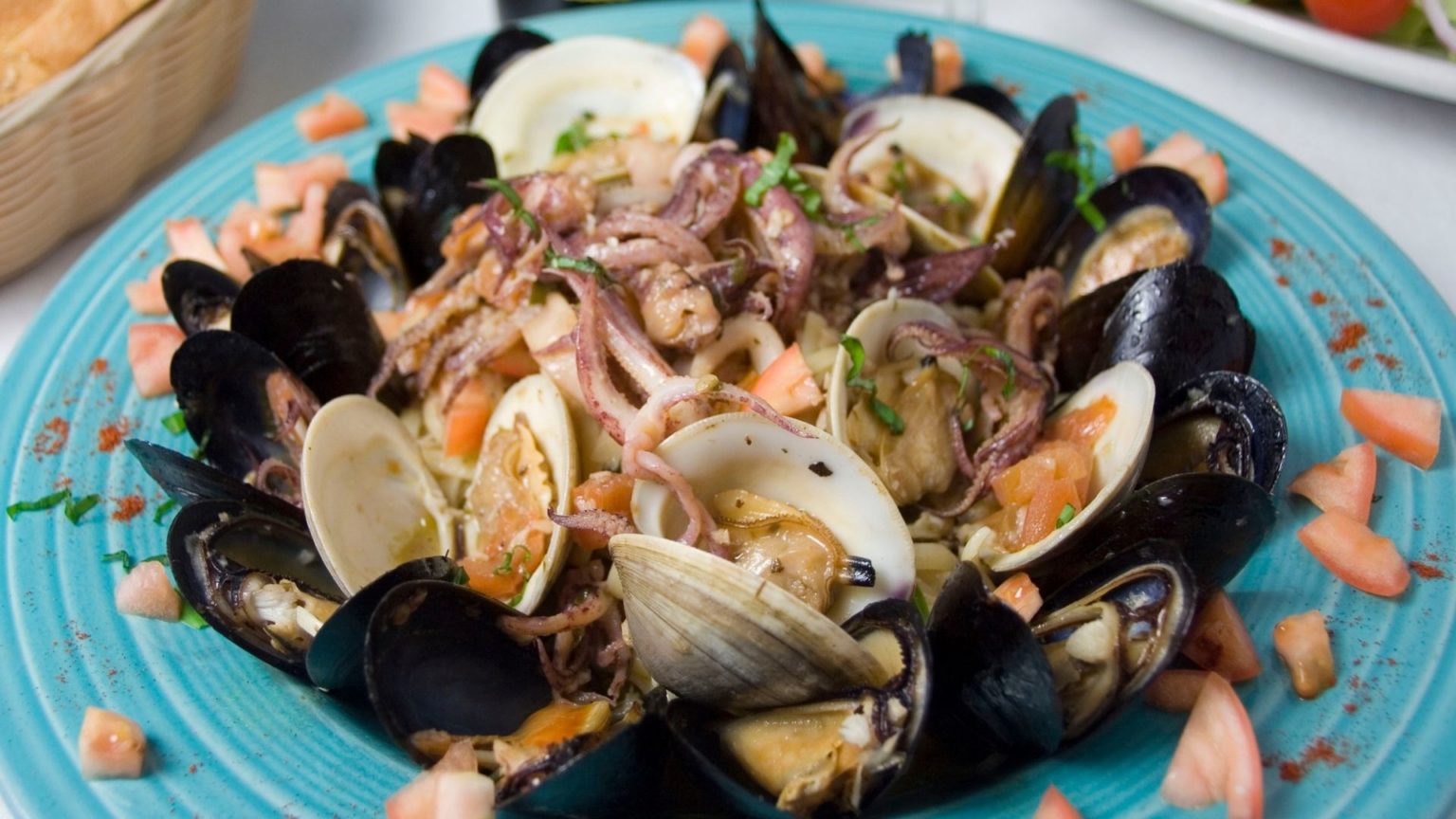 When it comes to traditional pasta recipes, you want to know how to make Frutti di Mare! In Italy, seafood is really much loved and consumed in many ways, but especially with pasta. We've added to our recipe list two Italian seafood pasta recipes, from which one is this, the simple Frutti di Mare.
by Haley of HaleyBlackall.com
This traditional Frutti di Mare "fruit of the sea" Italian seafood pasta recipe is full of fresh clams, squid, and shrimp in a scrumptious red tomato sauce and will have you booking a trip to Venice pronto!
⅓ Cup extra virgin olive oil
1 medium yellow onion minced
6 cloves garlic grated
3 tsp red pepper flakes + more to taste
1 bay leaf
2 x 28 oz can San Marzano Tomatoes whole
1 lb shrimp peeled
1/2 lb squid tentacles
c white wine
1/3 c fresh basil leaves and chopped Italian parsley
3/4 lb spaghetti
Sea salt to taste
1 lemon for serving
In a large cast-iron pan heat up the olive oil and saute the onion for 10 minutes or until translucent, with a pinch of salt. Add the red pepper flakes and grated garlic and let it cook for 30 seconds.
Add the tomatoes and simmer while breaking them apart. Add the bay leaf and partially cover the pan. Put the sauce on a low simmer for 45 minutes, stirring every 10 minutes.
In a large pot of boiled salted water, cook the spaghetti until al dente. Reserve 1 cup of pasta water.
Add the clams and mussels to the sauce and toss. Add the white wine and cover with a lid for about a minute until the clams start to open. Add the shrimp, give a quick stir and cook covered for another minute.
When the shrimp are almost cooked, add the squid. Toss until they curl up. Add sea salt if needed. Add the cooked pasta to the saucepan and toss to coat. Add some reserved pasta water to stretch out the sauce, if needed. Transfer to a platter, drizzle with olive oil, and top with basil and parsley. Serve this Italian seafood pasta with lemon wedges. One of the best Italian pasta recipes for those who love seafood!
#13 Spaghetti alle Vongole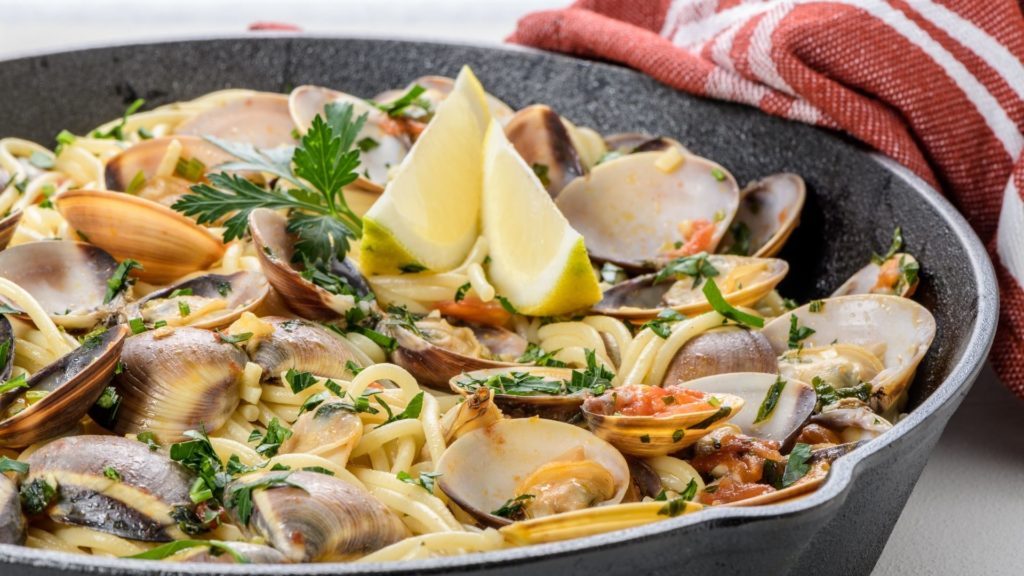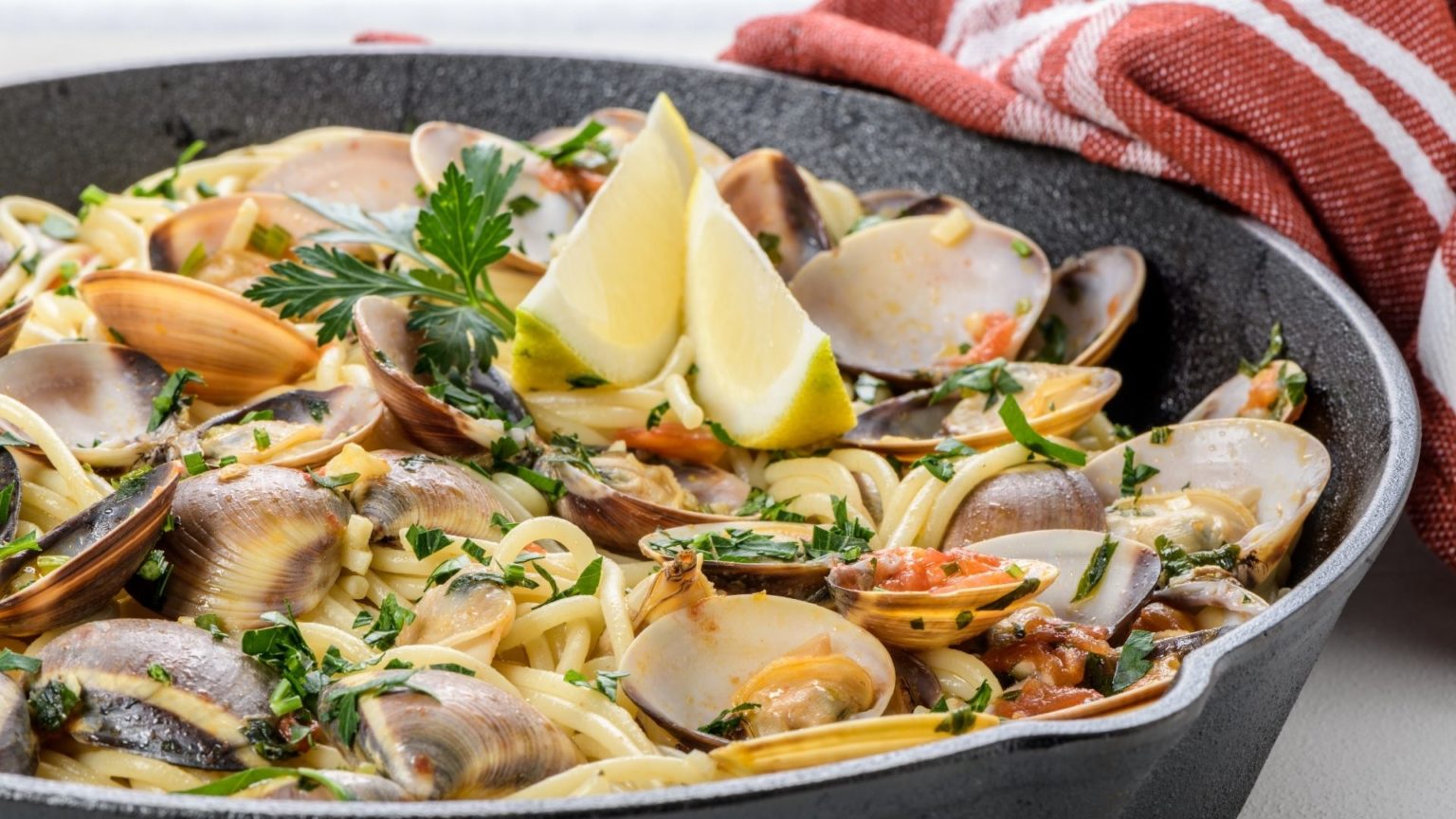 We've got another traditional pasta recipe here! One of the most famous Italian pasta dishes, especially for those who love seafood. Spaghetti al Vongole is really popular in the country, but outside of Italy as well. So how to make this Italian pasta recipe? Here's a guide for a great Italian seafood pasta!
by Martina & Jürgen from PlacesofJuma
400 g spaghetti
7 tbsp. olive oil
2-3 cloves of garlic
1 white onion
1 bunch fresh parsley
125 ml dry white wine
1 – 1,25 kg fresh vongole
Salt and pepper
Spaghetti Vongole is an absolute highlight among traditional Italian pasta recipes and absolutely easy to cook! First wash the mussels under running cold water, or instead, you can soak them for 2 hours. Then boil the spaghetti in salted water until al dente.
Heat 6 tbsp oil in a large, high pan and fry the finely chopped onion and garlic. After that add the fresh finely chopped parsley.
In another pan with 2 tbsp oil, fry the mussels and turn them over. Then pour in all the white wine and simmer, covered, for 5-6 minutes. Strain the liquid and pour into the pan with the onion/garlic/parsley. Season the sauce well with salt and pepper. Now add only all the opened mussels to the sauce, mix them and at the very end add the spaghetti. Turn a few times and serve hot but without any cheese! An Italian seafood pasta that you must try!
#14 Pasta all'arrabbiata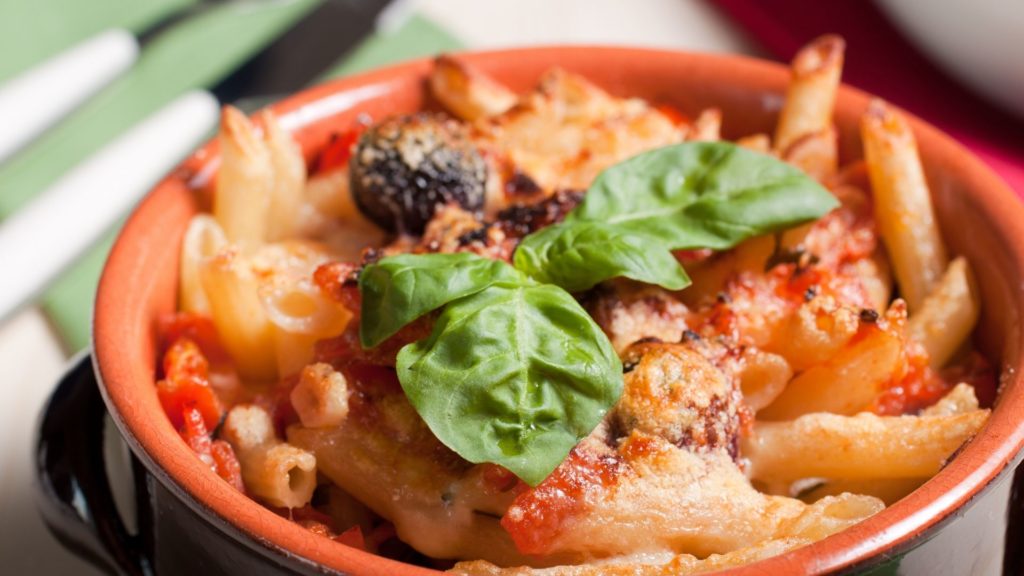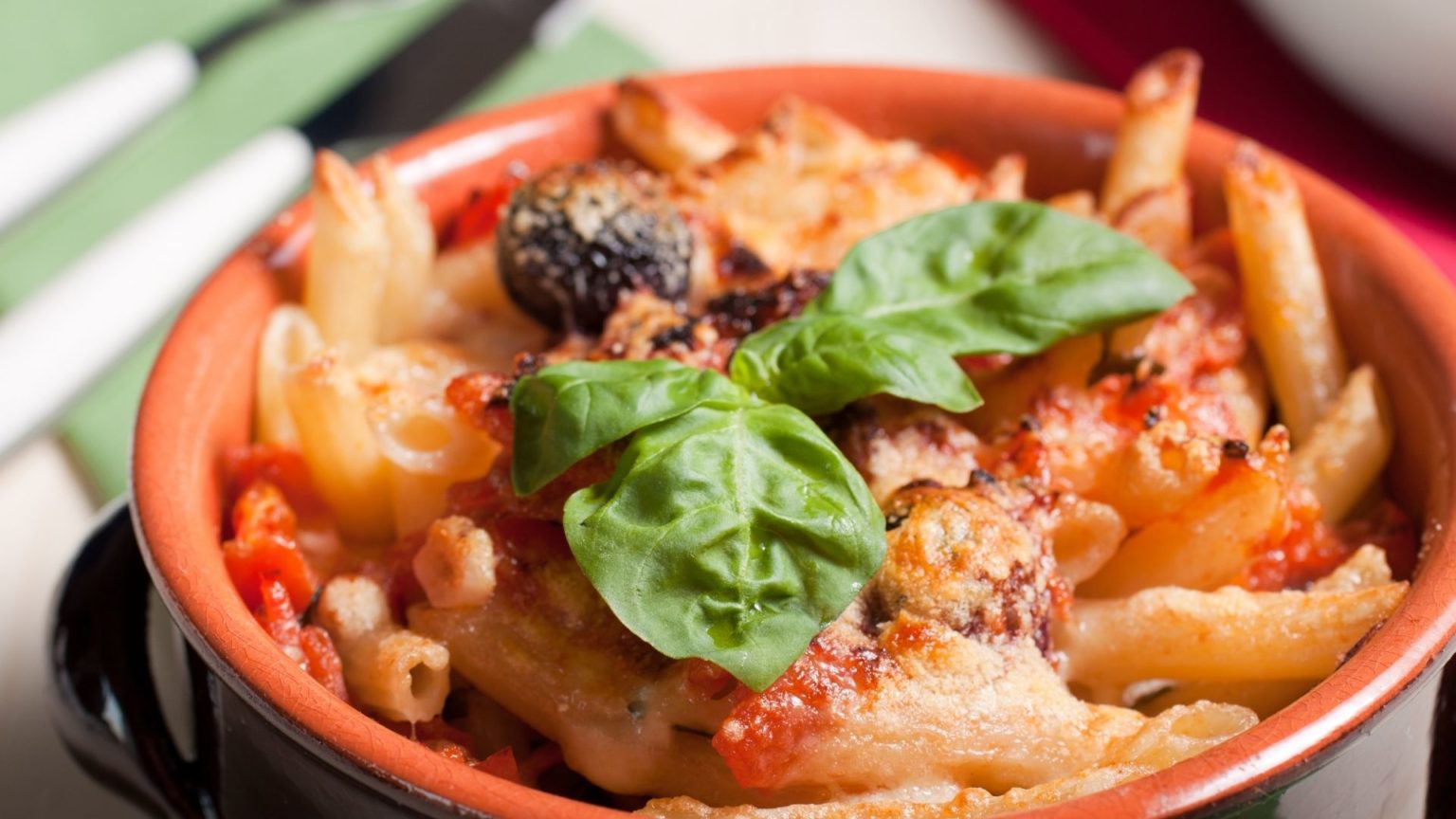 Pasta all'Arrabiata is a great traditional pasta recipe that's easy to do! If there's one famous Italian pasta dish, that everyone heard about besides the Carbonara, that's definitely the Pasta all'arrabbiata. Now, if you'd like to try this spicy Italian pasta recipe at home, here's how to make it:
by Dymphe from Dymabroad
One of the best traditional Italian pasta recipes is pasta all'arrabbiata. You can find this pasta dish at almost every restaurant in the country of Italy. This is pasta with a spicy sauce that is very delicious. The arrabbiata sauce consists of garlic, tomatoes, dried red chili peppers, and olive oil.
What's great is that this pasta dish is very easy to prepare. To make it for 4 people, first, add 3 tablespoons of olive oil to your pan. Then, you should add 4 cut cloves of garlic and cook this for a short amount of time. Now, add 2 teaspoons of red pepper flakes and add 3 cans of diced tomatoes.
Cook this for about 20 minutes. At the same time, you can boil the pasta. When the pasta sauce is finished, you can add a bit of salt or pepper to make it even better. Now, you should drain the pasta and add the sauce to it.
#15 Spaghetti alla puttanesca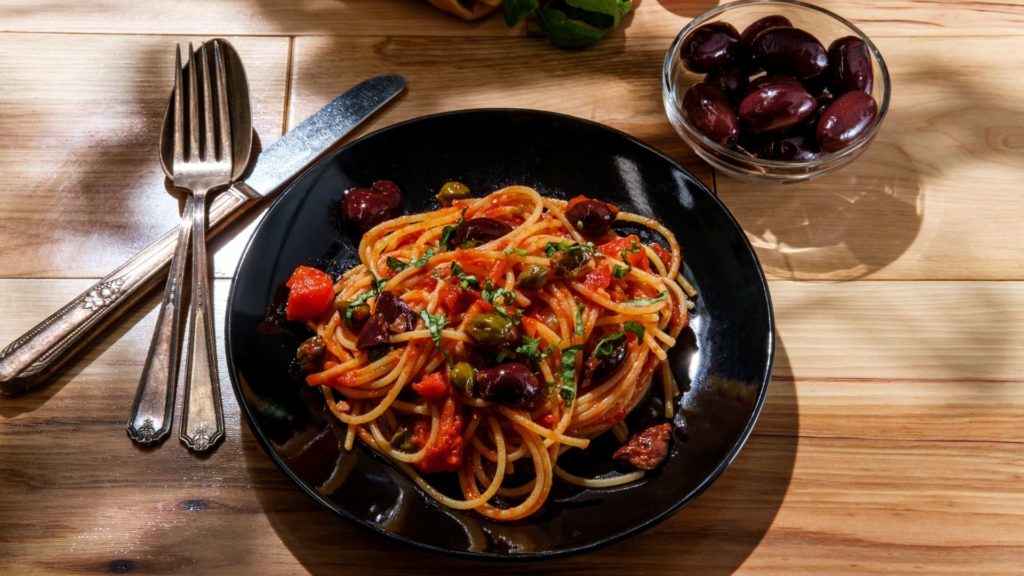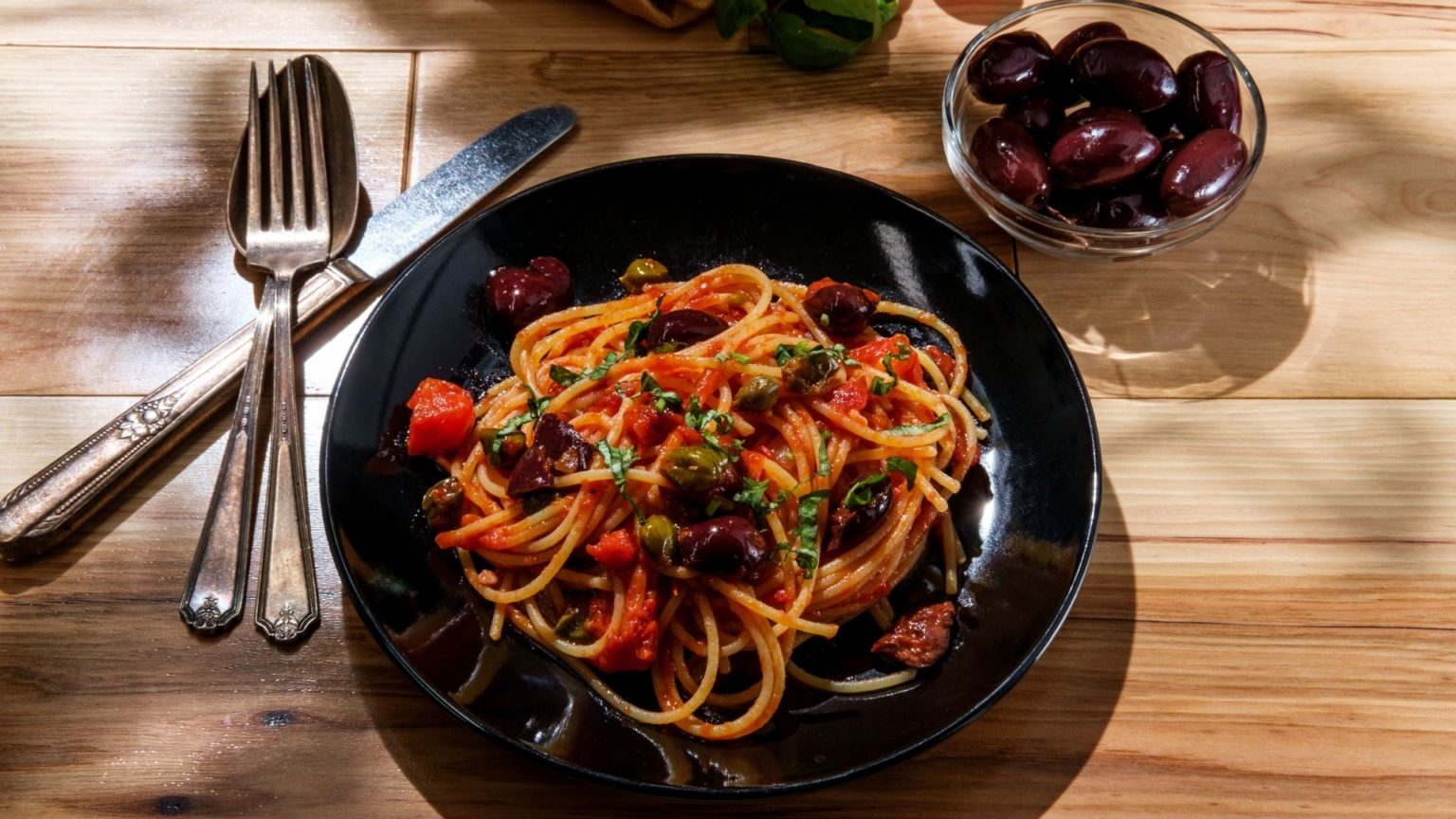 by Cláudia & Jorge From Travel drafts
Spaghetti Alla puttanesca is an example of how something so simple, with the right ingredients, tastes so good. This Italian dish is to die for, and once you try it, it will be a dish that from time to time you will crave.
Its name is somewhat provocative, as puttana in Italian means prostitute. Legend says that this dish was created in the brothels of Napoles and the prostitutes used to serve it to their clients. not a bad service… Although there is no proof that it was created in the brothels, it is definitely a Neapolitan dish. So if you've been searching for an Italian Neapolitan pasta recipe, try definitely the Pasta alla Puttanesca! Some also say, that it was created by the poor, as it is simple and doesn't require meat or seafood.
The main ingredients of this dish (for 4 people) are 4 Anchovy Fillets, 2Tbsp capers, 1 cup of olives, 4 garlic, 1 kg crushed tomato, and 500 g of spaghetti.
All you need to do is cook the spaghetti in boiling water with plenty of salt. In a non-stick skillet sauté anchovy fillets and garlic in a generous amount of olive oil. Add the crushed tomatoes, capers, and olives, cook until the sauce is thick and then add the cooked Spaghetti. Taste and season with pepper and salt. Serve with parmesan cheese and fresh basil. Simple right.
Famous Italian pasta dishes – Traditional Italian pasta recipes
So these would be the 15 traditional Italian pasta recipes we wanted to share with you! There were some great Roman pasta recipes, skinny Italian pasta recipes, Italian Neapolitan pasta recipe, Italian sausage, and zucchini pasta recipe, and so! We really hope that you've found your perfect match for a great Italian dinner at home, and there were some Italian pasta recipes that you do like to try! For more Italian food and recipes, make sure you're checking out our website, as we aim to bring more and more traditional Italian pasta dishes and not just pasta to our website. Let's eat authentic Italian food, even when we're outside of Italy.