They're not household names like their Piedmont or Tuscan cousins, but the wines of Italy's southern wine districts are bold, full-bodied, and satisfying.
Southern Italy has been producing wine for over 4000 years. The wine business here was already booming in 2000 B.C. when the Phoenicians arrived. The Greeks dubbed southern Italy "The Land of Wine," and the Romans delighted in the wines of the Campania region.
In modern times, however, wine production in southern Italy has languished, and a large portion of wine produced there was sold to France and Germany as a blending wine. All that is changing. Campania, the region surrounding the city of Naples, is at the center of southern Italy's wine renaissance. This is home to the Amalfi Coast, the isle of Capri, Mt. Vesuvius, and of pizza. The rich soil and temperate climate here are ideal for growing all kinds of fruits and vegetables. Grapes are no exception.
The wines of Campania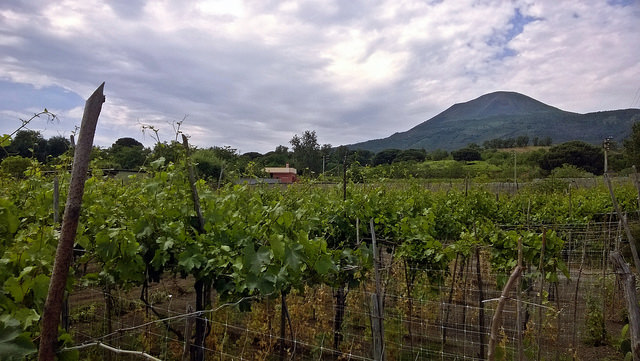 Campania's top three wines come from the Irpinia hills area, just outside of Naples: the red Taurasi, and the white Fiano di Avellino and Greco di Tufo wines.
Taurasi is a full-bodied red that requires aging, like its northern cousins, Barolo, Barbaresco, and Brunello. Good vintages of this powerful, tannic, complex wine are at their best when aged 15 to 20 years. Taurasi is made of mostly Aglianico grapes with the majority of better Taurasis containing 100% Aglianico. By law, Taurasis must age at least three years before bottling with one of those years in wood.
Fiano di Avellino is Southern Italy's leading dry, white wine. It is delicate with overtones of pear and almonds. Unlike most white wines, Fiano di Avellino improves with at least five to six years aging and good vintages are drinkable up to fifteen years. Fiano di Avellino is required to be made of at least 85% Fiano grapes.
Greco di Tufo, both a grape and a wine, was introduced to Italy by the Greeks over 2000 years ago. It thrives in the volcanic soil just outside the small village of Tufo. This wine is crisp and intensely fruity. Greco di Tufo is usually ready to drink in three to five years and can age up to about twelve years.
Lacryma Christi del Vesuvio (literally: the tears of Christ at Vesuvius) is grown on the terraced slopes of Mt. Vesuvius, the infamous volcano that looms over Naples. The area's rich volcanic soil produces very good red, white, and rosé wines. All three are designated "Lacryma Christi." There is even a sparkling (spumante) version.
The wines of Puglia
The region of Puglia, along the Adriatic Sea, is another southern Italian wine mecca. Negroamaro, Primitivo, and Malvasia Nera – all red – are the three main grapes grown here. Also noteworthy is a historic, sweet, high-alcohol dessert wine, made with Aleatico grapes, called Aleatico di Puglia. The wines of Puglia carry the following place designations: Salento, Daunia, Tarantino, and Valle d'Itria.
Salento wines are dark, robust, and full-bodied with ripe fruit flavors and a high alcohol content. The Salento peninsula is arid and flat with palm trees and cactus plants. This difficult soil combined with the cool evening breezes from the Adriatic are perfect for producing complex red wines.
Castel del Monte was first made in Puglia in the 13th century. This wine's namesake, medieval castle still stands. Castel del Monte can be a blended red, white, or rosé wine. The red (rosso) is a dry wine made from mostly Uva di Troila or Aglianico grapes. The white (bianco) is made from Chardonnay or Pampanuto, a local grape. Both wines are soft and very dry.
The wines of Sicily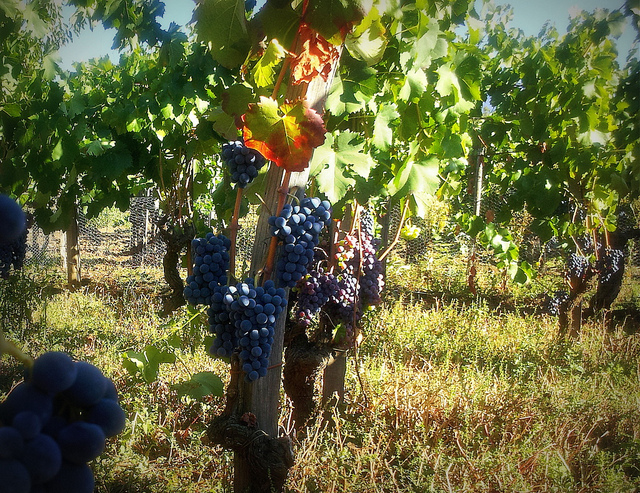 Sicily, the largest island in the Mediterranean, also has a rich wine history. For almost 4000 years, Sicilians have been producing wine. Today they produce about 1/6 of Italy's wine, the majority of it white. This is a perfect accompaniment to the fresh seafood and fish that abound in Sicily. Sicily is also noted for its fortified wines, like Marsala, and its dessert wines, such as Moscato.
Catarratto Bianco is the island's most-planted white wine grape. Nero d'Avola is the main red grape. In general, Sicilian wines are light-bodied and dry. They go well with the cuisine of the island: pasta, veal, and seafood.
The wines of southern Italy are improving their quality and their production with each vintage. They are affordable and increasingly available in the United States. Watch for them at a wine store or restaurant near you. If you want to learn more, check out our articles about the wines of Northern Italy and Central Italy!
By Sandy Mitchell