Italy is the land of many good wines and making up a list of the best among them, as we already said in our article about the wines of Northern Italy, is almost impossible. The central regions of the country are home to some of our best known enological products (think of Chianti, for instance), but also to plenty of lesser known amazing varieties we hope to help you discover.
One thing is certain: vineyards are a quintessential part of the central Italian landscape, to the point it is almost impossible to think of places such as Toscana or Umbria without picturing gentle hills covered in lines and lines of vines. During the Fall, in particular, their presence gifts us with a breathtaking explosion of colors, nuances and scents, a treasure to keep locked within our hearts and eyes once we leave these enchanted lands and get back home to our daily routine.
Let's see it this way, then: sipping a wine from central Italy as a way to bring back memories that touched all of our senses, memories of a moment of peace and beauty and of great pleasure, ready to come back every time we uncork a bottle of delicious Tuscan red!
The wines of Toscana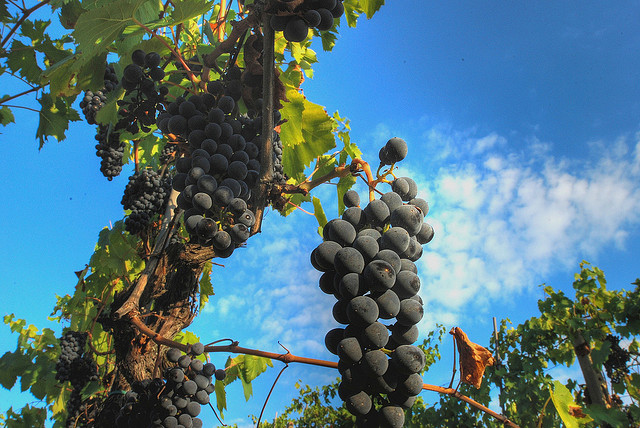 To most non-Italians, Tuscany is the first place coming to mind when saying the word "Italy." It may come as no surprise that also the name of one its wines, Chianti, is the first reaching our tongues when thinking of Italian wines. Chianti is hugely popular all over the world, and rightly so: it is pleasant, harmonious and velvety, especially when aged. And what about its characteristic bottles? We all know them and cherish their peculiar, unmistakable shape.
There are more wines in Tuscany than Chianti, though, and most of us are well aware of it, as many Tuscan wines are household names everywhere in the world.
Brunello di Montalcino: it is produced in the area of Montalcino, a village in the province of Siena. It holds a DOCG denomination and can be considered, along with Piedmontese Barolo, the Italian red with the highest longevity. Brunello di Montalcino is produced with 100% Sangiovese grapes (Sangiovese is, in fact, the most commonly grown vine in Tuscany), which were already processed into wine in the area in the Middle Ages. However, Brunello di Montalcino as we know it today is the creation of Clemente Santi, in the 19th century. A curiosity about its name: "brunello" was the name given to a type of vine in the area of Montalcino, which was believed to be different from Sangiovese. Biological analysis carried out in the 1800s demonstrated that brunello and sangiovese were, in fact, the exact same thing. Brunello di Montalcino is characterized by a ruby red, intense color and a scent hinting at notes of cherry and spices. Its flavor is full, dry, warm and persistent.
Colli dell'Etruria Centrale: these DOC wines are produced in central Tuscany, in an area that coincides geographically to that of Chianti. The Colli dell'Etruria Centrale wines can be white, red and rosé. Red and rosé have a 50% content of Sangiovese, whereas white is mostly made with Trebbiano Toscano grapes. Also popular are the Colli dell'Etruria Centrale Vin Santo and Vin Santo Occhio di Pernice. For those of you who do not know it, Vin Santo is that sweet, liquory wine often drank at the end of a meal and enjoyed along with cantucci.
The wines of Umbria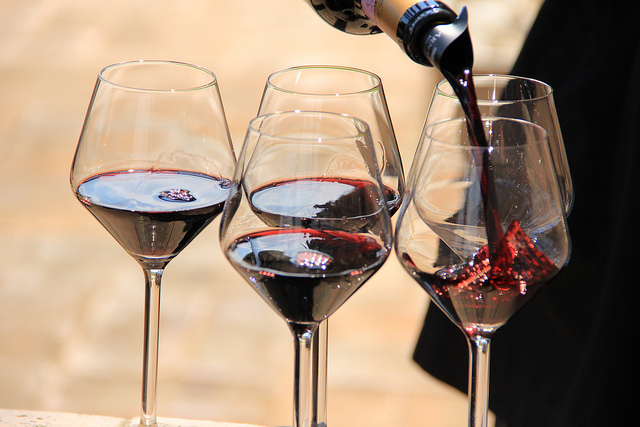 Several varieties of DOC and DOCG wines are produced in Umbria. This amazing region is not only home to delicious cuisine and Christian spirituality, but also to delightful wines.
Sagrantino di Montefalco: this wine holds a DOCG denomination and takes its name from the vine from which it is produced, the Sagrantino. This vine variety has been grown on the lovely hills of Umbria for centuries and is considered autoctone to the region. Apparently, renowned Sagrantino di Montefalco – or at least an ancestor of it – was already consumed on the tables of popes and noblemen in the Renaissance. It is produced, today, in the areas of Montefalco, Bevagna, Gualdo Cattaneo, Castel Ritaldi e Giano dell'Umbria, all in the province of Perugia. Sagrantino di Montefalco comes in two varieties, "secco" and "passito:" the latter goes especially well with cakes and jams, as well as cheeses, better if mature.
Assisi DOC: Assisi DOC wines are produced from vines cultivated on the gentle hills of Assisi and Spello, at an altitude between 180 and 350 metres. The red Assisi DOC is made with Sangiovese and Merlot and has a persistent, full bodied flavor. The white is a dry, fresh creation made mostly with Trebbiano and a hint of Grechetto grapes, which are also used to make an homonymous, very fresh and fruity wine, always going under the Assisi DOC nomenclature. Both Rosato and Novello versions of the red are produced.
The wines of Lazio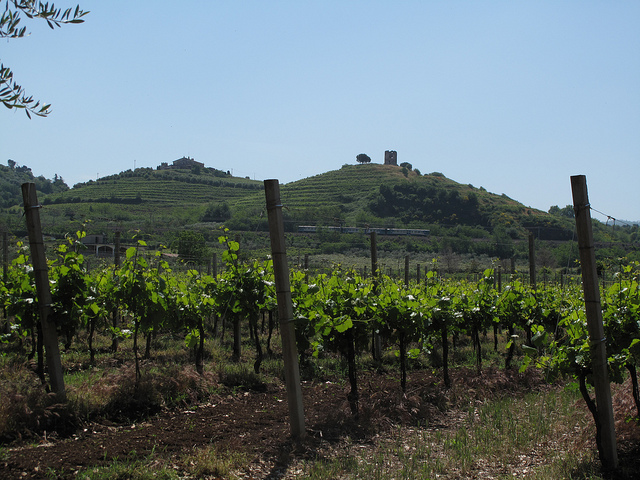 Lazio is especially known for the wines of the Castelli Romani, which include those mentioned below. There is much more to discover, though!
Frascati Superiore: this white wine has a DOCG denomination and its production is allowed in the province of Rome, from Malvasia di Candia and a hint of other grapes, including Trebbiano Toscano and Greco Bianco. It has a lovely hay-yellow color and a fine, soft, dry, velvety flavor. It should be served cold and it is particularly good with lighter dishes such as white meats and fish.
Colli Albani: the Colli Albani white is produced in the areas of Rome, Pomezia, Ardea, Castelgandolfo and Lanuvio with Malvasia bianca di Candia and smaller quantities of other grapes, such as Trebbiano Toscano, Trebbiano Romagnolo, Trebbiano Giallo and Trebbiano Soave. It is characterized by a hay-yellow color, which can be more or less intense. Its flavor is fruity and can range from sweet to very dry, depending on the amount of residual sugars in it.
Velletri: it can be white or red and both varieties hold a DOC denomination. White Velletri is a lovely wine, harmonious and velvety, which ranges from dry to sweet. Its red is a blend of Montepulciano and Sangiovese grapes, holding a ruby red color, with hints of grenadine in the Riserva variety. It is a velvety, full bodied wine, ranging from dry to sweet in its different variations.
The wines of Marche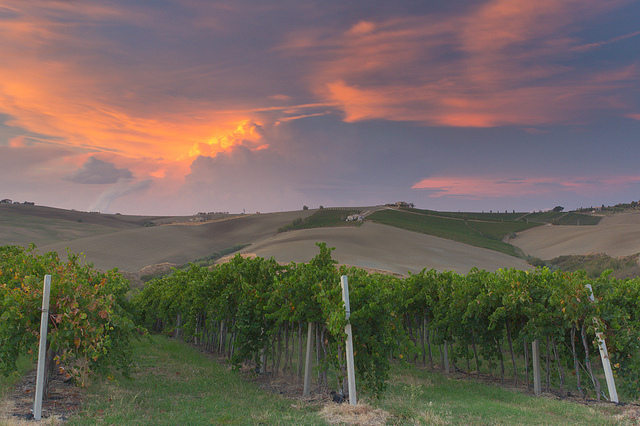 I am Italian, but I did not know Marche was home to such a wealth of amazing wines. Even when we live here, we often forget how rich Italy is when it comes to wines. In particular, Marche are the homeland of a very popular white, Verdicchio.
Conero: Conero is a red produced in the territories of Ancona, Offagna, Camerino, Stirolo, Numana and part of the areas surrounding Castelfidardo and Osimo. Conero has a DOC denomination, Conero Riserva a DOCG. Both are made with a blend of Montepulciano and Sangiovese grapes. Ruby red in color, dry and full bodied in flavor, Conero remains one of Marche best known wines.
Verdicchio dei Castelli di Jesi: this well known white comes in many varieties, including passito, Riserva, Classico and Spumante. It is entirely made of Verdicchio grapes, a variety native to the area of Marche. Verdicchio is first attested in the area in the 16th century. It is genetically linked to Veneto's Trebbiano Soave. It has a pale yellow color and a delicate, very characteristic scent. Its flavor is dry, offering hints of a slighly bitter after taste. It is particularly good served with seafood and, in general, fish dishes. It is also delicious with white meats, especially rabbit.
The wines of Abruzzo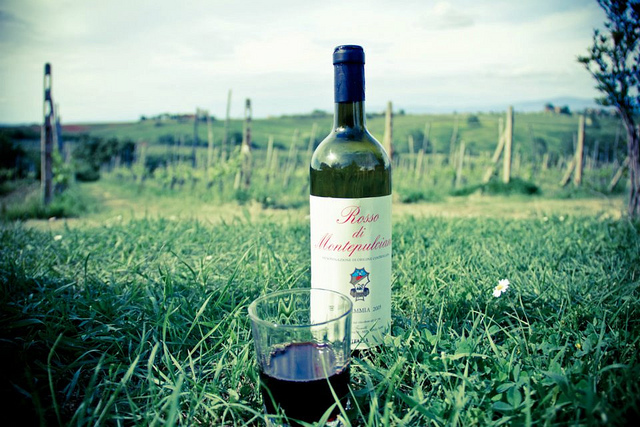 Montepulciano d'Abruzzo: this DOC wine is one of the best Italian reds. In 2003, its Colline Teramane variety has obtained also a DOCG denomination. Its deep ruby red color is unique and makes it recognizable immediately, just as do the hints of licorice in its scent, which also carries images of red fruits, cranberries in particular. It is a full bodied and well structured wine, with a medium quantity of tannines.
Cerasuolo d'Abruzzo: another excellent DOC red from Abruzzo, Cerasuolo is produced in the areas of Chieti, L'Aquila, Pescara and Teramo. Considered a variety of its more famous cousin, the Montepulciano d'Abruzzo, it has a delightful cherry red color and a dry, delicate, harmonious flavor, with a slight after taste of almond. It is a wine to be enjoyed throughout your meal, as it accompanies well all dishes.
The wines of Molise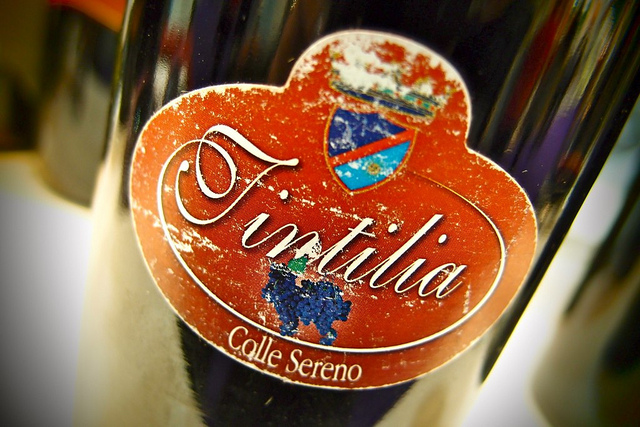 The small, central region of Molise is home to quite a variety of lesser known wines, all to be discovered.
Biferno: this DOC wine, which comes in red, white and rosé, gets its name from the river traversing the area where it is produced. Red and rosé are made with a majority of Montepulciano grapes, whereas white Biferno has a higher percentage of Malvasia bianco grapes. Biferno red and rosé are dry, harmonious wines; the white is a dry, steady wine, with a slight acidic-bitter note towards the end. Red Biferno is lovely with meat dishes, soppressata, mature pecorino and rich pasta dishes. White Biferno is a good match for starters, light risotti, fish and, apparently, pizza. Rosé is especially lovely with soppressata and beans.
Tintilia: this is a native wine of Molise which has gained popularity in recent years. This DOC red's history began during the Bourbon's dominance over these lands: it is first attested in the 18th  century and its name very likely comes from the Spanish word "tinto," used to define red wine. Tintilia is only produced in Molise: it is a lovely, hearty red, with elegant notes of licorice. Among its varieties, the Molise Tintilia, the Molise Tintilia Riserva and the Molise Tintilia Frizzante. Perfect with beans, lentils and pork dishes.
We came to the end our trip through the central regions of Italy, on the path of their most delicious wines. If you enjoyed it, make sure to check out the Northern and Southern legs of our voyage!