Forget wine and cheese parties. In Italy, chocolatiers and enoteche (wine shops) are holding degustazione di vino (wine tastings) with a side of chocolate. Crash courses are no longer limited to wine or olive oil. Chocolate is premiering in the "gastronomic parlor game," wrote the New York Times in the 2003 article "Hints of Wine? Chocolate Enters the Tasting Room." The marriage of the fermented grape with the cacao based candy can be heavenly, if you know how to correctly mate those two distinct flavors.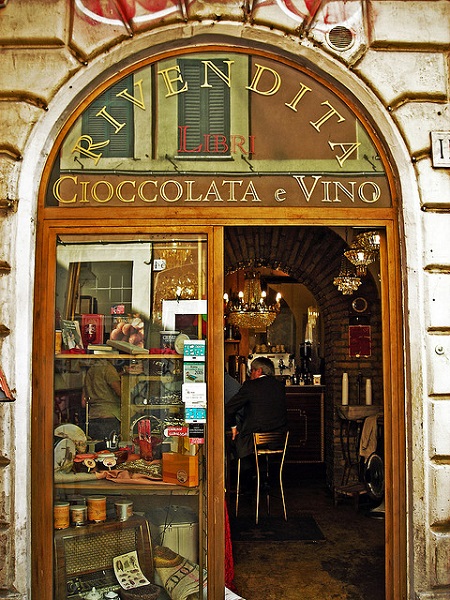 Piero Ballerini, owner of family run Ballerini Pasticceria in Florence, learned his cocoacraft from his late father. The confectionary shop leaned more toward pastries when he began working there at 15. But Ballerini decided to specialize in chocolate.
"I like it," he said. "It is a material that can be manipulated to do many things." Today chocolate and wine lovers can acquaint themselves with the duet indulging in three-courses of bite size samplings offered by the shop that couple traditional Tuscan sweets such as cantucci al cioccolato (double baked biscotti infused with cacao), with Tuscany revered dessert wine Vin Santo.
Most of the chocolates featured in the degustazione are dark, or as the Italians say fondente. Generally, Italians appear to prefer dark over milk chocolate. In Italy the unofficial rule used to classify chocolate is "a minimum of 50 percent cacao … anything from 60-70 percent cocoa is probably what most dark chocolates are made from": Ballerini suggested that range is sufficient to pair with wines.
Some Italian food connoisseurs and sommeliers may snub their nose at milk chocolate, the preferred chocolate of the United States, considering the 19th century-invention credited to Henry Nestlé a tamper with tradition; however Ballerini gave attention to it. He served a dense chestnut honey wrapped in milk chocolate with a 5-year aged Barolo Chinato. The wine's spice renders it a balanced flavor for chocolates that are fairly bitter including a candied orange peel dipped in dark chocolate.
Food guru, sommelier and head chef at the agriturismo Castello di Fulignano in the province of Siena, Francesco Matterozi takes food combinations seriously, almost as a science. His advice for wine plus chocolate is based on a minimum of "70 percent cacao…to be considered pure chocolate."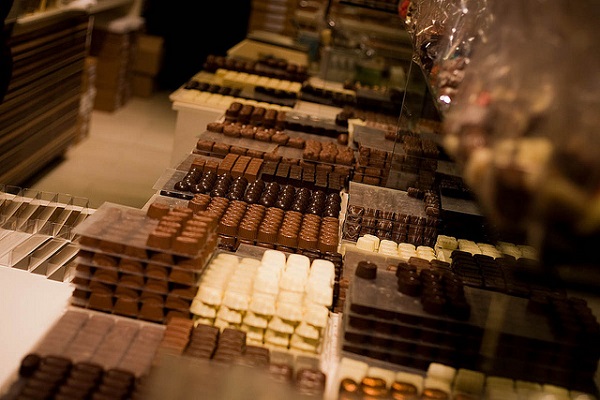 First and foremost, when choosing a wine he advises a strong one, aged and well structured, bold enough to stand up to fondente's take-notice zing. When possible choose a reserve wine.
Wines showcasing complex smells including scents of vanilla, tobacco and tones of wet leather, accommodate dark chocolate, lending softness that yields to each one's characteristics. Those parallel perfumes equalize cacao's bitterness. So when a bitter taste dominates, the wine and chocolate are not a match.
His preferences include Vin Santo — "lacrima di Dio (God's tear)" — for its selection of superior grapes, aged Passitto di Pantelleria, Amarone for its dryness and hints of tobacco and fig, Portugal's Madeira, and a well aged Chianti Classico. The quintessential dipped fruit chocolate covered strawberries can be served with Sherry. Stay away from sweet wines, such as Prosecco and Zibibo, and white wines.
"My suggestions are for those who are eating to taste the flavors; who take time to eat," he said after giving a lecture about the proper food and drink combinations, sparked by a request to address milk chocolate. "American's choosing to drink cappuccino or Coke with Bistecca Fiorentina … I refuse to serve it."
He finally gave in and answered the question about milk chocolate. If it is milk chocolate that your heart desires combine it with Ramandolo.
When Michael Phayll, sous chef of Chalet Fontana and chef of Angels' Sunday American Brunch both in Florence, was pressed for rules when coupling chocolate with wine, he opted to let the person be the judge. His take on putting the two together speaks to the average person who may not be a food expert but appreciates a tasty dish.
"It's all about personal preferences," he said.
Like Ballerini, he prefers artisanal chocolates produced in "mom and pop" shops, usually a limited run. But mass produced chocolate can also be enjoyed with wine.
"My favorite chocolate that you can just grab is Hershey's Special Dark."
Originally from California, he grew up mostly in Europe because his father was in the Army. Confirming that Europeans do prefer the bolder dark chocolate to its milk counterpart, he recounted a story where he turned a Florence based chocolatier to Milk Chocolate Reese's Peanut Butter Cups.
"He liked it so much that he tried to reproduce it using dark chocolate, but it just didn't work," he said. "Yes, you could pair Reese's with wine."
Milk chocolate goes best with red and sparkling red wines — Zinfandel, Shiraz etc.
His grab-and-go Italian chocolate bar is Amedei. Found in grocery stores, its availability should not deter one from considering it a luxury chocolate. Brother and sister Alessio and Cecilia Tessieri have whole raw cocoa beans shipped directly from the country of origin to their Tuscan factory. The care and attention to chocolate production made Amedei a winner in this year's fourth annual "Academy of Chocolate Awards." Both of Phayll's favorite bars, found in grocery stores, can be melted down for dipping.
For savory dishes such as tagliatelle di cacao with cinghiale (wild boar), he suggests a Sangiovese. Nibble on bite size sweet chocolate truffles with a glass of Cabernet Sauvignon (see his recipe below).
Handmade world class chocolates and agreeable wines for your next party or dinner can be found outside of Italy. If there are no  chocolatiers or enoteche  in your city, visit one of the following chain supermarkets:  Whole Foods, Gelson's or Trader Joe's.
Chocolate Truffles 
9 ounces bittersweet chocolate, finely chopped
2/3 cup cream
1 tsp vanilla extract
1/2 cup cocoa powder
Prepare a baking sheet by lining it with aluminum foil or parchment paper. Place the chopped chocolate in a large bowl.
Place the cream in a small saucepan and simmer it until bubbles begin to appear around the sides of the pan. Pour the cream over the chocolate and allow it to soften and melt the chocolate for one minute.
Using a whisk, gently stir to incorporate the cream and chocolate. Add the vanilla and stir until well-combined, but do not stir too vigorously or you will incorporate air bubbles.
Cover the truffle mixture with cling wrap and allow it to cool to room temperature. Once cool, refrigerate until it is firm enough to spoon, about 2 hours.
Using a teaspoon or cookie dough scoop, form small 1-inch balls from the ganache and place them on the prepared baking sheet. Repeat with remaining ganache. Return to the refrigerator to chill for another hour.
Place the cocoa powder in a small bowl or pie tin. Dust your hands with cocoa powder and place a truffle in the cocoa, rolling it until it is coated. Roll the truffle briefly between your palms to form a round shape, place it back on the baking sheet. Repeat with the remaining truffles.
If you have different varieties/shades of cocoa powder, you can experiment with rolling the truffles in two different cocoas, creating stripes or dots of different colors. Truffles can also be topped with chocolate shavings. Store the truffles in an airtight container in the refrigerator, and bring them to room temperature before serving.
By Natalie Trusso Cafarello