Prosecco was unknown in the US just a few decades ago and now is a common term. Why is prosecco so popular now with young professionals in major metropolitan areas ?
I believe the name prosecco has a classy ring to English speakers, and the wine itself is quite good and inexpensive. You can give the impression of offering an exotic bubbly wine for a third of the cost of champagne. Prosecco starts at about $10 a bottle in a wine store, and it is not much more expensive than a bottle of regular wine in a restaurant. Prosecco is also used to make Spritz and this simple Italian cocktail is becoming THE drink of summer for young professionals. Spritz is an aperitif cocktail consisting of Prosecco, Aperol and soda or sparkling mineral water.
Prosecco has become increasingly popular in recent years: statistics show that, in 2014 alone, its sales went up of a staggering 75% in the UK and 30% in the US, making of it the most sold white sparkly in the world, even more than champagne.
One of the reasons behind prosecco's success is its versatility: crisp and refreshing, in Italy we love it as an aperitivo, but it's great during dinner or as a dessert wine, too. What many may not know is that prosecco's history, as it often happens with wines, goes a long way back and that some smart moves have indeed been made, throughout the centuries, to protect its name, origin and quality.
Prosecco: a history that goes back to Roman times
A white sparkling wine called pucino is probably the ancestor of our beloved prosecco. Produced in the Trieste area of Italy, it was so good that Pliny the Elder waxed lyrical about it in his Naturalis Historia and Livia, wife of Rome's first emperor, Augustus, swore it even had medicinal properties.
The association between pucino wine and prosecco was officially made in the 16th century by local producers, keen on creating a valuable past to their wine. At the time, however, it wasn't known as prosecco, but as "ribolla." Ribolla was popular, so popular that cheaper varieties produced in the Gorizia area and in the Istrian peninsula were trying to get a piece of its notoriety. At the end of the 16th century, so, ribolla started to be associated exclusively with a specific area, that of Prosecco. Its castle, which today is part of Trieste, was identified with the castellum nobile vino Pucinum, itself associated with the production of that ancient Roman nectar of above.
We don't know exactly when ribolla became prosecco, but the wine was certainly known with its better known name in the mid – 18th century when it was mentioned in the poem Il Rocolo Ditirambo by Valeriano Canati.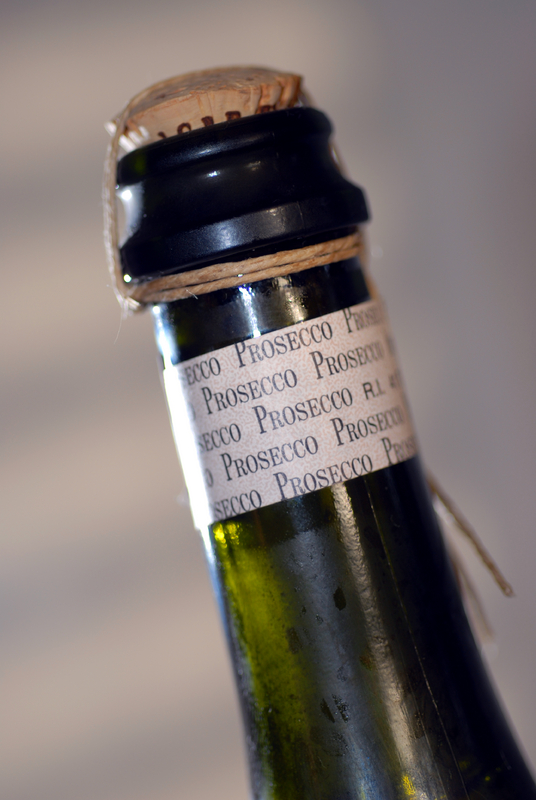 Time passes and things get even more complicated
If you thought that associating ribolla with the Castello di Prosecco was to be enough to guarantee protection to the wine, you'd be mistaken. With the passing of time, prosecco became also the name of the grape used to produce the wine; as such, everyone could grow it anywhere and then make wine out of it.
This hadn't been a problem until the mid-20th century, when two types of prosecco, the Prosecco di Conegliano Valdobbiadene and the Montelli e Colli Asolani Prosecco established a name for themselves. The first obtained a DOC denomination in 1969, the second in 1977, bringing prosecco to the Olympus of Italian wines. As you may expect, this translated into a growing business around the prosecco grape and, with the passing of time, in the production of wine similar to DOC prosecco.

If wine connoisseurs could certainly recognize a prosecco DOC from a cheaper version, the presence on European supermarkets of cans of prosecco and prosecco flavored crisps showed how high was the risk for DOC prosecco producers to loose the exclusiveness of their product.
The issue was solved in 2009, when prosecco became a DOCG in the areas of Asolo and Conegliano Valdobbiene, and a DOC in the provinces of Treviso, Vicenza, Belluno, Padova, Venezia, Pordenone, Udine, Gorizia and, of course, Trieste, where the castle of Prosecco is. The grape changed its name to glera and prosecco is, today, a name exclusively associated to the wines produced in the specific area above mentioned.
Prosecco: a sparkly and joyful wine
Prosecco is an easy to drink wine, light and fruity, with a delicate floral scent. It can be more or less sparkly. There are three main typologies of prosecco: spumante, frizzante and tranquillo, depending on how sparkling it is. Prosecco spumante is the prosecco we are most likely used to. On the basis of its sugar contents it can be brut, when it's inferior to 12 gr per liter; extra dry when its sugar content is between 12 and 17 gr per liter; dry, when it's between 17 and 32 gr; demi-sec when it's between 32 and 50 gr per liter.
Prosecco has a light, hay-like yellow color, with a flowery scent with pear notes; it's smooth and slightly bitter to the palate, with hints of peach and apricot kernel.