Giuletta Masina in La Strada
Wide eyed and snub nosed, actress Giuletta Masina was no great beauty. But her face held an innocence and compelling wistfulness that could reach out from the cinema screen and touch the hardest of hearts.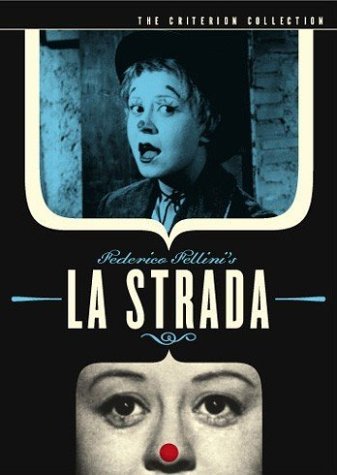 Masina was married to Federico Fellini, and he saw in her a Chaplinesque charm irresistible to a director. He set about crafting a story for her that would evoke emotion in all who saw it.
The result was La Strada, the movie that made both their names. La Strada was released in 1954, winning critical acclaim, more than 50 awards worldwide, and an Oscar for best foreign film.
The story Fellini crafted for his young wife was heartwrenchingly sad. Masina played Gelsomina, a young girl sold to a circus strongman by her mother. She begins her new life on the road – 'la strada' – as a servant to Zampano, the strong man. He is a brutal figure, who mistreats Gelsomina, even though she adores him.
The two join a small traveling circus and Gelsomina meets Il Matto (The Fool), a clown who arouses the wrath of Zampano, as he sets about seducing Gelsomina. The triangle leads to tragedy, and Zampano's abandonment of Gelsomina.
La Strada had two Hollywood stars in the cast, Anthony Quinn as Zampano and Richard Basehart as the Fool, to give it international appeal, but it owed nothing to the glossy circus movies that preceded it. La Strada had no glamour and glitter, it showed people who lived in poverty and struggled day to day.
The movie was considered to be made in the Italian style of neo-realism, which Fellini always denied, because it had an other-worldly, fairy tale quality which set it far above the usual grubby excursion into the underworld. Yet Fellini's quest for realism in his portrayal of travelers was almost manic. He forbade his young wife to bathe or wash her hair while filming, so the grime that accumulated as Gelsomina followed her strong man on the road was the real thing.
The haunting musical theme of La Strada proved as popular as the movie, particularly among circus people, who saw in the movie an attempt to portray life on the road in a more realistic manner. The theme was used as a musical backing by many artists, including the German Renz Troupe, who used it for a high wire act.
But the theme music was also a strong motif in the film, being a tune that Gelsomina loved to sing, but which Zampano hated. Later, when she meets the Fool, he plays that same tune for her on the violin, sealing the bond between them. But even as he draws her close, the Fool pushes her away, by telling her that her purpose in life is to save Zampano from his own brutality.
Gelsomina's journey is a mythic one, meeting archetypes that echo the journey of the Tarot. The Fool opens her eyes to a philosophy beyond that of her simple peasant background, teasing her mind with eternal questions. He shows her a pebble and tells her it is 'useful'.
"Why?" Gelsomina asks.
"For… I don't know." The Fool replies. "If I knew I'd be the Almighty, who knows all. When you are born and when you die… Who knows? I don't know for what this pebble is useful but it must be useful. For if it's useless, everything is useless."
Zampano's philosophy life is simple and direct. Asked to take care of Gelsomina by her mother, he replies, "sure – I teach dogs." In the end he comes to understand what Gelsomina brought into his narrow life, but it is too late.
Later, Fellini said, "La Strada became real when I drew the circle on paper that was Gelsomina's head." For in this story, everything comes full circle, and all comes from the way Gelsomina touches the lives of those around her. If Zampano is the strong man in this Tarot journey, and Il Matto the Fool, then she is the Magician.
La Strada has been released on DVD by Criterion as a two disc set. One disc contains the film, the other is the Autobiography of Federico Fellini, a documentary. It deserves a place in any collection of classic films, because it remains not only Fellini's masterpiece, but a masterpiece of Italian cinema.
By Gail Kavanagh