With the coming of autumn, Colorno prepares to stage a unique autumn edition of the classic and renowned event Sulla Strada del Giglio. The market for quality gardening will be held in Colorno (PR) on Saturday, October 14, and Sunday, October 15, from 9 a.m. to sunset, in front of the lovely Reggia and in the streets of the old city. There are countless botanical proposals suited for fall, as well as unique pieces of creative craftsmanship and great-quality items from meticulously selected farms, in store for fans of greenery.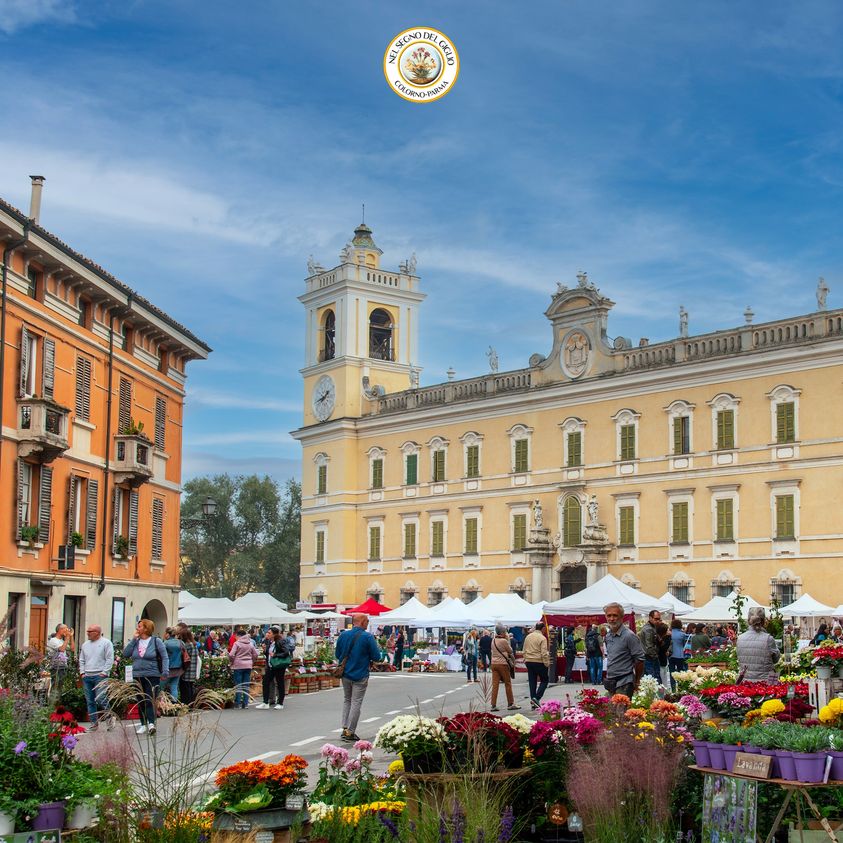 The Quality Gardening Event
Discover this autumn event that will take you through the streets of the old center and Piazza Garibaldi till dusk.
The event, presented by BieBi Events in partnership with Proloco Colorno and Cultural Association ViaKing, is free to attend and includes several floral concepts suitable for autumn.
What else can you discover here this autumn weekend? Certainly one-of-a-kind works of imaginative craftsmanship of the highest caliber, as well as excellent products from carefully selected farms. Bulbous, perennial herbaceous late blooming, unusual plants, and botanical curiosities are just a few of the treats on offer.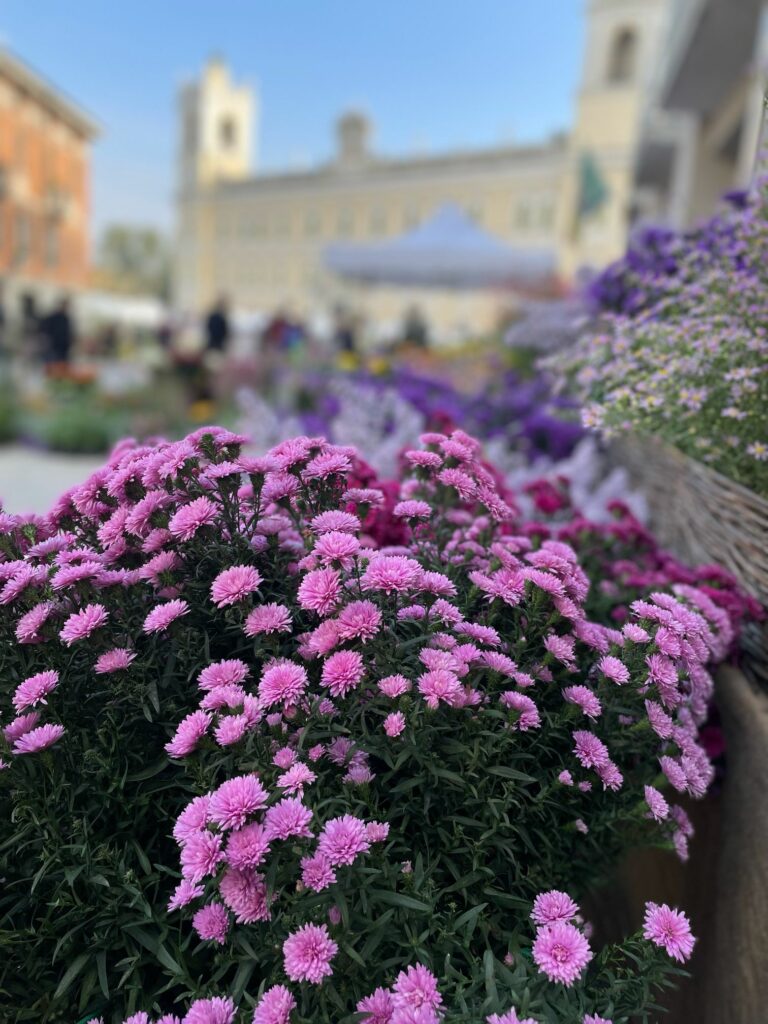 The best Italian nurserymen will advise you on what to plant to extend the summer colors until the first frost. Have a fantastic flowering in spring, replace plants, or add a touch of fantasy to your large and small green spaces. For which creative kokedama or the microcosm of a terrarium will be ideal. Allow ourselves to indulge and delight you with our scents and thoughts. As an illustration, between birdhouses, garden furniture, and elegant antiquing, you'll feel as if you're strolling down the beautiful left bank. There are around 70 exhibitors, including selected flower gardens, garden furniture and antiquing companies, culinary manufacturers as well as typical local artisans.
Street food, special guests, and traditional dishes to suit every palate
There is no shortage of delectable local cuisine, such as Tortél Dóls in Colorno, the tortello with a sweetheart! However, there will be traditional Parmesan dishes, pumpkin treats, homemade ice cream, and good beer. Street food near the Reggia expands the offer for those looking for a snack while sitting in the name of beauty, but there will also be the opportunity to sample cuisine while strolling.
Stefano Pagano, renowned gardener and lover of the natural world, will be the event's guest on Saturday, October 14. He's very active on social media and as an influencer to preserve and promote the green Pagano culture, spoiling the dates of the spring edition with reel and speaker events.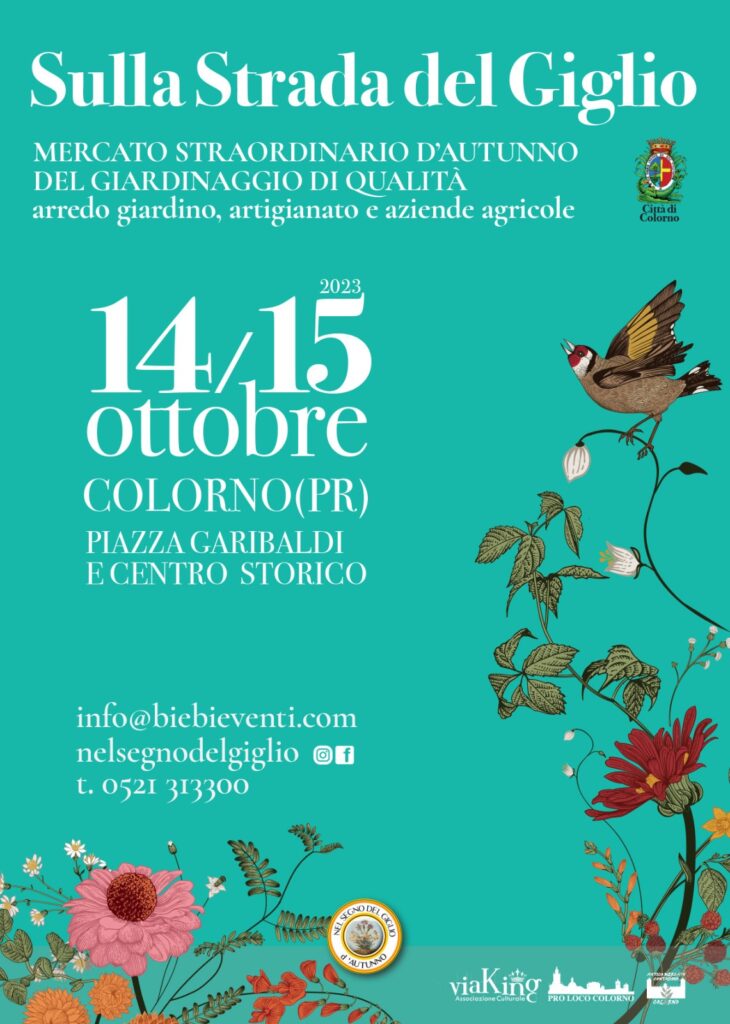 The XXIX edition of "Nel segno del Giglio"
Personnel, citizens, and event organizers await your arrival! In any case, write the date of the XXIX edition Nel Segno del Giglio in your calendar to ensure you don't miss it. It will be held on April 25, 26, 27, and 28, 2024 in the Ducal Garden of the Palace of Colorno (PR).
Sunday morning (from 9 to 13), the Old Farmer's Market run by Proloco Colorno will join the farms already present, with a range of local producers. Don't miss out on this fantastic opportunity to learn about gardening, crafts, and wonderful food in an enchanting location.
Contact INFO [email protected] or call 0521 313300 for further details. Follow the social profiles nelsegnodelgiglio on Facebook and Instagram.
Participate in this intriguing event to have a real fall experience in Colorno. Discover the allure of greenery and gardening in a unique atmosphere, and allow the beauty surrounding you to inspire you. We are confident that the entire family will have an amazing weekend.
We're looking forward to seeing you!