Ma Che Colpa Abbiamo Noi – A Film Review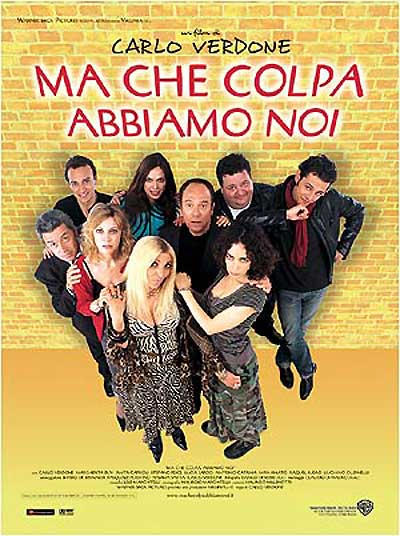 Ma Che Colpa Abbiamo Noi (It's Not Our Fault) is a comedy that pokes fun of our mundane tragedies. Written and directed by Carlo Verdone, the film puts the characters and society under the microscope. It makes us laugh, tear up and squirm, at times. The film focuses on a group of seven individuals who are in group therapy together. After the death of their therapist, during one of the group's sessions, the group struggles to remain together.
Originally they were eight, but one member, a rotund musician who's known only as the 35 year-old man (Fabio Traversa). He declares that he's well enough to go on his own. Later on, his suicide brings the group together; but, I'm getting ahead of myself.
Much of the film's action is focused on Gege Tinacci(Carlo Verdone). He is a divorced man with a teenage son who lives in Argentina. Gege is afraid of flying. He works for his very controlling father, Camillo (Sergio Graziani). He is dating a young, beautiful model named Daria but feels his life is empty. He wants more out of life. He wants to stand up to his father – but he can't seem to.
Gege is often punished by his father for minor slights such as being late for work or leaving early to attend therapy. He bars the doors to the factory to him – often. He also picks on Gege's eating habits, his minor girth and his choice in women. Camillo invites Gege's son for a visit and tries to get the boy to become his heir. The young man refuses and begs Gege to come with him. Gege's fear of flying keeps him there.
Flavia (Margherita Buy) is a school administrator. She's having an affair with Aldo (Rodolfo Corsato). She wants a long-term relationship with marriage and children of her own. Her lover strings along. She knows it but remains. She buys shoes to soothe her wounded soul. Lots of shoes.
Anita Cap
rioli is Chiara. Chiara is a university student who has little money and little control when it comes to binge-eating. She can clean out a refrigerator when she's frustrated. Chiara ended a relationship with her professor (Roberto Accornero) and is trying to find love online with Orpheus, a poetic sort.
Unbeknownst to her, Orpheus is none other than Marco (Stefano Pesce). He is a lonely diplomat's son who doesn't say much in group. In fact, he admits that he's only there for Chiara, with whom he's madly in love. Perhaps that makes him the "sickest" of them all.
Gabriella (Lucia Sardo) has trouble with her daughter. The girl hates her. Gabriella seems to be focused on maintaining her youth and chasing after men. She has many one-night stands and seems terribly afraid to be alone at all, at any time. At one point, she's robbed by one of her paramours. This incenses her daughter, Gemma. Is their relationship beyond repair? Will Gabriella ever uncover her own worth?
Who knows? Who really cares? The viewers watch these stories unfold to their climaxes without really caring about the characters. We don't pity them. We don't love them and we don't hate them. We just watch them. It's sort of a detached viewing. Almost like the detachment of a therapist.
Ernesto (Antonio Catania) cheated on his wife, Laura, with a Slavic stunner named Danka. After being kicked out of his family home, he is torn apart. He can only sleep if he's sitting on a train.
Luca (Max Amato) is an intellectual gay man whose affair with a married man has torn him apart. The man won't leave his wife but wants Luca. Luca doesn't know how to handle this situation. He and Flavia become friends because well, they have something significant in common. Over dinner, they discuss how they confronted the spouses of their lovers. Aldo's wife came to Flavia's place of work and slapped her – quite publicly. Luca, on the other hand, went to the home of his lover, and told the wife what her husband was up to.
During this dinner, Flavia's lover, Aldo, walks into the restaurant with a new lady. She's distraught; but, at least, she knows that Luca understands. She smacks Aldo and feels comfortable with that bit of closure.
Throughout the film, we watch as the characters get into crazy situations – at least, some of them. We see the love story develop between Chiara and Marco; we watch the relationship of Daria and Gege fall apart – his father pays her off with a sports car; and, we see that Ernesto finds his way back to his buck-toothed, ugly wife.
The group tried out different therapists. None seemed to work out. They tried different formats and locations. They tried running the sessions themselves. Eventually, they took out their anger on each other and drifted apart. That was until the 35 year old man's suicide. After the funeral, they got together for a night of debauchery, drinking and sweets laced with drugs.
In the end, we know that Gabriella has a face lift and gets a makeover to deal with her difficulties concerning aging. Gege flies to Argentina to see his son and kicks his father out of the family business, much to the workers' delight. Chiara and Marco are going to be fine. They have each other. We are left with a sense that everyone will be okay in his or her own way.
The ending is perfect. The film is wonderfully written, expertly acted and interesting from beginning to end. Mal Che Colpa Abbiamo Noi is a fantastic ensemble piece. It's light viewing on many heavy subjects, a window into the hearts, minds and souls of many of us. It's a small enough glimpse that we can put the film away at the end without having to slice our own hearts apart.
By Deanna Couras Goodson