Pane e Tulipani – What a Delightful Film!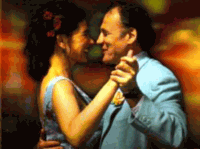 Pane e Tulipani (Bread and Tulips) is such a sweet film. It's a romantic comedy starring Licia Maglietta as Rosalba Maresanto Barletta. She was married young to a plumbing supplier. Now, in her 40s with two teenage sons, Rosalba is unhappy. She is on a family vacation and gets left behind at a rest stop. She had to go to the ladies' room. Her husband calls to yell at her and tell her to wait for them. She doesn't.
Rosalba takes off. Initially, she plans to go home and spend some time alone. As she gets out on the open road, she decides that maybe it's time she took a vacation from her life. She ends up in Venice. She's from Pescara and has never been to Venice before. The first night there she eats dinner at a lovely restaurant with a nice waiter, Fernando (Bruno Ganz).
The following day she misses her train and decides to spend yet another night in Venice. Who can blame her? The way her husband yells at her – I can't imagine her being thrilled to go back. Mr. Barletta is a chauvinist pig, a man who has a mistress, his own sister-in-law, Ketty. He doesn't cook, clean or take care of anything household or child-related.
Rosalba ends up living with the waiter, Fernando. He gave her a place to stay for one night; but, it turned into so much more. Rosalba decides to stay in Venice for a time. She and Fernando have a platonic, courtly love happening. You can see it growing into something real. It's very sweet. Rosalba finds a job with a local florist, Fermo. She begins to play the accordion and hangs out with Grazia Reginella (Marina Massironi), a holistic massage therapist and beautician.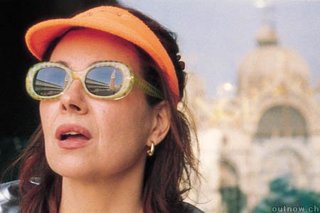 As time goes on, Mr. Barletta wants her back largely because his mother and his mistress won't do his housework for him. He hires a portly plumber (Giuseppe Battiston) with a love of detective novels to play private eye in Venice and hunt down Rosalba. He finds her; but, discovers love along the way with Grazia.
Meanwhile, Rosalba learns more about Fernando's life. He has a grandson – who she thought was his son. Eliseo (Ludovico Paladin) is charming as Fernando's adorable grandson. He is helping to take care of the young boy because his son, Alan, is off in Oslo making a mess of his life.
Just when it seems that Fernando and Rosalba will profess their love for each other, Ketty shows up at Fermo's shop, where Rosalba's working. Ketty tells Rosalba she's selfish and a terrible mother and that Nic, her youngest son, is on drugs. Rosalba rushes home to take care of her child. She selflessly gives up her happiness to help him.
At home, Rosalba is miserable. She plays the role of homemaker and dutiful wife and mother. She's unfulfilled as a woman. Fernando misses her. He can't sleep. He just stares at the last batch of tulips that Rosalba left there. (He used to leave her breakfasts full of lovely bread; hence the title – Bread & Tulips.) Constantino, the plumber/detective Mr. Barletta originally sent to find Rosalba, urges Fernando to go after his love. He and Grazia go with him in Fermo's truck (he missed Rosalba too!) to collect the lady.
They find her at a Supermarket in Pescara with her son Nic. Fernando tells Rosalba she loves him. Nic must've approved because in the final scene, she is playing her accordion; Fernando is singing; and, Nic is dancing with Eliseo's mother. Everyone is happy – Grazia's pregnant. It's a happy ending and a happy life.
What a delightful movie! You have to see Pane e Tulipani. It'll make you believe in love no matter what the odds.
By Deanna Couras Goodson