Benigni: Il Mostro – A Very Funny Film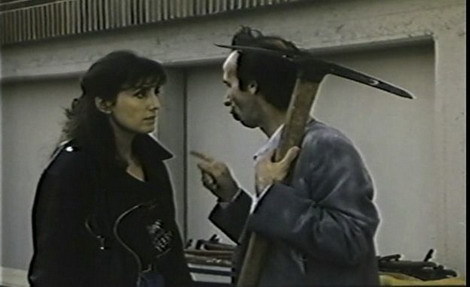 Roberto Benigni is best known in the United States for his Academy Award winning masterpiece Life is Beautiful (La Vita e' Bella). Benigni's comedy is probably best-described as the kind you'd see if Robin Williams and Peter Sellers had a child. It's intelligent, silly, frenetic and very, very physical. Benigni is also the master of facial expressions, a la Jim Carrey. The man is funny and tragic at the same time.
The plot of Il Mostro is simple. Benigni plays Loris, a petty thief, ne'er-do-well, type. He's a part time window-dresser, who works small jobs, usually given to him by his friend, Pascucci (Ivano Marescotti). He is at such an event when he sets his sight on a lovely donne. Due to a miscommunication which is at the cornerstone of this film, Loris hits on the wrong woman. He gropes her in private. She is appalled and leaves the event.
Unfortunately, Loris has another unfortunate run-in with this lady. In the parking lot. With a chain-saw. The woman thinks he's the serial killer that's on the loose and goes straight to the police.
The police head up a task force of female cops to try and bring this serial killing genius down. The only cop willing to take the job is Jessica, played by Benigni's missus, Nicoletta Braschi. She tails him and ends up subletting his apartment from him.
Oh yes, Loris' land-lord wants him gone too. It seems he creatively avoids paying his rent and maintenance fees. Loris also creatively avoids paying for groceries and furniture too. All of these things catch up with him and only add to the hilarity of the film.
Loris is examined by the police psychiatrist, Paride Taccone (Michel Blanc), in a funny sketch. Funnier still is when Loris interacts with the psychiatrist's wife. The police are convinced he's a killer; Jessica becomes convinced that he's not. In the end, the true killer is revealed. He is the man who's teaching Loris Chinese. Yes, Loris is learning Chinese to try and get a job with a multi-national corporation.
Once all the misunderstandings are over, Loris can pursue Jessica. They walk off together into the sunset, literally; but, they're almost on their knees.
The movie is hysterical and adorable. If you haven't seen it, you should. If you have, see it again. Benigni is adorable and likeable. The plot is thin; but, so what? It's funny enough to withstand the holes.
By Deanna Couras Goodson