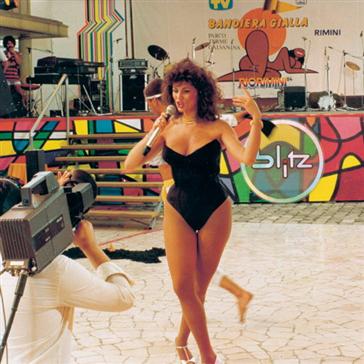 Serena Grandi
Serena Grandi was born Serena Faggioli on March 23, 1958 in the town of Bologna, Italy. This Italian bombshell with the voluptuous measurements 39.5- 23.5 – 39.5 was once voted the sexiest woman in Italy. She is often referred to as the Italian Dolly Parton due to the ample size of her bosom.
Ms. Grandi has appeared in a variety of films, including the soft core erotic thrillers of Tinto Brass. She is not afraid to show some skin. Her beauty – and her bosom – is timeless – even if her films aren't always so highly regarded.
The move that is often credited as Serena Grandi's first film is Antropophagus (The Grim Reaper). Joe D'Amato was the director of this 1980 release in which Ms. Grandi was credited as Vanessa Steiger, a common pseudonym of hers.
Grandi plays Mary, one of a group of students who sails the Aegean Sea and lands on a mysterious island where they must spend the night. They meet a blind girl, who, wielding a knife, stabs one of their crew. She tells the young people of the "Grim Reaper". He stinks of rotting flesh. This unholy monster victimizes and eats his prey. He does this to atone for the sin of cannibalizing his own family. The film is quite gory and has met with many mixed reviews.
In the years of 1984-1985, Grandi was in several films of note. The first was Desiderando Giulia (Desiring Giulia). She played the title character, a robust and sexually hyperactive woman who gets under the skin of Emilio, played by John Leysen, the heir of a wealthy family. It's a classic in erotic cinema.
Next up for Serena was Miranda, which was directed by Tinto Brass. She played the title character in this popular film which earned her the aforementioned title of sexiest woman in Italy. Miranda is an erotic comedy in which the main character owns a local tavern. After Miranda loses her husband in World War II, she tests out a bunch of other men as potential replacements. Over the course of several seasons, she finds herself having to choose between four suitors. Who will make the best lover and/or husband for Miranda?
Also at this time, Ms. Grandi played Simona in La Signora della Notte (Lady of the Night). Simona is a leotard-wearing aerobics instructor who is tired of her marriage to Mario. She has a few, dangerous sexual liaisons. Her husband find outs and has an affair in retaliation. Simona decides to move on in her life and away from her marriage. She sees a gynecologist in the hopes of having a child. After a brutal and unwanted assault, Simona becomes dissatisfied with this new life and returns to the life she originally turned away from.
The final film of this period that we'll focus on here is Hercules II: Adventures of Hercules. Starring Lou Ferrigno (the Incredible Hulk), this film may be the first film in which residents of the United States got to see the beautiful actress. She played Euryale and is decapitated by Hercules with his sword after she turns back into a monster.
In 1987, Ms. Grandi starred in Teresa, a Dino Risi film. She again played the title character. Teresa considers a marriage to a wealthy German baron. Initially, she agrees; but, finds herself having some serious reservations at the time of the wedding. Also that year, she played Ursule in the French comedy, The Exploits of a Young Don Juan.
That year, she also had a pivotal part in the Lamberto Bava film, which also starred scream queen (and Dario Argento's muse) Daria Nicolodi, Le Photo di Gioia (Delirium). This giallo film focuses on Gioia, a nude model with an obsessed stalker who is also a killer. The murderer hunts down her fellow models one at a time, using various implements of torturous death. He sends the pictures of his crimes to Gioia.
As the 80s wound down, Serena's career seemed to have shifted somewhat. Her peak as a giallo/erotic actress had been met. That's not to say that she didn't continue to work quite steadily or have other film roles of note. It just appears that she would begin to move away from starring roles and into more supporting roles.
Regardless, she did continue to work steadily in supporting roles until the late 90s. In 1991, she played Nancy's mother – Nancy was played by actress-model, Carol Alt, in the film Vendetta: Secrets of a Mafia Bride. She was Olga in the 1995 horror/thriller La Strana Storia di Olga O. (The Strange Story of Olga O.), Tania in '94's Delitto Passionale (Passionate Delights) and more.
However, it was two films of 1998 that may have earned Serena her comeback. At the very least, they earned her critical acclaim, which was something that she largely missed out on (undeservedly so) in her earlier career. Radio Freccia, which was Italian rock star, Luciano Ligabue's directorial debut. She played Freccia's mom. Freccia was a heroin user who was at the core of DJ Bruno's reminiscences of growing up in small-town Italy during the 70s.
The second was Monella (Frivolous Lola). This film is a renewal of her formerly successful partnership with Tinto Brass. She plays Zaira, Lola's mother. This film focuses on young Lola and her fiance Masseto, who have differing views on premarital sex. Lola eventually falls into a relationship with Zaira's boyfriend, who is also a pornographer.
Since the late 90s, Serena has been sort of away from the public eye. She married Beppo Ercole and had a son, Eduardo. Perhaps, it's the preference for married life that has taken her away from the big screen. Perhaps, it is troubles of another sort. She's been rumored to have difficulties with drugs and had quite the infamous run-in with Italian police a few years ago.
Whatever the reason, Serena Grandi is a bombshell among bombshells. She's a fearless beauty who's not afraid to showcase her skin or her talent. As her films make their way across the world in DVD releases, such as the Tinto Brass Collection (2004), a new generation of fans can learn to appreciate Grandi's grand assets.
By Deanna Couras Goodson