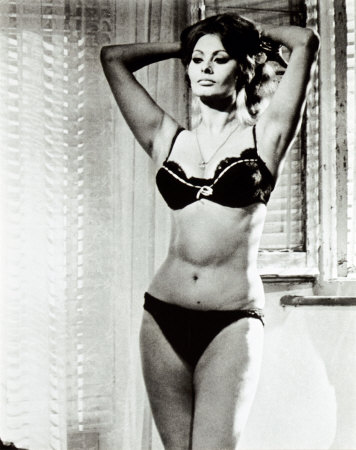 Ever dreamed of staying beautiful like Sophia Loren?
One thing is certain: you would never get Sophia Loren interested in a low carb diet.
The ageless Italian beauty is a great believer in the power of pasta. "Everything you see I owe to spaghetti," she told the world.
Her advice, like her beautiful figure, still holds good today.
An Italian diet is simple and Mediterranean
If you'd like to stay beautiful as Sophia Loren,  then look no further than the Mediterranean diet. A simple Mediterranean diet is healthy and will help you lose weight. Just watch the portions and don't overload your pasta with thick, rich, creamy sauces.
Start with simple fresh foods and you can't go wrong. Stock your fridge and pantry with good quality pasta, extra virgin olive oil, tomatoes, onions, garlic, lean meat, fish and sea food and herbs like oregano, basil and parsley. You can add a little parmesan cheese as well, but stay away from recipes that demand a cup of cream or large amounts of grated mozzarella.
Making the perfect plate of pasta
If you're aiming at staying beautiful like Sophia Loren, then  you need to learn how to cook the  perfect plate of pasta. For a simple and satisfying pasta meal, start by boiling up a portion of pasta in a big saucepan of salted water. The more water around your pasta the better, because it won't stick. You can choose penne, macaroni, shells or linguine instead of plain old spaghetti. When the salted water boils, put the pasta in and  cook it until it is just soft but still has firmness – the Italians call it al dente or `to the tooth'.
Now chop up a clove of garlic, an onion and a couple of tomatoes. Heat a tablespoon of good olive oil, sauté the garlic and onions until soft, and add the tomatoes. Cook until the ingredients are well blended together.
Finally add some herbs of your choice – maybe some oregano and basil, or parsley and marjoram. Experiment until you find a combination you love. That's all you need to do for a basic pasta sauce. Served over your hot pasta, this will be delicious. Don't have any bread – the pasta will provide all the carbs you need. You can sprinkle a little parmesan over the top.
Enjoy!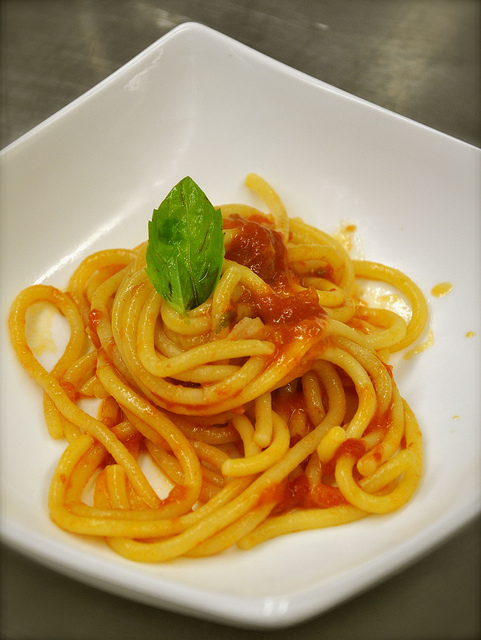 Pasta soups and pasta salads: another way to keep beautiful like Sophia Loren!
Pasta soups are nourishing and satisfying on a cold day, and are simply made with lean meat, stock and vegetables. Add a pasta shape of your choice or use rice, to make a hearty soup.
Pasta salads are refreshing and delicious in hot weather. Cook your pasta, let it cool, and mix with a variety of chopped salad vegetables – greens, tomatoes, grated carrot, chopped capsicum or steamed cooled broccoli or cauliflower. Dress with a simple olive oil and vinegar salad dressing or stir through the flesh of half an avocado. Delicious!
Larger pasta varieties like cannelloni and lasagne can also make delicious, but simple meals. Fill your cannelloni with chopped mushrooms and low fat ricotta cheese, and pour over a sauce made with garlic, onions, tomatoes and a cupful of chicken stock. The stock helps to soften the pasta as it bakes in the oven.
Simplify lasagne by layering the sheets of pasta with a basic tomato, garlic and onion pasta sauce, and mashed pumpkin for vegetarian lasagna that is good enough to serve to dinner guests.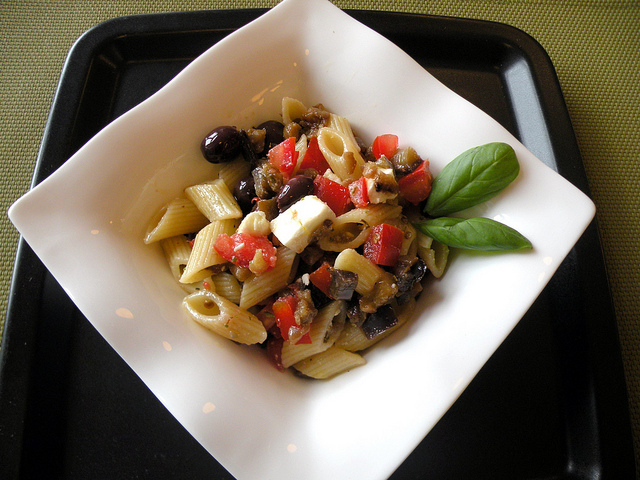 You see? You can eat like a gourmet and stay beautiful too, just like Sophia Loren! 
By Gail Kavanagh