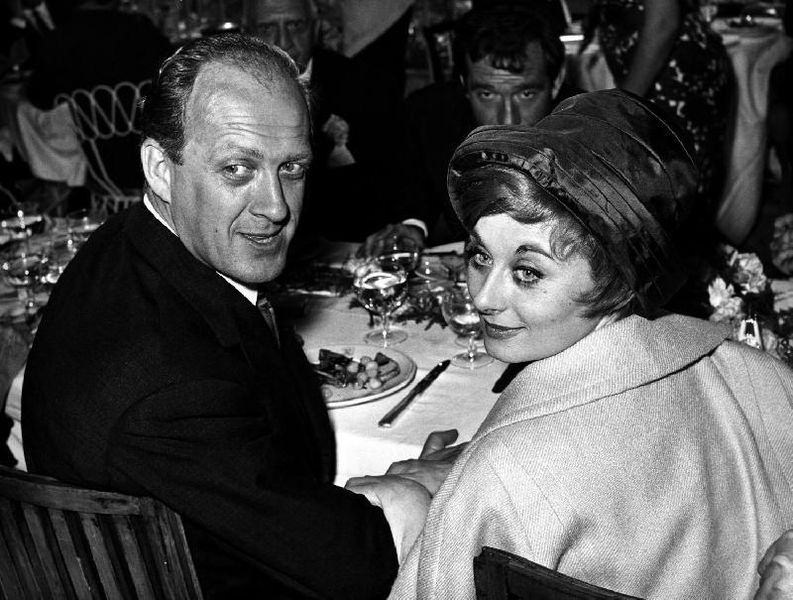 Raimondo Vianello and Sandra Mondaini at their Wedding (Photo from Wikipedia)
When iconic Italian actress and showgirl Sandra Mondaini died on September 21, 2010, at age 79, the majority of Italians were saddened, but not many were surprised. Seeing Mondaini at the funeral of husband Raimondo Vianello, dead at 87 just five months earlier, it was clear how much of a toll the loss of her beloved had taken on the actress. The love and bond between the two proved too strong and the actress soon followed the husband she had met in 1958 and married in 1962.
Most showbiz couples don't last, but Raimondo Vianello and Sandra Mondani were one of the few who endured. Their unique sense of humor was the glue that held them together. It is said that it was impossible for the casual observer to discern the difference between their onscreen fighting and the mock arguments they had off.
Raimondo Vianello had his first successes in Italian movies, but his true rise to fame occurred during the first years of Italian television. In tandem with the other comedy legend of the time, Ugo Tognazzi, Vianello worked various comedy shows on the then just born RAI network. In 1954 the two starred in Un Due Tre. Vianello's elegant, David Niven-esque figure and his humor perfectly matched the more robust and sanguine comedy style of Tognazzi. The duo's sketches became the cornerstone of Italian TV comedy.
In 1958, Vianello and Mondaini met while working on the comedy show Il Tappabuchi. Vianello played the ironic "perfect co-host" to Corrado, while Mondaini, already an accomplished theatre and then film actor, hosted a candid camera segment.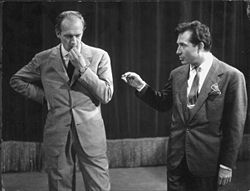 Vianello (left) and Tognazzi (Photo from Wikipedia)
Mondaini, at the time, was already enjoying a great personal success both as co-host of various music related TV shows and Italian comedy movies. After beginning her acting career in 1949 as a member of the legendary troupe of Franca Rame, in 1953 the actress then became part of the team assembled by actor Erminio Macario for his theatre plays and comedy movies. In 1957 Mondaini took a role in the Marisa Allasio vehicle Susanna Tutta Panna, one of the all-time classic Italian comedy movies.
After meeting and subsequently marrying the couple also began to work together, eventually becoming indissoluble both onscreen and off. During the years that followed Sandra and Raimondo go back and forth from TV shows to movies to theatre, enjoying a great success while working together or apart. It is their TV hosting gig, however, that really sees them hit the big time, ensuring them a place in the hearts of Italian audiences for decades to come.
In 1981 Sandra Mondaini created the character of Sbirulino, a clown aimed are children and much loved by its intended audience. In later years Mondaini would often don the Sbirulino mask for charity events. Until 1982 the duo are an icon of public TV, presenting some of the best loved of Italian prime time programs until they jump ship and follow their longtime friend Mike Bongiorno to Silvio Berlusconi's fledgling Mediaset network, which included Canale 5, Italia 1 and Rete 4. Excluding a brief parenthesis in 1998, when Vianello went back to RAI to host the Sanremo Song Festival, the couple worked exclusively for Berlusconi's channels, hosting prime time shows, variety shows, game shows and sport shows. (Vianello was a big fan of football/soccer.)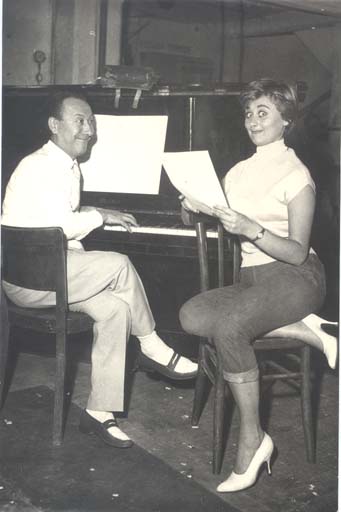 Macario and Mondaini (right) (Photo from Wikipedia)
In 1988 the couple began working on the sitcom Casa Vianello, whose stories often blurred the boundaries between the on screen personas and real life of Mondaini and Vianello. Casa Vianello was revamped many times, changing titles and setting (Cascina Vianello had a countryside setting, I Misteri di Cascina Vianello had a comedy investigative angle, and Crociera Vianello, was set on a cruise ship), but remained unchanged in its spirit and basic plots. The sitcom continued uninterrupted up until 2007 when the couple decided to retire for health reasons. The show was the longest running sitcom in the history of Italian TV.
Raimondo Vianello and Sandra Mondaini were accomplished entertainers, capable of stellar performances on TV, on stage and on film. The couple set an example in their public and private lives for those who would like to follow in their artistic footsteps and also for those who want to believe in true love and the notion of being together until death parts them. And even then, only briefly.