Prada signifies style and luxury, designer handbags, and fabulous shoes. Born nearly a century ago, The House of Prada with designer products is recognized worldwide for its simple and elegant creations.
How did Prada start? The Prada brand's history
Mario Prada started the Prada label in 1913. He designed and sold handbags, shoes, trunks, and suitcases through two boutiques in Milan, and had clients across Europe and the US. When the signature Prada suitcase, made from heavy, cumbersome walrus skin, proved to be ill-suited for air travel, Prada concentrated on designing exquisite leather accessories and waterproof handbags.
Miuccia Prada, taking over the Prada brand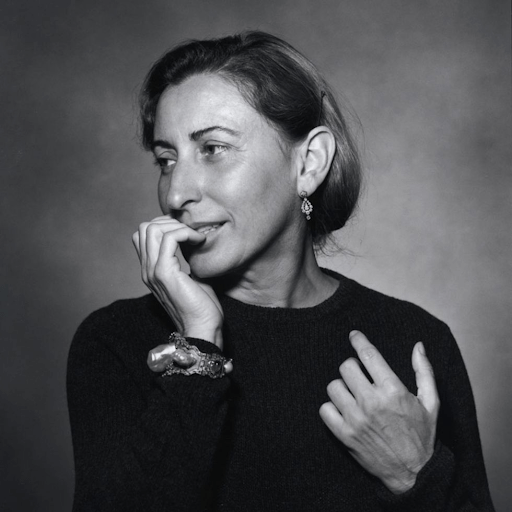 In 1978, Mario's granddaughter, Miuccia Prada, took over the company. Miuccia was a former mime who had spent five years studying at Milan's Teatro Piccolo and had a Ph.D. in political science. Although her qualifications didn't seem appropriate, her sense of fashion was unmistakable. The label was still mainly a leather goods manufacturer at that point and had been struggling financially for several years. Competition from other fashion houses like Gucci had taken its toll. Miuccia turned things around and steered the House of Prada towards the world of haute couture. Miuccia is one of those female fashion designers who helped to change the way women dress.
The Prada brand, becoming a family bussiness for Miuccia and Patrizio Bertelli
About the same time as she took the helm of the Prada label, Miuccia married Patrizio Bertelli. Bertelli took on the role of business manager, allowing Miuccia to focus on designing and perfecting the new Prada look.
Miuccia had been making black waterproof backpacks since 1970, out of a nylon fabric called "Pocone". She unveiled the classic Prada handbag which was simple, sleek, black nylon, and in 1985 it became an overnight sensation. The bag was functional and sturdy, practical and fashionable. The high price tag that accompanied the handbags caused an onslaught of designer knock-offs. This only helped to make the genuine Prada designer products more in demand.
A beginning with a pret-a-porter collection – Gaining popularity through simplicity, cleanness and basic, along with luxurious fabrics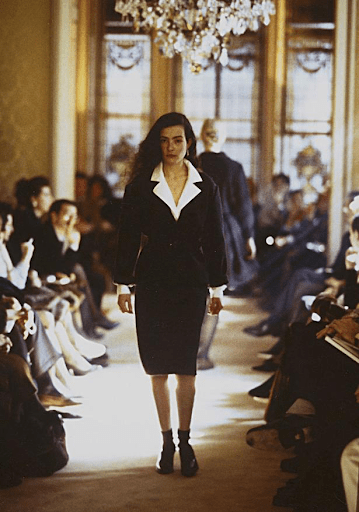 In the 1980s, other labels were creating designs that played on sexuality. Frilly, lacy, brightly colored garments that were low cut on top and short on the bottom were popular. Then, Prada hit the runway in 1989 with its pret-a-porter collection. It is won with elegant, simple pieces featuring clean lines, luxurious fabrics, and basic colors. Furthermore, the fashion world took notice, and Prada's designer products' popularity skyrocketed.
By the 1990s, Prada was a leading force in fashion. The garments and accessories were smart, sophisticated, and extremely high quality. Luxurious fabrics and simple styles, mostly in blacks, browns, grays, greens, and creams, became the signature Prada look. The apparel was sexy and spoke of confidence without revealing too much skin. Accessories included skinny leather belts, elegant high-heeled shoes, and of course, the classic handbag.
The birth of a new brand – Miu Miu, Prada's little sister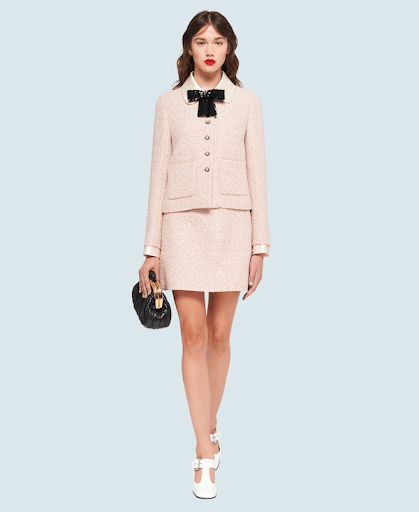 In 1992, Miuccia presented the more affordable Miu Miuline, which targeted a younger consumer. More flowing shapes and earthy colors and prints set this collection apart, although the simple designs and classic appearance continued the quality of the Prada label. Soon after, the Prada Sport label was created, followed by a line of men's wear and a lingerie collection.
The following year, in 1993, Prada received the Council of Fashion Designers of America award for accessories.
The Prada look has certainly evolved over the years, and Miuccia is credited with many innovations in fabric and design. She has added everything from mirror fragments to beaded latex to her garments and experimented with new and unique fabric blends. Even with all of this experimentation, however, the caliber of the finished product has never wavered.
Prada, spreading it's collections and opening new boutiques worldwide