As a marchigiano (native of le Marche) who lives in this region, I can attest to the Marche's scenic beauty and culinary tradition. The cuisine is made up of simple and authentic flavors. In most cases, they are built around high-quality ingredients that have been grown and produced locally for generations. Tradition has it that way.
In this article, I will introduce you to the most iconic products and culinary traditions of my region! Instead, I won't go into detail about recipes.
Instead, I won't go into detail about recipes and preparation methods which can be found easily with a Google internet search ( use the Italian name in Italiacs for better results) and youtube.
In most cases, when you find these delicacies in village shops, you can find typical indications that attest to their quality. I'm referring to the DOP mark and its younger sibling, IGP. Have you heard of it before?
Why should I recommend a DOP or IGP product?
We see them as consumer guarantees, so they are a source of pride for local producers. The controls for obtaining these certifications in Italy are generally very strict. It is critical to give a typical local product the prestige it deserves while also increasing the manufacturer's profits.
Anyway, if you've never heard of it, I'm here to explain.

The DOP (Protected Designation of Origin) mark denotes a typical local product that adheres to a specific type of processing that must take place in a specific territory. The location of raw material production and processing is strictly regulated. Furthermore, DOP products cannot be duplicated elsewhere.
I mean, I'm oversimplifying, but if a dairy farmer can obtain DOP certification for his cheese, he's struck gold.

As previously stated, the IGP mark (Protected geographical indication) is the lesser of the two. However, it is still regarded as prestigious in the Italian market. It ensures that the manufacturing phase takes place in a specific location that must be certified. In comparison to the DOP mark, the IGP one is much more permissive in terms of raw material origin.
Continue reading to find out which gastronomic product of le Marche I recommend for a better understanding of the region's culinary culture.
Olive all'Ascolana del Piceno DOP (a specific variety of olives) aka Olive Ascolane
This delicacy is one of my favorites. If you're in the Marche, take my advice. I guarantee you will not be sorry!
The production area is extremely limited, extending only to the borders of the Marche region and northern Abruzzo.
The olives are hand-picked and then treated to soften their bitter flavor. They will be filled with a DOP bovine and pig meat dough after they have been stoned.
Frying is the final stage.
What distinguishes these olives? Aside from quality, the percentage of fruit must always exceed 40% of the total weight of the final product.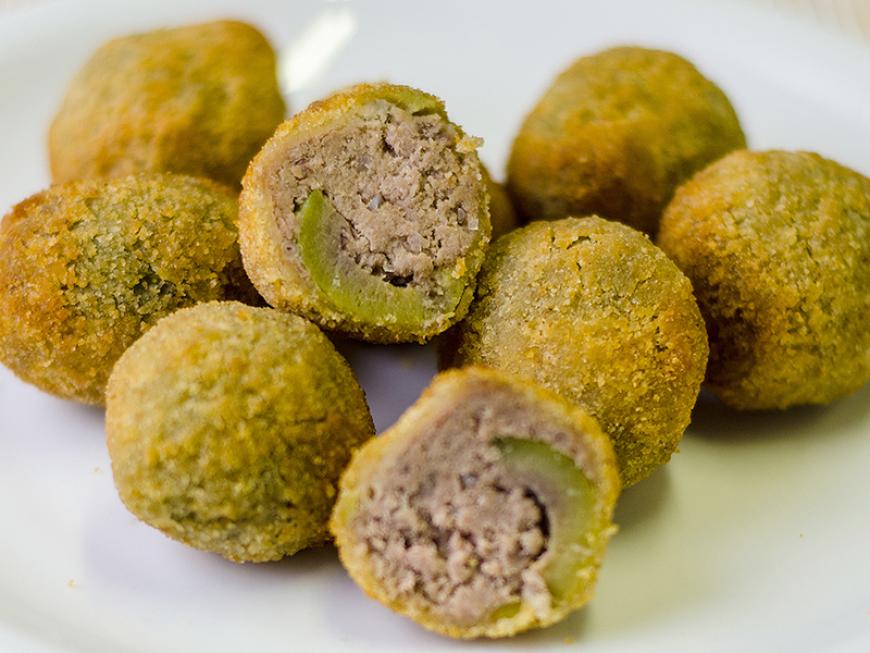 Patate rosse di Colfiorito IGP (red potatoes)
It is a well-known typical gastronomic product of the Umbrian and Marche hills. Cultivation is only permitted at 470 meters above sea level ("m.s.l." as we say in Italy).
According to the PGI label, these potatoes are grown in both Umbria (such as Colfiorito and Foligno) and Marche (such as Visso and Sefro).
The potato festival, which has been held every year since 1978, is the highlight of the village of Colfiorito. Despite the fact that the country only has a few hundred residents, thousands of tourists visit each year to sample the traditional fried doughnut of red potatoes. It is well-known in central Italy, so I decided to give it a try a few years ago.
These traditions never lie, and it is well worth it. I must admit that the country lacks architectural charm and history. If you live nearby, check the festival dates and come to Colfiorito. It's a gastronomic destination that a sweet lover like me highly recommends!
Lenticchie di Castelluccio di Norcia IGP (lentils)
The Umbrian highlands of Castelluccio di Norcia are tinged with vibrant colors between May and July. Various plants that coexist with the typical lentil plant grow in the hills. When the weather settles and spring has arrived, the visual spectacle is breathtaking. It's referred to as fioritura. It's a colorful landscape created by the flowering of wild or cultivated plants native to these areas.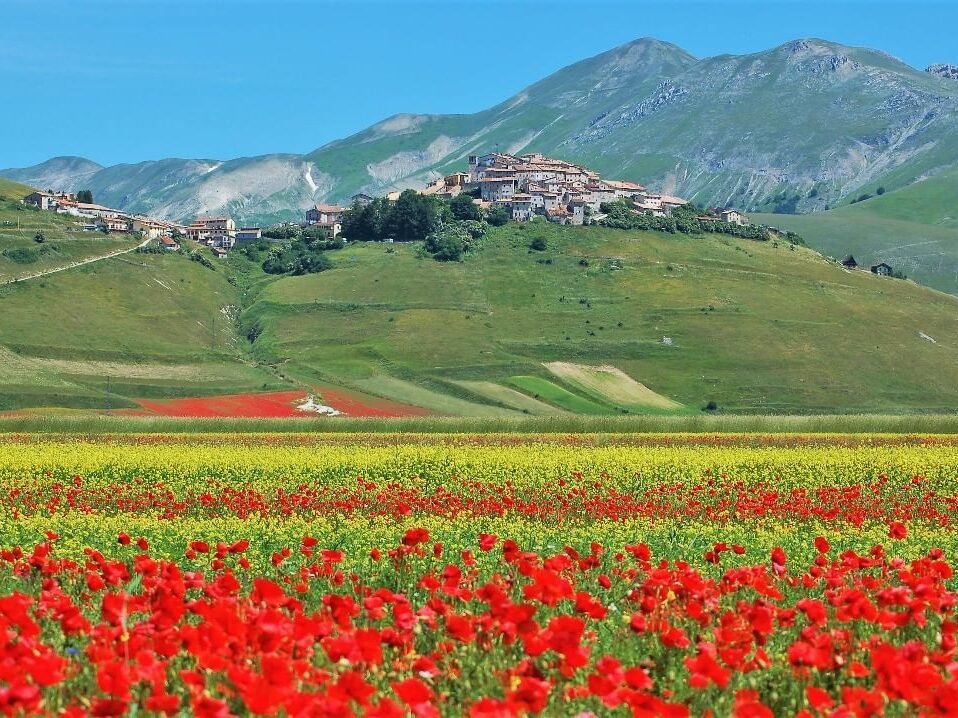 The common lentil is also grown here. The flavor is very strong. Professionals can easily distinguish Castelluccio lentils from other types. Aside from taste, it is distinctive as the undisputed leader of flowering.
Where is the fioritura? In Umbria, a central Italian region bordered by the Marche. However, lentil processing is also done in the Marche, in Castel Sant'Angelo sul Nera, in the province of Macerata.
Casciotta d'Urbino DOP
Since the sixteenth century, it has been a part of the culinary tradition. It was the first Italian cheese to receive the DOP designation, in 1996. It is produced solely in the province of Pesaro-Urbino and is a true gastronomic treasure.
Caciotta is a cylindrical-shaped cheese that never weighs more than 1 kilogram. So, why did I choose the name Casciotta?
The lovely name is the result of a ministerial attaché's error in adding a "s" as well. Today, its carelessness distinguishes it from other Italian caciottas!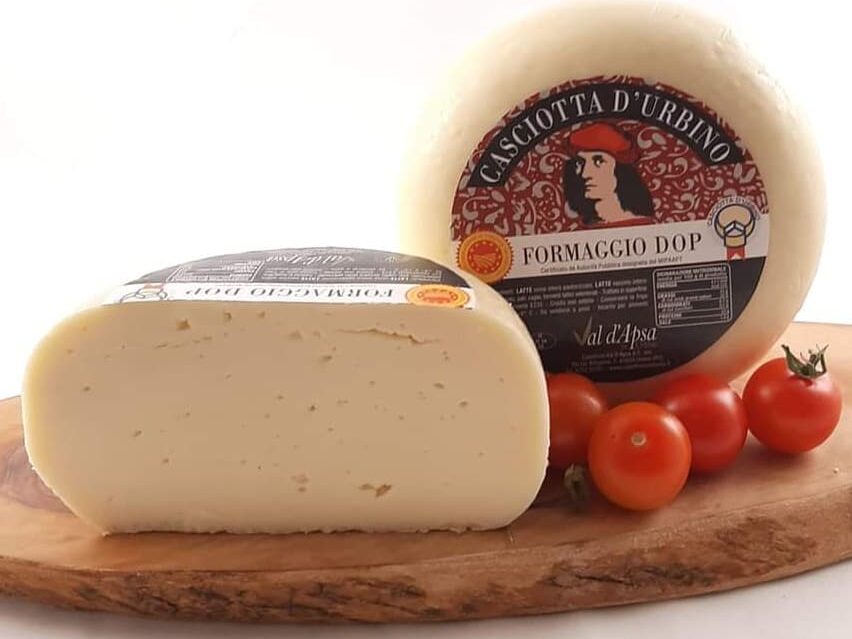 Prosciutto di Carpegna DOP
Even in this case, we are in the province of Pesaro-Urbino, near Carpegna. Its origins can be traced back to the fifteenth century. The preparation and seasoning techniques are not left to chance, as tradition dictates. They are responsible for the typical flavor!
To give you a few examples, the minimum required aging is 13 months. The pigs to be slaughtered must come exclusively from three Italian regions, as required by the DOP mark (the Marche, Lombardy and Emilia Romagna).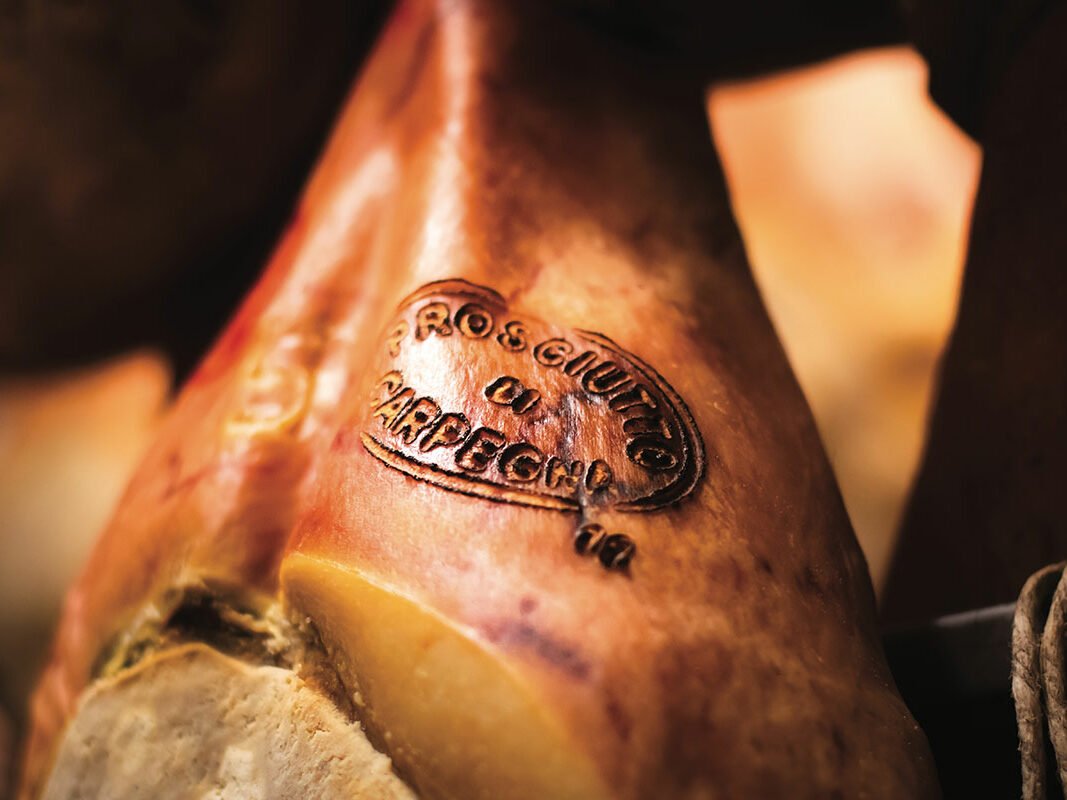 Finally, the Marche has a long culinary tradition, with specialties such as lenticchie di Castelluccio, patate rosse di Colfiorito, olive all'Ascolana, casciotta d'Urbino, and prosciutto di Carpegna. These items are the result of a collaboration between the richness of the land and the craftsmanship of local artisans. As a native of le Marche and a buona forchetta (food lover, as we say in Italy), I couldn't resist introducing you to these delicacies.
If you are planning a trip to Italy, you will undoubtedly have something new to try. We'll see you soon!