You are not a resident of Italy, but wish to study on the peninsula. I'm assuming you are aware of the fantastic courses available in the bel paese, in this case. I suppose the combination of our culture, natural beauty, and professionalism is one of the main reasons you want to continue your education with us.
I study veterinary medicine at the university of Perugia, Umbria, a lush region in the middle of Italy. During my studies, I met a number of colleagues who lived abroad but came to study with us.
Who knows how many more I'll run into traveling? Three of my classmates are French, and they have given Perugia in Italy, specifically, the difficult task of forming their knowledge and their future careers.
Each year, the University of Perugia welcomes more than 500 international students. The educational offer is very diverse, and you will undoubtedly find the course of study that best suits you. However, there are minimum requirements that you must meet in order to study in Italy. I'm referring to legitimate documentation that satisfies the language and laws of your home country. In reality, attendance requires Italian language proficiency at the B2 level or higher.
Is Perugia a good place to study?
I'll be truthful. Yes, Perugia is a city designed with students in mind. I can't say that I genuinely adore it. Many things ultimately depend on their routine and personal preferences. The student nevertheless feels completely immersed in a stimulating environment and has access to everything they need. The city is not dispersed, and there are plenty of local and entertaining options for every taste in the old town and on the main streets. There is nothing better than taking a stroll through the city's streets in the late afternoon after a day spent reading books.
Yes, you can always find someone you recognize, or at the very least, one of your peers. You don't feel alone because the Perugia office hosts about 30,000 students annually, according to ISTAT data. Not bad, you'd say?
I'm not sure what city you're reading from, but you probably need some information about urban life. Perugia is a typical medieval city; there are still a great number of historically significant buildings there that add prestige and allure. Additionally, we are in Umbria. Strongly hilly, this area of central Italy is a sight for the eyes, but punishing on the legs!
Perugia is not for you if you prefer wide-open plains, cities without stairs, and steep ascents and descents. The old town is one feature, in fact. You can either adore it or despise it.
The Scalinata degli Acquedotti is a precise staircase that runs through the heart of the old town and connects it to the urban area below.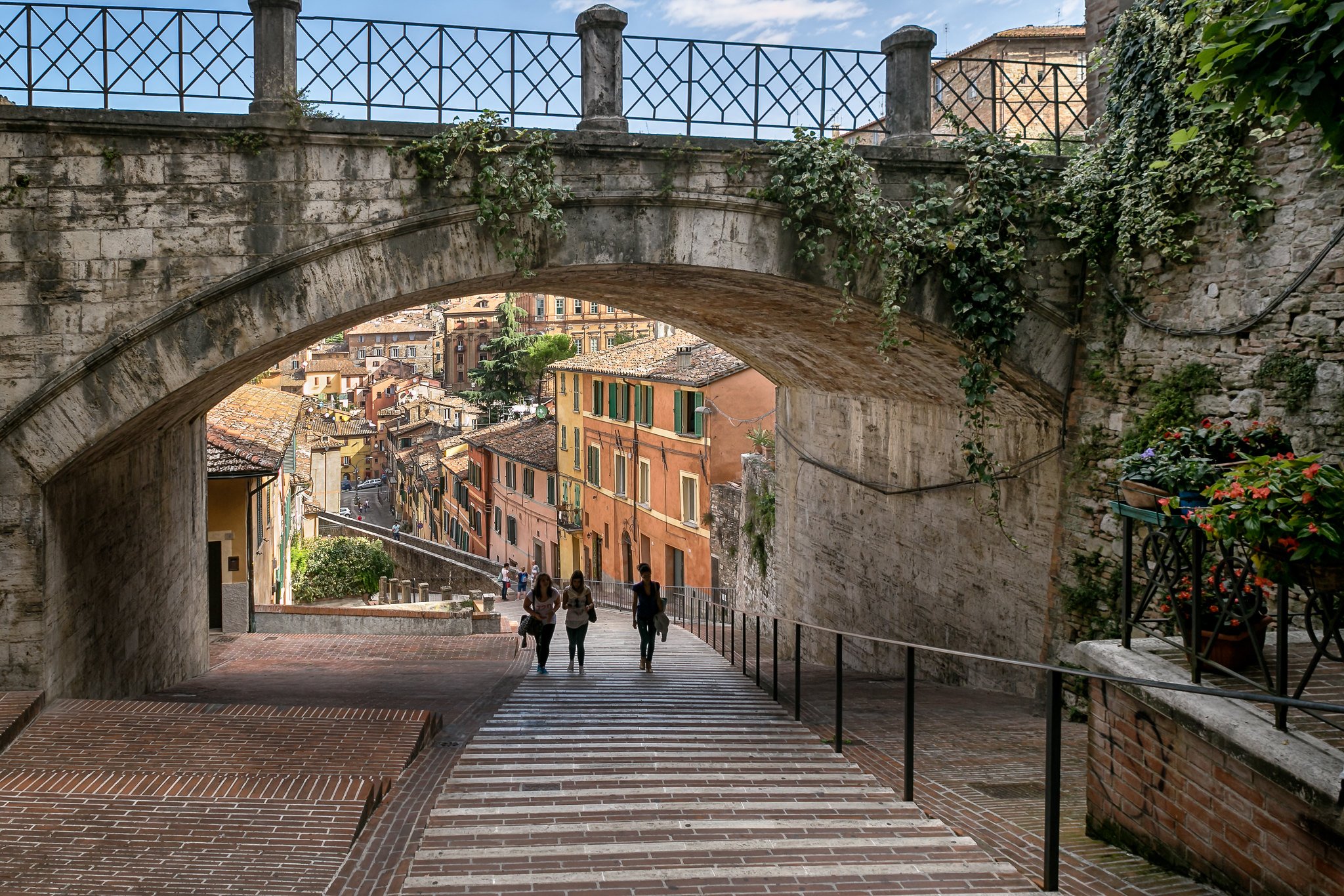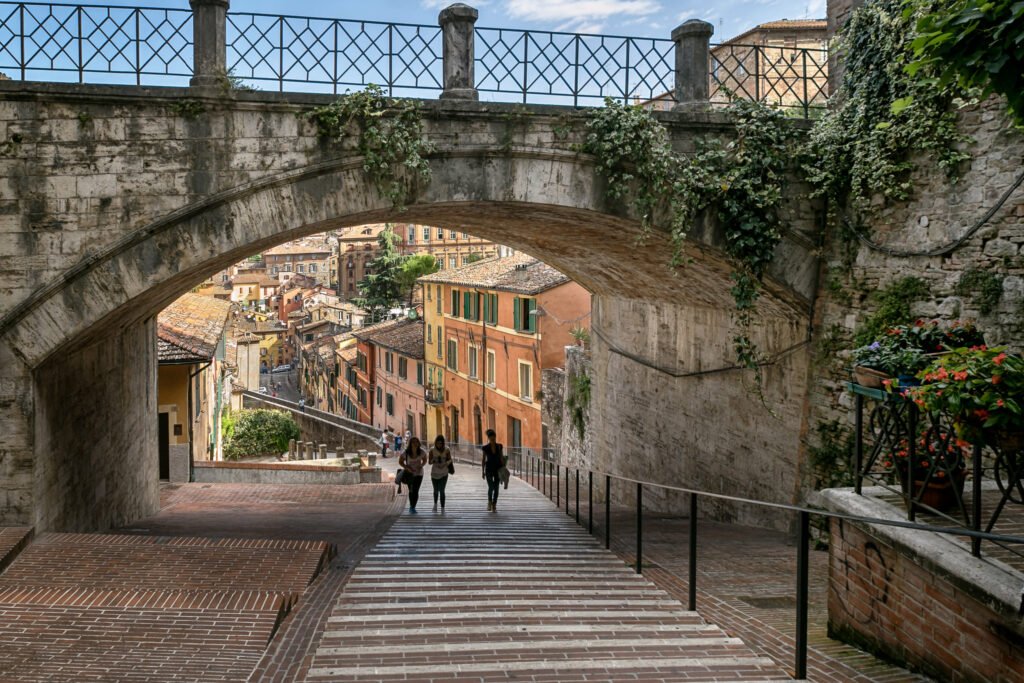 It is well-known because it serves as a junction for all the nearby neighborhoods. Every student will eventually be required to climb this and other difficult staircases while carrying their bags of textbooks and clothing for the entire semester.
You shouldn't give up, of course. A typical medieval city provides visual spectacles. The center's streets and the stairways that follow old, historic buildings that once housed some Perugia institution are not unnoticed.
The love-hate relationship you have with this city is evident in how much you sometimes adore its recognizable center and how much you occasionally just want to go home and wish those dreadful stairs didn't exist.
The transport network has some warnings
I can't describe Perugia as a metropolis if you haven't been there. As a university city, students make up a sizable portion of the population, making a realistic population estimate difficult. However, we can assume that there are roughly 170,000 people living there.
With these statistics, a well-planned and effective transportation system is essential. The city and the university have a contract, and each year calls are proposed that offer annual subscriptions for students at a very low cost.
I can offer you some advice because I've experienced these issues before. Be wary of notices from universities that promise facilitation.
Spots are always extremely scarce, and there are typically many more applicants than there are actual openings. There is a huge gap between supply and demand.
The calls made available by the institutions in Italy are solely connected to the ISEE (Indicator of the equivalent economic situation). It is a tool that lets you assess the financial standing of Italian families. You must be wondering, "What is it for?"
It is very easy. You will be assigned to a threshold or band based on the household's actual earnings. The last bands, so that I can apply and access the notice for families with lower incomes. After registration is complete, a ranking is created, and the facility is made available until all available spots have been filled.
However, it is important that you get a sense of the prices that the transportation provider in Perugia is willing to offer. Even if you are eligible for discounted fares, it is still best to be aware. A single ride currently costs 1,50 Euros. The annual school is 296 euros, and the monthly subscription is 55 euros.
I can tell you that, at least when it comes to daily rates, prices are essentially the same throughout Italy. In large cities, where a single ride can cost more than 2 euros, there are differences. I agree that Perugia's transportation system is effective as a pro. In other places, such as my hometown, I had to wait for the bus every time it was 3–4 minutes late.
It becomes a problem if you have to change buses a couple of times to get where you're going, as is the case with university commitments. Buses must run on time in that case, so you cannot be late.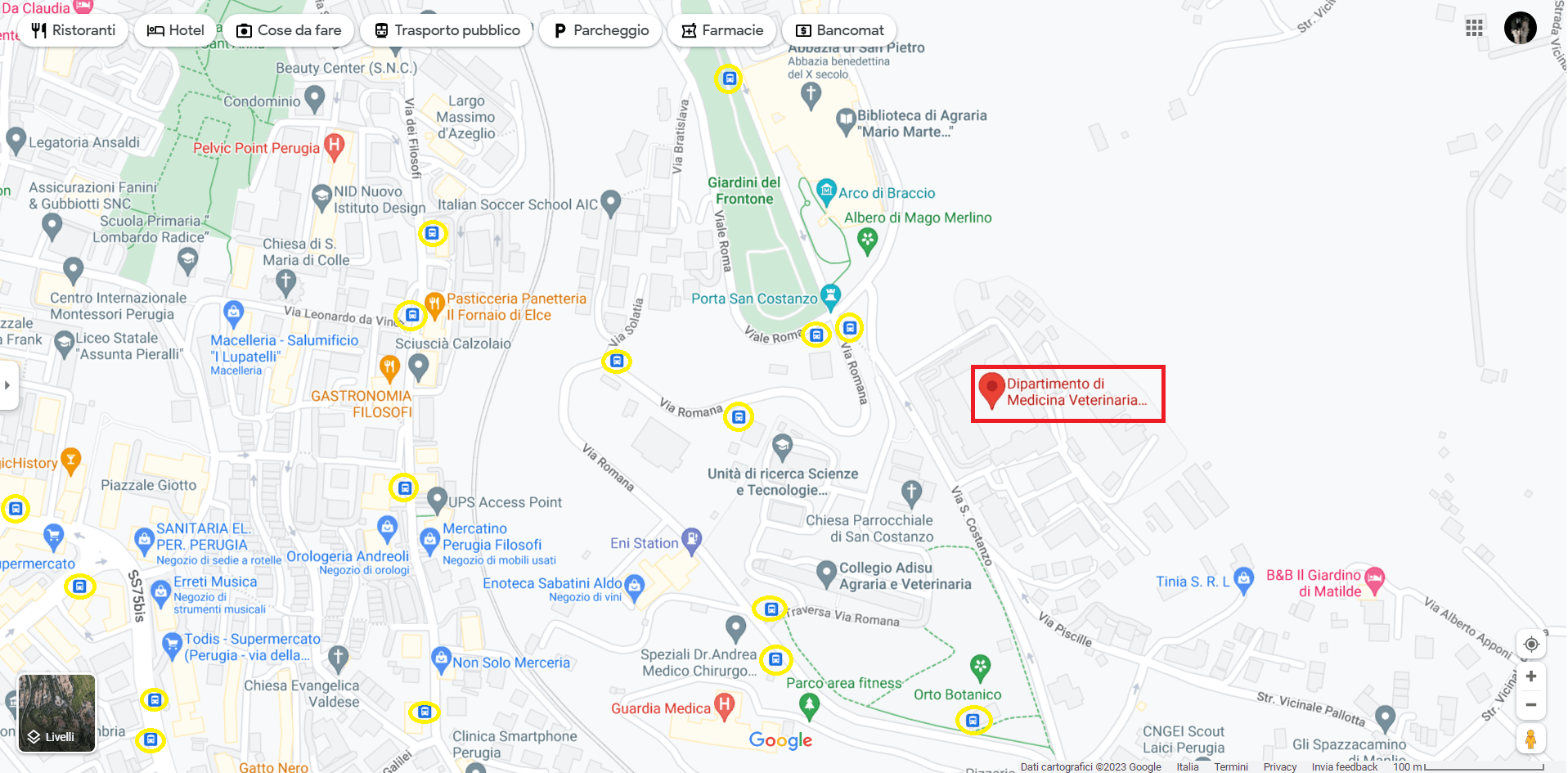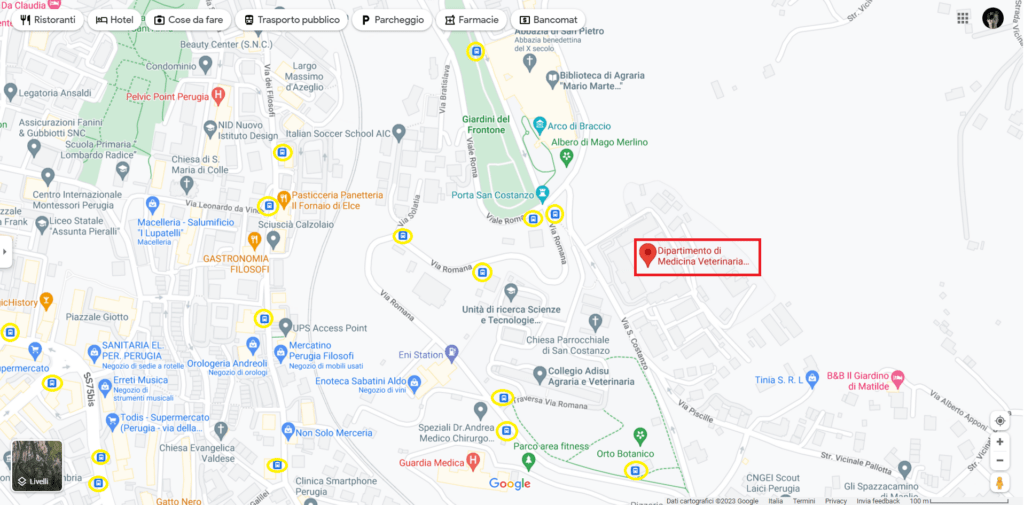 I've indicated in this image which bus stops are closest to my faculty (yellow circles). In order for you to comprehend what I'm talking about. The bus system is very well-developed; there are ten stops within a distance of 800 meters. Very good!
It is important to not undervalue this aspect. You can move around the city without worrying about missing classes or being late all the time.
Believe me, the region shown in the figure is also remote from the city's center and receives fewer resources than the rest of the city.
The extra-urban traffic, on the other hand, is a major drawback of central Italy. Some railway routes are impractical due to the typically hilly terrain, forcing the search for alternatives. Good luck if you have to take the train to get to Perugia. There are few direct trips available, and there are lengthy waits between trains. The service in cities is first-rate, but I can't say the same for the situation outside of cities.
In summary
Perugia is a student-friendly city. Since my fellow students are from all over Italy (and beyond! ), you won't feel out of place. It is not a coincidence; rather, it is a decision that, if you are considering studying in Italy, I urge you to at least take into account.
For more information on the study options, check out the department's official websites. I am aware, though, that picking a city is a very personal decision. Before I began my studies here, I was a little afraid as a student. You're aware of how these things operate; the anticipation is real, but you never know what to expect. As I've previously stated, picking a city is a very personal decision.
But in the end, I felt great, and I don't regret my choice at all.
I hope these few ideas have been helpful to you. After all, what could be more valuable than the viewpoint of someone who has actually dealt with the issue?