Italy in May is at the beginning of the high season in Italy for good reasons, the weather being certainly one of them. The climate is quite reliable and pleasant in May and it is not yet uncomfortably hot. Moreover, there are dozens of festivals, feasts, and events taking place in May in Italy, all of them a true delight to witness.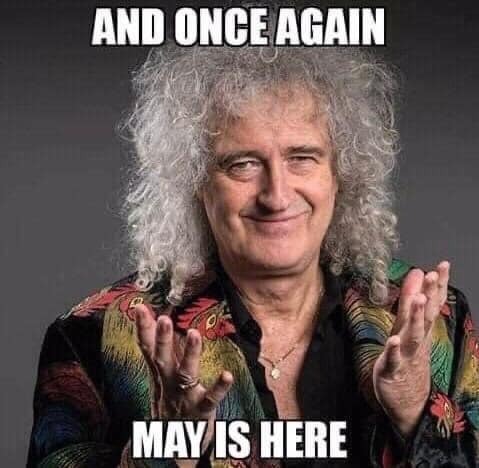 Those who are willing to shell out a little more money, or can hike up their travel budget, should definitely consider visiting Italy in May to experience its many festivals. Everything in Italy is more costly, from airfares to hotels, so it is better to be prepared to spend a bit more if you decide to come this time of the year. Of course, it is superfluous to say, it is worth every penny.
As we said, May is already considered high season and tourist spots and cities may be pretty crowded: keep this in mind if you are looking for a peaceful vacation, and choose smaller villages and towns.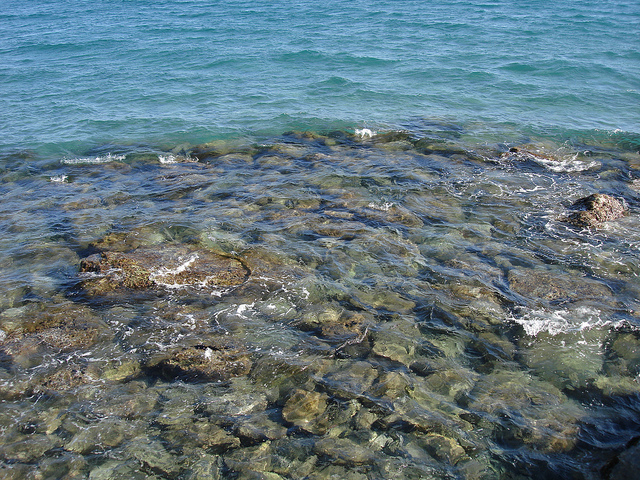 Weather in May
In Italy, May is known as the month of roses: the countryside is in bloom, the air fragrant with the balmy scents of plants and flowers. A true feast of nature.
Weather in May is warm, but not yet unbearably hot, and this is certainly one of the reasons behind May's popularity among tourists. If you visit, you will notice plenty of school groups visiting historical and artistic spots, or simply having a picnic: this is because in Italy this is the month of school trips and excursions. The northern areas of the country are still colder than Central and Southern Italy, so those longing for sunshine and beaches should head straight to the South.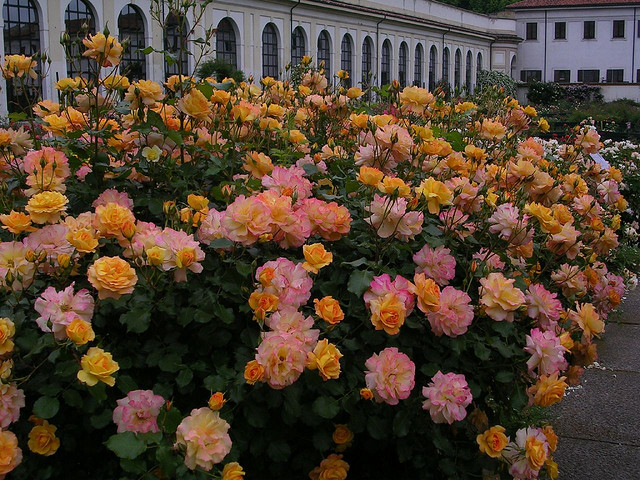 Northern Italy, as we said, is definitely the coolest area of the country in the month of May, because of the presence of the Alps. In Milan, and other parts of Northern Italy, the average temperature remains between 9 and 21 degrees Celsius (49 and 70 degrees Fahrenheit). Wet days are still quite common.
In Central Italy, including Rome, the temperature approximately remains between 12 and 22 degrees Celsius (54 and 71 degrees Fahrenheit). Do expect a few wet days even in May, when temperatures might go down again by a notch.
In Southern Italy and Sicily, including Palermo, late Spring is pleasant and warm, a wishful introduction to the Summer to come. Temperatures remain between 16 and 21 degrees Celsius (61 and 70 degrees Fahrenheit). In May, wet days are not very common in the South.
Where to Visit in May
There are a lot of places to visit if you are thinking to come to Italy in May. May is synonymous with Springtime in the country, so you will find many Spring festivals to enjoy. There are also many floral festivals, food festivals, and wine festivals. Depending on your preferences and interests, you can choose where to go.
Although Florence is definitely overcrowded by tourists in May, it is worth a visit: during this month, the famous Iris Garden of the city is open to the general public for 19 days. A true occasion, as it is closed for the rest of the year.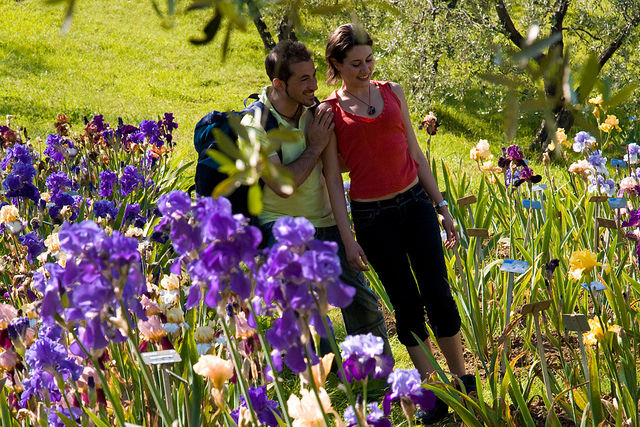 La Mille Miglia  (the one thousand mile race) is a very old and popular event held every year in May: vintage cars travel from Brescia (Lombardy) to Rome and back to Brescia again. Check out the Mille Miglia website to know this year's route details.
May, in Italy, is also the month of a bona fide national institution: Il Giro d'Italia. Il Giro d'Italia is the largest bicycle race event in the country, and it always begins in May. Its route is different every year, so visitors would need to get information on it if interested. However, those who want to avoid crowds should consider going to places that are not located on the route of the race.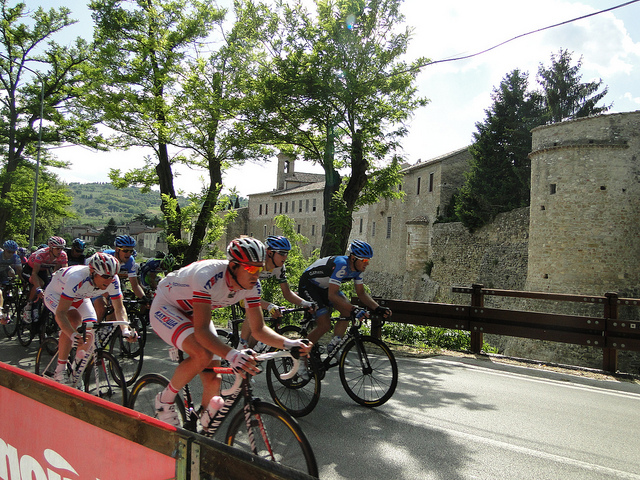 Visiting Sardinia may also be a very good idea if you plan to visit in May. The Festa di Sant'Efisio, one of the most important feasts in the region, takes place in May and it is an excellent opportunity to learn more about this beautiful, charming area of Italy.
Festivals in May
May in Italy is known to be one of the months richest in festivals and fairs. Here are some of the most famous:
The Sagra di Sant'Efisio, Cagliari and Nora, Sardegna: the festival takes place in Sardinia, its main highlight being a four-day-long procession starting in Cagliari and ending in Nora, in the beautiful Romanesque church of Saint Efisio. The statue of the saint is carried along the way, followed by horsemen and various decorated oxcarts. Feasting and celebrations take place throughout the time of the sagra.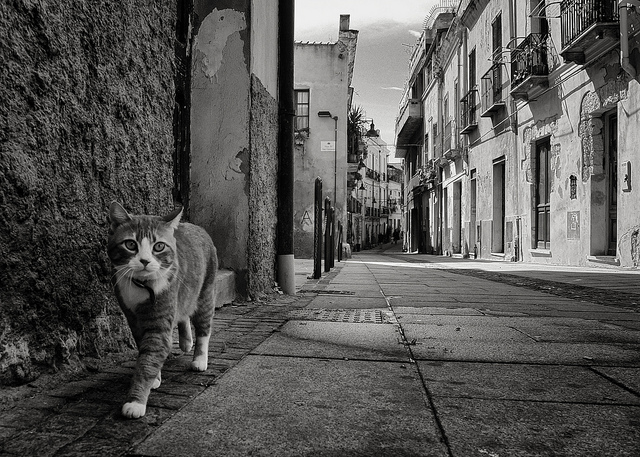 Calendimaggio: the festival is celebrated in Assisi. It is quite special since it brings to life the Renaissance and medieval lifestyle. The two ancient factions of Sotto and Sopra engage in an interesting challenge held in the form of concerts, dances, theater shows, and processions. The entire town is decorated with candles, torches, flags, and flowers. The festival takes place around the 8th of May.
La Festa del Risotto a Sessame, Piedmont: those who love food can sample some of the best varieties of risotto in Sessame, in the region of Piedmont, on the first weekend of May. This is the perfect occasion to learn more about this dish, which hails from the 13th century.
Festa dei Serpari in Cocullo, Abruzzo: the snake handlers' procession is held in honor of the patron saint of the town, Saint Dominic. The statue of the saint is carried around town covered in live snakes.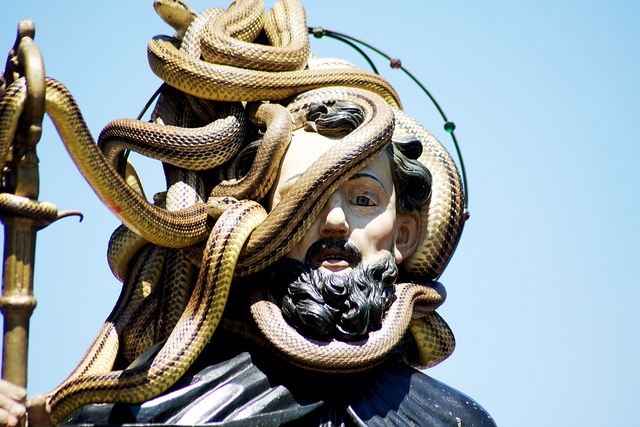 Sposalizio dell'Albero a Vetralla, Lazio: during the festival, which finds its origins in the Middle Ages, when it had the aim of confirming the ownership of the town of Vetralla over the surrounding woods, two trees are "dressed" as bride and groom and are joined in marriage, surrounded by flower compositions made of primroses and violets offered by horsemen. At the end of the ceremony, food and trees to plant are offered to all participants.
Sagra del Pesce in Camogli, Liguria: for food lovers, the fish festival in Camogli is a great event to go to. The festival is celebrated in honor of Saint Fortunato, the patron saint of the village's fishermen. The festival, which takes place on the second weekend of May, begins with fireworks and a bonfire competition. On Sunday, fresh fried fish is offered to all.
Il Palio di Ferrara, Emilia Romagna:  Il Palio di Ferrara was held for the first time in 1279 and takes place the last weekend of May, but various parades, competitions, and events take place every weekend of the month. A medieval parade, in which more than a thousand people dress in ancient costumes and march toward Ferrara's castle, is one of its most characteristic moments.
Mostra del Chianti a Montespertoli, Toscana: if you love wine and are in Italy at the end of May, you should take a look at the Mostra del Chianti, which gives the opportunity to sample some of the best wine productions in the area.