August is the month when Italians take their holidays: temperatures rise considerably in most of the country, even more so in the cities, due to the level of pollution. Because of this, most locals take their vacations in August and head either to the seaside or to the cool of mountain towns.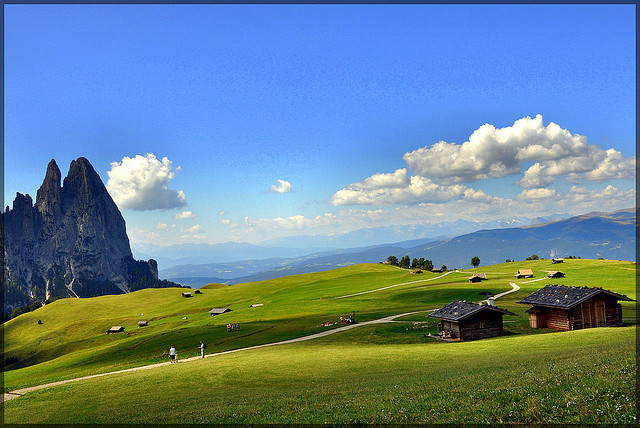 This makes of August the period of the year when these holiday locations are at their most crowded: if it's the Italian sea or mountains you dream of, it may be better to choose a different month to visit. However, if you're after a cultural vacation and you'd like to dwelve in the beauty of Italy's città d'arte (Rome, Florence, Naples…), August may be the perfect moment to do it, as cities tend to be pretty empty. In August, prices in urban locations may also be slightly lower in comparison to May, June and July, a factor not to be forgotten. Things are very different, however, for seaside and mountain locations, which, on the other hand, reach the highest prices of the year. Peak travel time is between August the 7th and 20th, during which Ferragosto (15th of the month) falls.
A great advantage of being in Italy during the Summer, however, is the great amount of activities that go on at night. Nightime, outdoor enterntainment is offered pretty much everywhere, from cities to villages and it's often for free. From music, to dance and theatre, you'll find something interesting to fill your evening with fun. If you plan to fly to Italy in August, remember to get your airline ticket well in advance as prices tend to be at their highest. The same can be said, as mentioned, about accomodation in seaside and mountain locations.
Weather in August
By the time August arrives, climate gets very hot and stuffy in the cities. For this reason, this is when many Italians take their yearly vacations. Unlike what most people believe, not all shops in Italy are closed in August.
People are usually discouraged from traveling to Italy in this period of the year: in truth, that may be good advice if you are looking for a sun-sand-and-sea vacation, for the reasons we've already mentioned.
This is particularly true for the weeks immediately before and after the 15th of August, as that is the peak of the holiday season for Italians. However, if you are visiting cities like Rome, Florence, Milan, July or August have a lot of advantages. In August, most Italians will be on vacation and it is amazingly easy to visit cities. Traffic is minimal, and parking in Rome, for example, which is normally a stressful and impossible task, becomes easy! Summer nightlife is also particularly enjoyable in August.
Northern Italy in August tend to be hot, with higher temperature peaks in cities. In Milan and other parts of Northern Italy, the average temperature remains between 16 and 28 degrees Celsius (60 and 83 degrees Fahrenheit), very similar to those registered in July.
In Central Italy, including cities like Rome, temperature is approximately between 19 and 28 degrees Celsius (66 and 83 degree Fahrenheit). It is best to have some good indoor activities planned for midday, since that is the hottest part of the day.
In Southern Italy and seaside resorts, including Sicily, temperatures are at the national highest. In August, temperatures climb to 24-29 degrees Celsius (74 and 83 degrees Fahrenheit). Be sure to pack plenty of sunscreen if you are planning to head to the South in August. Precipitations are uncommon throughout the country.
Where to visit in August
In August, beaches and mountain resorts in the North are really crowded so it's best to avoid those if you intend to have some peace and quiet on your vacation. In this case, the best thing to do is to visit Italy's città d'arte, carefully avoiding the oppressive midday heat and enjoying the night activities instead. Even small towns and villages will give you the opportunity to enjoy plenty of evening and night activities during the month.
Festivals in August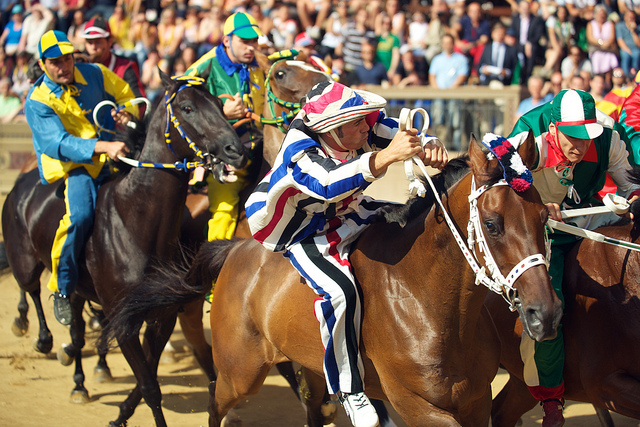 In August, there are typically many festivals, especially by the seaside or mountain villages, where the tourist season is particularly active. Music performances, food festivals and many small medieval festivals take place all over the country. Here are some of the most popular:
La Quintana di Ascoli Piceno, Marche: La Quintana takes place the first weekend of the month and is considered one of the best festivals in the region. It is a typical Medieval joustling tournament which starts with a large parade. Participants are dressed in 15th century medieval costumes.
Festa della Madonna della Neve, Roma, Lazio: it takes place on the 5th of August and celebrates a miraculous snowfall that took place in a Summer of the 4th century: in that occasion, the construction of the basilica of Santa Maria Maggiore was decided. During the festival, flower petals are used to recreate the snow and many celebrations take place.
Palio del Golfo, La Spezia, Liguria: it takes place on the first weekend of the month. During the festival a rowing race is organized between thirteen villages that are located along the La Spezia Bay.
La Giostra di Simone, Montisi, Tuscany: held around 5th of August, the festival includes a parade in traditional costumes which is followed by a knights' tournament between the four neighborhoods of Montisi.
Festa della Ceramica, Castelli, Abruzzo: the town of Castelli is renowned for its beautiful ceramics. On 15th of August each year, a unique festival dedicated to this truly Italian form of art takes places here. Tradition wants that, on the day of the festival, locals stand on heights and smash imperfectly made ceramics to exorcise negativity.
I Candelieri (Feast of Candles), Sassari, Sardinia: the festival lays its origins back in the 16th century. It is hosted August 4-16, with the main events taking place on the 14th of August and includes an exciting race along with teams of local men holding large candles.
Il Palio di Siena, Tuscany: held on July the 2nd and on August the 16th. During the event, the 17 districts (contrade) of Siena compete in a horse race event in the central Piazza of the city, Piazza del Campo. Siena gets very busy in occasion of the Palio, so you're better plan your trip well in advance, if you wish to be part of the experience.
La Fuga del Bove, Montefalco, Umbria: the "Escape of the Ox" festival is a three-week long event taking place in August each year, which includes medieval costumes' parades, along with drinks, food, music and many interesting competitions between the four districts of the town.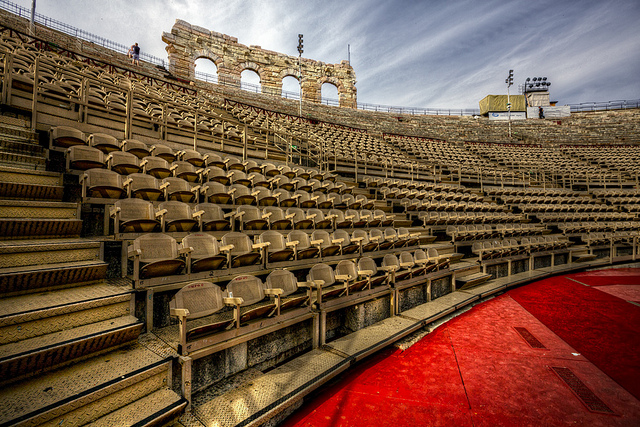 Music Festivals in August
August is also the month of outdoor music performances and festivals. Music events take place in most towns and cities of the country and information and tickets are usually available well in advance. Verona is known for its opera season, which is in full swing during the Summer, and experiencing a show at the Arena is a lifetime experience. In Florence, too, the Firenze Estate showcases plenty of interesting performances.
Rome has also many good music festivals in August. Estate Romana is the performing arts and music festival of the Roman Summer: of particular interest are the nightly performances at Castel Sant' Angelo, one of the best known monuments in Rome and certainly among the city's most picturesque locations.
La Notte della Taranta is an itinerant festival of folk music, based on the traditional dance of the tarantella. From Puglia, it travels around Italy.
Last, but not least, of course, is La Serenissima, Venice: its Lido, a picturesque small island in the lagoon, is home to the Festival del Cinema di Venezia, one of the most prestigious film events in the world.