A brilliant Italian designer, Alessandro Dell'Acqua creates clothes for women who love to be feminine. Famous for his pretty, shimmery dresses and using materials such as chiffon, lace, and tulle, he once said that he wants every woman to be noticed.
Dell'Acqua's history – How did he become a well-known Italian designer?
Born in Naples in 1962, Dell'Acqua studied at the Art Institute of Naples and graduated in 1982, specializing in graphic design. His career as an Italian began the same year when he first worked for the Marzotti Group. He has also worked in a knitwear mill – his fellow employees at the mill now work for him. One of his colleagues, when he worked with Genny, was the famous designer, Versace. Dell'Acqua also became the leading Italian designer for the famous knitwear company, Pietro Pianforini.
His debut collection at the Milan Moda Donna in 1996 received rave reviews. Since then, his career has gone on to stellar heights. He has won the Oscar Della Moda twice in Italy. Dell'Acqua's Italian designer's inspirations include the great Italian actresses Anna Magnani, Sofia Loren, and Monica Vitti.
The love of creativity and the search for femininity lead Alessandro Dell'Acqua to design innovative collections
The elegance and femininity of these stars led him to create pretty and attractive clothes in an age when t-shirts and jeans seem to be all the rage. He remarked that: "These are the women I imagine when I design my collections…they are free, they are powerful and they are not ashamed of their desires, they want to be beautiful."
He has also stated that: "I love knitwear, I love nude, and I love black," Many of his clothes combine lacy knitwear with other materials and most include skin color, 'Carne and black. Dell'Acqua's collections feature strapless dresses, bustiers, silk dresses, and belted coats, and though his collections may not follow unique themes, most of his one-off pieces are stunning in their beauty and creative imagination. He is also a big fan of transparency, often letting a woman's skin show through his clothes, and this is reflected in all his collections. It is no surprise, therefore, that his favorite fabrics to work with are chiffon and tulle.
Freedom concepts, exposed in his lingerie, menswear, shoes, and eyewear collection – An eccentric Italian designer
The handsome Italian designer is a true Renaissance man. Recently he has started designing lingerie, menswear, shoes, and eyewear. He has designed lingerie for the famous Italian company, La Perla, and likes to include touches of lingerie in his women's clothes. He has also created shoes for the Swiss company, Bally. Dell'acqua menswear emphasizes the concept of freedom, he wants the man he designs for to be comfortable with both tradition and modernity, have a personal sense of style, be willing to experiment, and even indulge in a bit of trademark Dell'Acqua Italian designer eccentricity.
Dell'Acqua's sexy and elegant shoe wear collection was launched in 2000 and he also has an agreement to design for the shoemaker, Ballin. His perfumes include fragrances for women and men.
Excelent praises and reviews – Alessandro Dell'Acqua becomes famous in the fashion world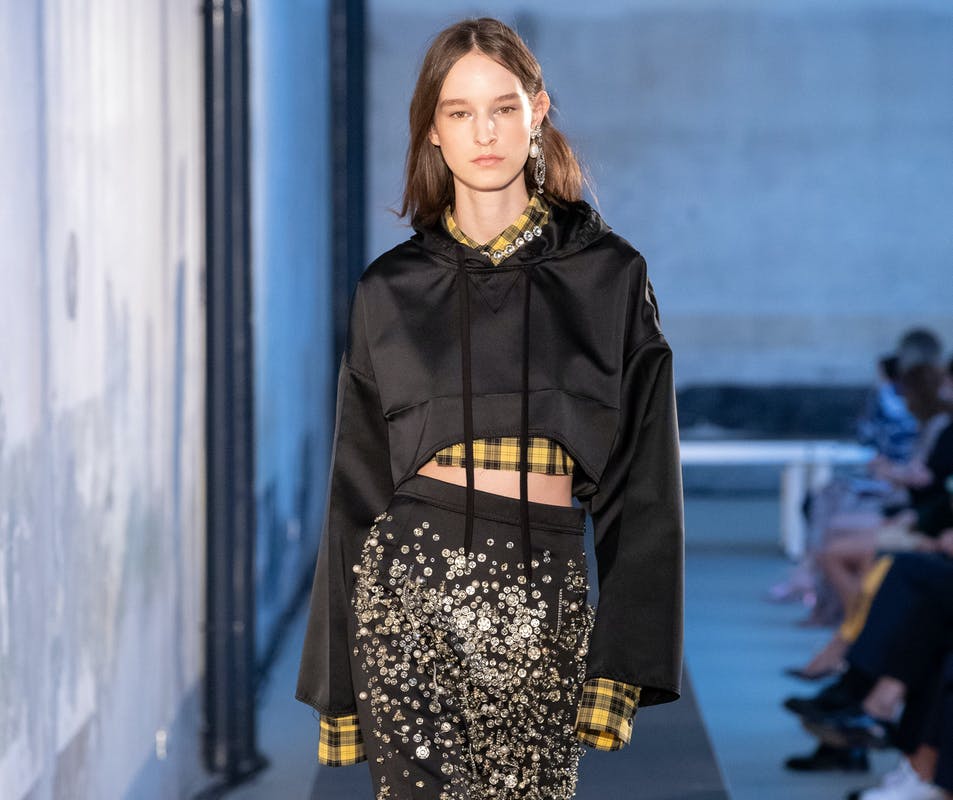 Alessandro Dell'Acqua's Italian designs are sold in exclusive stores all over the world and have won excellent reviews from high-end fashion magazines such as Vogue and Style. His quirky yet sexy designs are unique in a fashion world that is too often trend-conscious and uniform.
Latest news about the Italian designer Alessandro Dell'Acqua
He is for sure, one of the Italian designers that revolutionized the fashion world. Alessandro Dell'Acqua is seen today as the essence of the Made in Italy tag. He is expressing his eccentricity through contemporary fashion designs. He was often being called one of the people who shaped the fashion industry.
Since 1996 and his first collection, he never stopped creating and expanding. He took his vision to much more potential from clothing by adding accessories of all kinds, lingerie, fragrance lines until 2010. He is currently the creative director at Paris Maison Rochas since 2010. Since 2018, he is always tapped into future collaborations such as one with Tod. Now, in 2021, he had another debut. He debuted with N21 Spring/Summer '21 collection for Italian plus-size specialist, designer Elena Mirò. The Italian designer had a come-back after a 10-year absence.
By Lisa-Anne Sanderson
Edited and Updated by Damyanti