Celebrated Italian shoe designer Giuseppe Zanotti says in Elle, March 2010, "Se conosci il corpo della donna e i materiali, in una scarpa puoi mettere tutte le idee che vuoi." Translated: "If you know a woman's body and different materials, you can apply all the ideas you want in a shoe."
Giuseppe Zanotti designs- Italian bejeweled footwear
In a career spanning twenty-five years, Zanotti has done just that, creating shoes of fantasy and splendor. This Italian designer has always been more concerned with the soul of a shoe, rather than its sole, unlike many other shoemakers.
Giuseppe Zanotti design – Early Years and Inspiration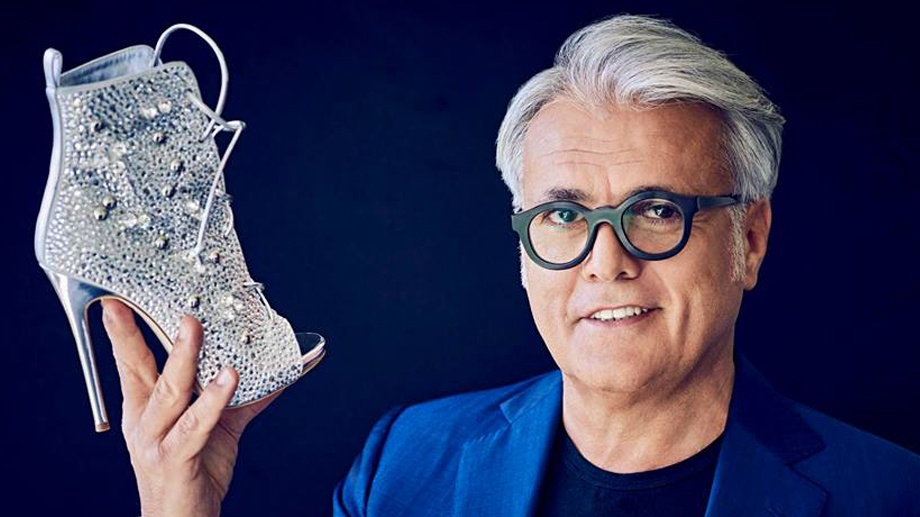 A creative boy even in childhood, Zanotti stood out for his seemingly odd ways, his ideas had yet to find an outlet. Before joining the world of design, he paid homage to his other love, music, working as a DJ. To this day, he may ruminate on the woman's form or on different forms of beauty, but he always designs to the sound of music. His old faithful radio is with him on his creative stints.
Though Giuseppe Zanotti started off making shoes in 1985, it was not before 1995 that he started an eponymous line. In 1996, he bought his first shoe factory in San Mauro Pascoli and has not looked back since. His bejeweled footwear brought him fame as well as money, so much so that by 2001 he built a larger, more efficient factory. He eventually began to sell through three different lines Giuseppe Zanotti Designs, Vicini, and Tapeet, with boutiques, spread all over the world, from the USA to Russia, Bahrain to Singapore.
He also gained a list of the illustrious list of clients. The list boasted of names like Demi Moore, Eva Mendes, and Cameron Diaz. Today Victoria Beckham, Beyonce', Fergie and Ashanti are firm fans, having benefited from Zanotti's attention. It's not only towards glamorous looks but also to the suitability to the wearer's figure and complexion, as well a staunch belief in the proportions of a shoe and its ability to support afoot. Beyonce' wore a Zanotti not only for her wedding but also for the 2010 Grammy awards.

Giuseppe Zanotti: Shoes made of dreams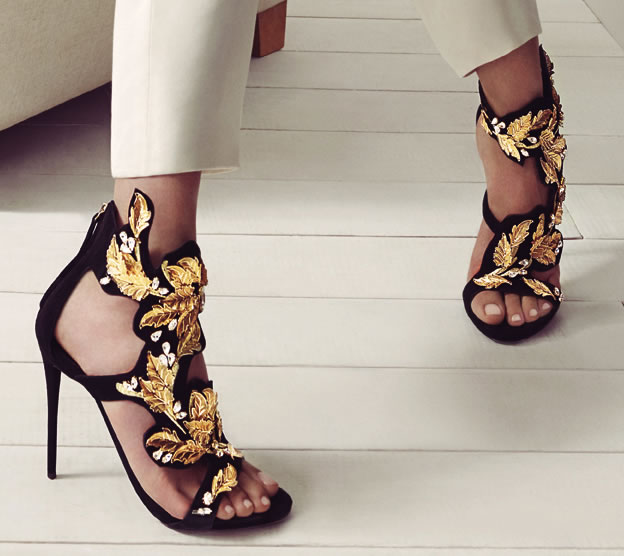 The reasons why some of the biggest divas in Hollywood and beyond flock to Zanotti designs are clear. His shoes are handmade entirely in Italy and look it. Each Swarovski crystal or a precious jewel is handset individually. It's all made by Italian craftsmen: great attention is paid to each step of each of the about 600,000 shoes made each year. No part of any shoe is made outside the Zanotti factories in Italy, a claim that very few well-known Italian shoe brands can make today. In fact, names like Roberto Cavalli, Vera Wang, DSquared, Blumarine get their shoes made at Zanotti's.
From designing to prototypes, Zanotti has never ignored any technical or aesthetic aspect of a shoe. Having learned how to stitch shoes as a young man and researched various types of leathers of decorative materials for more than 15 years, he knows what design would work best with a particular material, and may spend up to six months perfecting the design of a single shoe.
The quality of Giuseppe Zanotti designs – A continuously blossoming reputation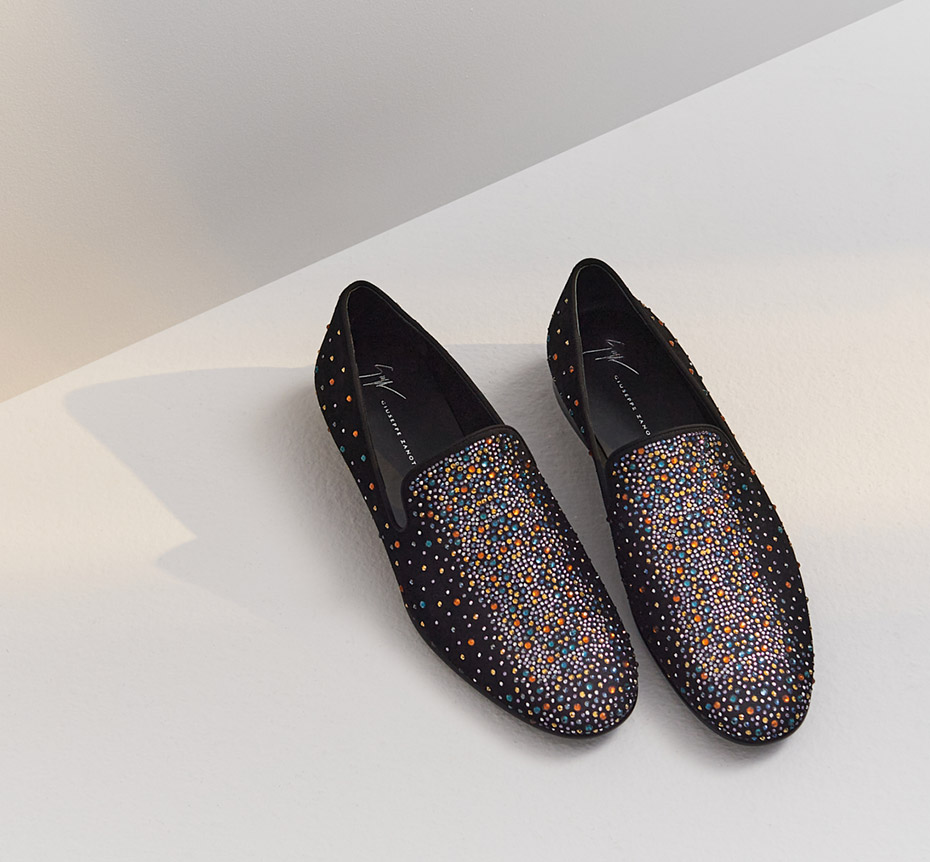 This dedication to quality and to studded, elaborate beauty has once again earned him the title of "Designer of the Year 2009." From Footwear News, an award he had won for the first time in 2001. Italian shoes have had a sterling reputation in the last few decades. The Zanotti brand has blossomed into everything an Italian shoe designer can dream of, and beyond. Not only does a Zanotti shoe stand for quality and artisanship, but it is also a work of art. Its now-legendary beauty is held by many fashionistas in awed reverence.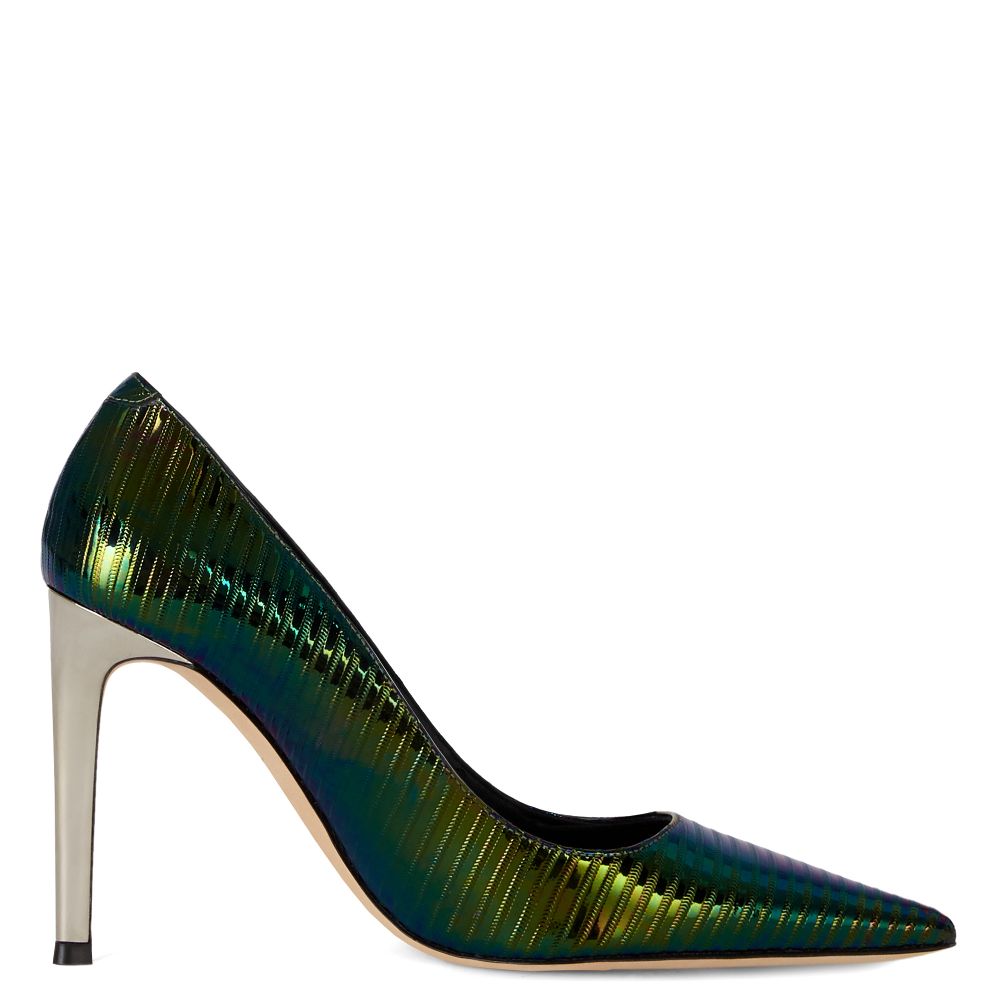 For Giuseppe Zanotti, there is no better sculpted form than that of a woman. A shoe is a woman for him, a beautiful, sure-of-herself flamboyant self. A woman whose hips swing in that subtle sensuality that is typically Zanotti. A Giuseppe Zanotti woman dresses as much for herself as for the onlooker. She is borrowing some of her glamour from the shoe she wears, but also adding her own aura to it.
Zanotti's vision of a woman – Creations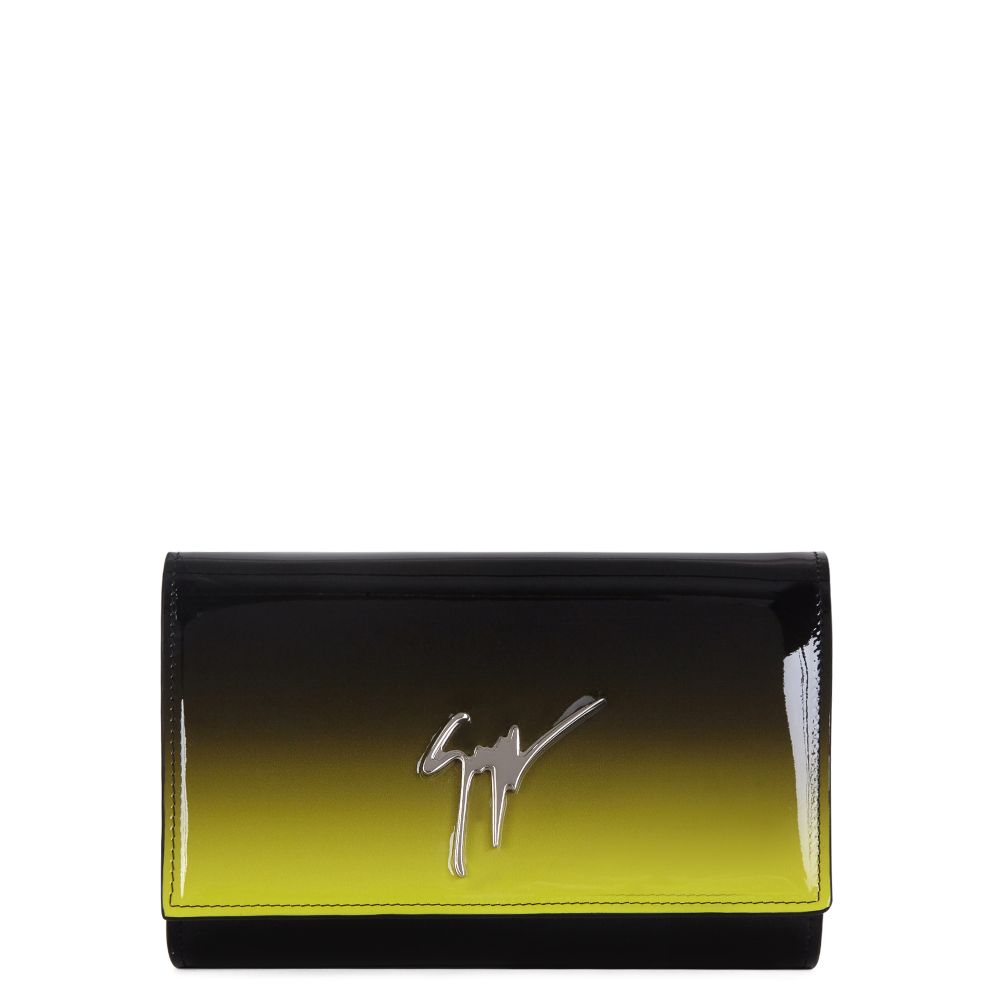 He said to Elle in March 2010: "Alla fine tra un reggiseno e Una Scarpa non 're molta differenza, dietro c'e' una donna che vuole sentirsi viva e' bella". "In the end, there is not much difference between a brassiere and a pair of shoes: behind both, there is a woman who wants to feel alive and beautiful. This is why most of Giuseppe Zanotti's design creations are sandals. He likes the look of a nude foot adorned with jewels.
Never venturing into eroticism, but still making shoes that are the ultimate image of sexiness, Giuseppe Zanotti design walks a fine line between fantasy, come-hither good looks, and an ability to give any outfit the right amount of zing. Most importantly, a pair of Zanotti's or one accessory can turn any down-to-earth woman into a diva, an achievement of which the fiesty Italian designer should be justly proud.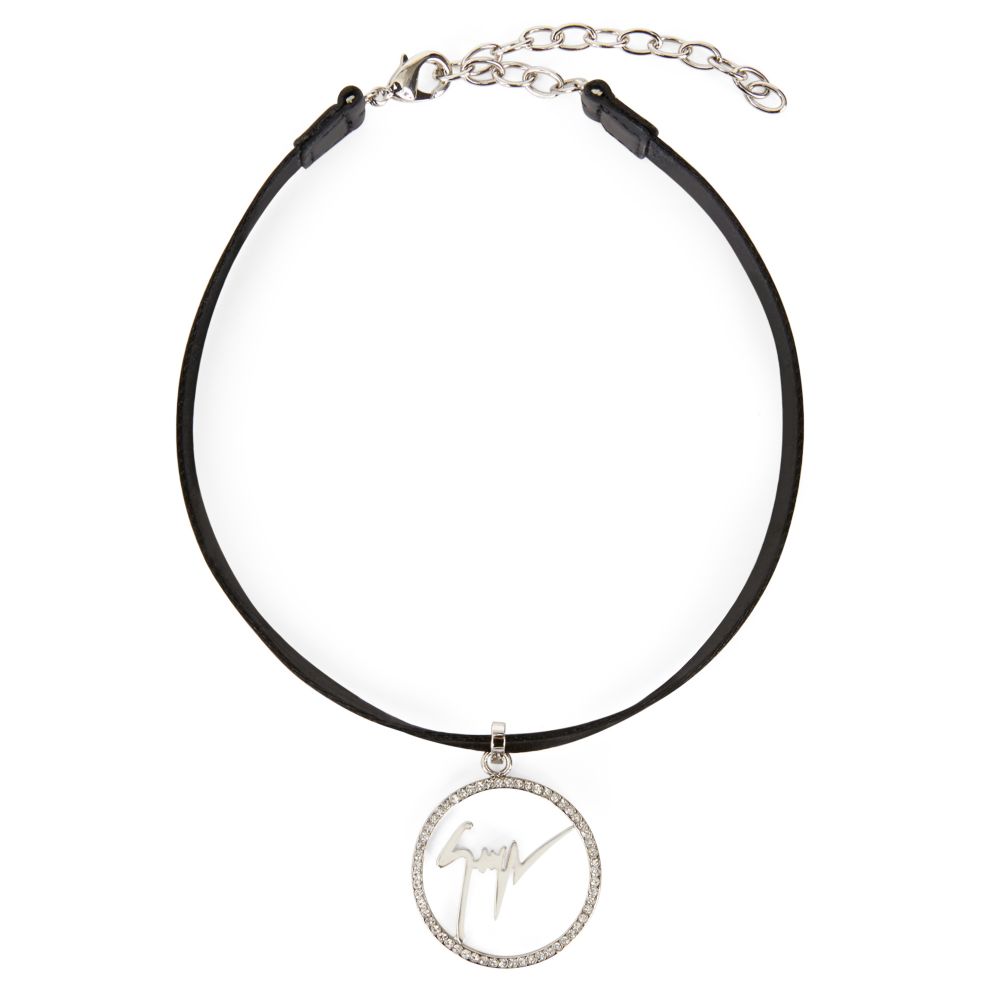 A glamorous career to follow – Latest news about the brand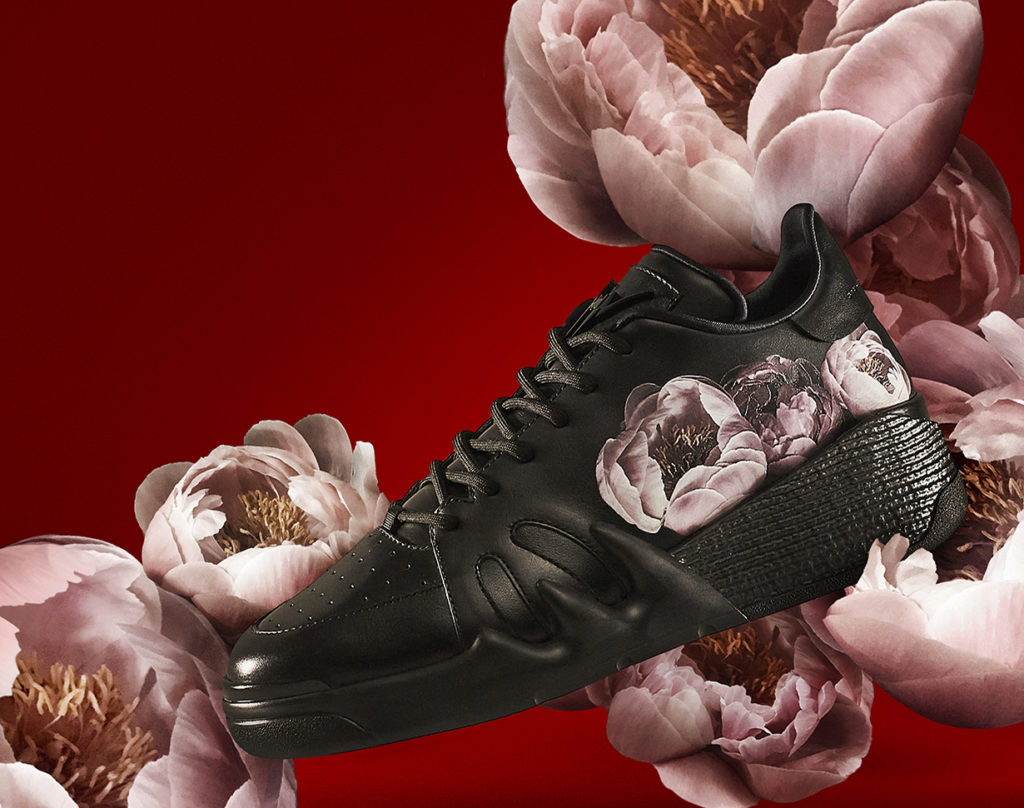 2021 is following Giuseppe Zanotti's innovative designs with symbolic imagery. His newest inspiration is the iconic peony flower. It's presented in the exclusive capsule collection featuring a selection of moccasins and sneakers, ballerina pumps, and biker boots, followed by leather accessories for men and a jewelry line for women.
This collection has been featured in January 2021, in all the Giuseppe Zanotti boutiques and also online. Through these new products, he wanted to symbolize well-being and prosperity.
Don't miss the main boutique in Milan – An innovative design, recognised internationally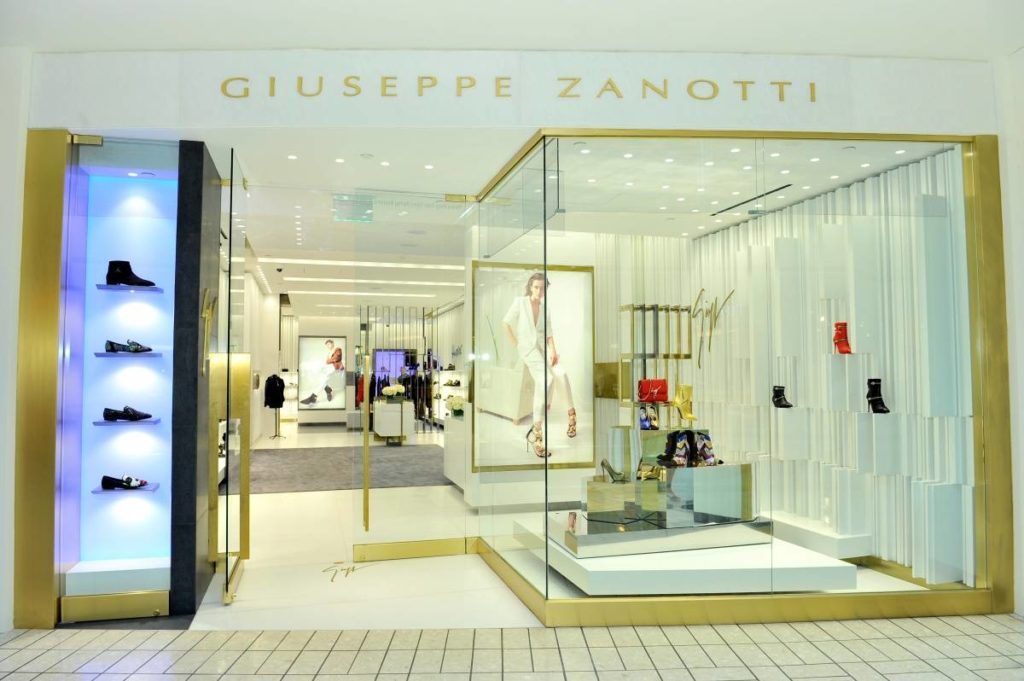 On your next trip to Italy, be sure to not miss the main Giuseppe Zanotti boutique in Milan. The designer has more than 12 boutiques opened in Italy and many more shops selling his designs around the country and internationally.
The boutique in Milan is named Giuseppe Zanotti Monte Uomo, open every day except Saturday from 10:15 to 19:00. It is situated at the address: Via Montenapoleone 22, Milano, Italia.
For further information, there are two phone numbers and an e-mail adress:
39 02 76316808 – +39 366 692 1098
By Damyanti Ghosh