There is already that nip in the air, and fall has set in. Before winter dons your world in a coat of white, you might as well hurry up and pick up your own coat for the season. Or, if you are like me, you would choose in plural: coats! Yes, I am a believer in glamorous coats that beat the brutal cold but still manage to make the wearer look hot. Protection from the weather does not necessarily mean saying goodbye to glamour, and in a season that doesn't offer any skin-baring options, well designed coats can do the trick. And should you take my word for it, some of the best coats styles in the world are set on Italian ramps.
One of the perennial coat styles that comes out with new variations each season is the military-inspired line: epaulets, high collars, natty belts, all the works and more. Something in the mind of fashion gurus likes to twist these war-like, usually male attire into wickedly alluring stuff for women.
I say more power to them, because it sure does make women look awesome. Check out some of the styles that went on the Italian ramps for this fall. The button-studded khaki French look from Dolce and Gabbana, and the belted beauty from the house of Fendi, that nips in the waist and lengthens the torso.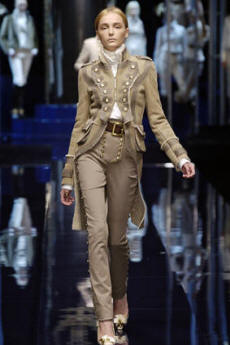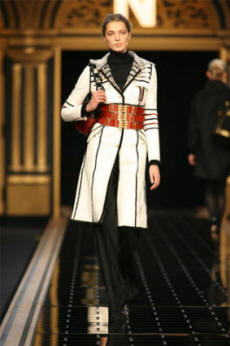 These jackets spell streamlined power, they seem to flash "Don't mess with me!" Jackets with some kind of military decoration, whether crest badges, or a double breasted cut, flap pockets, bold button fastenings, and of course badges, badges everywhere is the fashion statement of the season. You can tone it down to simple but striking decorations or go all out like the coat from Dolce and Gabbana. Try knee-length for the best effect. I might add that Gucci this season did absolutely inspired takes on the military jacket. I love the wealth of detailing on this good-for-all-occasions short black, with gorgeously done buttons, a clever interpretation of epaulets, fabulous pockets, and a back that strikes a nice casual contrast with the more formal front.
From military coats it makes natural sense to also look for some aviator chic, especially for those days you need to look casual yet smashing. Get into a bomber jacket this season and prepare to wow people around you.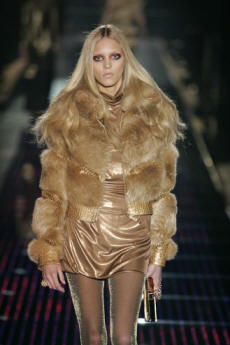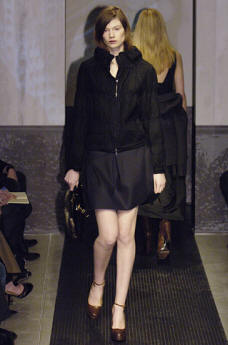 They are just right for the weather right now, when it isn't quite freezing yet and they will look great with sweaters underneath. Make sure you make size allowances for sweaters though. You could get a classic Prada like the black beauty you see above, with lovely zip and pocket details, definitely stylish. Gucci does very well with the beige faux fur creation, glamming up an otherwise straightforward silhouette.
Or, if you do not want to be set back by the amount it digs into your purse, go for something like the red Mossimo, full of details and usually available in a range of colors. These usually look great on less buxom people, with skinny thighs.
If you would rather show off your curves, you simply must consider this delicious red Prada, to give you that siren, prowling sculpted look which oozes good breeding at the same time. I am in awe of this one. Wear it on its own for maximum effect.
You can repeat the "on its own" effect with these Valentino Romas in red cashmere and black and white wool, which give you a cozy, warm hug in all the right places. You can be formaland cut a strikingly feminine bella figura in coats like these. These are best worn in lengths slightly below the knee, teamed up with straight skirts or trousers.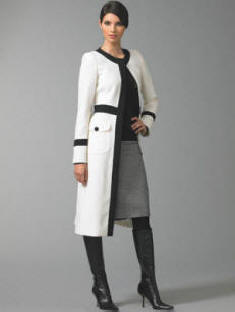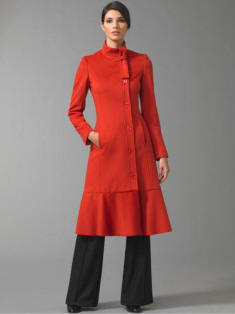 And of course there is always the seasonal staple, the trench coat, which has been in fashion for as long as I can remember. From practical rain wear to fashion statement, trench coats have come a long way. They cover up but do so with elegance or pizzazz depending on the color or styling you choose. Bright fall colors like the Forzieri on the right here can put a spring in your step even on a cold, gloomy day. Of course if you prefer the classical type, you could go for this smart, muted khaki number that would look gorgeous for a normal day at work or a day spent around the skating rink.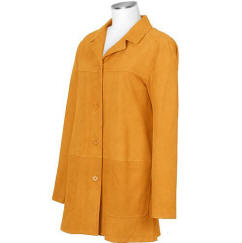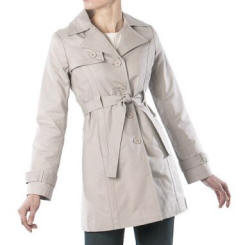 Any of these trench coats can carry you through the season, and to my mind it is important to invest in a very good piece. These will never go out of fashion, so it makes sense to invest generously in one. Check out Roberto Cavalli's interpretation of the trench: luscious printed velvet, fur and a stunning gold belt cinch, perfect for the diva in you, especially in case money is no object!
You could also go for a cropped trench version with big collars that are such a rage this season. Deceptively simple, they give you that no-nonsense air. But combine them with black leggings and they give you a hint of hidden mystery. Or wear it with a skirt that just peeps underneath for that uber-cool semi-casual look. Best in a shorter length, like the Fendis in sober beige, sumptuous black velvet and the kimono-sleeved black with the wide, nipping belt, these cropped trenches are the ultimate in smart, go-getting Italian outerwear this fall.
If you would like to read more, head onto the Winter Coats in Italy II, you won't be disappointed!
By Damyanti Ghosh
>
Ladies Winter Coats