As fashion is delving into the great gender blur, Miuccia Prada dived head down into a quest for lost femininity in her fall-winter 2015 collection debuted Thursday in Milan.
And while the deliberate erosion of a once rigid demarcation between men's and women's wear continues to dominate catwalks, Prada showcased pastel colors with a strong predominance of pink styled with ladylike gloves, dress coats, and empire-line dresses decorated with bows.
Prada's style – Pastel colors for feminity at the debut of 2015's collection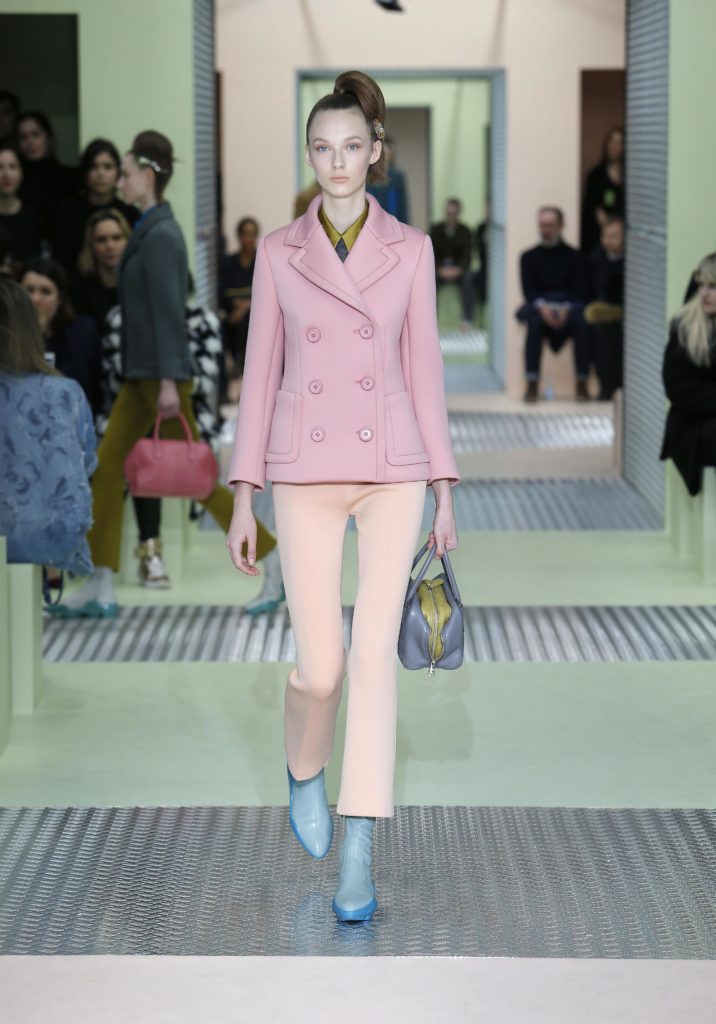 The coats, backless tops and gowns had a modern take on the 1960s silhouette.
There were also plenty of Prada quotes – the Mary Janes, the rubbery boots with contrasting soles and the daring colour combinations.
Suits with cropped pants and dainty jackets, fur stoles, brooches and hair clips in a flower motif as well as kitten heels completed the "variation on beauty" described in the show notes.
Such femininity at times bordered on the "surreal" – a "genetically modified" brand of beauty which was very much about women's fantasies as it was about their everyday life.
This ironic play on "real and fake" – on the "cliché of what women want" – was the storyline behind the Prada designer's unexpected U-turn into women's-only territory after a men's wear presentation last month which featured both male and female models in interchangeable looks.
Traditional aesthetic guidelines for January's debut of the collection – Unusual fabrics for a real-fake spectrum
January's debut was described as "the first part" of the fall-winter 2015 of Prada's show.
And the heightened femininity showcased on Thursday followed traditional aesthetic guidelines while playing with unusual fabrics to explore both ends of the real-fake spectrum.
Doubled-faced jerseys looked like neoprene, ostrich leather blended into printed fabric, making it impossible to discern which was which.
Tweeds were woven and patterned with a digital print of a molecule – adding a futuristic taste to the whole ensemble.
Meanwhile, a soundtrack from Walt Disney's Fantasia reminded viewers how artifice can lead to utter beauty – like Prada's 'pretend' coat without sleeves, the fake dress slips or fake bows, which were all optical illusions, much like the collection's classicism.
And while Prada toyed with womanliness, Karl Lagerfeld at Fendi moved away from the femininity of the house's spring offering with a streamlined, sophisticated assertiveness evoked through avant-garde Swiss artist Sophie Taeuber-Arp (1889-1943).
The hallmark of Taeuber-Arp's art was the superb simplicity of design most often attained through the use of pure geometrical forms.
Geometrical abstractions as Prada's inspirations
The artist's geometrical abstraction melded into the Fendi style through colour blocking and a play on geometry seen, among others, in the all-white dresses constructed with leather panels inspired by the Palazzo della Civiltà Italiana, the masterpiece of Fascist architecture that has just become Fendi's headquarters in Rome.
Panels fashioned the legs of models, their feet clad in fur wedge boots.
Statement coats were tied at the waist to provide high-impact A-line flare and were styled with fur clutches with bird-of-paradise flowers symbolizing the nobility of women, said Silvia Venturini Fendi, Lagerfeld's co-designer at the Roman luxury leather-goods company.
The image of sophisticated purity envisioned through Prada's Taeuber-Arp, whose abstracts were also used as prints in the collection, also turned into pants with mink hems, white shirts with leather, and fur waistcoats, pony-hair and sheepskin dresses.
The streamlined silhouettes of Prada clothes played for contrast with the oversized outerwear – the coats, furs and geometrically-printed down jackets – in the shades beloved by Taeuber-Arp, like burgundy and rust.
The collection's quality overview – Luxury style and unique aesthetic, season after season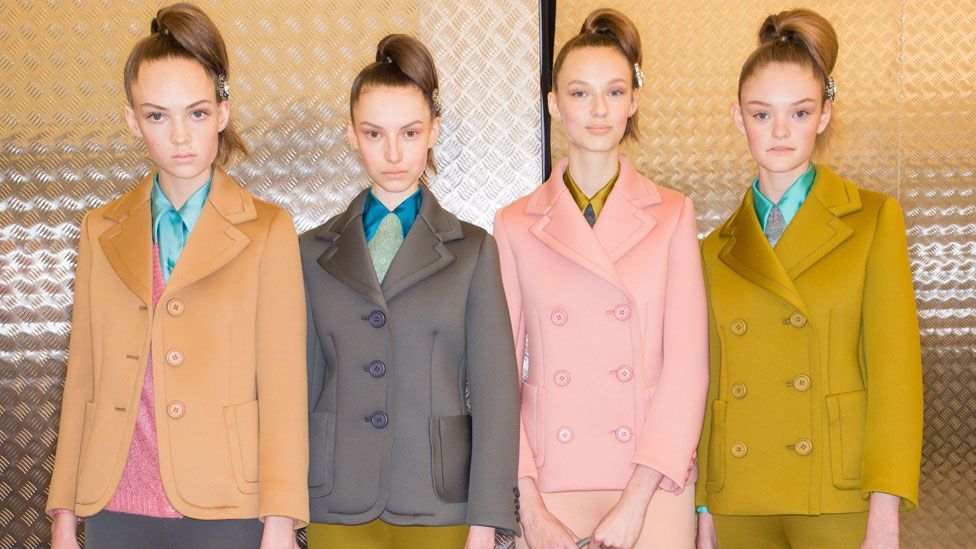 Overall, Prada's collection had a sharp deluxe quality that stood out on its own, a reminder of the unique aesthetic Fendi elaborates season after season – much like Taeuber-Arp's paintings, which are a testament to her art alone with little trace of artistic influences sweeping through Europe at the time.
Source: Ansa