Public transportation in Rome
In a city of the size and stature of Rome, one would expect a good public transportation system. Europe's other major capitals have set a high standard, offering a variety of extensive and efficient options. After all, petrol prices are far higher in Europe than in the US, so Europeans had to be more innovative with transportation options. Consider London or Barcelona, where the underground map is based on a design that once won a prize at the World's Fair, or the metro in Copenhagen, with its space-age, futuristic look and modern engineering (designed, by the way, by an Italian). Frankly, it's a continent that excels at moving people from one place to another. So what happened to Rome?
The fact is, it's easy to be spoiled by other cities. Both London and Paris, with their web-like maps and numerous lines, are places where you can leave your street guide at home, knowing you'll always find a metro stop nearby. But Rome only has three metro lines. Converging at the central train station, Termini, the lines A and B branch out in separate directions, neglecting much of the city along the way. If you need to get to anywhere near Termini, the metro has you covered, but consider that this is only a tiny part of Rome. Other important locations, for example Trastevere or Piazza Buenos Aires, are nowhere near a metro stop. Even Piazza Venezia, the bustling center of tourism and the legendary point to which all roads once led, has no stop of its own.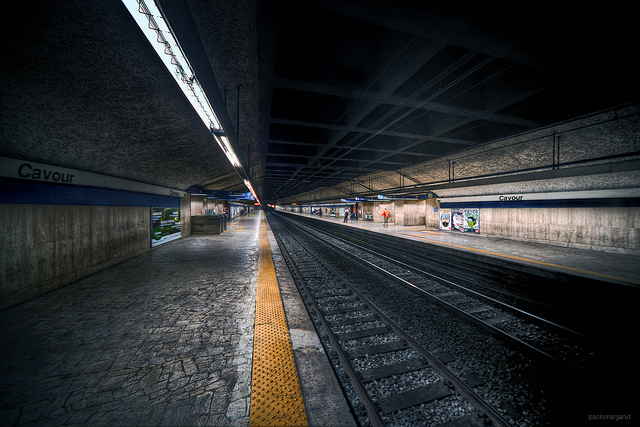 Of course, much has been made of the fact that constructing an extensive subway in Rome is more difficult than in other places. The city's rich history seems to prevent it from fully modernizing. It seem that every attempt at extending the underground is thwarted by the discovery of some archeological lost treasure. The wealth of history laying under the city is such, that it became almost impossible to dig, a situation unique in the world.
And as for stations themselves, most are old and congested, many in dire need of renovation. A bit of paint and new lighting could probably do wonders in cheering up these places. The same goes for the trains. A trip on a metro train during rush hour can be a truly claustrophobic experience. You find yourself swarmed by other passengers, pressed up against on every side with little or no private space. But I must admit I admire a culture that's so flexible with such things. When my nearby strangers get too close for comfort, I just put on my headphones and imagine that we're one big happy family.
And this brings me to my point. Like most things in Italy, the right attitude is essential. Inefficiencies exist everywhere: buses that arrive late, theatres that show the wrong movie or wrong subtitles, traffic that has no logic, etc. But the key is learning how to enjoy these things rather than letting them get to you. What Italy truly has a right to boast is a high standard of living, from a cultural standpoint. You put up with the metro, you find a random bus, you hop on the back of a motorbike, or you go a piedi because in the end, that somewhere you're going is usually worth the trip.
As for the metro itself, there are ways to cope and make the most of the experience. For one thing, try coordinating your travel times so that you avoid busy stations like Termini at peak rush hours, such as the early morning and late afternoon. At the busiest times, there's barely enough room to board the train, but at other times it's relatively peaceful and comfortable. Also, try taking advantage of the extensive bus system, which covers a variety of locations throughout Rome.
The three lines currently running underneath Rome are the Line A (orange), the Line B (blue) and the newly inaugurated Line C (green). 
Line B was the first to be created and joins the EUR area to Rebibbia. Since 2012, a branch heading to Conca d'Oro has opened (B1). This is particularly helpful if you need to reach Fiumicino airport.
Line A  cuts through the city from north west to south east, from the Boccea area and the Anagnina.
Line C has been inaugurated at the end of 2014 and is still in part under construction. It joins the extreme eastern suburbs of Rome to the temporary end-of-line stop of Parco di Centocelle. The line is not, at the moment, connected to the other two, which, on the other hand, meet at Termini station.
Rome by bus
The metro system in Rome may not be up to the level those in Paris, London or New York, but the city has a very good bus service, which is cheap and easy to use.
Using the bus to get around a city like Rome may seem daunting at the beginning, but it becomes quickly easy and simple. Here's a link to the PDF of all bus lines: it may be handy to print them and bring them with you if you are visiting! Rome also has tramways, whose lines are also available at the link provided.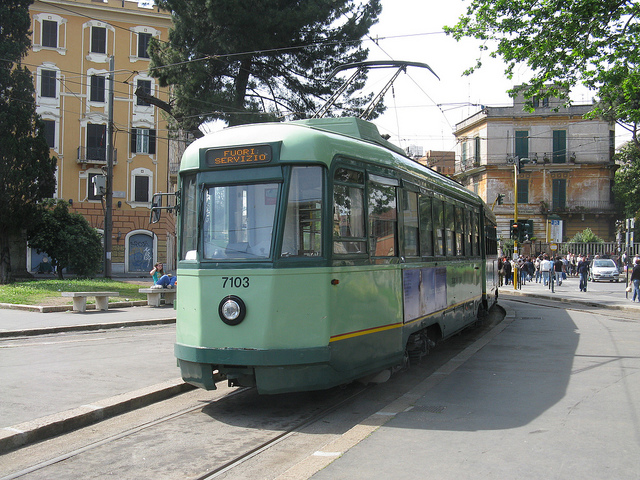 And remember one thing. Rome might be a big city but its people are fairly cheerful and relaxed. Whereas in Paris and London you might find a bunch of sad-looking, serious faces, you're bound to see some animated conversation and smiles aboard the metro in Rome. You can pass the time spying on your fellow passengers even if you can't understand a word of what they say.
See Also:
Tour Italy by train
Driving in Rome and Naples ( A funny article with Video )