Visit Romantic Italy for Weddings and Honeymoons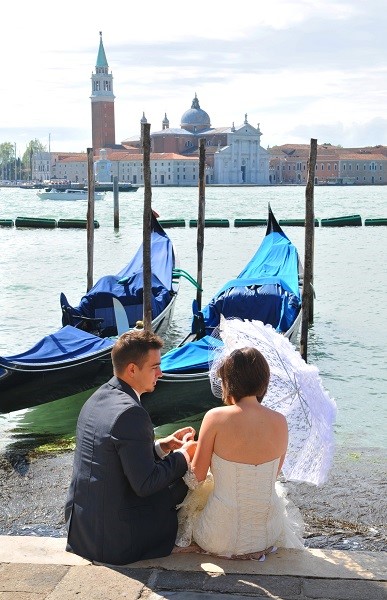 Italy is becoming more and more popular as wedding destination. In 2015, 7,000 foreign couples picked an Italian destination for their wedding, spending on average 54,000 euro.
As more couples seek interesting locations for their weddings, romantic Italy is attracting people for its beauty, ambience and fine wine and food. Italy is traditionally a land of love and romance and is a spot your invited wedding guests are sure to enjoy visiting. The people of Italy are friendly and welcoming, proud to sponsor weddings and honeymoons and to help start the new lives of couples in love.
Italy is one of the most beautiful countries in the world. The breathtaking sceneries offered in each and every region differ from area to area, but beauty is a constant everywhere. In addition, Italy is home of some of the greatest works of art ever created.
Where better to declare your love than surrounded by the beauty of Florence, Venice and Rome?
Lovely locations for weddings abound in Italy. Historic churches, town halls and other landmarks can be used to set your perfect day to exchange vows. Many of these impressive buildings have vaulted ceilings and elegantly painted frescoes, more stunning than any North American architecture. Or you could consider an open-air ceremony on the coast or in a vineyard-adjacent courtyard.
For those who prefer the hustle and bustle of a vibrant city, Rome offers all you can look for, including of course stunning churches.  The Italian countryside is filled with villas, gardens, medieval towers and chateaux that may be used for special events. The possibilities for amazing locations are endless.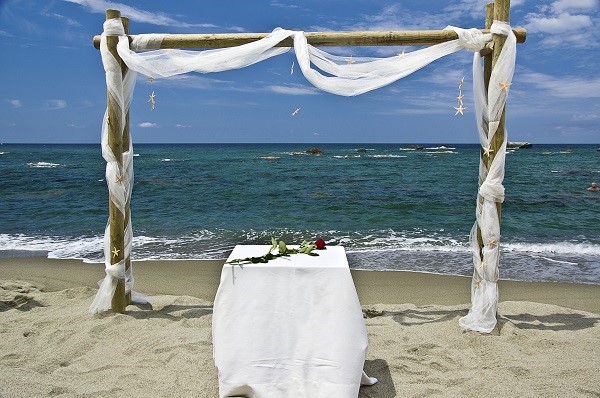 Whether you are planning a large reception or an intimate post-ceremony dinner, Italian restaurants are equipped to provide the most sumptuous food and drink imaginable. The many wine regions of Italy produce some of the most popular wines in the world and gourmet food is the norm. Renowned for their amazing wines and traditional cuisine,  both Tuscany and Umbria are attracting more and more tourists to their vineyards, while still retaining their quaint country feel. Wedding receptions can be successfully held nearly anywhere, from small family-run restaurants to elegant hotels. Look for a view that epitomizes the beauty of your relationship, with food that makes your mouth water to know you have found the perfect location for your wedding. While it is traditional in Italy to have a morning ceremony followed by a wedding breakfast, the romantics of this country can accommodate nearly any timetable. On your honeymoon, explore the different flavors Italy has to offer, being adventurous and enjoying the variety available.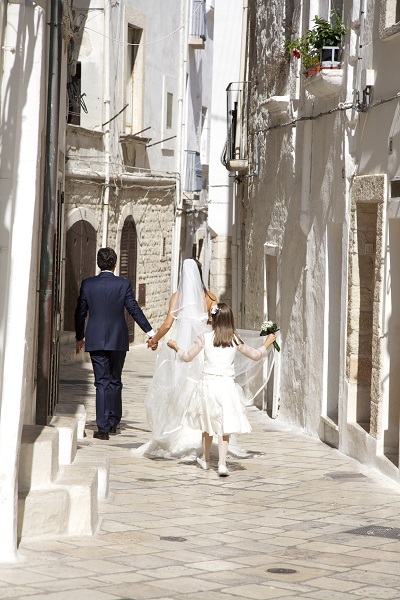 The climate of Italy is temperate and, especially in the Centre and the South, it remains mild for most of the year. In these areas, the weather can be warm and filled with sunshine for many months of the year. And even if you get a rainy day, don't despair: Italian tradition deems it lucky for a bride to have rain on her big day.
Travelling to Italy is pleasant in every month, but if you desire an open air wedding consider avoiding mid-winter. July and August can be very hot and humid, but are still popular travel months with many who are happy to lounge at beaches and sightsee at leisurely paces. See our weather section to see the average temperature in Italy.
For honeymooners and wedding guests, there are countless activities for entertainment in Italy. Not only are there traditional landmarks and museums, but the country offers opportunities for swimming and water sports, horseback riding, hiking, biking, tennis and golfing. The national parks of Italy offer havens for those wanting to commune with nature and some even provide campgrounds for those inclined to roughing it.
Snow bunnies may choose  the Winter  for their wedding in Italy, to take advantage of the many ski resorts this country's Alps have to offer. Those interested in geology will want to visit the volcanoes of Italy, including Europe's largest volcano Mount Etna in Sicily. The Tremiti islands offer opportunities for water buffs to snorkel, kayak and fish.
While here, you can also visit  of the many wineries for tasting and learning how your favorite vintages are made. For those really into wine, consider a tour that visits multiple wineries.
Gourmets can find cooking classes that will whet your taste for Italian cuisine. For fans of shopping, Italy offers fine leathers, jewelry, ceramics, glass and other collectibles. Of course, no trip to Venice is complete without the requisite gondola ride. Whatever you choose to do with your time in Italy, it is sure to be memorable as one of the most romantic trips you could ever imagine.