According to Italian tradition, when a man wanted to ask for a woman's hand in marriage either himself (or in some cases, his brother or another male relative) went to speak to the woman's father. Once the father said yes and both families were fine with the arrangement, presents were then exchanged. It was customary for the prospective groom (the pretendente) to place a diamond ring on his bride-to-be's finger before the engagement was announced.
In readying herself for the upcoming nuptials, the bride-to-be collected a trousseau (or hope chest, called la dote) of household items, clothing and sometimes even a few pieces of clothing belonging to her future husband. During the many wars fought in Italy, items in hope chests had to be carefully packed and then put away in excellent hiding places because it was feared the soldiers from the invading army would find their way into homes and steal everything inside. Besides the hope chest, her family often gifted her with a dowry of monetary value and in some cases domestic goods such as dishes and silverware.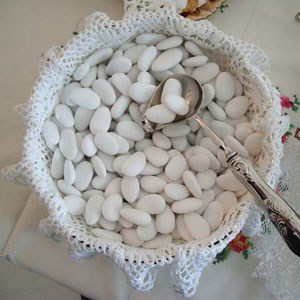 Italian weddings were always held in churches (sposarsi in chiesa) and certain traditions and folklore had to be abided by.
Marriage during the season of Lent was not allowed, nor was it during Advent. No wedding ceremonies were held in May because that month was set aside for the worship of the Virgin Mary. As well, marrying in the month of August was believed to invite bad luck and sickness. There was a practical reason for this also: many Italian citizens took their vacations in August and it was thought that there would be low attendance at weddings. All other months of the year were allowed for weddings. Most weddings were held on Sunday as it was considered the "luckiest day" for the bond of matrimony.
On the day of a traditional Catholic wedding, a large bowed ribbon was draped across the top of the doorway of the church indicating to everyone who passed by that a marriage was about to take place inside. In days past, an Italian bride did not wear a white dress but instead a dress in the color green (which symbolized fertility). Today most Italian women do opt for the color white to wear on their special day.
It is a must for guests to throw rice or paper confetti at the newlyweds as they exit the church. In Italy confetti represents good fortune and money and that is why the more that is thrown, the better it is for the couple. It is very common a pair of doves is released into the air after a wedding, symbolizing love and happiness. Nuts and grain are often thrown as are candy-covered almonds tied in mesh bags. This tradition is supposed to encourage conception.
On his wedding day a groom carried a piece of iron in his pocket, which was supposed to "ward off the evil eye" for fear that envy, and jealous feelings might destroy his happiness. Tearing a bride's wedding veil was believed to be a sign of good luck. At the conclusion of many Italian weddings the newlyweds shattered a wine glass or vase. Afterwards the broken pieces were counted. This represented the anticipated number of years the couple was expected to be happily married.
What would an Italian wedding be without food and fun? Italian wedding receptions today are lavish, full of energy and place a tremendous emphasis on food and drink.
To kick off a wedding reception, the bridal party is kept apart from the rest of the guests for approximately an hour and served cocktails during this time. After cocktail hour is over, guests gather in the main dining area while the bridal party enters the room. A pathway is formed by the guests in order for the bride and groom to walk through, but not before being acknowledged as a newlywed couple.
Energy is already buzzing around the room as the couple dances their first dance, followed by the members of the bridal party and finally, the guests. Italian weddings are very well choreographed.
After a few dances everyone takes their seats and then speeches (given by family and friends) begin. The new couple is treated to more than their fair share of champagne toasts throughout the speeches. And there is plenty of food and drink for the celebration. Before any food is served, women are treated to sweet liquors and men to stronger drinks.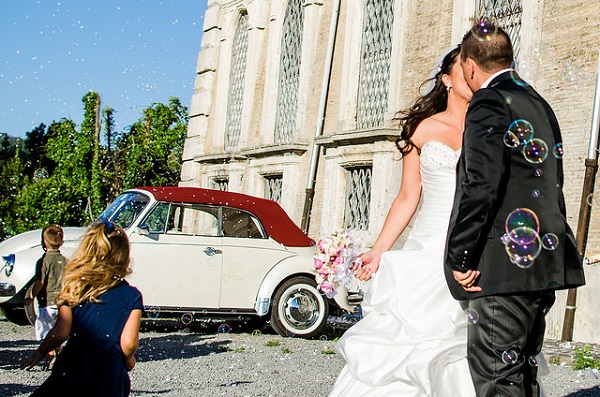 Generally the first thing served is antipasto and it includes such delicacies as stuffed mushrooms, olives, salami, pickled peppers, calamari and prosciutto. Italian receptions include many different courses, sometimes as many as 12-14. There are sufficient amounts of pasta, salads, wedding soup, meats, and fruits for everyone. No one goes home hungry after an Italian wedding reception.  In fact it's generally the opposite: most people feel as if they might burst upon leaving. Wine is available at dinner and so are a variety of other beverages. Symbolic foods that are a part of every Italian wedding celebration because they bring good tidings include twists of fried dough, powdered with sugar called bow ties (wanda) and Italian wedding candy.
The dessert course includes an array of decadent delights such as pastries, cakes, fruits and as much coffee as a person can drink. Of course there is also wedding cake to enjoy. A Viennese Table is often presented in Sicilian customs to usher in the dessert course, filled with mouth-watering treats. There is a special name for this- Vienna Hour.
Spoken at every wedding after many glasses of wine are the words: "Evviva gli sposi", which translated to English means "hurray for the newlyweds." The words always bring about applause, enthusiasm and much excitement and can be heard many times throughout the wedding reception.
By Anika Logan