Organizing a wedding can be a major headache. In Italy – as anywhere else in the world, really – it is still a bride's task, with the convenient help of family and friends, who usually give a hand and provide much needed support.
It is true, however, that the past bunch of years have seen more and more people choosing the help of professionals to make sure their Big Day is not only beautiful, but also trouble-free. The trend has reached Italy later than the US, but today it has become popular, to the point we even have tv shows dedicated to it!
Information on wedding planners is plenty on the web and it is easy enough to find, however, it is hard to get something really valuable, or so I noticed while researching for this article. Wedding planning or generical girly-things forums can be handy, especially because you may come across names and open and honest opinions about specific companies. However, as per anything of that kind, you should really take what forum users say with a pinch of salt, and mainly use these platforms to get an idea on the topic only.
Wedding planners' websites are, of course, a great source: many of them propose, beside their own services, also useful pages of hints and general advice, which we have tried to sum up here for you.
Let us begin.
Wedding coordinators: yes or no?
All in all, if you are coming to Italy to marry, it may be really a good idea to choose someone to help you locally.
First of all, the language barrier: unless you are fluent in Italian, it may be handy to have someone who speaks the language taking care of all the details. Your wedding planner will speak English, but the people at the restaurant/ town hall/ parish offices may not and this could create doubts and extra stress. A wedding coordinator based in Italy or specialized in Italian weddings will also be familiar with all the legal and beaurocratic requirements of both civil  and Catholic weddings, and would make sure all documentation is in order prior to your trip.
On top of that, wedding planners just know how to organize a wedding: this is something most couples do once (ok… or twice) in their lifetime, but a professional wedding planner does that day in-day out and many of them have been doing it for years. They also know better than most of us locations, restaurants, entertainers and are aware of how much they cost, a fact which cuts incredibly the amount of time needed to find the right ones for our budget.
But how much does a wedding planner costs?
Budget and organization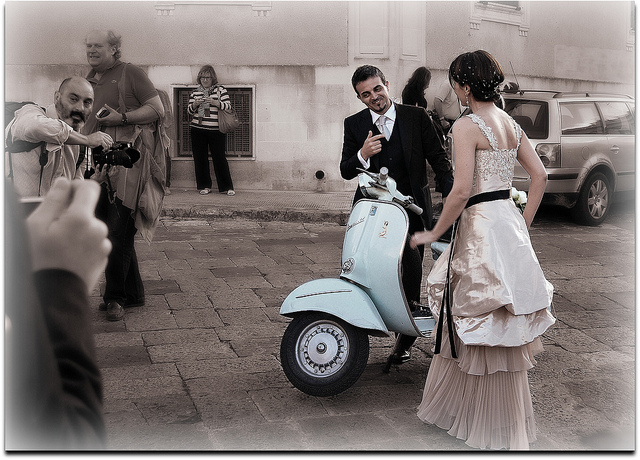 What about prices?
Well, most wedding planners are happy to help couples achieve their dream wedding on the budget available, but this does not mean careful planification should not take place: there are a series of fixed expenditures, related to locations, documents and so on, which cannot be avoided and a good wedding planner will certainly start by letting you know about these.
Fixed Prices
For instance, you must take into account that both Church and a civil weddings involve service fees. In Rome, the diocese has fixed the price for a Church service (which include all the documentation the parish office needs to prepare) to 270 euro (about 285 USD, as of mid April 2015). However, the norm in the majority of the country calls for a free offer to the parish, rather than a fixed fee: Rome is popular for weddings, and stricter regulations may have been needed! FYI, this is valid also for Italian citizens.
Civil weddings can be more costly, depending on where you decide to celebrate them. Prices are decided by each and every Town Hall, hence a pre-nunptial enquiry is fundamental to avoid bitter surprises later on. Of course, the larger – and more touristy – the city, the higher prices are bound to be.
Just to give you an idea: the Sala Rossa at the Campidoglio in Rome can be booked for a fee between 1200 and 1400 euro (1270 and 1480 USD, roughly). The deconsacrated church of Santa Maria in Tempulo (Caracalla) goes for the same price. Prices in Florence and  most of the larger Tuscan cities are very much the same (with peaks of 5000 euro/5300 USD for the Salone dei Cinquecento in Palazzo Vecchio), yet they tend to lower considerably if you decide to get hitched in the countryside, or choose less popular – yet just as charming – places. Fees for historical halls in Tivoli,  a beautiful historical town at about 40 miles from Rome, known especially for its relevance at the times of Ancient Rome,  or Gubbio, in Umbria, would set you back of just about 300 euro (320 USD).
Unless you are fluent in Italian, you may also like to hire and interpreter for the ceremony, which would cost around 200 euro (212 USD).
Budgeting
Wedding coordinators work in two different ways: some of them offer packages, which you can modify to your own taste to a certain extent, others prefer to tailor the ceremony upon your own budget. Those providing packages usually have a selection of choices, which should pretty much suit all type of pockets, however, a custom-made affair based on how much cash you are willing to pay for the big day, seems to be a better option.
Either way, communication remains essential: the wedding coordinator's work is to understand your wishes and work to realize them, on the amount of money you have. S/he is also essential to tweak things here and there to make them achievable, especially from a financial point of view. In this day and age, less and less people have big bucks to spend, so getting good value and quality for your money is essential.
​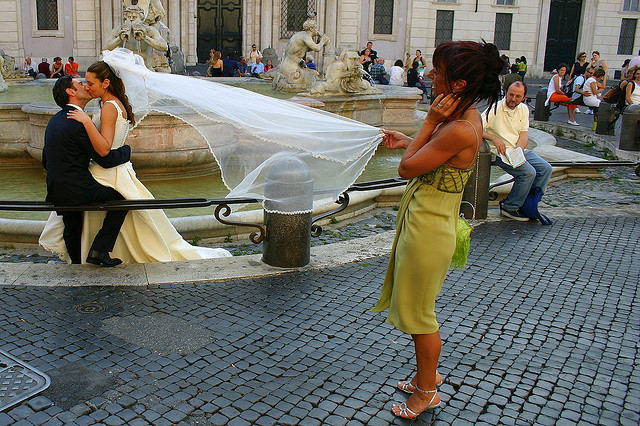 Wedding coordinators fees
If the amount you budgeted for your big day depends entirely on you, you must not forget the wedding planner has to be part of that budget, too. 
Wedding coordinators usually receive their income in three different ways: entirely from the client in the form of a flat fee or percentage on the wedding cost, in part from the client and in part from their suppliers and associates (wedding planners usually have special working contracts with several locations, hotels, restaurants, supply stores and so on, to which they bring business. In exchange, each of these entities pays a dividend to the wedding planner her/himself), or entirely from their suppliers and associates. 
Truth is that even the fee you are required to pay differs often on the type of service you want and many wedding planners will make this clear: basically, if you just want someone to look for the cheap and cheerful stuff instead of you because you cannot be bothered to do it yourself, you may have to pay less than if you expect a professional to craft the perfect ceremony, carefully selecting what is better for your own style and ideas.
A cheaper wedding, though, does not necessarily mean a less carefully planned one. More on this in a little while.
Wedding coordinators services: what is the right one for your plans?
One thing must be said, it is  pretty hard to come across official quotes online. Wedding coordinators prefer to chat face to face with their clients about pricing, also because a lot may depend on the type of wedding and service you wish to have.
This is very understandable: planning an event, as all type of services, is difficult to price without knowing specific details. Providing "average" fees may be, then, misleading.
While researching for this article, I was at first baffled at the lack of pricing disclosures on wedding planners' webpages, but the more I read about it, the more I understood the reason behind was valid, so do not feel discouraged and, quite simply, ask for a quotation: considering a planner will take care of the organization of the ceremony for you, a bit of leg work to compare prices to hire the right one is nothing, when compared to what you should go through if you decided to do it all by yourself.
If pricing is not fully disclosed online, the variety and differences between services provided are well listed and explained. This factor is handy, because you may at least get an idea about the type of service you would like to receive, then discuss the details face to face.
The basic service provided by most wedding planners is consultation. A consultation is perfect when you want to organize the wedding yourself, but you would like some professional guidance to start up the process. It is usually paid per hour, but you can request a consultation at any stage of the organization and be followed this way.
Some brides only want a hand for the final rush to the ceremony they organized by themselves and, in particular, they want someone making sure everything runs smoothly on the day of the wedding. This type of supervision is called day of coordination, even though the wedding coordinator starts working on it about 10 days before the ceremony. Once again, prices vary from professional to professional and an email or a phone call is the best way to find out more about it.
Then, there is the wedding coordinating full monty: the full wedding planning, where the bride relies entirely on a wedding planner and his or her team to deal with the whole organization of the event. O course, the bride is still very much involved in the process, as she is the one dictating the standard, budget, aesthetics and ideas the wedding planner will elaborate upon.
Recent data collected by the Association of Bridal Consultants  showed the average national US price for a planned wedding is of about 3500 USD. Just to give you a rough idea, US prices (for weddings in the US) runs as follow: one hour consultation runs between 50 and 150 USD, depending on the area and how established the company is; a day of coordination can be, once again depending on area and company, between 700 and 1800 USD. A full planning, once again, in the US and depending on the area and experience of the professional, could go for anywhere in between 3000 and 5000 USD if the client is also involved in the organization, but rises considerably if the  bride sort of washes her hands of it and only wants to worry about the walking-down-the-aisle part.
If your wedding is organized in Italy, you want to make sure the agency of your choice is specialized in dealing with organizing weddings for foreign nationals, especially because of the different bureaucratical requirements involved. As mentioned, coming across overseas wedding planning pricelists is not simple, but one well established agency based in Rome offers a pretty comprehensive service including – among others – all documents, bookings, catering, music, photos, flower arrangements, a lady receptionist at the dinner venue and full assistance of a professional wedding coordinator throughout, for about 8000 euro (8500 USD). This estimate is based on a wedding of 40 guests, in Rome. Of course, prices are bound to rise if you have more guests.
Can you save on your wedding?
The same company offers extremely useful hints on how to lower the price of your wedding: for instance, they suggest to look into finding people to take care of make up and hair among your wedding party, which does not only make it cheaper, but can also provide a lovely occasion for a bunch of friends to spend quality time together.
In fact, I can endorse this choice: a couple of years ago, I was a bridesmaid for a very good American friend of mine, who organized the wedding all by herself. As we were all pretty good at make up and her cousin was a hairdresser, we decided to take care of that ourselves. I was in Ireland, the bride in Germany and the other bridesmaids in the US, but we managed to keep in touch and choose styles and products via a private facebook page created by the bride. The bridal party managed to meet in the US to go shop for the wedding dress, too.
The ceremony ( a small gathering of about 40 people) was set to take place on the Aran Islands, so we all stayed in a hotel (very much as it would happen to you and your wedding party if you decide to come get married in Italy!) and, two nights before the wedding day, we all met in the bride's bedroom, ordered a bottle of champagne and practiced with hair and make up: it was fun, cheap and we all looked beautiful on the big day.
You could also lower the costs of your wedding by choosing the countryside, or a smaller seaside location, instead of buzzy, popular cities. By avoiding peak tourist season you could save on accomodation and catering (and flights!), but still celebrate a beautiful early Spring wedding in March or April, or a charming Winter princess one in December.
Only use seasonal flowers, so you could go local and save on that: if you get married in November or December, you could use ponsettias, which not only come in red, but also in white and several shades of pink, and in several sizes. They are stunningly beautiful.
Do not forget  that wedding planners always have agreements with specific locations, hotels or restaurants (usually top notch establishments), which means you may get very good deals and ultimately save in the range of thousands: this is certainly something brides should not overlook.
The point is that a good wedding planner will be able to suggest the way to go, depending on your budget and your desires. From what I gathered surfing the net in search of some bits about the business, wedding coordinators  do understand the necessities of all types of brides, especially today, when money is no longer as plentiful as it used to be, so do not feel ashamed to say you want to do it on the cheap: gone seem to be the times when only the wealthy would hire someone to plan their wedding and there is nothing bad in trying to have a beautiful ceremony without breaking the bank.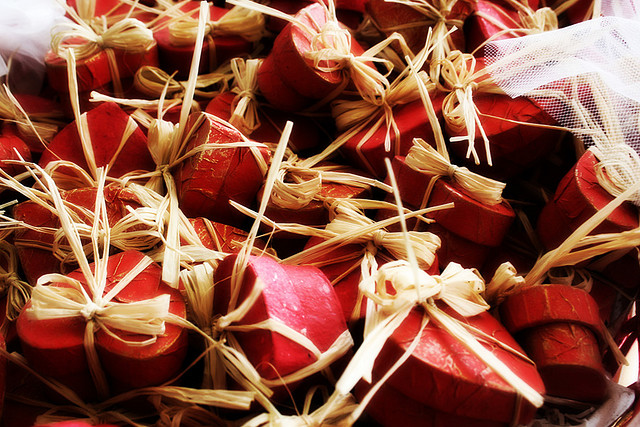 To conclude: should you go for a wedding planner for your Italian wedding?
I am going to be honest, if I had to plan a wedding in my own country, I would probably do it the old fashioned way and organize it myself, with the help of family and friends. This, of course, if I had to prepare a small, simple wedding, but I could consider professional help if the ceremony were for many people.
However, if I chose to marry in a foreign country, I may as well ask for a pro to help.
First of all, as already said, to avoid the language barrier which could complicate and lengthen things considerably. Then because a local, or someone familiar with the area, would be able to pick the right location far more easily than I would do only by looking at places online. A wedding planner would also know exactly how to turn into actual  the ideas in my head and possibly more effectively than I would. They would know local suppliers, stores, brands and be far more capable to select the right materials, ingredients, services than I would from my armchair 1000 miles away.
Hiring a wedding coordinator would certainly help lower the amount of stress related to organizing such a ceremony: I am not married, but I have been through enough friends' weddings to know even the most stoic of brides falters under the pressure of wedding planning. And what to say about the time? If you have a demanding job, when on earth are you going to find the time to deal with all that? All in all, leaving it to a pro may just be the right idea!