Every year, the famous culinary magazine-website-publishing house Il Gambero Rosso publishes a series of "best of restaurants": from best eateries in each of the main cities in Italy, to the top ten of, say, cheap-and-cheerful cafés, Il Gambero Rosso provides a pretty complete overall guide to the best places to eat in the country.
Of course – and it wouldn't be normal if it weren't so – critics' choices are often, well, criticized. Up to you to check them out and see what you think. We at lifeinitaly have decided to propose a top ten of the best restaurants in our breathtaking capital, Rome, as chosen by Romans.
Give it a go next time you are around and let us know if you agreed with us. If you have already been… do you agree with our choices?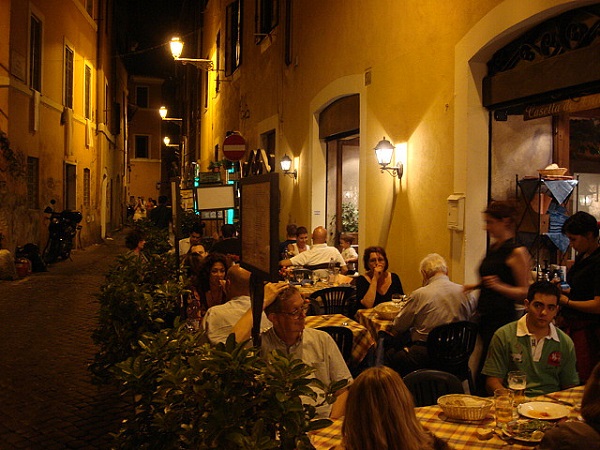 BEST BARGAIN RESTAURANT: OSTERIA DI MONTEVERDE
Located in the area of Monteverde Nuovo, out of the tourist areas and in a completely unexpected place, but don't judge the book from the cover. I've just eaten there (Oct. 2014), fantastic food and service for the price. If you have the time, go for their 8 course dinner which ranges from raw sea food to cooked fish, from meat to offal and much more. Also expect a great dessert. House wine was drinkable but not at the level of the food so I would choose an upgrade for the wine. They also offer a 6 course lunch choice.
Open from 13.00 – 15.00 / 20.00 – 23.30 (Monday open only in the evening)
Address: Via Pietro Cartoni, 163 Roma
Booking +39 06 53273887
BEST FASHIONABLE/TRENDY RESTAURANTS: MET
Located in the area of Ponte Milvio (Milvian Bridge), MET is a crossroad of styles and trends and a hotspot for the trendsetters and jet set of Rome. MET alternates three colors, white, black and dark tones of brown  for its tables, with a minimalist design philosophy. The menu at MET deliberately offers a wide range of choice to meet the different tastes of its trendy clientele.
The Ponte Milvio itself has become a meeting point for young lovers thanks to the phenomenon of the "Love Locks". Couples lock a padlock on the streetlights of Ponte Milvio and throw the keys into the river below, thereby making an unbreakable bond of love. Today, this habit, also popular in other locations such as Venice and Milan, can cost you a pretty hefty fine, so think twice before going ahead and do it.
Open everyday from 12-15 and 20-24.
Address: Piazzale di Ponte Milvio 34
Booking +39 06 33221237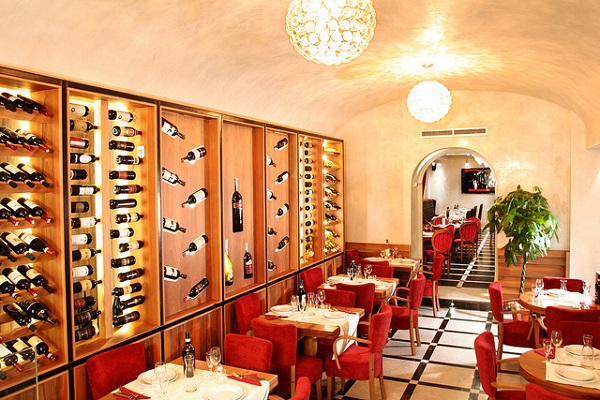 BEST CLASSIC ROMAN/HISTORICAL RESTAURANT: ANTICA PESA
In the 17th century, the customs office of the Papal State was located on Via Garibaldi in Trastevere. The office received taxes for grain, and the customs officer decided to establish an old-time snack bar, which would provide bread and wine for the many peasants who came to the office.
The curious name Antica Pesa was given at the end of the 19th century, when its original function of a customs office was superseded by its present life as an inn. Very soon, the inn became famous throughout Rome, thanks to a wonderful bowling alley where the best players of Trastevere challenged each other. Today, one century later, the bowling alley has been transformed into a splendid garden where summer evenings are spent.
Open from 8.00 pm to 11.30 pm
Closed on Sunday
Address: via Garibaldi, 18 Roma – Trastevere
Booking +39 06 5809236 / [email protected]
BEST TRATTORIA: MACCHERONI
Trattoria Maccheroni is conveniently located near the Pantheon and Piazza Navona, in Piazza delle Coppelle. Its characteristic location goes hand in hand with the traditional type of cuisine it proposes: think of all the best Roman traditional dishes, and some other regional delicacies, too.
Lunch: 1.00 pm – 3:00 pm
Dinner: 7.30 pm – 12.00 am
Open every day
Address: Piazza delle Coppelle, 44
Booking +39 06 68307895
BEST ENOTECA: ROSCIOLI
Not far from the noisy, vibrant and colorful Via Arenula, Roscioli is located in one of the most beautiful areas of Rome. Fresh bread, tasteful specialties and delicious wines are served every day in accordance with the best Roman traditions.
BEST ROMAN PIZZA: MONTECARLO
An offshoot of Pizzeria da Baffetto, Montecarlo holds its own. Located near Piazza Navona, it offers great pizzas and great wines in a fun, noisy atmosphere. A favorite of locals and tourists alike. Montecarlo is a special little place full of Roman spirit, poetry and theatre.
Open every day
Address: Vicolo Savelli, 13
Booking +39 06 6861877

Roman specialty food! Bucatini at trattoria Bucatino.
 BEST SEAFOOD RESTAURANT: QUINZI & GABRIELI
Quinzi e Gabrieli is situated on a small street near the Pantheon, in the heart of Rome. Located in an antique, 16th Century building, Quinzi & Gabrieli has three rooms with vaulted ceilings, an open front kitchen, and a charming terrace looking out onto a characteristic Roman square. In this famous restaurant, all food is cooked in the open kitchens in front of the clients – straight from the fish tanks to the Chef's pots. The philosophy is, and has always been, the enhancement of local Italian products and the excellent fish from our seas. The chefs use few but high quality ingredients, which helps to really showcase the flavor of the seas.
Open from 19 pm – 12 am,  Tuesday to Sunday
Closed  Monday
Address: Via delle Coppelle 5
Booking +39 06 68 79 389
BEST LUNCH RESTAURANT: PIERLUIGI
Pierluigi's restaurant is situated in one of the most pleasant squares of Rome close to Palazzo Ricci,  famous for its splendid sixteenth century frescoes. Diners can choose between the fresh air and tranquillity of its outside tables, or the air-conditioning and pleasant surroundings of the interior dining rooms. The restaurant is proud of its modern kitchens, which ensure the highest standards of efficiency while offering tasty dishes that unite creativity and tradition.
Open from 12:00 pm – 12:00 am
Closed on Monday
Address: Piazza de' Ricci 144
Booking +39 06 68 61 302
BEST GOURMET RESTAURANT: LA PERGOLA
Situated at the Rome Cavalieri Hilton Roof Garden, La Pergola is a three-Michelin-star restaurant. Heinz Beck, Executive Chef since 1994, is the culinary genius behind one of the best restaurants in Italy with an international clientele that keeps coming back. It is known for its elegant cocktail bar that boasts an unparalleled panorama of the Eternal City with St. Peter's dome prominently in view. The frescoed ceiling and warm cherry wood interiors combined with the excellent setting create a magical atmosphere for the finest dining experience in Rome. La Pergola offers alfresco dining on its adjacent terrace during the summer.
Address: Via A. Cadlolo, 101
Booking: +39 06 3509 2152
If, after having eaten Italian for most of your holiday, you'd like a change, here's our suggestion, a great little place in the heart of Trastevere:
BEST NON-ITALIAN CUISINE : JAPANESE/FUSION: SOMO
A marriage of class, design, curiosity, modernity and fully integrated technology, SOMO is a surprising restaurant that takes its diners on a virtual journey to the Orient. Lighting by Avveniristiche Technologies gives the right tone to the sophisticated Japanese-style interior design immersed in the historic setting of Trastevere in the heart of Rome. SOMO's atmosphere gives birth to a sensational meeting point dedicated to the most demanding Italian public and international clientele.
The result is that SOMO is a perfect mix between contemporary design and taste between the East and Europe.
Open from 8 pm – 12 am everyday
Address: via Goffredo Mameli n. 5 – Trastevere
Booking: + 39 06 5882060
Be sure to view this article on Classic Roman Cuisine. If you're looking for fun place with live music, roman cuisine, and lovely interior design, make sure you visit Jazz Cafe too! See more restaurants in Rome Italy!