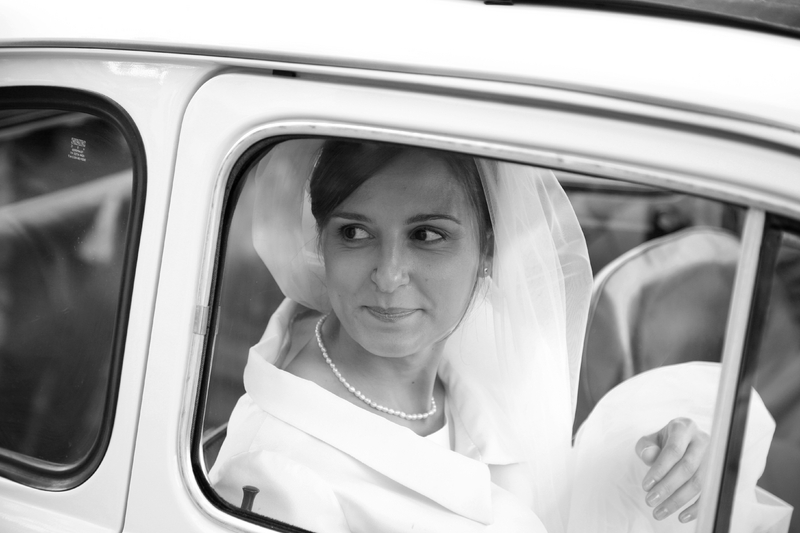 Lights reflecting off of Lake Como at dusk. Gondoliers serenading couples in Venice. Walking hand-in-hand along winding Sorrento streets. Kissing atop the Spanish Steps. Lazy days spent on pristine Sardinian beaches. What could be more romantic than Italy? Is there a more perfect way to proclaim your love to the world than by saying your "I dos" in the most magical country in the world?
These days, destination weddings are all the rage. Couples determined to keep guests lists short, costs down, and the work minimal are all turing to destination weddings as a viable alternative to more traditional at-home weddings. If you have decided on a destination wedding yourself stop for a moment to consider Italy as an option. If you have already decided that Italy is for you then read on to ensure you have everything you need to make it legal in Italia.
Getting Married in Italy
Italy, with its rich history and beautiful architecture, offers up a limitless supply of wedding location options. Couples can get married in a church, villa, an old castle, in a typical traditional mansion or on the beach, if they prefer. Those looking to go the destination route will also be happy to know that it's easier to get married in Italy than most other European countries. The legal documents required are very basic and couples can get married in a short time without any delays to worry about.
Deciding on a Wedding Ceremony
If you've decided on Italy as the spot where you'll marry, you next have to decide what kind of ceremony you'd like. In Italy the majority of weddings are Catholic,  but Protestant  and Jewish ceremonies are also, of course, available, as the country presents different religious realities. Civil ceremonies are also common, especially for those who have been married already, or do not feel to go through a religious ceremony.
The papers required depend on the type of ceremony chosen. Legally, Italy only recognizes Catholic and Civil marriages. A Catholic wedding implies validity also for the State, but not viceversa (a civil wedding is valid only for the State, but not for the Church). Other religious marriages are not considered legal  by Italian law, hence you'd have to sit a civil ceremony along with the religious.
Civil Ceremonies in Italy
Civil ceremonies are popular in Italy because they are fast, simple and legal. A City Hall wedding doesn't sound very special to you? Don't forget you'll be in Italy, where most Town Halls are located in ancient palaces richly decorated with paintings and frescoes.
In order to be eligible for a civil ceremony a couple would have to present a declaration to the Town Hall of the location where they wish to wed one or two days before the wedding. However, it is best to do this well in advance to avoid any type of delay. Also, keep in mind rules change slightly from region to region, so you may want to some proper research into it before going ahead. Usually, a wedding planner or agency will handle this type of paperwork, so that the couple would only have to bring their passports to the Town Hall.
If not using a wedding professional,  the couple would have to prepare all their documents in their country of origin and bring them along with their passports to the Town Hall. The declaration is made by the marriage registrar in Italian, which is then translated by the interpreter in English. Usually a civil ceremony lasts 30 to 45 minutes. Once all documents are verified and the marriage certificate is filled out and signed, the wedding is over and the couple is legally wed.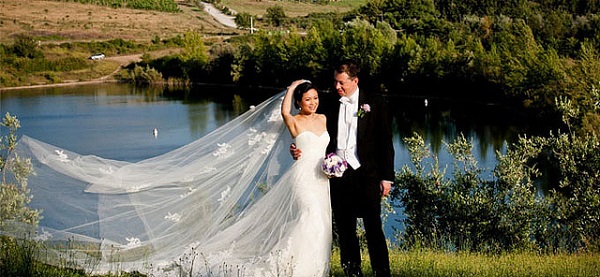 Catholic Ceremonies in Italy
Getting married in a Catholic church in Italy while living elsewhere is a bit more complicated than arranging a civil service. The initiation of the process and the preliminary work would have to be done by the parish of the bride and groom in their home country. The process should be started at least six to eight months prior to the wedding date.
The same documents required to wed in a Catholic church in North America are needed an Italy including baptisms certificates issued within six months of the wedding date, confirmation certificates, and acknowledgement of pre-nuptial  class attendance. If either the bride or groom is not a Catholic, an application for a mixed marriage would also have to be submitted. For foreigners a pre-nuptial inquiry is also required.
The bride and groom will also have to obtain the permission of their parish to get married in another church, which needs to be signed by their diocese. These documents are valid six months from the date of issue and must be sent to the wedding location within two months of the wedding date for vetting. A reading of the banns is also required with your local parish.
Wedding Planners
Some might think that wedding planners are not a necessary expense, which may be so if you are tying the knot in your home town, but if you're getting married in another country a planner can be invaluable. Not only can planners help with all the necessary paperwork, but they also have contacts in the city where you will be getting married, can do the legwork for you, and also know the rules and regulations to ensure that everything goes smoothly.
Shop around for the best rates and for a planner you feel comfortable working closely with.
The best ways to make sure you get everything you want on your wedding day with a minimal amount of stress is to start planning early and to hire a professional familiar with the town to help you through the process.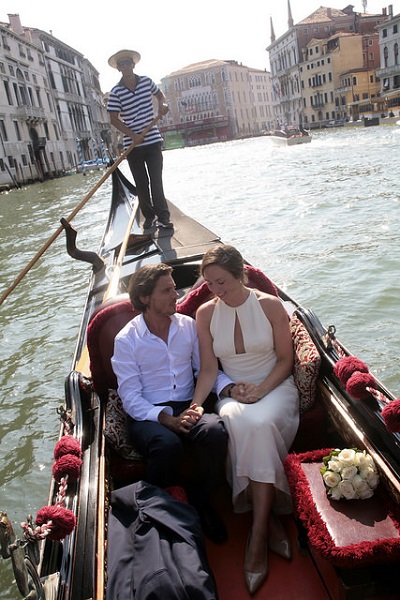 Catering
The most important element of an Italian wedding?  Food of course! So how to go about ensuring that your Italian wedding will have the most scrumptious food on the planet? If using a wedding planner, they will have several catering options to choose from. If doing the planning yourself, the internet is an invaluable research option. See what other brides have to say, word of mouth is usually the best way to select a caterer when they are located so far from home. Keep in mind that most catering estimates include the cost of tables, chairs, linen, and cutlery. It is customary not to pay a tip on top of the price as a Value Added Tax of around 20% is automatically added to the bill.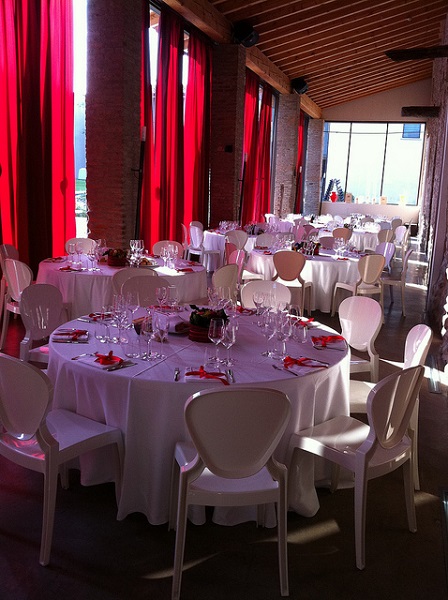 WEDDING COUNTDOWN
One Year Before the Wedding
Choose the city or region you would like to have your wedding in, as well as the type of ceremony you want.
Start looking for wedding planners in your city of choice.
Decide on an exact location for your nuptials.
Begin gathering the necessary documentation and paperwork.
Look into flights, accomodations and the like. Better to book early!
Send out Save The Dates to let your guests know that a destination wedding is on the horizon so they will be able to plan their own travel details.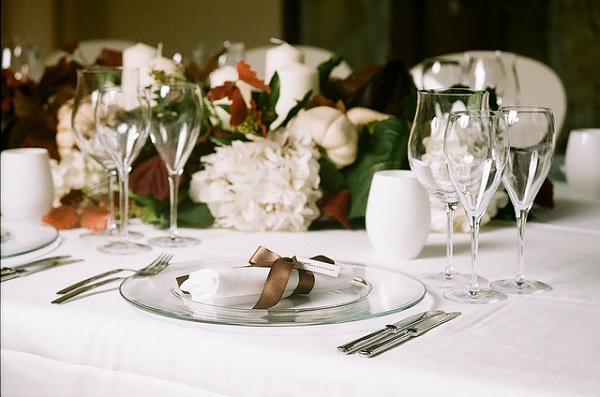 Six Months Before the Wedding
All paperwork should be in order.
Caterers, entertainment and flowers should be booked.
Dresses should be ordered and shipping arrangements made.
The bride and groom should have their birth certificates ready and ensure that their passports are valid.
If certification of divorce is required this, along with a Hague Certification of the document, should be prepared.
Couples should make an application for a No Impediment Certificate with the local Italian authorities. This certificate is to verify that the bride and groom are of legal age and that there are no legal impediments to their marriage. If your home city has an Italian Consulate Office this paperwork must be filled out in your home country before leaving for Italy, four witnesses are usually required to sign the certificate.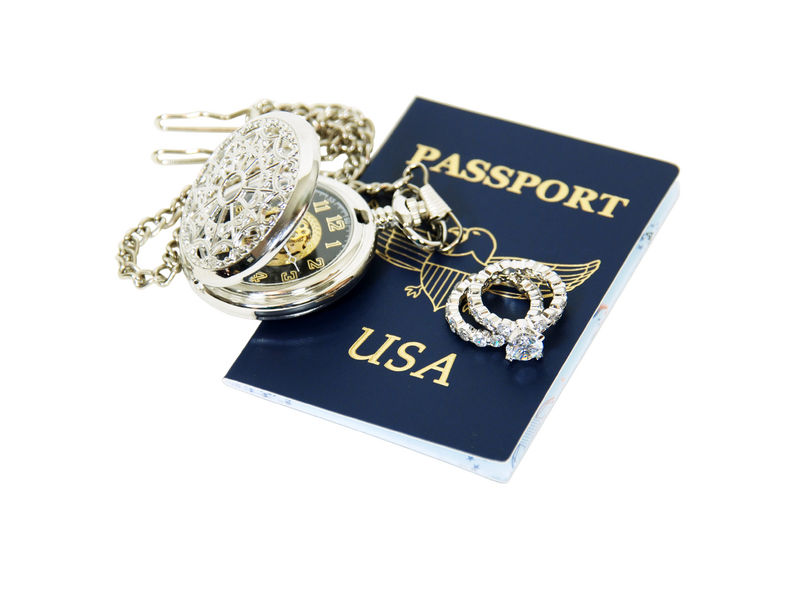 On Arrival
If you don't have a No Impediment Certificate you will need to resolve this issue as soon as you arrive in Italy. Make an appointment with the town clerk and attend with witnesses.
Those who are American residents need to make another declaration at the American Consulate Office. This declaration states that you are planning to get married in Italy and that there are no legal barriers to your marriage.
If having a civil ceremony, four to five days before you will need to make an application to the Town Hall.
In the case that either the bride or groom is an Italian then a bann, or declaration, would have to be made and posted in the Town Hall for two consecutive Sundays prior to the wedding taking place.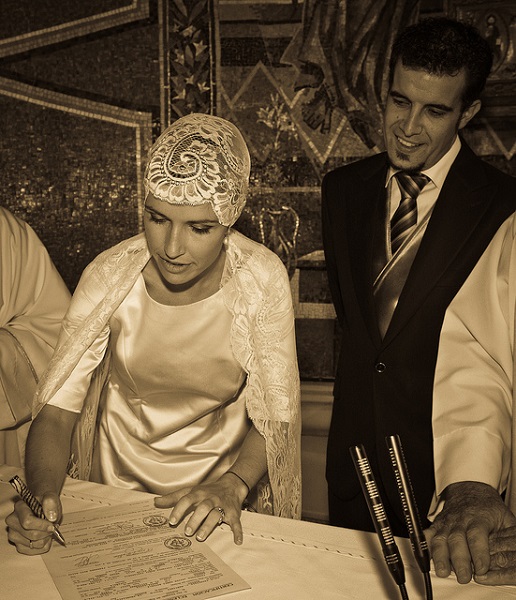 Documents Required
Remember, the best way to keep stress levels low and enjoyment high is to have all your paperwork in order as soon as possible!  Don't forget…
Valid passport of both parties
Birth certificate of both parties
Death or divorce certificate, if applicable. These certificates would have to be certified with a Hague Certification.
A declaration for a "no impediment" certification,  made six months in advance.
A Nulla Osta declaration has to be made at the American Consulate for Americans.
A declaration has to be made at the Civil Registrar's office four to five days before the wedding.
Banns would have to be posted in the Town Hall for two consecutive Sundays in case either of the parties is an Italian. Once the banns are posted a certificate will be issued.
In case of a previous marriage, the marriage certificate of the previous marriage would be required.
Minors would need an authorization certificate from their parents or guardians if they want to get married.
For a Catholic wedding, a baptism certificate, a confirmation certificate and a certificate for attending the pre-nuptial class is required.
For a Catholic wedding religious banns would also have to be issued by the parish of the bride and groom. Several documents would also have to be issued by the parish of the bride and groom.
If you dream of having your wedding in an old Roman cathedral or overlooking the sea in Capri just ensure that you are as organized and proactive as possible so that your day goes off without a hitch. Invest in a wedding planner and make sure all your documents are in order so that you can happily say "I do" in Italy!
Thank to  Brenda Babcock for her contribution in the Wedding Sections Brenda Babcock Wedding Planner in Italy