Love the Second Time Around
Your first marriage ended in divorce but you've fallen in love and would like to try it all over again. What to do?
You probably did the church service and no holds barred reception with 200 of your dearest friends and family the first time around. A wedding in a City Hall in any given American city is as about as romantic as a tax audit. Not the Las Vegas type?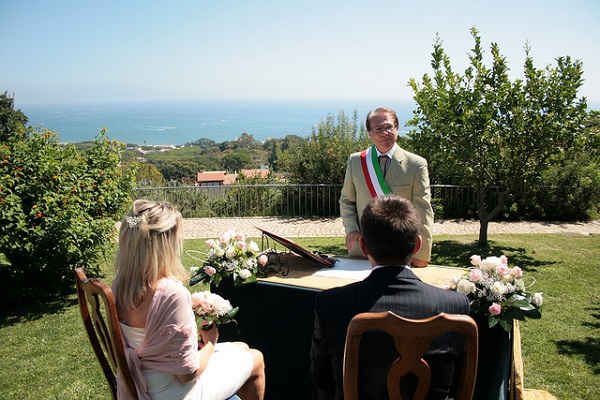 Why not take just a handful of the people with whom you really want to share your joy (or no one but your intended, for that matter) and get married in Italy? I mean, really, what could be more intimate or romantic? Plus you can combine it with your honeymoon: not surprisingly many couples are doing just that.
In Italy, foreigners can legally marry in either a Civil Hall or Catholic church. The Civil Ceremonies tend to be more appealing for those getting married the second time around. And why not? Italian Civil Halls are almost always in important historic locations in the center of the city or town (see "Civil Ceremonies").
Civil ceremonies are brief and to the point but charming and given just the right amount of pomp and circumstance. It's over before you know it, but you are left with the feeling that something very important just happened to you.
After a day of celebration where Italian wine and cuisine flow, most couples then part company with their guests and continue on to Capri or the Amalfi Coast to bask in the sun or head north for wine tastings in the Tuscan countryside.
An all-in-one wedding and honeymoon combo: just formal enough and unlike anything else you've ever contemplated. You've developed more refined tastes over the years and you know yourself better. This time around it is just about the two of you and maybe a few people truly special in your lives.