Profile and Filmography of Rosalba Neri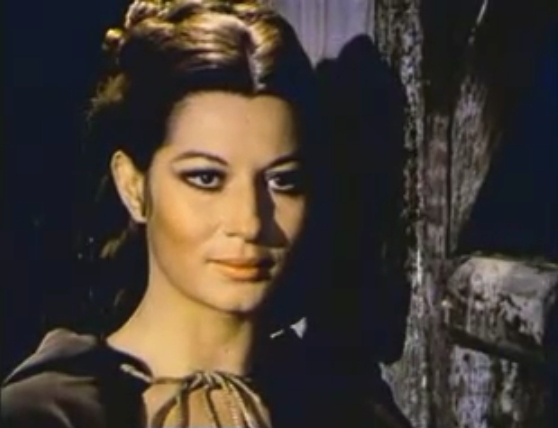 Rosalba Neri
Rosalba Neri was born on June 19, 1939 in Furli (Emilia Romagna), Italy. When she was very young, she won a beauty pageant and attended il Centro Sperimentale di Cinematografia (The Center for Experimental Cinematography). In 1956, she received an offer to go to Hollywood and attend the Actor's Studio but didn't take the offer for undisclosed reasons.
She began her film career a year prior to that, at the tender age of 15 with a role in the film I Pinguini ci guardano (The Penguins Watch Us) in which the animals at the zoo watched the humans around them and cultivated some very interesting thoughts. Many sources, however, list her first film as Mogli Pericolose. She is uncredited in this comedy which was directory by Luigi Comencini.
In 1960, she appeared in two films set in the Ancient world. The first was Il Sepolcro dei Re (The Tomb of the King). This film tells the story of Nemorat, an Egyptian pharaoh who was instrumental in the creation of the pyramids of Giza due to the intrigues surrounding his death and entombment.
The second was Esther and the King, starring Joan Collins as the Biblical Jewish Queen. Rosalba played Keresh and was assassinated by someone who mistook her for the Queen. The film was one of the epics directed by Mario Bava.
Because of her dark, sultry beauty, Rosalba was often a natural fit to play certain legendary characters. She was Ramses' intended bride in the Hercules Adventure, Il Leone de Thebe (The Lion of Thebes) in the year 1966. She was also in Ercole contro i figli del sole (Hercules against the Sons of the Sun) in 1964. She played Delilah, the Biblical beauty who was the downfall of the Old Testament hero, Samson, in I Grandi Condottieri (The Great Guides).
Although starring roles were few and far between for Rosalba, she worked steadily throughout the 60s and 70s in supporting and sometimes, nondescript roles, such as her turn as a harem girl in (1961's) El Cid. That film starred another Italian bombshell, Sophia Loren. However, no one would deny that Rosalba's face, talent and figure proved to be a credit to several genres beyond mythical, biblical and period pieces. She was a beauty not meant to be ignored.
Rosalba also had quite a few roles in horror and spy/intrigue films, often playing a less than saintly character. She was Faddja in 1965's Il Superseven Chiama Cairo (Superseven Calls on Cairo), one of the dangerous 'women' that the spy, a James Bond-like character, comes into contact with. Also in 1965, she appeared in Due Mafiosi contro Goldfinger (Two Mafioso against Goldfinger). Here she was credited as Sara Bay and played a character called "The Secretary."
In 1967, she was Amalia in Password: Uccidete Agente Gordon (Password: Kill Agent Gordon). That year she also appeared in the spaghetti western (note: A spaghetti western is an Italian-made film about the American West), Johnny Yuma, which was directed by Romolo Guerrieri. She had roles in several spaghetti westerns over the years. In 1965's, Dinamite Jim, she played Margaret; and, in '67 she was Rosita in Emimmo Salvi's Wanted: Johnny Texas.
Rosalba, the bombshell, was also much in demand for erotic films. She played Zoe, in Franco's 99 Women, a movie about women in prison who must turn to each other for comfort while dealing with a sadistic warden. In 1971 she was Eleanor Stuart, Farley Granger's 'wife' in Alla Ricerca del piacere (Amuck, Leather & Whips). In the film, Granger is a wealthy author who hires a beautiful secretary, played by Barbara Bouchet and engages in kinky sex games with her and his wife.
Barbara and Rosalba would team up in another movie combining sex with horror. This is 1972's Casa d'appuntamento (French Sex Murders). A jewel thief is accused of murdering a prostitute but is decapitated in a motorcycle accident prior to the trial. When those involved in the trial start dying, everyone wonders if the dead man has come back to exact a little revenge.
Perhaps Rosalba's best-known films are from the horror genre. This is also where she is often credited as Sara Bay (or Bey), much to her fans' chagrin. She played Tania Frankenstein, the daughter of the monster's creator, in 1972's Lady Frankenstein. Tania was willing to take her father's work to new – and frightening – levels. It's considered a "B" movie classic. She also played Lady Dracula, a vampire who uses the ring of Dracula to lure young virgins to her home so she can murder them and bathe in their blood (a la the medieval Countess Elizabeth of Bathory). The film, which was directed by Luigi Batzella, is often referred to as The Devil's Wedding Night. The Italian name is Il Plenilunio dell Vergini (the Full Moon of the Virgins).
Around this time, Rosalba, who had already borne her daughter, Francesca, who would become quite an accomplished actress/model in her own right, started to slow down. She would appear in a few more films with English titles such as: No Way Out (1973), Loving Cousins (1974) and Blood River (1977), which is her last credited film. In 1985 she did appear in the Italian miniseries Olga e I suoi figli (Olga and her children). However, it's quite clear that Rosalba seems to have accomplished all she had set out to and settled into a happily married life.
Regardless of her reasons for stepping out of the limelight, Ms. Neri's body of work is certainly impressive. She transcended genres, time, space and so much more with her talent, beauty and grace. Many of her films have always been cult classics and will continue to be as more and more of them become available in DVD. Although she never reached the heights of stardom like her contemporaries Gina Lollobrigida or Sophia Loren, it seems that Rosalba was quite content – and deservedly so – with the career she forged for herself.
By Deanna Couras Goodson