Italy's Underappreciated Actress of the Silent Era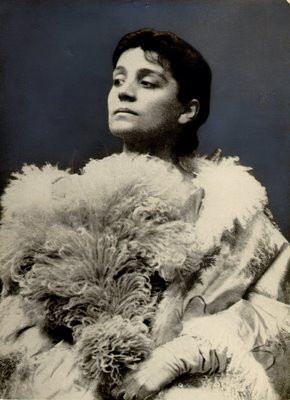 Eleonora Duse
Her fans once included the likes of James Joyce, Anton Chekhov, Henrik Ibsen and Charlie Chaplin, but even today, Eleonora Duse, the great rival of Sarah Bernhardt, enjoys a profound acclaim though nearly all footage of her performances have been lost to time. Born October 3, 1858 in Vigevano, Italy, to a family of actors, Duse went on to enjoy a sensational acting career and made a lasting impact on the stage; her success in the acting world led her to become the first woman to be featured on the cover of Time Magazine in 1923.
Duse grew up in her family's acting troupe learning to read from scripts. Her early years were colored by immense poverty and she was often reduced to begging. But life at that period in Italy was a grand teacher for Duse. From the political intrigues of the state to the more personal struggles of her family, Duse was thrown into the life of an actress at an early age, but also enjoyed the protection of her parents. Some photographs survive of Duse with her mother Angelica who was extremely attached to her daughter. Nevertheless, as a child actress, Duse needed to be struck on the legs in order to cry for a performance.
By the middle of the 1880s, Duse came to be regarded as Italy's greatest actress and she performed many of the roles also played by her rival Sarah Bernhardt who was one of the most famous women of the Art Nouveau world. While Bernhardt enjoyed the greater popularity, it seems that Duse enjoyed a more critical success for her performances. Some of the best-known roles Duse played were the Italian versions of Marguerite in La Dame aux Camelias and Nora from Ibsen's A Doll's House.
The differences between the two actresses were striking. While Bernhardt was highly emotional and wore elaborate make-up and costuming, Duse preferred a more naturalistic approach. She wore no stage make-up and decried contrived theatrics. She relied on intellectual thought to portray a character and tried to show emotion in a realistic light tempered by the real life she knew well from her early training. Unfortunately, next to no footage survives so biographers must rely on what had been written about her performances as well as the many photographs that exist of the great actress.
As for Duse's personal life, she is known to have had a long-term romance with the Italian playwright and poet Gabriele D'Annunzio and acted in many of his works. Previously she had had an affair with Italian aristocrat Martino Cafiero and became pregnant; the child, upon birth, survived only for one week. The failed relationship and death of her child left its melancholic stamp on Duse. She married during the 1880s but it was also a failed relationship although it did produce a daughter which Duse had boarded off to school.. Other infatuations with fellow actors colored her life and her personal life did not seem to meet with the same success as her professional life.
Duse quit the stage in 1909 due to ill health. In fact, ill health from a career of frequent travel plagued her frequently during her life. She returned to acting in 1921 appearing in London, Vienna and New York. Duse was born while on tour and died while on tour in the U.S. She was buried at a cemetery in Asolo, Italy. While she spent much of her life on the road, she retained a great love for her homeland, especially Venice, that she is said to have carried with her everywhere she went in her heart.
By J. A. Young