Winter Weather Accessories for Ladies
When I was a little girl, my mother used to get so angry with me. I hated to go out in the winter with a scarf, gloves or a hat. Especially the winter hat. I didn't want to sacrifice my hair just to remain warm. Oh no. Not me.
Now that I'm older and a mother myself, I realize the importance of winter weather accessories. I will never leave my house on a frozen day without at least a scarf and leather gloves. I won't! Alright, maybe I'm still resisting the hat; but, I try. I really love the look and feel of each of these winter accessories. As always, Italian designers understand that fashion can be both beautiful and practical at the same time. I hope you enjoy these items as much as I enjoyed searching for them.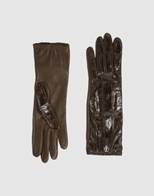 Let's start off with the gloves! I love gloves. They keep my hands warm. My hands always get so cold. It puts me in a terrible move. For me – gloves have to be cute and easy to slip on (and off). You also have to be able to drive with them on. Otherwise, what's the point?
These fantastic leather gloves come from D&G (Dolce & Gabbana). Oh My God! They're sexy. Can I even say that about a pair of gloves? They make my hands feel hot, hot and hot! I love them. They do – dare I say it – fit like a glove. Alright. I'll stop. They're made of Nappa leather and have lining on the inside. At the base of the glove, there is a golden D and a G for the D&G logo. I would wear these every day of the year if I could. I really would!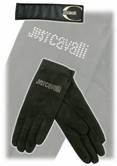 Roberto Cavalli's Just Cavalli line brings us this pair of soft leather gloves. They're a dream to wear. They're elegant. They're fantastic. They're warm. The stitching on the fingertips ensures that they're durable. These gloves can shovel snow or go with you out on the town for a special holiday function. Either way, your hands will look – and feel great while staying comfortably warm on cold winter days and nights.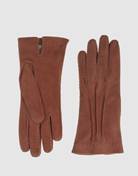 Prada has created these suede gloves in salmon pink. I enjoy wearing them with my red-wool coot! I love the stitching on the fingertips, the small slit in the back and the three lines on the front of the glove that conform to your hands. These gloves will fit you like a second skin. They're lined to trap the heat in which is fantastic news if you're sensitive to the cold like me. I just adore wearing these!
Now, let's move on to the scarves. I'm not talking the silky scarves that you can wear in your hair or on your blouse – or as a sash or belt across a sexy pair of pants or a skirt. I'm talking warm, woolly and big scarves, ones that you can wrap over your face to keep the cold out.
Do you love this Cavalli scarf as much as I do? C'mon. This brown scarf is so very warm – probably due to the fact that it's made of Flora Acrilica and Wool. It feels so good against the skin and looks great with neutrals and blacks. I also like the little star that says Just Cavalli. It adds a touch of elegance to this fantastic scarf!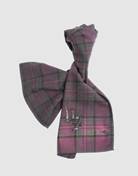 From Versus by Versace we have this purple-plaid scarf. The piece is a polyester/wool blend that has the VS log in the lower corner. You can pair it with any sort of coat or jacket. Wear it over jeans or with a more elegant outfit. This is a piece that you can work into your wardrobe while being warm! If you don't like purple or plaid, the piece comes in a variety of colors and selections. There's bound to be one (or two) around that you'll absolutely adore.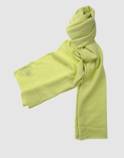 Fabiana Filippi has created this luxurious winter scarf. It's made of Merino wool, silk and cashmere. These are three of my favorite things! It also comes in pale pink. I can wear this with a wool coat, a leather jacket, or alone with a sweater for added funk. This scarf is a signature piece. The feel of it is what sealed the deal for me. It's so soft. It's so plush. It's absolutely a dream come true.
Okay! I've delayed it long enough. It's hat time. As I've mentioned several times throughout this article, I'm not a huge hat fan. Especially not a winter hat fan. I have worn them on occasion. I see the value in them. It's just – if you're not a hat person, you're not a hat person. Well, if these three hats are any indication of what's out there, then maybe I'll have to reconsider my position. Check these out!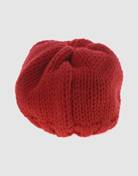 This Versus by Versace red hat is what I think of when I think of winter hats. Despite that, I don't mind this piece one bit. In fact, I like it. This hat will certainly keep your head warm. The acrylic/virgin wool blend is guaranteed to last a long time – if you take care of it.
The stitching on the knit hat reminds me of my zia's creations from years past. It's certainly a classic winter piece that will bring you back to childhood while allowing you to maintain some adult sophistication.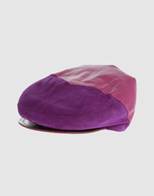 Now this hat is nothing like my zia ever made. Dolce & Gabbana have designed this fantastic two-toned cap in feminine color – pink and purple. I love the hard visor and the embossed logo detailing. In fact this hat pays definite attention to details even the most minor of them. There's a snap enclosure to keep the cap in place. The stitching is cool and adds depth to the leather fabric. This is one funky cap!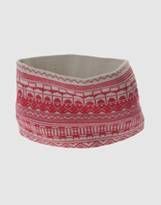 For the sporty lady, there's this wonderful hat from Saverio Palatella. I like it because you can wear it to work or to play. I prefer play, of course. I envision myself at the peak of one of the Italian Alps getting ready to zoom down the hill. What a wonderful dream!
Anyway, I love the color of the piece and the jacquard print. The pattern and detail are just fantastic. They're so eye-catching. Did I mention that the hat is made of 100% cashmere! Need I say more?
I hope you enjoyed this list of winter wonders. These accessories can take you just about anywhere you want to go during the coldest months of the year. They're fashionable, fantastic and practical pieces that will enhance your wardrobe while keeping you warm.
Spero che vi siano piaciuti!
By Dominica DiPiero