Italy is well known for its delicious pizza that arrives fresh from a scorching brick oven. The popular brick oven pizzerias found all around the world today stem from an ancient concept that has stood strong through the ages.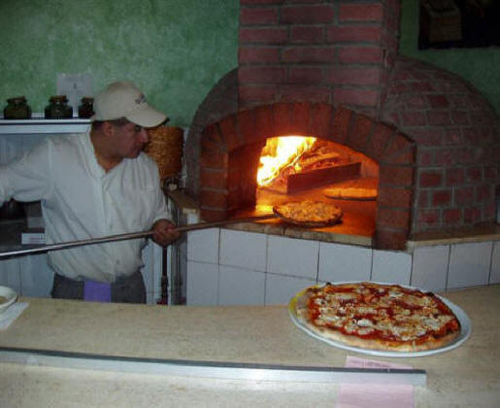 Variations of the brick oven seen today have actually been fabricated for thousands of years throughout a variety of civilizations around the entire globe. It is clear, however, that the brick oven earned an especially famous reputation in Italy in the ancient Roman civilization.
Brick Ovens in Pompeii
More than thirty brick ovens have been discovered in the ancient ruins of Pompeii, and they cast an interesting light upon the fascinating history of the Italian brick oven. Many of these ovens are in surprisingly superb condition considering their age. These early ovens are a prime example of the great talent and effort that is a quality well known in ancient Roman craftsmanship. The brick ovens discovered in Pompeii are primarily constructed in assorted types of brick and ceramic materials. Techniques that used glass as a construction material for these Italian brick ovens have also been discovered in the ancient ruins of Rome.
…And All Around Europe
Many of the early brick ovens found throughout Europe are quite large in size. These oversized ovens likely belonged to wealthy land owners and were probably used at a price by the entire local community. The brick ovens in ancient Roman civilization, however, were used for both commercial and residential purposes. Many of these early brick ovens were smaller in size, as they may have only been used to feed one or two families at a time. Brick ovens were often used for business in eateries located throughout ancient Italy. These businesses have been unearthed to reveal a surprisingly more modern appearance than one might have expected. These ancient restaurants looked very much like contemporary pizzerias, and were often built with granite service counters. These eateries commonly sported a diverse menu that included rustic versions of modern-day pizza.
Brick Ovens in Italy Today
As modern invention caused the use of brick ovens to fade throughout most of Europe, many Italians kept up the traditional way of making baked goods. Brick ovens are a common occurrence in countless Italian homes, and have been for centuries. While a good portion of the modern brick ovens are constructed out of rough stone and not in the traditional manner, a number of Italians are exploring the fine quality of ancient construction and keeping the early traditions alive.
By Elizabeth Walling