Adding a Touch of Antiquity
A lot has changed as far as conventional Italian interior design is concerned. Gone are the days when typical furniture pieces or accents in a room were considered 'tasteful'. Today homeowners prefer lending a personalized, unique touch to their homes using stylistic yet functional furniture. The idea is to blend in the comfort factor while also ensuring aesthetic appeal at the same time.
Fast paced lifestyles – a thing of the past
There was an era in Italy where fast food had gained a lot of appeal and popularity. However, people are slowly coming out of this trend and are instead focusing on taking things slow.
How does this concern Italian interior design? A lot! People are now taking the time to make their kitchens and dining rooms more beautiful and stylishly decorated. It is because more time is spent in these rooms to produce slowly cooked, elaborate food that is good and nourishing for the mind, body and soul. Since people spend more time in these places the interiors also need to be soothing and peaceful. The use of colours, furniture and other aspects are given a lot of thought and attention: did you know that bold colours like red in the kitchen ensure added appetite?
More attention to bathroom spaces
Even areas such as the bathrooms are being given more attention. The bathroom is no longer seen as a place for a quick 15 minute bath. Instead, people are using this space as an area for meditation and relaxation as well. Hence the ambience and accents used in the bathroom needs to be conducive to relaxation. For example, one could have an adjoining garden just outside the bathroom.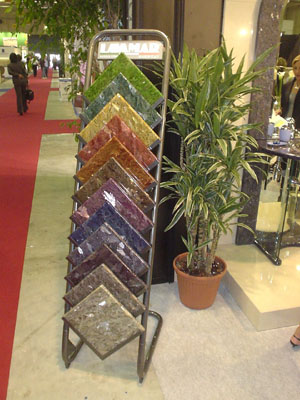 In order to screen the garden from the bathroom a myriad of Lavamar stone tiles, in many different colours can be used. This creates a serene, natural ambience while also lending a touch of colour to the entrance of the bathroom.
Modern trends in Italian design
Today, more and more consumers are using huge walk-in closets in their bathrooms. A lot of emphasis is being given to using hygienic and futuristic cleaning mechanisms. These gadgets are meant to perform multiple functions, from the sterilization of floors in the bathroom to cleaning and washing of windows, to other chores. Thus more people are moving away from using paid help and instead choose to do the cleaning themselves, albeit with help of these gadgets. Hence the storage solutions of such devices need to be modernistic and also stylish while ensuring functionality. Great attention is given to the design and built of these storage devices, especially in the bathrooms.
Interesting furniture choices
Furniture is an essential and aesthetic part of any Italian design. Today the range of choices is astounding. You will find unusual combinations in Italian furniture right from wood being used with crystal beads, to steel and aluminum being used with wooden accents. The focus is on using clean lines, even in the wooden varieties. Resistant materials that stand the test of time are also preferred. Instead of having specially demarcated rooms, today Italian interior design focuses on more casual arrangements: modular sofas and other furniture pieces are preferred to ensure better portability.
Luminous finishes are preferred as they lend themselves easily to cleaning and maintenance. Hence even in wooden furniture in the case of table inlays a lustrous finish is preferred on the wood. If you visit any tastefully done Italian home you will typically find a mix of the modern and traditional. Italians are very proud of their ancient heritage. Hence while you will of course find a dining table made of plastic there will always be an antique table or dressing table with high gloss wood. This is a gentle reminder of the cultural values and traditions of old times.
High demand for antique furniture
Today there is a high demand for traditional, high end antique Italian furniture. Many people are willing to spend a fortune on classic, wooden antique tables. For example, a beautiful beige Fiotti Inlay table will look fantastic in a large spacious dining room: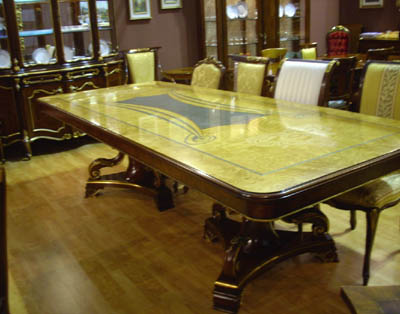 The slight variations in texture and carvings add an element of interest to any dining space. You could combine ornamental chairs made of a combination of wrought iron and wood to accentuate such a table. Inlays help add beauty and character to an otherwise plain looking piece. From rich dark hues made of dark walnut, to more urban and modernistic finishes made of feathered mahogany, as shown below, the choices are virtually limitless.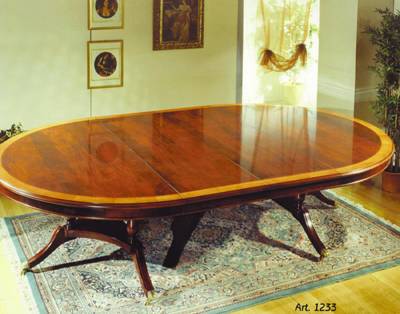 Two broad-based choices
In terms of furniture for the dining room there are primarily two choices. The first is the more classic combination of wood and natural fibres. The other choice is to use combinations of glass and steel. Light wooden finishes are preferred, as they make any dining space look more spacious. You may like to lend a classic appeal to an otherwise modern dining room with a black line inlay worked on the dining table. These accents not only add more beauty but also a sense of warmth that is hard to find with more modern choices like glass or steel.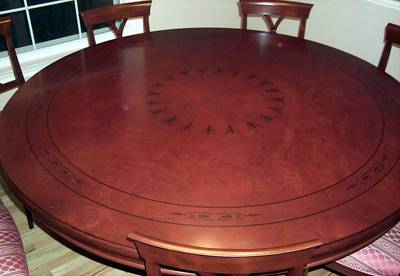 Combine this with classic wooden dining chairs that have modern fabrics on them and you have a total winner! If you want to add in a more urban, futuristic look try having steel linear lines on the bottom of the table. Or perhaps you could get the dining chairs customized with crystal accents and glass to provide a truly airy atmosphere in the room.
Bedroom designs
If you adore antique Italian headboards for your bedroom you can still get them! Most common wood choices in the use of these are mahogany and oak as they lend a warm, antique appeal to the bedroom. However, these choices look best in bedrooms with a high ceiling as otherwise the room can be 'overpowered' by such an imposing furniture piece. For a classic look in your bedroom you could even opt for wrought iron and ornate iron beds. You could combine these with soft pastel shades of bed linen for a truly antique appearance.
Related Articles
Italian Antique Furniture
Italian Cabinets
Italian coffee tables
Italian style beds