Dining rooms are where families gather and connect together. For Italians who believe in the importance of family ties and cultural values, the dining space is almost like a place of worship to be revered. Thus the decor and detailing of the dining room is given great attention.
Antique dining spaces
If you love the traditional Italian dining rooms found in so many catalogs you will be happy to know this look can be replicated with ease! The basic idea is to use wood finished furniture that looks rich and luxurious. Think oak, mahogany, cherry and maple and you get the picture. If you have been blessed with an antique furniture piece handed to you by your parents or grandparents then you should consider yourself lucky. However, if that's not the case you do not need to be disheartened. There are plenty of flea markets and stores that can replicate ancient designs on more modern wood finished materials.
These can be given a weathered and antique look to suit the kind of look you wish for! However, you do not need to go overboard or opt for an over-the-top look to get a classic appearance. Even simple furniture like a Classic Italian table can do wonders to your dining space. The slender legs and fine luxury finish all add to a quiet sophistication to your dining room.
Cabinets with dual purpose
If you want to blend in functionality with aesthetics then you could opt for a fine and elaborate Italian China Cabinet that also doubles up as a buffet table! Such a cabinet is not only large and spacious but also can be used to place food items that guests will sample. Made of fine oak such a cabinet can be used to store not just expensive china but also any delicate showpieces that you wish to store.
Accentuate and complement the wood finished look with classic elegant wooden chairs in the dining space. You can also use a wooden dining table with a dull wax finish for added elegance.
Chairs with a personality
If you were to visit any Italian home just look around you closely. You will notice that every piece of furniture and decor has a personality and character of its own. So even if it is something as mundane as a dining chair it will have a unique shape or characteristic that sets it apart from so many other chairs in the market today.
For example this Classic Italian Dining Chair shown above is fabulous. Not only is it simple to look at, it is stylistically done up. Note the curved accents that serve as armrests. If you prefer something more pristine and chic looking then try the Belinda modern chair shown below. In pure white this stunning and yet stylistically simple chair is great for a dining space that adjoins the balcony. So if you have large airy windows nearby then go for this type of chair as the light will get reflected in the prettiest manner!
Elegant buffets
For the dual purpose of aesthetics and functionality try using a large sized buffet table that has a classic wood finish.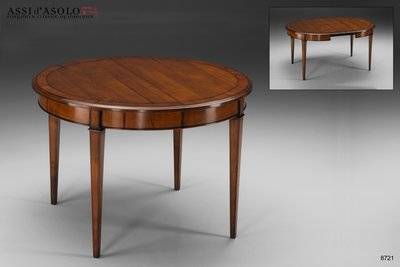 For example this beautiful Classic Italian Buffet table is meant to make heads turn. While it sits soberly in one corner when your guests arrive in the dining room it will surely make a style statement of its own. You can accentuate this wooden look in the dining space by using a classic and elegantly designed Classic Italian Dining Chair shown below.
This is a simple yet beautiful piece. The delicate curved accents behind the chair add to the sense of mystique in the dining space. You can complete this look by using a mysterious painting of a ship at sea or a portrait of an ancient Lord or Lady and you are sure to have a mystique in the dining room!
Dining chairs with elegance
Dining chairs are as important as the central dining table in any Italian dining room. Dining chairs add beauty and charm to the room while also serving functionality. Take for example this Classic Italian Dining Chair that has a beige colored cushion and elegant circular patterns set in wood at the back as shown below and right. This would go very well with beige colored sheer drapes at the background. You can even place a beautiful stone statue on the dining table to complement this antique Tuscan type of look in the dining space.
For a more delectable and luxurious looking dining room try this Classic Italian Dining chair that is set with golden cream leather shown on the left. The frames of this chair are made with walnut that is colored with a pale gold brown paint. The effect is as good to eat! The luscious usage of colors adds to the luxurious look of this theme. Plus the elegant legs and slightly curved shape of the chair brings in an air of quiet sophistication in the dining room.
Shelving units
The shelving unit is very important in any dining space and even more so in an Italian home. Take for example this Modern Metropole Italian Shelving unit.
It has cute glass frames that are thick and lend sturdiness to the shelf. At the same time there are wide glass separators that provide an innovative way to place showpieces and other functional items. So maybe you wish to watch television while eating at the dining table. You can adjust the separators to accommodate the television in the shelving unit. For an interesting cabinet to shelve your curios and memorabilia a cute looking Modern Italian Curio Cabinet Club 1 is fabulous.
The deep rusty red color on the borders of this cabinet lends it an interesting mystique. The translucent glass panes over the cabinet help to conceal the items placed inside and yet provide some amount of visibility. The light green color of the panes combined with rust red and deep brown wood provides a stunning effect to this cabinet. While this is a bifurcated cabinet another version called the Club 21 cabinet is spacious and trendy.
Related Articles
Italian coffee tables
Italian style beds
Living Room